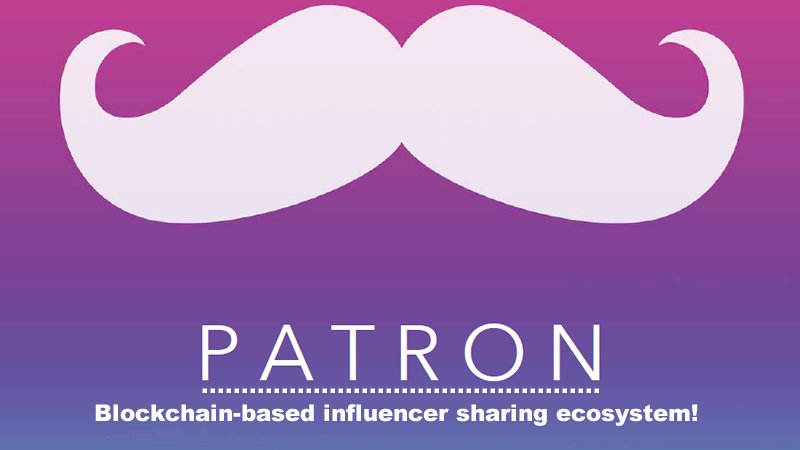 Introduction
Arguably every youth out there spends a majority of his/her day glued to the frenzies of the social media. If it is not Instagram, snapchat, facebook or WhatsApp owns the day! Social media has become an integral part of our lives so much that we can describe a person so well without ever meeting in person. With the level of information shared by users on their social media pages, predicting such wouldn't be far-fetched. Today, instant chats are replacing traditional messaging and calls, while analytics and online surveys combine to make analyzing people and their choices easier.

In Japan alone, over 31% of the total population are active on Twitter. This statistic along with those recorded in other mobile-first countries tell us how massive and influential the social media has become in the world of today and is the reason behind the growing industry of social media marketing. This marketing industry has contributed to a massive number of customers to businesses. With their products and services being shared on the social media platforms, users are reached and potential customers arise. As simple as this might seems, optimizing the potentials of social media marketing is quite difficult as it goes beyond just sharing the products on social media. This is what bring about the marketing enablers known as Influencers courtesy of the now popular concept of sharing economy.
What is the sharing economy?
The sharing economy is an economic model often defined as a peer-to-peer (P2P) based activity of acquiring, providing or sharing access to goods and services that are facilitated by a community based online platform. (source)
This industry gives everyone out there an entrepreneurial power as you can own a business from home, ran on your mobile from the corners of your room through the internet. Part of this economy is the Influencers who are people with influence on the social media in terms of dedicated followers as well as engagement due to their niche or media presence. These people aren't necessarily celebrities, it can be a chef, designer or artist who has loyal fans owing to his/her quality of work or how he engages them.
These people are those who can make Social Media marketing optimized by helping businesses reach specific market targets and a significant number of potential customers eliminating the previous problem of not reaching enough and specific customers when businesses post on their social media platforms. This is backed by many statistics showing us how the Influencers marketing has become the company's choice for the marketing project. In a poll conducted recently by Tomoson, it was recorded from professionals that businesses are making $6.50 for every $1 spent on Influencer Marketing.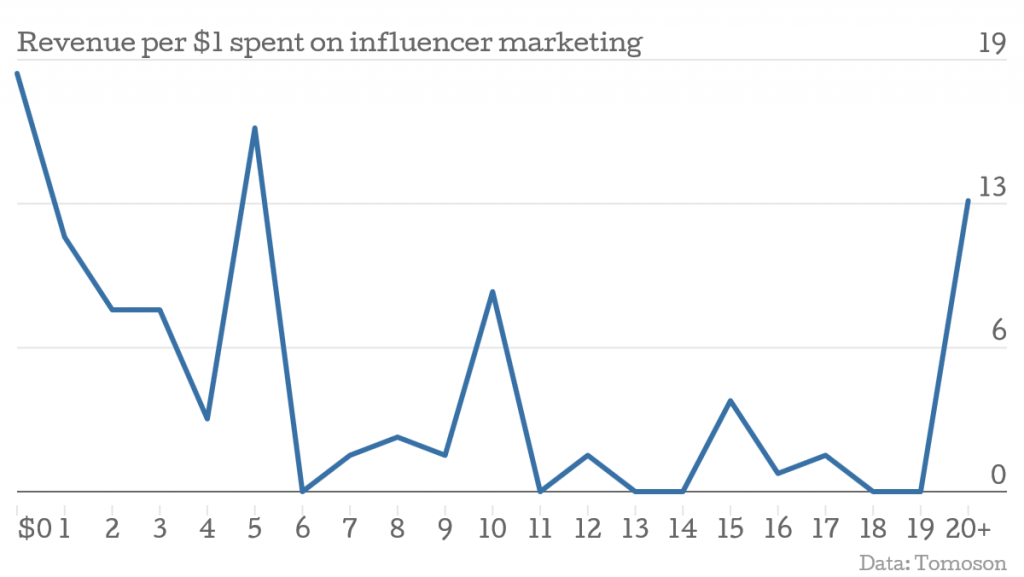 Source
Along with this, it was found out that Influencers marketing is the fastest growing marketing channel as it promises more quality customers than existing online marketing channels like affiliate marketing, paid search and so on.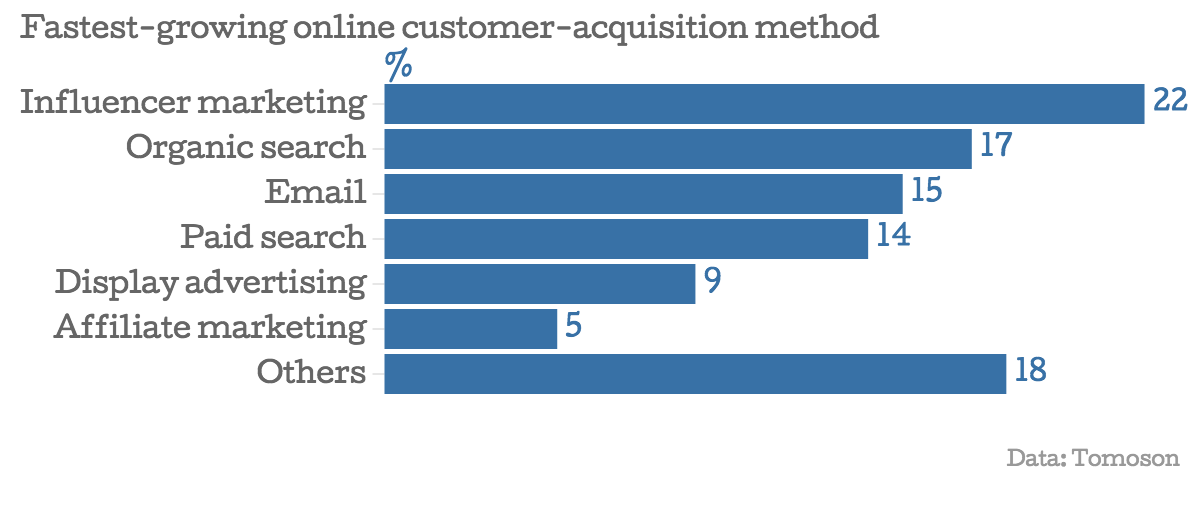 Source
For its high ROI features and high quality customers return, the market is forcing company's to increase that budget for Infleuncers marketing in their budget plan
The challenges faced in Influencers Marketing
Localization: As promising and effective as this market is, the clients most times end up losing their money to an unproductive influencer as it does happen that the customers he reaches don't turn out to be buyers. The main goal of marketing isn't to reach out to millions of people but rather it is to reach specific buyers and the target market. Influencers with a lower following but a significant number of local and specific followers are preferred to one with a massive following because the goal is to convert users to buyers not just letting the service reach them.

Overpaying Influencers: Another challenge clients face is the problem of Overpaying influencers. Most times, having a big following isn't the answer to an effective online marketing, so, some clients may sometimes overpay an influencer for a service with lesser return compared to his followers. So, a model to rank and value influencers is needed.

Underpaid Influencers: As clients can be unlucky, Influencers also are in terms of getting underpaid or not been seen or rated according to their values. Some influencers who might have lesser followers but can reach quality customers but due to the fact that client may judge them based on the followers compared to others with massive follows, they lose out on quality jobs.

Presence of a third party - Agencies: It is recorded that up to 40% of fees paid for an influential post to influencers are being taken up by agencies that act as an intermediary. These middlemen don't allow the influencers to take the credit for their work making it an unfair situation for the influencers. A platform which can take out this gap is needed to ensure quicker growth of the influencing market industry.
The Solution - Patron
Just as Airbnb and Snapgoods are doing in the sharing economy community, Patron is planning to become the platform for the Influencers marketing industry, giving value and freedom of reach to influencers as well as assurance to their clients in terms of good service and optimized returns on investment. Patron will help categorize and rank influencers based on the quality of their work and engagement level, to give both the client and influencers their deserving credits.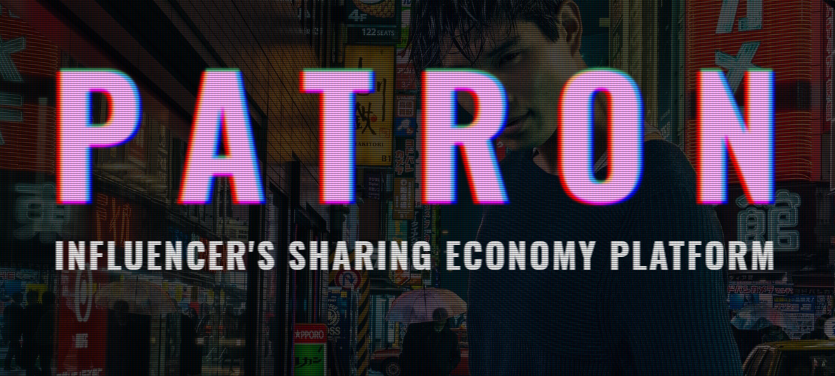 Patron
is an influencers' sharing economy platform that is here to tokenize the influencers market by helping to eliminate third parties between the clients and the influencers by incorporating blockchain technology.
Patron
doesn't only want to eliminate indirect reach to influencers, but also want to add value and rank influencers according to the power of their service to allow clients find the specific influencer they need according to their marketing project plan.
Being a novel idea, the Patron project aims to build on the achievements of Airbnb in the sharing economy ecosystem. By giving the power of reach and decisions to the influencers, clients, as well as the followers through tokenization using the blockchain technology, Patron, aims to be the next best project in the sharing economy.
The platform is designed to have three kinds of users in a Patron network. These are the:
Host; or Influencer
Guest; or Sponsor
Fan; or Follower
Each of these users has benefits for using the platform and combines to make the influence community a booming one from their mutual relationships.
The Host or influencers are the ones who set contract with the guests (or sponsor) to create a sponsored or an influential post to promote their business over a decided period of time which can either be a one-time contract or even a yearly based contract. The patron network eliminate the presence of third parties and allow the influencers to be reached directly
The Guest or Sponsor are the clients in the Patron network. They go in contract with the influencers based on their specific marketing need. The Patron network allows them to reach an influencer in the right niche and with a significant control of a demographic in line with the needs of the sponsor. Through screening access to the right influentials, the sponsors are guaranteed to reach their target market. Sponsors are usually required to pass some criteria like financial capability before they are granted such an access to specific influencers.
The Fan or Follower are the consumers on the Patron network. They enjoy having specific influencers to deliver their needs. Through the Patron network where influencers are ranked by their marketing power, users also get to see quality products and services displayed by them making the network beneficial for all.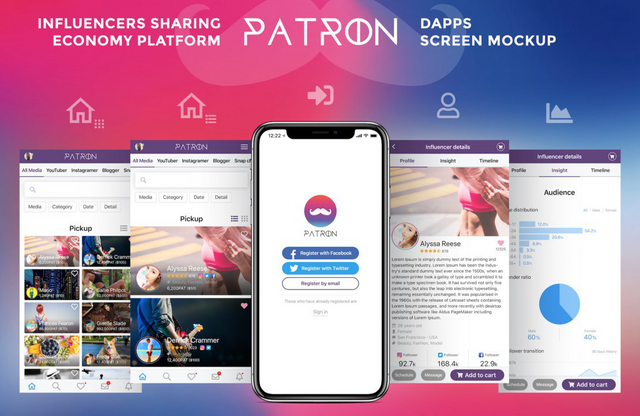 How does Patron determine an Influencer's worth?
Unlike before where influencers are hired just based on the number of followers they have, Patron is here with a better model to ensure that the right influencer is hired. An influencer's worth on the Patron platform depends on:
Number of Followers: this remains a massive determinant when the worth of an influencer is being measured. The number of people an influencer can reach ones goes a long way in ranking him/her when it comes to the Patron network

Engagement Level: more than reach, engagement determines how successful a sponsored post will be. The frequency of engagement between the influencer and their followers determines how his posts will be engaged and incite further action.

Reputation: everything is about reputation and recommendations these days. The reviews of the influencers from their followers determines how recommendable they are for a marketing project. The Patron network uses the reputation gained by a follower to increase their rank in the ecosystem.
These three criteria are the foundation for a successful sponsored post and as quoted from Hisatsumi, the founder of Patron, they also answer the following questions that arise when choosing an influencer:
"First, are they (influencers) reachable and able to disseminate content easily? Second, are they (influencers) engaged and have an engaged following? Last, are they (influencers) trusted within the community?" (Source)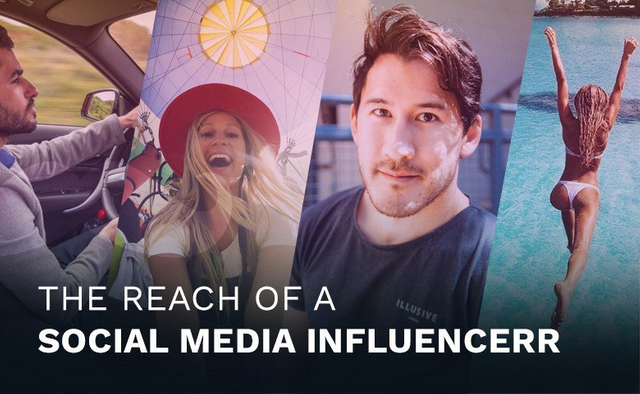 Benefits of using Patron
To Influencers
Elimination of Third Parties: as stated earlier, up to 40% of the service fees paid to influencers are taken up by agencies acting as intermediaries. With the introduction of Patron through the power of decentralization of the blockchain technology, influencers can be reached directly without the need for a middleman.

Elimination of underpayment: as pointed out in the challenges facing the industry, underpayment can be eliminated through the ranking system of Patron. Now, deserving influencers get the job and pay they deserve.

A Platform to build a brand around themselves: With the ranking system operated by Patron, influencers can build a network of followers around them. Using their previous work experience, prize range and caliber of followers they have built, they can set high costs or premium level of access to some of their service. For example, they can charge more for a set of followers who are known to be repeated buyers.
To Sponsors
Elimination of Overpayment: The ranking system of influencers will eliminate the possibility of overpaying an influencer for his/her service. How highly ranked an influencer is on the platform tells us how much their service will be.

Increased Return on Investment (ROI): With reputation, engagement level and reach determined in the ranking, sponsors are able to choose the right influencer for their marketing project. This affords them an influencer that will be able to help them reach their target market turning in more buyers for them and a resulting increase in their ROI. As stated in the poll conducted by Tomoson that businesses are making $6.50 for every $1 spent on Influencer Marketing, this return can even be bettered with the system of operation of the patron network.

Direct reach and evaluation of Influencers: With third parties eliminated, sponsors can easily reach out to influencers of their choice, bid for their service and in case of a long-term need, they can easily evaluate the influencers' record over time to determine if it is best to contract them on a long-term basis or not.
To Followers
As we know, followers are the consumers and are in search of quality products and services. With the structure of the Patron network, followers are assured of quality products that will be in a time of need as influencers are being pushed to rise in rank. In response to this, they study their followers more, look for what they need best and give it to them in time thereby increasing their own reputation as well as the quality of service to the sponsors.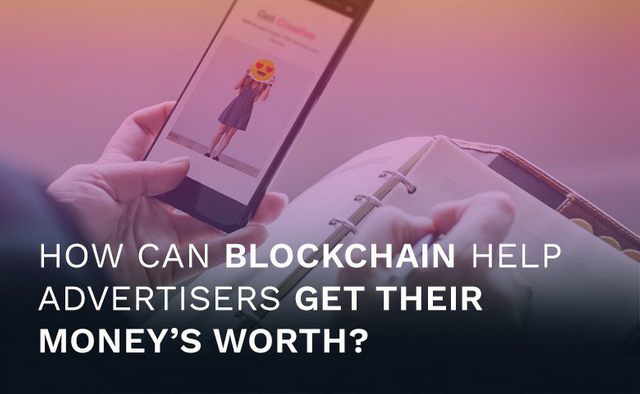 Why is Patron employing the Block chain technology?
Being a sharing economy, Patron wants to give power to the influence community by eliminating intermediaries. With the blockchain technology, a new contract mechanism between individuals participating in the sharing economy on the PATRON platform is realized. Instant reach to influencers, as well as a trustless based platform, is achieved through the use of the blockchain technology. Transactions can be made transparently through smart contracts and automation afforded by the decentralized nature of the blockchain technology. Thus, Patron eliminates intermediaries, brokerage commissions, as well as the achievement of a trustless platform where transactions can be automated and aided by technology.
Tokenization which enables the operation of the Patron model is also possible through the adoption of blockchain technology. The patron token, PAT is used as the utility coin for smart contracts between the participating bodies in the Patron ecosystem.
The Patron Token and its benefits
The utility coin, PAT designed by the Patron team will be the anchor for all activities on the platform. Contracts are being initiated using the PAT token, payments for service as well as user engagements is achieved through the usage of the PAT token. The usage of the PAT token includes the following:
Contract initiation between the host (Influencer) and guest (contractor)
Ambassador agreements between brands and influencers
Buying, selling and trading with influencers
PAT is used by followers and fans to cheer and do a fan vote for their favorite influencers and when the influencer gets a contract, the fan is paid in PAT according to his/her vote weight
PAT is used for fan polls to drive engagement on the platform
Use Cases of Patron
Case I
Brown is a college prodigy known for his great artistry talents. He is wildly followed on his Instagram and his other social media page so much that he has become an idol in his school, especially amongst the ladies. For this reason, he started getting promotion contracts from businesses. He will help a brand promote their artworks and brands in exchange for money. Though he delivers a good number of customers, he still doesn't get as highly paid as he expected. He wanted more because he has built a brand for himself and his followers see him as an authority already.
He stumbled on Patron and decided to join in, within few weeks, Brown was able to climb up the ranking in the art niche owing to his high conversion rate of users to buyers and the reputation he is building. He was able to build a brand for himself, set level of premium service on his highly rated followers and is making a lot of income since then on.
Case II
Jade is a blockchain enthusiast and is also wildly known for his love for fashion. Jade is known for spending the majority of his time on many fashion pages on social media. He drops reviews, vote for his favorite fashion brands during social media polls and isn't selfish with his like button.
Jade was at a blockchain summit one day and learned about the new Japanese project, Patron and was excited to know that he can actually get paid for his consistent engagement on the fashion social pages. He signed up on Patron, bought the PAT token and started voting for influencers, dropping reviews on them and participating in polls. He also has been able to find interesting brands he can buy from. Since, Jade has been making a lot of income on the Patron platform as a fan on the platforms and also as a consumer, as his fashion needs are getting met
Conclusion
The Patron is not just a novel idea that will disrupt the influence community, it will also give users quick access to products and services they need. It will help eliminate the difficulties in cross-boundary access to the service of influencers by making it a globally available service.
Influencers as well as sponsors are assured of an increased income while fans get what they need in time. Third parties agency is eliminated as intermediaries but can also enjoy being part of the community by entering as a sponsor themselves making it a win-win solution for all.
The expansion on the features of the blockchain technology makes this project more stable and effective as contracts can be initiated smartly and automatically using the PAT token. Security and transparency of transaction are also achieved.
Patron is here to stay and will make the sharing economy boom more as well as increase the ranking of the influence market amidst other means of online marketing.
---
Find More Information about Patron
Patron Website
Patron Whitepaper
Patron Telegram
Patron Facebook
Patron LinkedIn
Patron Bitcointalk
Patron Demo
Explanatory Videos
---
The Project Team


---
Exchanges where you can find PAT

---
The Project Partners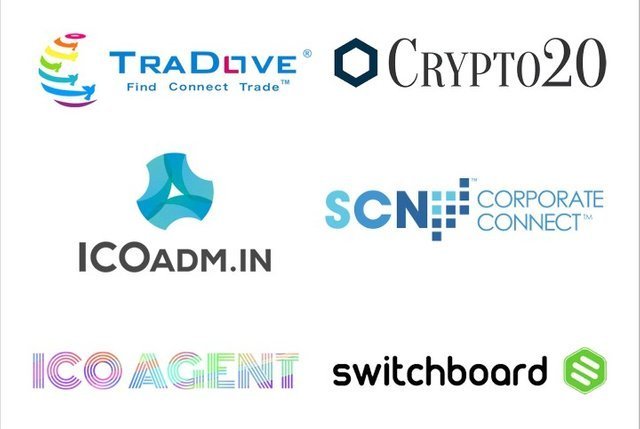 ---
The Project Advisors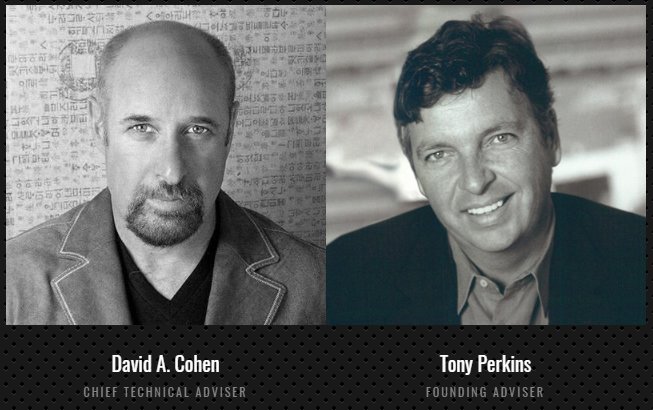 ---
The Project Roadmap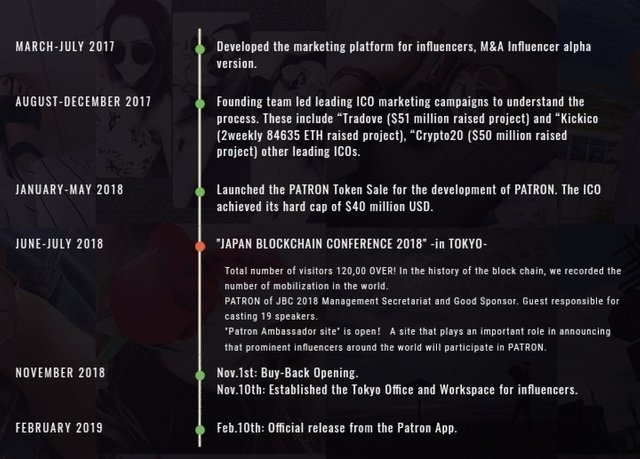 ---
All images in this article without a source linked to it were taken from Patron website and whitepaper
---
This contest was organized by @originalworks. You can participate in the contest by clicking here.
Twitter Link: https://twitter.com/Iam_TheProdigy/status/1073110998242988032
patrontwitter
patron2018