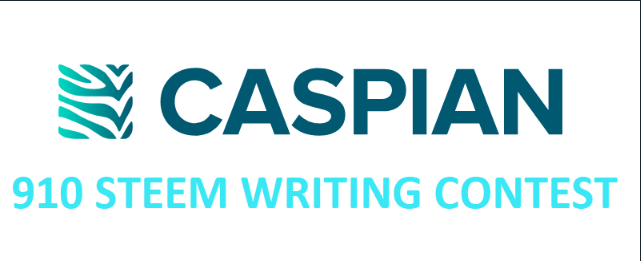 Are you tired of handling multiple exchange interface? Are you tired of using multiple tools in order to execute a successful trade? I don't know about you, but I sure am. The crypto world have been faced with different problems and limitations forcing traders to undergo stress in executing simple transactions which becomes time and energy consuming. Problems faced by crypto traders include:
UNRELIABLE TRADE EXECUTION:
There are numerous factors that influence this problem ranging from inadequate/not friendly user interface, poor loading time of exchange, high exchange cost, and tools limitations. Some users are also faced with issues when high volume trades are to be executed. In some cases, these transactions may not be completed while in other cases, the traders are forced to make smaller transactions, multiple times in order to complete a simple trade. This is time consuming and stressful.

LACK OF SECURITY:
There is no adequate security due to the vulnerability of exchanges to hackers. Traders are posed with high risks when purchasing digital assets. In some cases, there is absence of a trusted escrow service as traders may lose their tokens before trade is completed. Exchanges also lack contingency plans/strategies and compensational packages in the event of theft, security breach or network hack. There is also the matter of ineffective customer support and risk management system.
In a bid t attain perfection in trade execution and erase all these problems, idealists and developers came up with CASPIAN. So if you're tired of facing all these problems, let me introduce you to CASPIAN.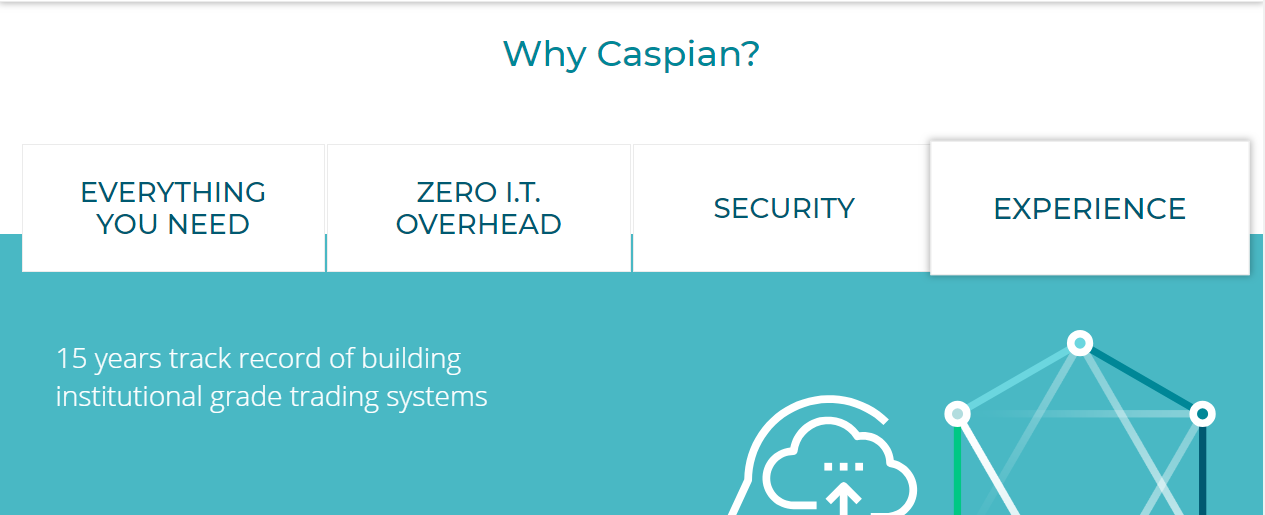 Trading successfully and stress free just got a whole lot easier with the creation of CASPIAN. CASPIAN is the implementation of complete financial aid tools integrating with major crypto exchange institutions to offer traders easy user interaction with the entire crypto market/space. Simply put, CASPIAN is the complete crypto-customer satisfaction experience.
CASPIAN MAKES IT EASY TO ACCESS TOKENS:
Take for example: having to live in NEW JERSER while working in NEW YORK and driving your kids to school in DALLAS every day. This is the equivalent of a trader managing multiple portfolios across different networks or devices. This is stressful. With CASPIAN, the equivalent of this journey example is shortened to living in a street where you work as a teacher in your child's school that's only two blocks away from your house. Yes!! CASPIAN brings ease and removes stress from the equation. This way, there is easy monitoring of tokens as traders no have to go through the stress of multiple "log in" in order to view the balance or transactions of tokens in different portfolios.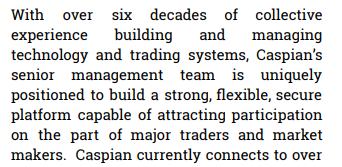 In order to attain great height of satisfactory, simple and easy trade experience, CASPIAN targets the integration of these three main functions: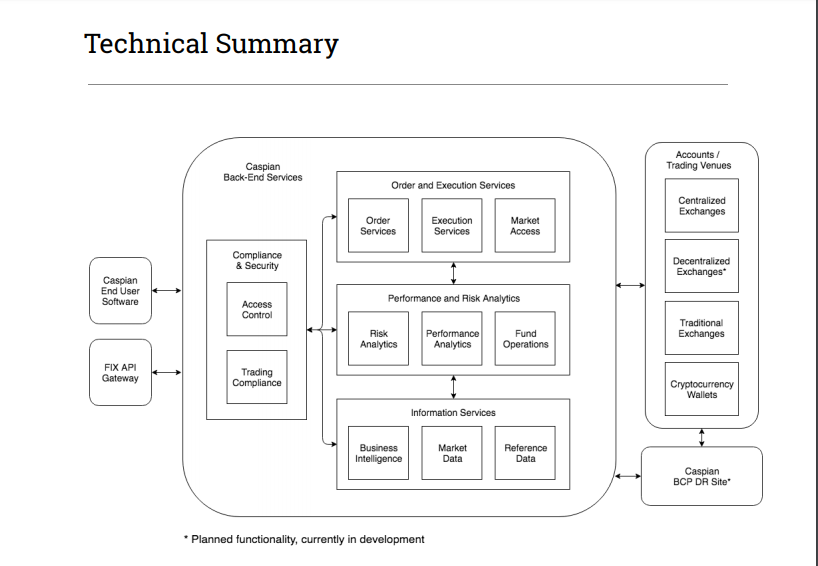 - EXECUTION:
CASPIAN can be called google for crypto because like google, it allows traders unlimited access to numerous exchanges, the implementation of all their tools and all this is done on a single platform - CASPIAN. This makes CASPIAN the most flexible platform in the crypto world. This aids in getting the most profitable trade/business deals from exchanges all over the crypto market.


- POSITION AND RISK MANAGEMENT
"CASPIAN makes it easy to compare positions, divest, reinvest and keep track of profit & loss across multiple accounts."
Traders are in constant control of all assets and monitoring their tokens is made available and easy. CASPIAN also provides the option of moving assets (tokens) across multiple portfolios (wallet) and exchanges.
- COMPLIANCE AND REPORTING
Law and order is what makes any great community stand.
"Where there is no law, there is no crime". In a bid to help trades invest/trade wisely and decisively, CASPIAN has made available "BUILT-IN COMPLIANCE FEATURES" to assist traders in making technical and strategic decisions. These features include:
Warning limit

Approval limit

Absolute limit
Personally, I love the absolute limit the most because of its strict command setting that cannot be overridden by anything. This is probably the best idea conceived by the CASPIAN TEAM.
There's also monitoring of compliance breach done by traders so as to erase any room for conflicting issues.
In the words of CASPIAN in the originalworks article, "The CASPIAN reporting product allows users, via a dynamic web based tool to use, create, format and receive graphical reports on your current trading and position activity in multiple formats such as PDF or Excel, providing an easy snapshot the current status of the fund via various indicators."
For new users of CASPIAN and also for newbies to the crypto world, CASPIAN provides an illustrative and a well detailed demo for navigation, trade and effective use of tools.
If after all these reading, you still don't fully understand why CASPIAN rocks and should be the "first to-go" crypto trade platform of choice, here is a simplified user case example to further explain things.

USE CASE:
Mackson is new to crypto and wants to buy a few to trade so as to make a few profits. He then comes to meet Victor who has been a trader for several months. Victor introduces Mackson to CASPIAN with a guarantee that it's the best trade tools and single phase platform there is in the crypto world. After watching the CASPIAN DEMO and a few instructional tips from Victor, Mackson trades and make a whole lot of profit in a short period of time. He then recommends CASPIAN to Mr. David assuring that CASPIAN offers better security of tokens than other trade platforms and gives him access to better deal gains. Mr. David tries CASPIAN and decides to make an advert for CASPIAN across his social media accounts. All users are satisfied and CASPIAN is better promoted.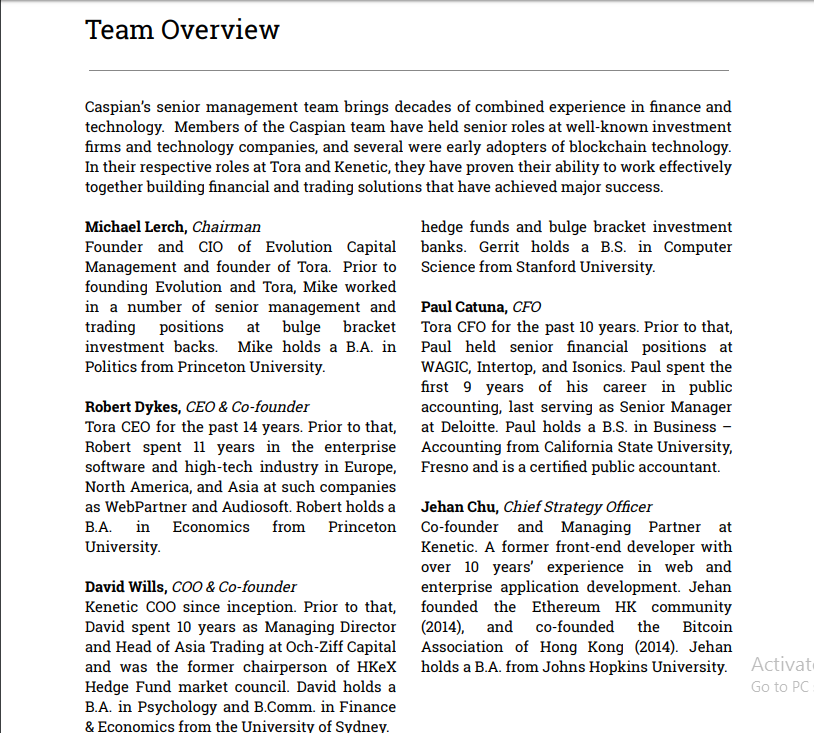 DISCLAIMER:
ALL INFORMATION PROVIDED HERE IS BASED ON PERSONAL RESEARCH AND READING. @msytiqueblinkx THEREFORE TAKE NO RESPONSIBILITY OF THE CHOICES MADE BY READERS OF THIS ARTICLE IN A TRADING TRANSACTION. USE WISELY AND AT YOUR OWN WILL.
TWITTER LINK
https://twitter.com/mystique_dev/status/1029498361802629120
caspian2018 caspiantwitter