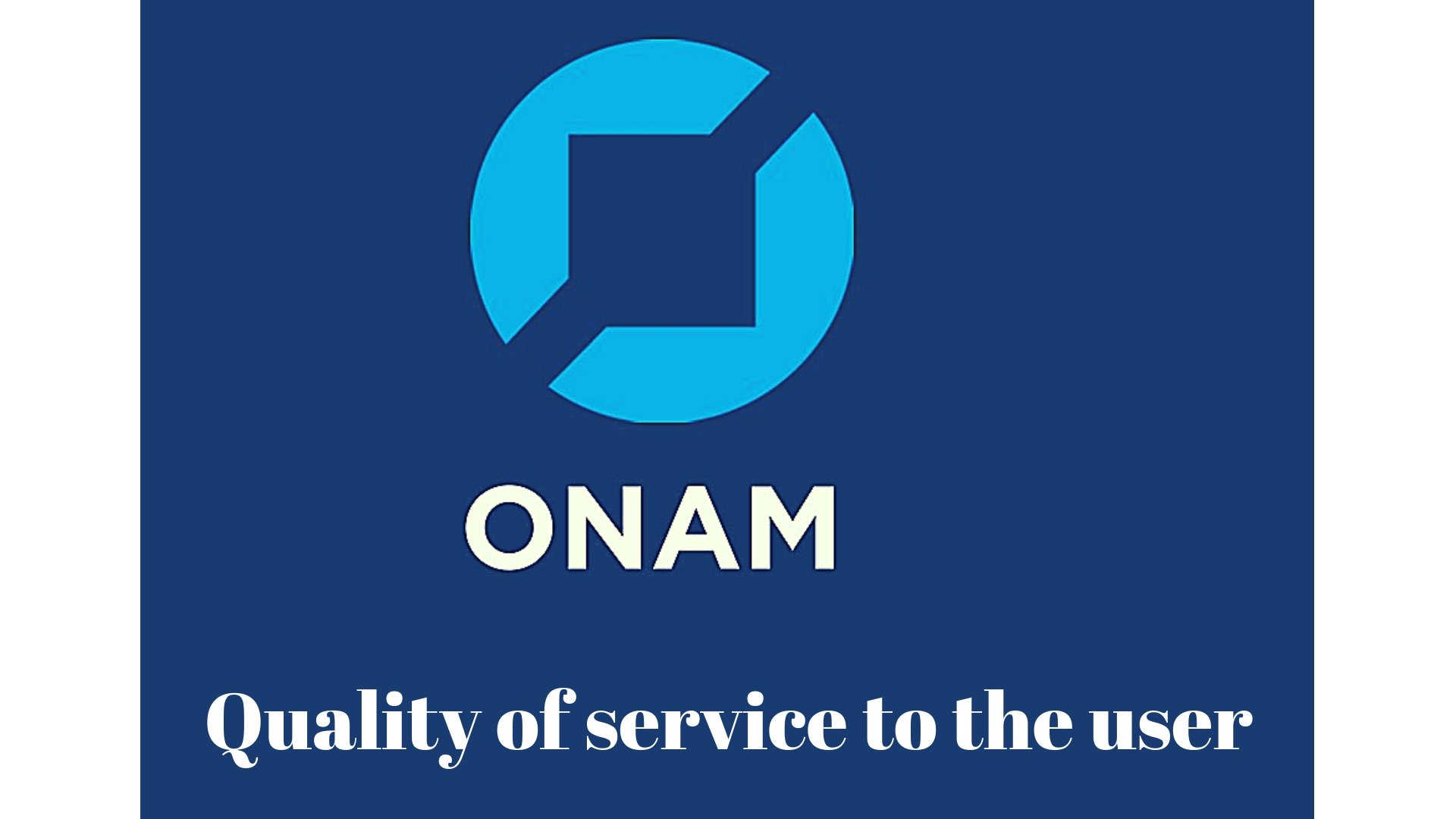 All the platforms that offer services to users, use technologies in terms of security, privacy, good service to the cryptographic user, these factors are very important when making purchases, business transactions, exchanges and a series of jobs in the that the user who uses this medium works as a daily work, and that in recent years has become part of our own existence. Strategies that can reduce the subtraction of our data, maintain our anonymity, speed in our transactions, a series of elements that will achieve user satisfaction. How to meet the needs of the user? That is the goal!
What is onam ?

ONAM, is a compatible cryptocurrency exchange platform. that offers the latest and greatest in security, scalability, transparency, customer service, liquidity and compliance. Everything the user needs.
It is important to indicate how you do it, in what way your function is so effective.
Security:
They use their own "Advanced Threat Prevention, Intrusion Detection and Commercial Surveillance Systems" along with DDoS mitigation, 2FA solutions. These systems are driven by machine learning to identify irregular activity before it negatively affects user accounts.
These systems are also protected by encrypted databases. Quarterly third-party audits are also a key part of ONAM's security obligation for its users.
Scalability:
the ONAM platform surpasses all competition in terms of transactions per second and latencies. It handles "10 million transactions per second with latencies as low as 40 nanoseconds". Taking into account that time is money, it is very important.
Transparency :
ONAM's, market surveillance in real time and a Compliance system examines the ONAM network for irregular business activities. Various characteristics and types of trade are monitored closely to generate reports of suspicious activity for system regulators. All these characteristics make the manipulation of the market almost impossible.
Customer service:
ONAM aims to offer customer support live 24/7/365 through chats in multiple languages. Common problems will be addressed in 15 minutes through the support ticket system. Telephone support will also be offered within the first 6 months of the launch. This system guarantees timely assistance.
Liquidity:
ONAM will attract large market makers, miners, and volume traders to participate in their network. High slippage and market manipulation issues will be fought off by enlisting book orders from multiple exchanges.
Compliance:
The SEC has taken the stance that almost all token issues are security issues. This has resulted in multiple subpoenas to various companies launching ICOs. Licenses are necessary for initiating public offerings and ONAM's top legal representatives are all informed on the latest positions regarding SEC and its view on ICO activities.
Form in which ONAM vs current market is developed.

ONAM, aspires to be the most capable and profitable exchange in the market. To achieve this, they make sure that the merchants have all the tools they need. The following table exemplifies the different characteristic between ONAM and some of the main exchanges, as well as the difference in rates.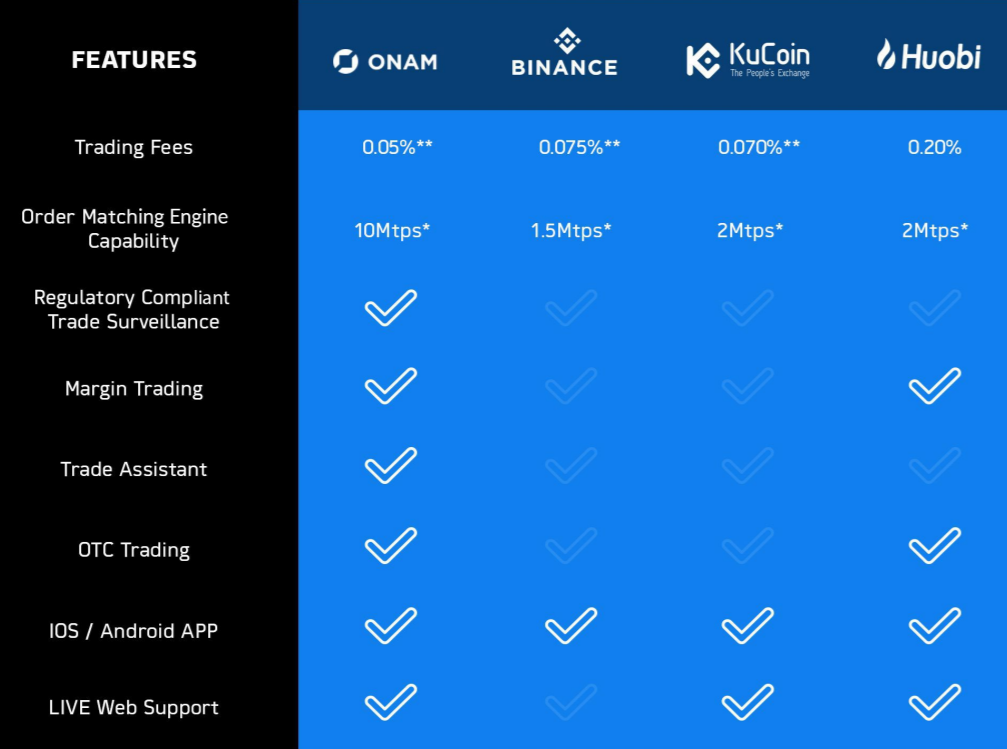 Fuente: WhitePaper, Página 13
There are many features that make ONAM a high performance platform for user satisfaction:

Types of Advanced Orders: this type of order helps the client to become more successful in their daily operations.
Argen Trading: Users can take advantage of a greater purchasing power in exchange for a small interest rate.
Paper Trading: Trading simulations for novice users.
Trade Assistant with alert and commercial signals, developed by automatic learning.
Limit the risk by evaluating the current position, account balance and current user tolerance.
Market Scanning: Powered by machine learning
Sets criteria for users to identify the kind of volatility they are seeking
Advanced Charting: Helps users optimize historical analysis of commodity, currency, security, etc.
Trading Expert Coaching: Novice users can be taught best practices by a community of experts on the platform
News and Announcement Feed: Major cryptocurrency-related news and updates
Push Notifications: All activities will be pushed to the user
ONAM Use Case:

Nancy, a retired nurse, has for some time started to make transactions via the Internet, with her cryptocurrencies, as well as purchases and sales since she is now at home for more time, but she did not dare to go any further for fear of being a victim of jaques. , also the broad protocol, many steps to perform their movements, little advice in case of help delayed their progress in this type of activity, Nancy seeks a platform that offers security, speed, and privacy among other services, taking into account that it is Novice in this type of activity, but which is very necessary in your life. Nancy knows ONAM that offers a series of advanced and general options for any type of commerce with timely advice, sure, in terms of private keys which gives Nancy great confidence.
At this time, Nancy can log on to your platform and simply take a prefabricated composite index of all the major players in the market and own some of your cryptocurrencies. You can also use your newsletter to make your own smaller index if you wish.
Conclusion:
Technology is growing day by day, from the beginning of the use of cryptocurrencies, different platforms make efforts to meet the needs of users with implementation, simplification, security, confidentiality in the protection of user data.
ONAM, shows a wide range of possibilities in the exchange of compatible cryptocurrencies, offers the most current in terms of security, scalability, transparency, customer service, liquidity and compliance.
ONAM, works and has a team of professionals and experts in the field, offering the most efficient and profitable exchange of the market that through this platform they offer to the users

Writing done by @nancyka for the contest @originalworks sponsored by ONAM
https://twitter.com/nancyca79782370/status/1061806537780412416
onamtwitter
ONAM2018