Sales is a very old way of working, which gives very good results if done with a lot of discipline, knowledge and above all perseverance,according to your culture , the Japanese are very good at this.
A Japanese householder buys a household appliance, for example, and the father or head of household carries the box with the appliance inside, and first spends days reading the manual, before removing the equipment from the box, this ability explains how methodical they are, follow the processes and this is part of their success in everything they undertake.
When we talk about Marketing, we know that it is a discipline that studies the behavior of markets and all of consumers and this they do with a purpose first to attract, that as a first step, then retain and then achieve that I be faithful that the client stays, and this is obtained if we can satisfy the wishes or needs of that client.
It is a job that requires a lot of passion, knowledge, discipline, and a lot of perseverance. Social networks are the main work tool in these cases. People promote their products and look for ways that are known by many people, that follow them, and that over time they keep their products.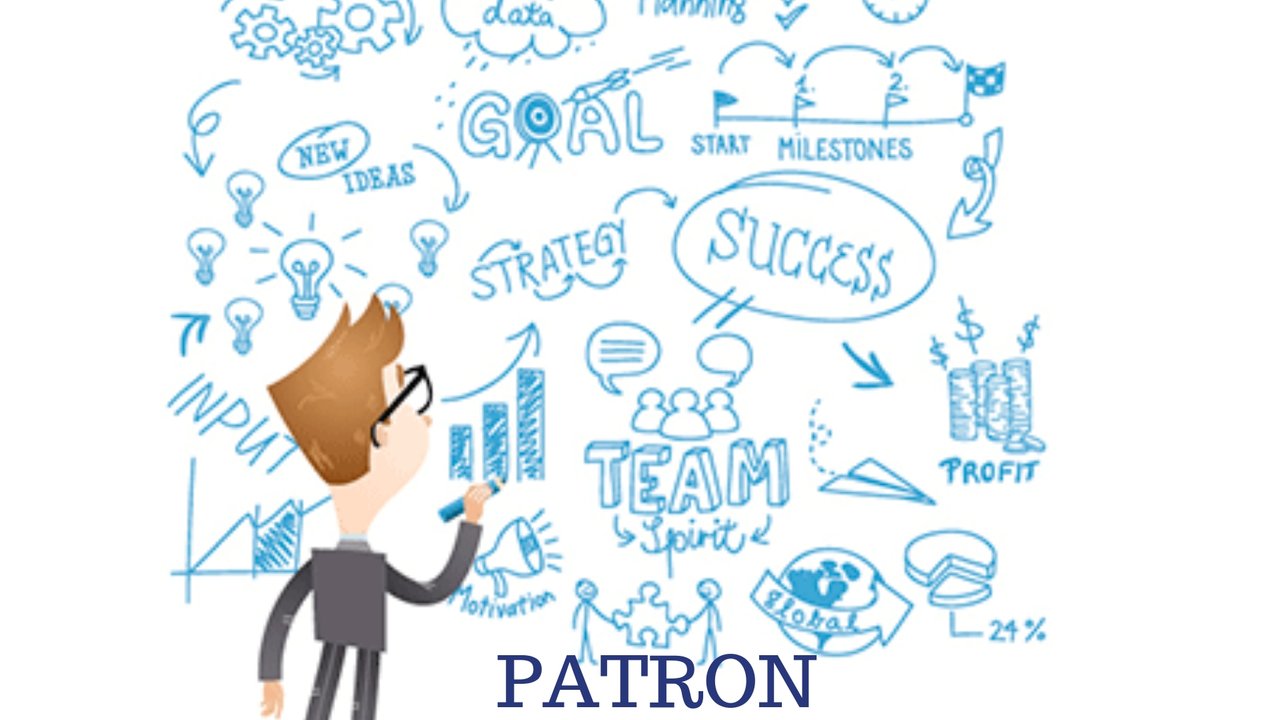 PATRON, It is an innovative platform that in the last four years has carried out marketing strategies with influential people and social networks. PATRON is an open source cryptocurrency, PAT, is the currency.
PATRON uses a series of strategies in its work plan which gives effectiveness as well as security. They apply in this model the chain of blocks, which does not require third parties or deposits of guarantees, which all the transfer and value receipts between members are recorded immutable.
PATRON divides the influencers into categories and classifies them according to their followers, useful this way to sponsor companies that until now could not be sure of the effectiveness of their marketing campaigns
The user has his or her influencers share their followers with sponsoring companies that are looking for targeted marketing. This allows the opportunity to value several influencers in a precise way depending on the number of followers they have and the times with which their followers buy product.
It is important as a PATRON, it determines the value of an influential

He has three criteria by which he judges his influencers
Number of followers
The number of people available through this user's network
Level of commitment
The frequency of engagement between the influence and its followers
Reputation
Opinions or references of the influencers of their followers.
There are three types of users in the PATRON model.
Host; o Influencer:
Guest; Sponsor
Fan; or follower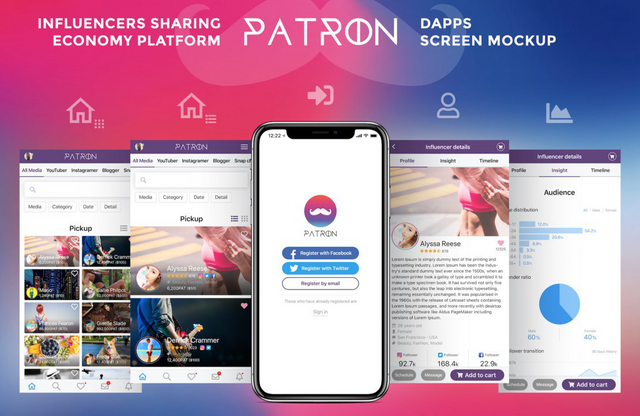 Demonstration of the PATRON
Benefits of the PATRON:
Sponsors can target more than one group
demographic at a time if they are complementary
With PATRON as a sponsor you can take your
information quickly to their crowds
demographic with research and minimum key
investment
Influential people can build a brand around them
based on its followers, the companies with which
They have worked previously and their price range.
There are influential users who may have high costs
of access to a few specialized followers that are
frequent buyers, or may have a price
economic and launch a lot of content to an audience
more broad and general.
It is important to note that followers will have a better benefit of content generated by a network that is more productive when monetizing the value derived from their attention.
The PAT will be used:
-By sponsors to get involved with influential people and use their networks.
-From fans to promote the content of the influencers that follow through "I like", which in turn raises the qualifications of the influencer and its marketing.
-For influencers to reward fans for contests, promotions and events.
Case of use:


Nancy, from Venezuela, has a small number of social networks, with 5,000 users. His passion is the designs of feminine intimate clothes, since he is a girl he likes sewing a lot, his goal is to increase his small number of followers, he wants to make known and increase his market., His followers are from a very specific demographic: intimate garments female
Leoneses S.A Colombian company very famous for its brand in women's clothing, global manufacturer of this type of garment. His brand dresses many women of demanding tastes for the intimate garments and they sell models that are unique manufactured by their designers. They are looking to improve their marketing to attract new customers. They contacted PATRON.
With PATRON, Leoneses SA was able to connect with Nancy who despite having few followers, these users were loyal and enthusiastic in the intimate clothes that Nancy made, PATRON through their strategies and work guidelines, dividing the influencers into categories and classifying according to its functions, according to the types of designs manufactured by Nancy, allowing sales to increase and Nancy to commercialize and demographically expand her products.


Conclusion:
PATRON, platform that supports the market of influential people, is the exchange of the economy, at present we all walk in the same, social networks are our biggest ally to promote, increase and maintain our products. PATRON as a sponsor can be disseminated quickly, safely and with little investment, it covers the different types of users that are handled in any form of network scenario, sponsor, influential, fanatic, causing as a result the progress in the current economy


Here are some videos that give you a quick overview: