As part of my periodic reviews of promising ICOs, I will be reviewing IceBreakerAR ICO and this is kinda focused on dating, networking and group generally and specifically involves the development of an app that can take care of the one too many complexities that affect match making and even actual dating as it relates to dating but it does not stop there is as it also solves specific problems relating to Networking or finding and joining appropriate groups.
Man is a social animal and hence the need to continuously socialize, meet new people and where applicable create a proper rapport and develop a workable relationship for the benefit of all. But all that being said, its not as easy as being sited on my desk and writing this article.
A whole lot of people experience numerous challenges when it comes to achieving this all important task and a lot of factors contribute to this difficulty amongst which include lack of confidence, lack of good social profile, inexperience, fear of being turned down and a lot more.
It is the difficulties outlined above that inspired the birth of this company and setting up of the objective of tackling these challenges with an App.
Another advantage attached to this project is the prospect of taking advantage of their initial coin offer which can later be traded in the exchange and possible profits made. But before I explain how the initial coin offer is going to be carried out, let me briefly explain how the challenges stated above will be overcome by this App.
There are similar platforms that operate as match making sites but they have existed with lots of problems that has become challenges to its users and part of this problems includes the following;
-Numerous Profile bots
-Inability to follow through
IceBrakerAR has developed a mechanism to neutralize this problem through the following;
-Ios/mobile App
-Augmented reality
-Retail partnership and
-Blockchain
The iOS/Mobile App is going to be simplified and give a user the ability to create a quick profile or an extensive one that will attract matches easier and they will have the ability to access networking where they can interact with like minds and can even create groups or search for groups that they could join easily.
IceBreakerAR are going to partner retailers that will provide discount for members of the community and by so doing take their business to a whole new level.
The platform is going to be based on the Blockchain technology and hence benefit from all the advantages that come alongside this technology and it involves data security and less use of IT personnel's.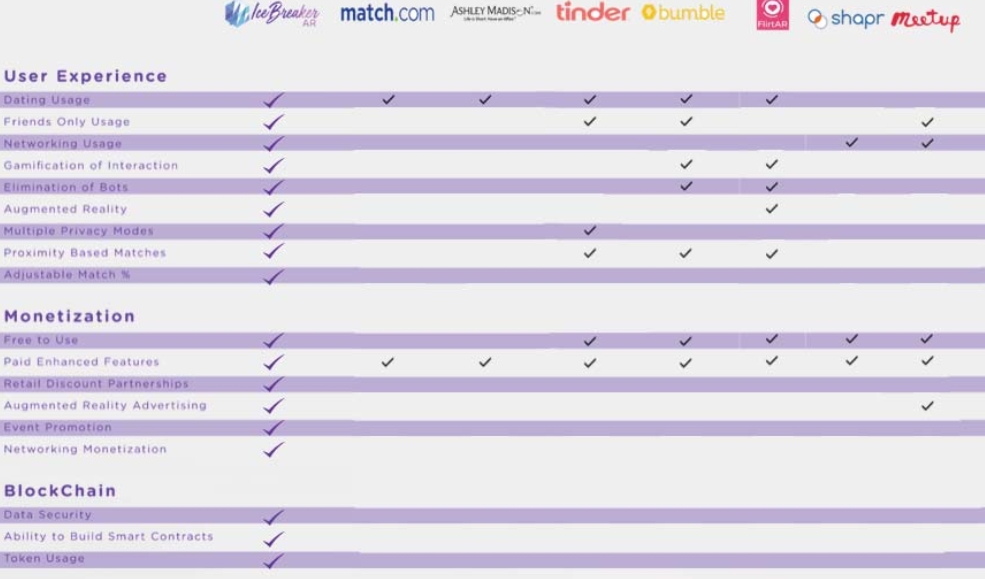 TOKEN DETAILS
Token Symbol ICE
Total Token Supply 300,000,000
Token Available for sale 212,500,000
Token Price at Token Sale 9.0 Cents USD
Max Fundraise (hard cap) 17.9M USD
Min Fundraise (soft cap) 3M USD
Token Policy Unsold tokens to be burnt
Tokens accepted BTC, ETH, LTC, FIAT
TOKEN OFFERING
ROUND 1: PRIVATE PRE TOKEN SALE
Target Supply 4%, USD $495,000
Marketing Restrictions Sophisticated/Accredited Investor
Start and end date 15th May 2018 – 31st August 2018
Incentive Structure 50% Bonus from token sale price
Lockup None
ROUND 2: PUBLIC PRELIMINARY TOKEN SALE
Target Supply 15.5% USD $3,487,000
Marketing Restriction None, Appropriate geographical restrictions may apply
Start and end date 01 October 2018 – 14 October 2018
Incentive Structure 20% Bonus from Token sale
Lock up None
ROUND 3: MAIN TOKEN SALE
Target Supply 51.7%, USD $13,950,000
Marketing Restriction None, Appropriate geographical restrictions may apply
Start and End Date 15 October – 5 November
Lock Up None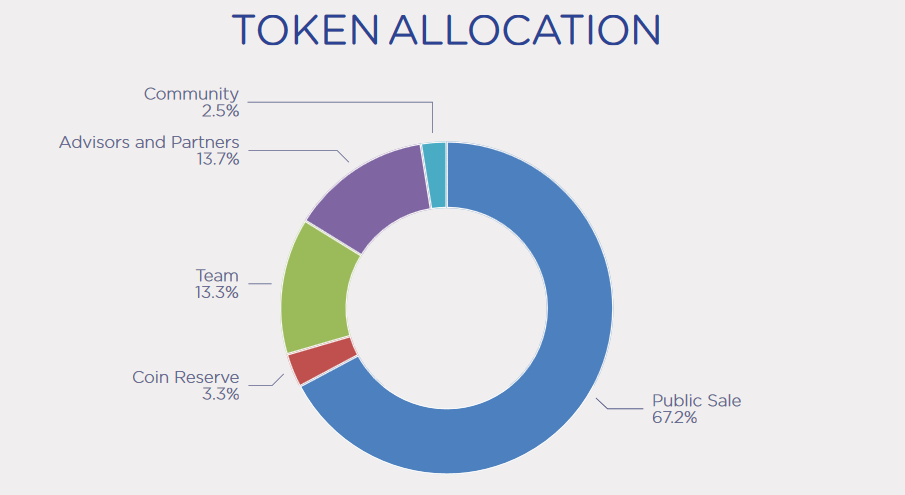 More information can be gotten from
OFFICIAL WEBSITE
BITCOINTALK