Since 2011 and the rise of bitcoin, the world has witnessed the 'mouth-gasping' rise of cryptocurrencies. From drug money, to internet phenomena, to bank disrupting tech, to establishing a big market, to mass adoption predictions…..the world still crosses their fingers and wait, watching the rollercoaster ride of the crypto ecosystem.
However, while the beautiful ideology behind cryptocurrency was to establish a seamless decentralized future, it did the 'almost-impossible' and created a parallel universe. A universe with its own citizens(traders, miners, holders, investors, ICO analysts, etc), regulations, and businesses. And yes, maybe the creators never saw this coming. Yet, the unknown happens all the time and this industry was not an exception. In line with the unprecedented growth in the number of cryptocurrencies, entrepreneurs decided that it would be a nice idea to create a parallel framework; probably a trading framework other than just mining and holding…. I mean, who likes working or waiting..?
Holding, (HODLing), is a boring endeavor. Wallets ? Ah, who needs those! I want to take advantage of the price differences. I want to create a trading market. A market which runs 24/7. A market where crypto rules. I want to create the……
And boom! the multi-billion dollar stock market 2.0 industry was born called Crypto Exchange Market.
But they just wanted to take advantage of the price differences, right?'
Yet now who benefits most in the crypto exchange market, is it the traders, the exchanges, the anonymous manipulators? Well, we'll know about that later on this article.
---
A crypto exchange is simply any thing that organizes trading between buyers and sellers.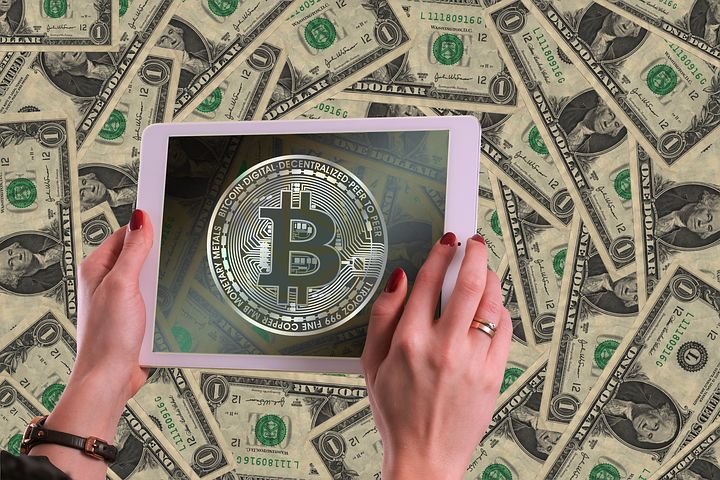 Source
At the moment, crypto exchanges are the key entry point for new and existing users.
The prices are based on the market demand and supply; prices are set and change all the time.
To coordinate these trades, exchanges use an advanced trade matching software(recently the atomic swap technology has been gaining waves) which connects buyer and seller, facilitating the trade between them.
And for this little services they charge you what they call 'little' transaction fee.
So far, is it so good?
Right?
No
No!?
Yes, No!
Around late 2017, there were widespread new reports of exchange hacking, false liquidity, poor customer service, and poor trade matching.
Also, the industry is surviving on the mercy of manipulated prices, as well as whales, who might be turn out to be exchange owners themselves… Who knows?
Oh, wait.. Do you also know that there is no legal structure to protect you in case you lose your money? No regulations are adopted yet, despite how rough and easily manipulated the market is?
Now, let's broadly talk about these problems.
Compliance Issues
Notably, investment in the blockchain technology has grown massively, however the pseudonymous nature of cryptocurrency transactions has heightened the Bank Secrecy Act / Anti-Money Laundering (BSA / AML) compliance risks. A bureau of the U.S. Department of Treasury in 2013, called the Financial Crimes Enforcement Network, FinCEN gave clear written guidance that defined the participants in a digital currency(cryptocurrency) arrangement, using the terms "user," "exchanger," and "administrator."
This issuance not withstanding, cryptocurrency exchangers often hold the fact that they were acting as payment processors and not providing money transmission related services; this notion was rejected by FinCEN.
FinCEN clarified that the supposed contradictions of definitions in the issuance and said that "a person is an exchanger and a money transmitter if the person accepts convertible virtual currency from one person and transmits it to another person as part of the acceptance and transfer of currency, funds, or other value that substitutes for currency".
The future promises of cryptocurrency and the blockchain notwithstanding, it has become an hoard for thieves, manipulators, tech-savvy hackers and the likes because of it's anonymous feature. More so, newbies in the market are often fooled by glittering ICOs.
Maybe because new cryptocurrency ICOs promise land sliding liquidity to their investors as the investors hope to make money, on February 13, 2018, FinCEN clarified its role as a regulator of virtual currencies by confirming that developers and exchangers involved in the sale of Initial Coin Offerings(ICOs) coins and tokens must register as an MSB and therefore comply with the full panoply of BSA/AML requirements.
Out there, so many cryptocurrencies exchanges are still unregulated, meaning there are no limits, no assumed risks, no regulated laws meant for fun clearance. In contrast to the traditional markets, your bank, or your stock exchange, is required by law to settle the money it owes you, exchanges only settle your trades cause it in their interests, not because they are obliged to do so.
Shedding more light, arbitrary account irregularities such as lost funds or blocked accounts are now rampant. When problems arise with the funding transfer process, exchanges may need to refund customers. However, this is not always carried out. For instance, a user detailed his experience with GDAX where he has yet to be refunded USD 30,000!
Another incident was when a user was not unable to withdraw his tokens and was unable to get a satisfactory reason for the irregularity. Imagine!
In synopsis, users have had their accounts completely taken off the gird, sometimes with no communication except an email informing them of the closure without a clear explanation. Worse still is, no legal action can be taken against these exchanges….
Do you still think we don't need regulations for crypto exchanges?
Exorbitant Transaction Fess
"37% of crypto traders are of the opinion that above limits transaction fees is the major problem of the cryptocurrency exchange ecosystem"
The advent of Internet made things so fast and easy and all we had to pay is for the internet connection. But in this case of crypto transaction, all we needed do was pay a 'little fee' for the providence of exchange platform. Crypto exchange platforms are were most transactions are carried out in the cryptosystem and in exchange for the service of providing a platform to trade, a couple of fees are charged to the trader naming trading fees, withdrawal fees, deposit fees, amongst others.
However, exchanges have made this a high profit earning business which has resulted in over-priced trading fees. This creates a tight situation for traders because most of them are not able to obtain their expected returns as a larger portion goes off in trading fees. You can imagine how worse the case would be for day traders. So sad!.
Market Manipulations
So because there are no regulations, the market is largely venerable to manipulations. Example is like when a whale drops his large bag of BTC on the market, the price will escalate so high that traders miss their stop-losses (price slippage). Some other popular manipulations includes, spoofing, wash-trading, momentum ignition, pump and dump, etc.
Security
As exchanges are going mainstream, they don't update and adopt certain advanced security measures to withstand the ever-present increasing attacks(in quantity and quality) of hackers.
A lot of people have heard about the Mt. Gox hack. It's the most largest hack to date, with unrecovered Bitcoins totaling 650,000!
Few months ago, another hack occurred on the Bitfinex platform and 120,000 BTC was stolen was virtually carted away.
Recently, Coinrail, the South Korean cryptocurrency exchange publicized that it was hacked in June of 2018. The hack resulted in losses amounting to 40 billion won (36.9 million U.S. dollars)!
The second hack on Youbit, a South Korean exchange, made it to stop operating and declared bankrupt in December 2017.
The list goes on and on…
Although cryptocurrency platforms are recently targets of DDoS (Distributed Denial of Service) attacks, so far, crypto exchanges constitute a single point of failure.
While some argue that decentralized exchanges offer better security than centralized exchanges because they store data on-chain and thus, they are immutable and would be the solution to exchanges security issues, but what about the liquidity problem solved by centralized exchanges(coupled with it's simple and understandable structure- UX) that decentralized exchanges can't solve?
Liquidity
Liquidity is a vital complement for the cryptocurrency market. Lack of coins creates an imbalanced environment, unnecessary volatility and then things will go down south. So far it seems the crypto market is not yet ready to absorb large orders without changing the value of the cryptocurrency. The exchanges still depend largely on other user's funds to pay others!
And this happens due to the lack of liquidity, compared to traditional financial markets.
It is noted that smaller exchanges, maybe with a daily trading volume of around 1000 Bitcoin, often face supply-and-demand issues or what is called, local price slippage and require the buyer to cover it, together with the transaction fee of around 1–10% above the original price.
Newly created ICOs promise liquidity to their investors as the investors hope to make money on it- this is very dangerous. Maybe even after getting listed, the coin suffers from very low liquidity, especially when they are listed on a smaller exchange. Then this puts the power into the hands of exchanges with higher liquidity to manipulate the market.
Customer Service
Citing his gruesome experience with a customer service personnel with Coinbase, a user stated, "Coinbase shut my account down because one of their systems confused my bank login ID as my actual name and flagged the account. It took two weeks to get a response and the response was generic and obviously had not been read in depth by a person who understood English. Right now, I am going through a similar problem with Bittrex where I admittedly made a mistake but I can't even get a response from someone."
One of the major problems of exchanges interfaces have been their customer care support center. Customers have cited- like the one above, how they waited for months or week just to get a response. This is not a desirable state or situation to put a customer through.
Moreover, even after waiting for so long, customers are met with unsatisfactory responses. Questions and concerns raised by users generally receive a pre-drafted answer that is designed to placate the customer but does not necessarily help. This can prevent trades and sometimes even lock out users of their accounts.
By the way, exchanges also seem not to stay online during the times when there are significant market moves. On Reddit, attention has been drawn to the fact that there have been suspicious moves of exchanges as they are fond of going offline when the market is crashing, leaving them unable to capitalize on the low prices and by then, they are unreachable through any means.
However, what causes these slow responses on exchanges?
I think it's their lack of scalability.
Scalability
For a year now, the cryptocurrency space has been experiencing growth at unprecedented rates. The surge in the value of the crypto market attracted many new clients and potential investors looking to trade. However, exchanges have not played their parts; they are unable to keep up with the sheer numbers of customers. They transaction volumes late last year, rose to a stunning 298% but made customers stunned and frustrated as their transactions weren't processed as quickly as a 'blockchain transaction' should be.
This surge exposed the inabilities of exchanges to handle increasing volumes of trade and showed how crude and obsolete their technologies were when it came to scalability in the blockchain. Exchanges need to be scalable as the cryptocurrency and blockchain is moving to a phase of mass adoption as not to discourage potential investors.
Conclusively, some exchanges try to keep up with the regulations relevant to their jurisdiction as well as best practices for security and safety. As a result of this, their systems often undergo overhauls and these changes affect the of users inversely. Security, scalability, poor customer service, liquidity and market manipulations are all connected in a way and this affects the users in the exchange system.
If we are sincere with ourselves none of the cryptocurrency exchanges meet the standard protocols in the top traditional fiat exchange system. Like the Wall Street Institutions, they have advanced security that detect possible hacks and users feel safe. If cryptocurrency is to really disrupt the whole system and go mainstream, hawking the blockchain and cryptocurrency potentials is never enough, they need to at least match the traditional exchanges features so as to gain users' trust.
A well established exchange with compliance with the regulations, advanced security, liquidated structure, scalable technologies, good customer response service can stop market manipulations and offer users the required ideal blockchain and cryptocurrency exchange platform.
Such only platform is Onam.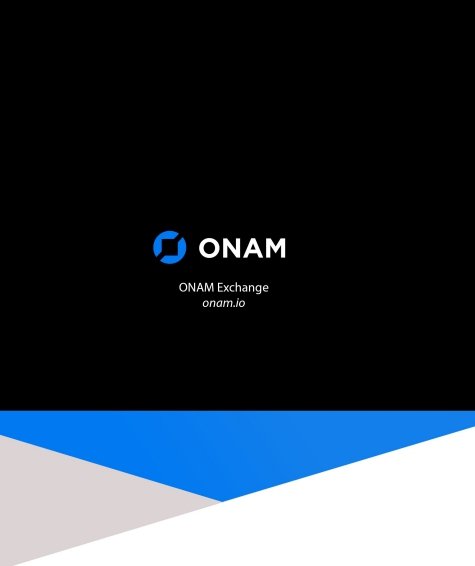 What is Onam?
Onam is a scalable regulatory compliant crypto trading platform. Onam interoperates its unique state-of-the-art technology security system, robust risk-management, 24/7 customer service and trade surveillance features. On Onam, there are advanced trading tool and Enterprise Grade Machine Security protocol. All these distinctive features are powered by the Machine Learning technology. The Onam exchange machine handles over 10 million transactions per second with a low latency of 40 nanoseconds, making it the fastest crypto exchange platform.
It is pertinent to note that, the Onam team consisting of experts have a goal, which is to aid traders become successful and stay profitable.
The Onam system was created to be totally scalable, liquidated while satisfying all security, anti-money laundering, market manipulation requirements that governmental regulatory agencies might and may establish. Onam prioritize adherence to compliance and security as these two will promote satisfying usability and mass adoption.
Onam Solutions
Security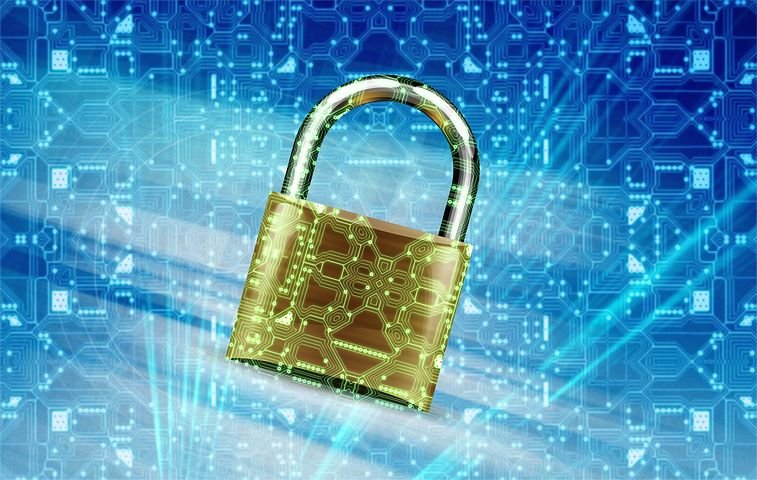 Source
Cyber attacks are continuous and never ending, thus, Onam has developed features that enable continuous monitoring and real-time visibility, in order to detect irregular activities and flag any potential problems in real-time, preventing breeches before it's too late.
Onam have implemented the industrial standard DDoS mitigation anti-phising and 2FA solutions. In addition, they also developed their own unique Advanced Threat Prevention, Intrusion Detection and Trade Surveillance System. These security upgrades are powered by machine learning technology, coupled with encrypted databases which adds another level of security.
Scalability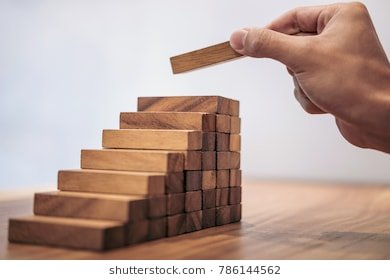 Source
Using Google's GoLang programming language(created for servers needing intense server applications), Onam boasts of it's matching engine capability of processing over 10 million transactions per second with latencies as low as 40 nanoseconds, whereby some exchanges can't process up to 1 million transactions per second. The Onam platform is truly built with scalability in mind while adhering to strict regulations of government for the crypto market.
Regulatory Compliance
Most exchanges are operating without relevant licenses from constituted authority. The token market is going south and many legal experts are advising their clients to comply with regulations in ICOs and other sorts trading.
Onam assures the public of a transparent platform that is in full compliance with all regulations in order to build trust. Onam has contacted a top legal firm in the United States to handle its legal issues that may arise with regulatory bodies.
Exchange Fees
Onam platform offer extremely low exchange fees to users.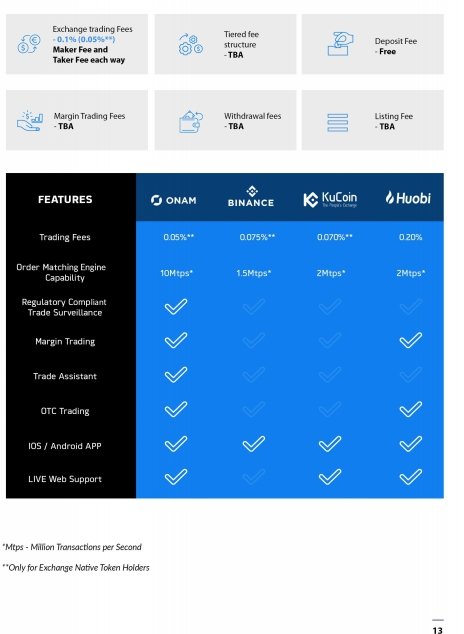 This is aimed at matching or even getting better than how the traditional fiat system operate. This will eliminate a major problem of the cryptosystem and go a long way in inducing mass adoption.
Below, Onam is rated against popular exchanges and Onam fares better in customer service provision in all ramifications.
Market Manipulation
How can market manipulation be prevented? Onam, using Machine Learning technology employs their Real-Time Surveillance, Supervision and Compliance System which observe all trading actions. Analyzing all data, they spot manipulations such as pass-through trades, wash trades, unusually large trades, spoofing, etc. This will create an environment that there is no iota of manipulation whatsoever by party and Onam also generates Suspicious Action Reports for the regulators.
Liquidity
Onam is planning to attract big players in the market, miners, volume traders by incentivizing them and utilizing order books from multiple exchanges. Onam foresees that this will solve the high slippage and manipulation issues birth by poor liquidity on most exchanges(especially the smaller ones) and offers a healthy trading platform that interoperates transparent order books.
Customer Support
Onam customer service center will offer all round, 24 hours every day live chats in various languages. They aim at solving most occurring issues within the first quarter of the hour that they are reported through a support ticket. Interestingly, Onam is also offering phone support within the first six months of full launch to ensure that no issues goes unresolved.
Onam Uniqueness and Distinction
High Performance Matching Machine:
This unparalleled feature makes Onam the fastest exchange for now and the nearest future with a transaction speed of 10 million TPS(Transaction per second) and a latency of 40 nanoseconds.
Over 10 advanced Order types:
To help customers become more successful by preserving profits in their daily trading, Onam features order types such as Iceberg Orders, Fill or Kill, Take Profit, Trailing Stops, Good Till Cancelled, amongst others.
Margin Trading:
This regulating compliant feature enables users to pay just a small percentage fee on borrowed funds in exchange for more buying power.
Margin Lending:
While structuring their loans, Margin Trading allows users to pick a rate and length at their discretion and earn interest in fund they have provided to margin traders.
Composite Index Fund:
This monthly updater index fund exposes users to smart and safe ways to get knowledge about various crypto assets.
Paper Trading:
This allows users to trade on Onam to improve their trading skills without involving real capitals.
Modular UI:
Several exchanges platform and their apps have design flaws that don't go down well with users. Onam Modular UI allows users to customize their trading page to their discretion.
Trade Assistant powered by Machine Learning Technology:
This provides trade alerts and signals. This feature limits risks based on account balance, current position and the unique risk intolerance of each trader.
Auto Trading Bots, Trading Strategy Back Testing:
With this, users can create their own trading bots or use the already made strategies built by experts on Onam.
Market Sentiment Analysis powered by Machine Learning:
This enables better trading by giving very fast sentiment analysis of market situations.
Market Scanning Tool:
To eliminate time lost in scanning for specific coins to trade on, Onam providing an interface for users to search for coins based on the criteria needed.
Advanced Charting:
Advanced Charting saves time and money by enabling users to chart any asset within Onam without needing to leave Onam platform or contact a third party charting tool.
Trading Experts and Tutorials:
Onam plans to employ trading experts to educate all traders on Onam the basic of technical analysis. This will be done through videos and articles.
News and Announcement Feed:
This brings up-to-date news on everything crypto to the doorsteps of Onam users.
Push Notifications:
This gives real time notifications of activities in the platform and users' account.
OTC Trading for Large Orders and Institutional Investors:
Onam uses trustless smart contracts, while acting as escrows and without igniting volatility, to ensure the smooth swap of funds and assets.
Multi-language UI:
Multi-Language UI offer users the opportunity to communicate effectively in their preferred language on Onam.
Multi-language 24/7 Live Support:
Onam also provides multi-language 24/7 live chat support to help all users communicate their issues effectively. Security questions feature has been implemented to secure accounts from unauthorized changes.
FIX server for institutional investors
Advanced and Custom Application Programmable Interfaces (APIs)
Affiliate program
Onam Enterprise Grade Security
Advanced Threat Prevention and Intrusion Detection Systems powered by Machine Learning:
These grade security tools never stores passwords, encrypts all user sensitive data before putting them into the database and the system is not vulnerable to SQL injections.

Anti-Market manipulation system (AMM) powered by Machine Learning:
The AMM being a real-time market surveillance, compliance and supervision system, constantly monitors for any suspicious trading activity and flags any market manipulation attempt.

Institutional grade Anti-Money laundering (AML) system:
Powered by Machine Learning, it cross check users' data through various international databases and watch lists in search of potential money launderers or the likes.

Quarterly Third Party Security Audits:
The Q.T.P.A security protocols, codes, order books, architecture and matching engine is used to run on Onam to ensure full compliance, transparency and a high security standard.

Qualified Custody:
Onam partners with BitGo™- BitGo™ is a leader in cryptocurrency investment service provider. This partnership will help Onam to provide strict policies, controls and disclosures that are only offered by qualified custodians.
More security measures are shown in the picture below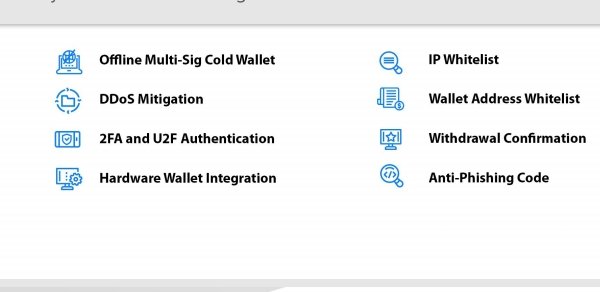 Regulatory Compliance
Being committed to having compliance in order to be in line with regulatory bodies and promote the legitimacy of its platform, Onam has regulatory compliance on
SEC Reg C and Reg D crowdsale Exemptions
Regulatory Licences and Registrations
KYC/AML
Restricted Person
Risk Involved
All these are broadly explained in the 20/21 pages of the Onam Whitepaper

Onam Exchange UI Preview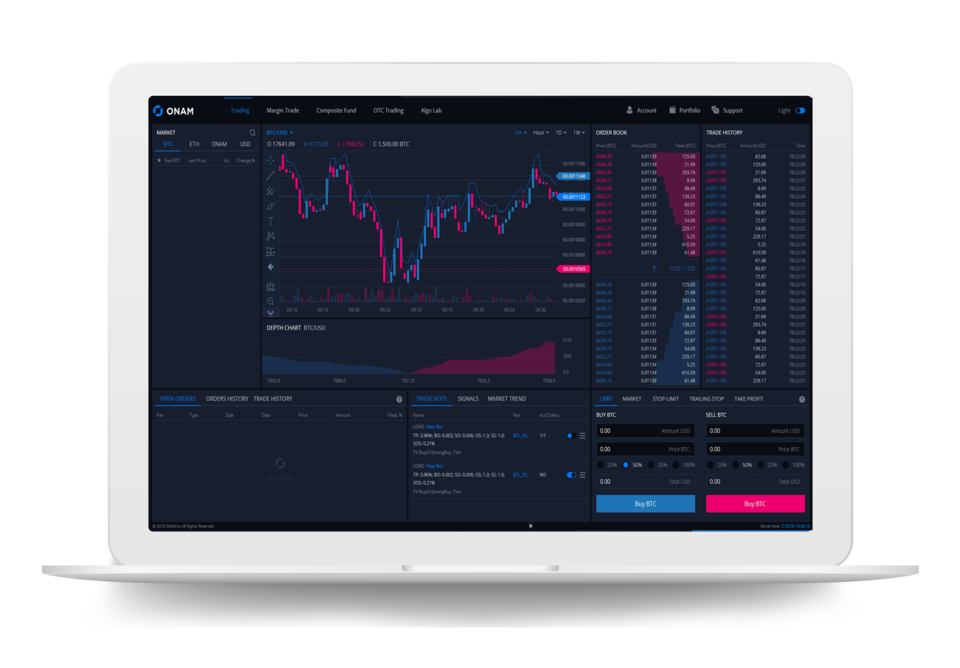 How does Onam changes the crypto exchange facet of the cryptocurrency system?
Users will feel safe not only because of Onam's advanced and unique security features, but become Onam is in compliance with all governmental regulations that guides fair trading between users and exchanges. Onam prioritizes this feature to show transparency and sincerity in all their operations(ICOs and other trading activities).
Moreover, day traders will be able to churn out profits even from the littlest transactions they carry out due to Onam's very low exchange fee charge. Knowing this, the big volume traders won't even feel any dent on their wallet when they pay for transactions on Onam.
The Onam platform is a saviour in time of need. With all these amazing features, it can only promise mass adoption and more influx of users into the cryptocurrency ecosystem. It also promises the growth and stabilization of the crypto market.
To match traditional fiat transactions, crypto exchanges need to be as fast as they are and Onam offers this and more. With a speed of 10 million TPS and with a latency in double digits of nanoseconds, Onam is the fastest crypto exchange and will be at the forefront of the crypto exchange market as well as at the forefront of the fiat-crytpo exchange system, leading the crypto exchange system in taking over the traditional system.
Customers only feel safe and confident of a platform when exchanges interact with them promptly and effectively. With a multi-language feature and 24/7 customer service, users usability will increase on Onam.

Use Cases
Paper Trading
The cryptocurrency market has always been a very volatile and unpredictable environment for Jon. After dealing in the stock exchange market for years, realizes that the crypto market though having better prospects than the traditional systems, is highly unstable.
He is a believer in cryptocurrency and the potentials it holds; he really wants to invest and trade but he is afraid because he has no experience. So Jon just sits at the side lines and watch the market but can't really participate.
After being introduced to Onam by a friend, Jon finds the paper trading option. Now, Jon can trade in the market through Onam without committing a real capital; everything is just on paper. This is vital to Jon because he can finally get the experience he so desperately needs before venturing into real trading.

Advanced Charting
If there is anything that pisses Emy off, it is the non-interoperability of several exchanges and assets. Whenever Emy purchases an asset, she has to involve a third party charting service or even leave the exchange in order to get a charting tool, thus, wasting time and money. This adds to the time wasted and cost of exchange fees.
However, Emy got introduced to Onam by a friend. Emy now buys any asset and transfers it to her wallet without needing to pay or involve a charting tool. This saves her time and money.

Modular UI
Betty is a type of girl you'd call a freak. Thing is, she's computer software geek too. She is easily pissed off by so many things, so she prefers all her things being done her way. But the only one thing she can't get away with is, the 'cranky' (according to her) designs of crypto exchange sites! Oh, did I tell you? She's a Bitcoin miner and she trades several digital assets too.
She had searched for an exchange that would give her the opportunity to customize her trading page but couldn't find any. Well, she found Onam actually. With Onam Modular UI, she can easily customize her Onam trading page to her discretion.

ICO and Token Sale
ICO Schedule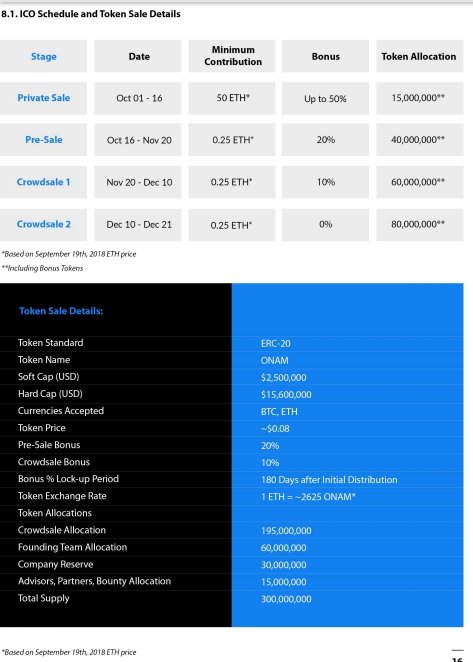 Token Allocation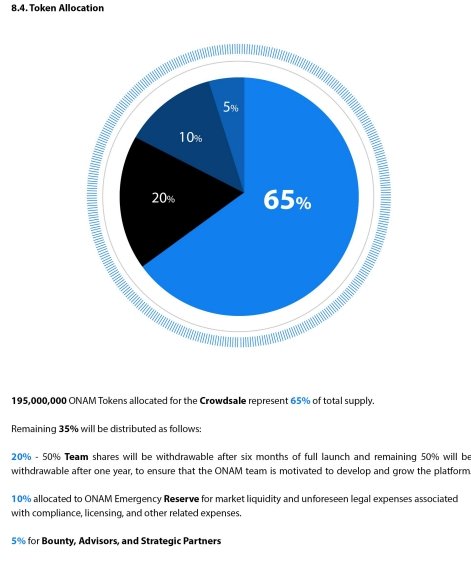 Token Sale Funds Allocation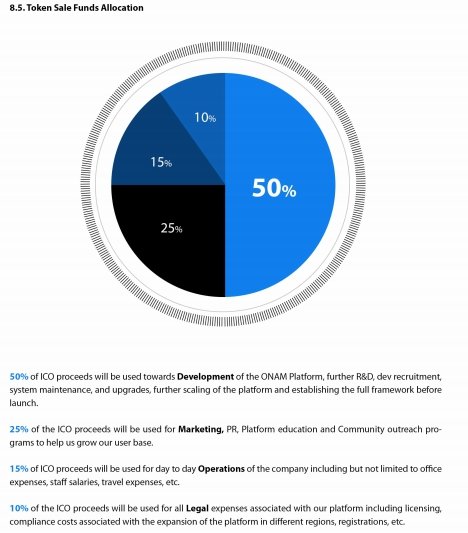 Note:Onam will use 25% of the company profit to buy back and burn Onam tokens. This will be done every quarter till 50% of the total supply is exhausted.
Conclusion
Onam is ushering the crypto ecosystem into a new phase of seamless, secure, fast, super cheap, transparent, compliant era with its scalable features and state-of-the-art technology.
Onam will be at the forefront of crypto exchanges and induce blockchain to go mainstream in the fiat system faster.
This is a new phase of the cryptosystem and a step into the future.

Onam Sites and Contest Resources
Onam Website
Onam Telegram
Onam Whitepaper
Onam Reddit
Onam Medium
Onam LinkedIn
Onam Instagram
Onam Twitter
Onam BitcoinTalk

Not a fan of long talk? Watch my video below


Team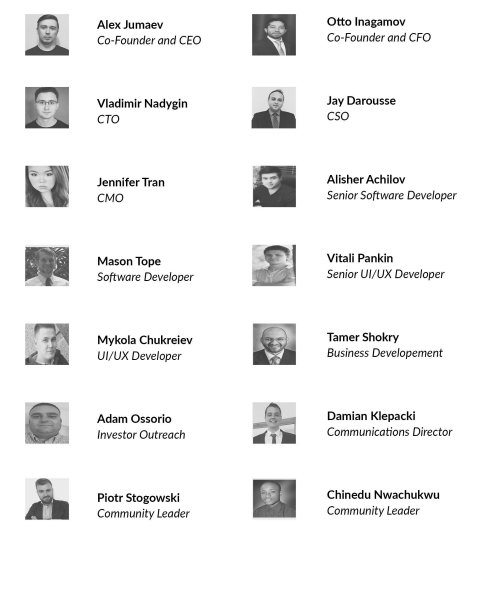 Advisors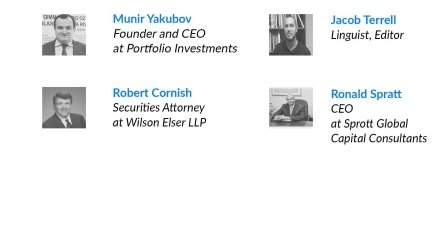 Roadmap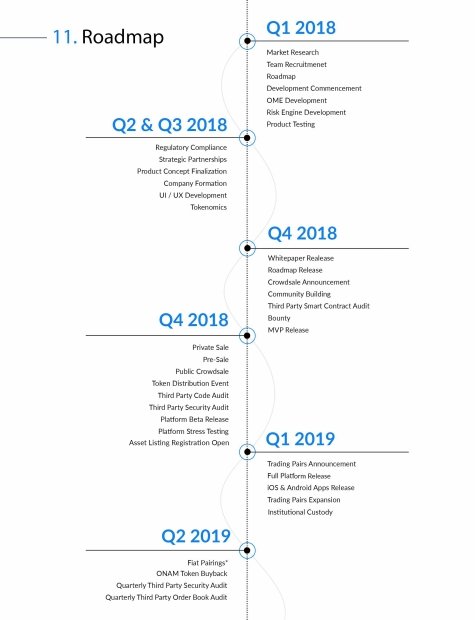 This is an @originalworks sponsored contest. Click here to check it out.
Any picture not sourced in this article was gotten from sites of Onam, and it is licensed for use in this contest
onamtwitter
onam2018