Do you remember that time when social networks were inevitably getting into our lives and everyone was happily sharing information about their favorite books, preferences in films and attitude to smoking? That time it was all considered as a kind of a diary, only a public one. It was interesting to read about others and to express your opinion. Now everything has radically changed, and any personal information about a user has a completely different meaning. Social networks, search engines and other Internet "whales" collect and successfully sell this information. Basically, for advertising purposes. Has anybody escaped targeted advertising? 
A rhetorical question.
Personal data today is a value, and users want to control it themselves and give their permission to use it. This is the very point why decentralization is attractive for people with its anonymity and the absence of intermediaries. First of all, it is convenient for transactions, but it is quite applicable in other spheres of life, for example, while searching for employees.
That is why the Profede team created the eponymous decentralized protocol based on the Ethereum Blockchain system, which provides access to professional data of the users for companies that are looking for employees.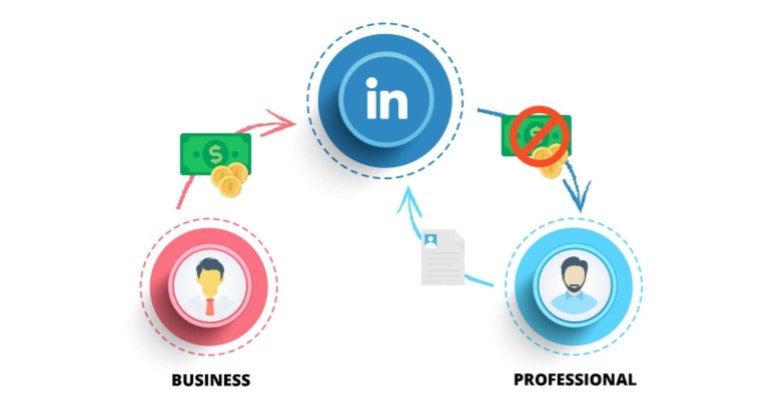 Benefits:
1. For specialists:
 • A user can choose what personal information he is ready to put in the access;
 • A user receives a reward for each request from the possible employer, opening his profile, even if there is no further cooperation;
 • A specialist can refuse to provide data, thus protecting himself from spam and not profitable offers;
 • Information about a user is completely protected. There is no need to spread it on different resources, it is enough to leave a link to the Profede platform;
• Job and cooperation offers.
2. For companies:
- Search for employees and business partners;
 - Absence of intermediaries, recruiters, recruitment agencies, which take a fee, but are not always effective (cost reduction);
 - Companies can see the rating of reviews of specialists in advance and thus they decide whether to contact them or not;
 - Using the platform to promote a product or services.
How it works
Professionals and enterprises who want to contact, will have their own profiles. A specialist makes a decision what fee he is ready to provide his data for, and accordingly, the company: whether it agrees with these conditions.
The reward will be given in the form of tokens called Professional Activity Token (PATO).
 The company makes a request for user's personal information in return for a certain number of PATO tokens. A specialist approves the request and receives payment, and the company gets access to the personal profile.
Thus, a company or an entrepreneur can  search for potential employees, customers or business partners, without intermediaries. And a user can be sure that this interaction will be mutually beneficial, and not a waste of time. Even if the cooperation does not happen, the user will still receive tokens for access to his profile.
If the company has concluded a contract with a specialist, it can leave a feedback about him, which is taken into account in the rating system. This feedback helps both a user and future employers. Besides, there is a fee for the feedback of 10% in order to motivate authorized companies to leave them. 2% will be charged for the use of the Profede service.
From mid-October 2018 there will be presented alpha version of the product. For a wider audience, the alpha version will be released in late December 2018. The final product is planned to be completed in 2019.
In White paper there were mentioned such large organizations as Linkedin, Hewlett Packard, Samsung, etc. which were announced as partners. In addition, it was agreed that the Profede protocol will be used on the beBee business network platform.
Currently, it has more than 12 million users in more than 100 countries and is implementing Blockchain protocols into its system. Despite the fact that beBee is a new network, it has already been given several awards and nominations, and is also represented for the prestigious program in Silicon Valley.
   ICO
Total number of tokens: 6 billion PATO
Tokens for sale: 3 billion PATO
End of sale: September 15th, 2018
Hard cap: $ 20 million.
Soft cap: $ 1.5 million.
Price PATO: 0,01 dollars.
Conclusion
Generally, models, which include intermediaries, are becoming obsolete. With the era of the Internet, we all have much more opportunities for job search on our own, as well as enterprises can search for employees themselves.
Moreover, if specialized networks and platforms are organized, why should we pay to third parties, when you can earn yourself? That's why I completely support this kind of initiatives and innovations. Especially when soft-cap has already been collected. :)