Nowadays we are facing the situation that more and more operations are acquiring digital form: notebooks, tickets purchasing, bills payment, document registration, etc. it's very convenient to use all of these as it saves time, and generally it frees up from a lot of routine tasks. As I've mentioned, it's great to use it, but it's even greater to make an application yourself. That's the reason why programmers are now in high demand. And, of course, you should learn to acquire the skills of this profession as well as to have a technical mindset and certain abilities.
By the way, it is interesting to point out that many enterprises and start-ups often face not so much lack of financing as lack of developers who will put their ideas into life. Such an inaccessibility of technology is the hinderance for innovations.
That's why there are appearing projects that offer a simplified version of software development, where you can use the human language (rather than programming) and intuitive actions. One of such projects is Sparkster. Sparkster is a platform that allows you to create software without specialized skills. They use an intuitive interface where you can drag and drop objects and apply commands in English. This is a cheap, democratic and personalized way of creating software. Thus, each person, who has a good idea, will be able to create it without special knowledge of programming.
Since there is no dependence on the company and its various departments, you can realize your idea much faster. Moreover, it is always more effective when an expert in the field of ideas and a specialist implementing a project are one person. In such a case there is no misunderstanding, and all the nuances and changes are taken into account more quickly.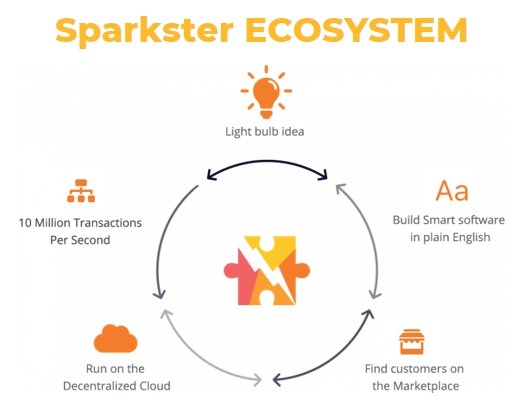 It will be possible to create software even on phones, because all the hard work has already been done for a user. On YouTube there is a channel of the project showing a video how 7-10 year olds create their own programs. What can adults do then? 
It's convenient that programs created by others can be used to implement your ideas, something like puzzles or bricks. Sparkster Marketplace makes it possible to sell your ideas, find investors and like-minded people.
A great advantage of the platform is the absence of errors. This saves a great deal of time and creates greater competitiveness for other projects.
The security system is quite complex and ramified, which allows users not to worry about their personal data and products.
Sparkster also offers its decentralized cloud, the computing nodes of which are smartphones, laptops and other personal devices of the participants. These devices will provide their unused capacity and memory for customers in exchange of Spark tokens.
Each user will be able to install a special application for mining. The owner is rewarded with Spark tokens when his device is selected to perform client's work. Tokens can then be sold on a decentralized exchange, where you will set the value yourself.
The Sparkster cloud will be cheaper in comparison with the traditional clouds of such companies as Amazon, Microsoft, Google and IBM, as each member will set a price for using his device. Market conditions will lead to the fact that the cost of a decentralized cloud will be lower than the cost of traditional cloud systems.
In addition, equipment for cloud systems consume a huge amount of energy, which negatively affects the environment. The Sparkster system will reduce this load on the environment and CO2 emissions.
With the Sparkster platform, everyone can easily create their own smart contracts on the Ethereum network without writing any code. You don't need to hire a developer, a user can do it himself in a few clicks.
The Sparkster platform can interact with any Blockchain system, not just Ethereum and Iota. In the future, it will work with Neo, Cardano, Stellar, Ripple, etc.
To reach a larger scale, Sparkster will make its platform free for personal use. 
And a user can increase his features on the platform by inviting a friend. Such offers contribute to the rapid development of the network. The platform will be monetized through user licenses, transaction charges, device and storage fees, and so on.
ICO Details
Tokensale - July 1st - July 3rd 2018
· Price for 1 SPARK = 0.15 USD.
· The total number of tokens is 290 million.
· Soft Cap = $ 5 million
Hard Cap = $ 30 million 
Conclusion
At the present moment Sparkster has an agreement with such major partners as ARM and Libelium, as well as integration with Apple Homekit, Amazon Alexa, Arduino, Raspberry Pi.
Sparkster has great ambitions, assuming to become Uber for the software world, thus becoming a serious competitor to such companies as Microsoft, SAP and Oracle.
Links
 Website - https://sparkster.me/
White paper - https://sparkster.me/#Whitepaper
Twitter - https://twitter.com/Sparkster_Me
Facebook - https://www.facebook.com/sparkster.me/
Reddit - https://www.reddit.com/user/Sparkster_me/
YouTube - https://www.youtube.com/channel/UCAkXXoN7cFSEN-4SFtLFmHQ
Telegram - https://t.me/SparksterICO 
My BTT account: AccidentalGenius   https://bitcointalk.org/index.php?action=profile;u=1277078