Crypto enthusiasts are always keen to hear and talk about Bitcoin and their favorite alts all day long to anyone interested in sharing, and we also love to learn from experts about the industry and the price action from day to day. A great place to educate yourself is on Youtube where there are numerous channels run by all sorts of characters, some of whom are questionable.
But now and then you find a really genuine expert from whom you can learn a lot and profitably bet your money on, so to speak. One such veteran expert is Eric Krown of Krown's Crypto Cave.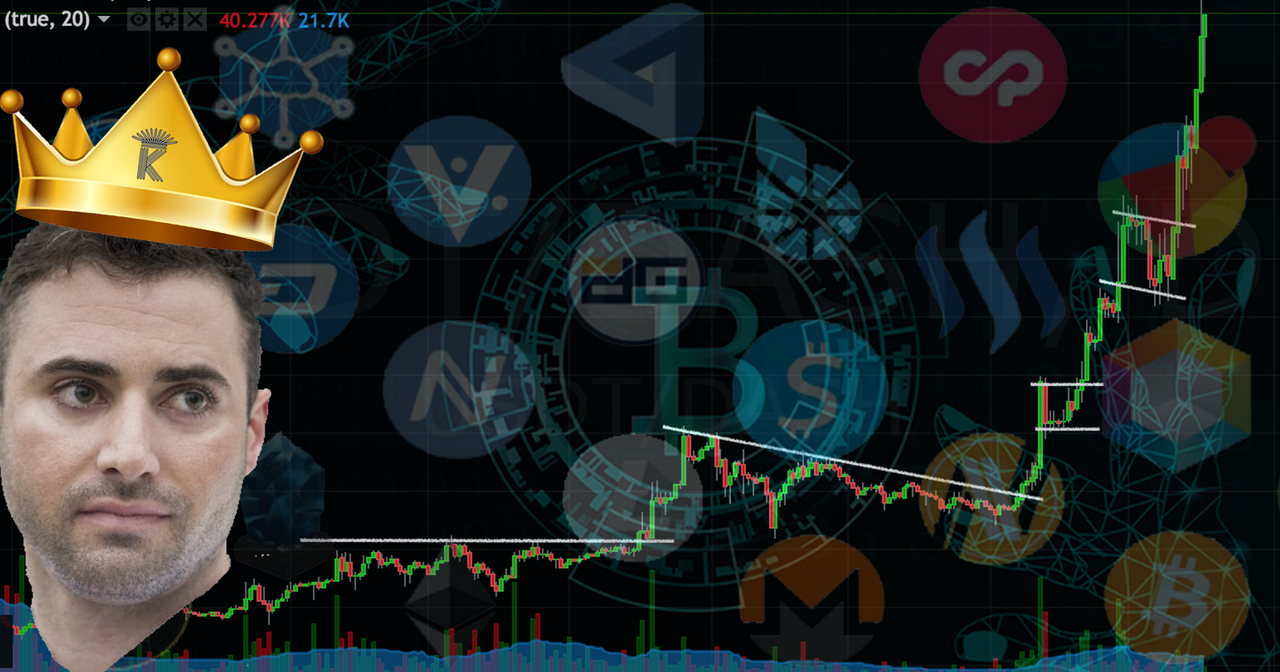 Listening to Krown speak like a machine gun as he rattles off stats and details of price action is informative and you really have to listen closely as he freely shares volumes of data per second for those capable of picking up what he is putting down. Having watched numerous traders of differing levels of skill and experience, it is possible to say that Krown is one of the best. And that's why he is worth noting and paying some attention to, if you are serious about trading and technical analysis.
Generally, it's risky to just listen to any arbitrary Youtuber when it comes to taking advice in trading with your hard-earned cash. Cryptocurrency trading is a science as well as an art and there is little room for hype or sentiment when it comes to making money on a daily basis with your time and focus as a crypto trader. The masses of data and volumes of theory can be overwhelming at first but as you spend more time in the markets, in the effort to time the markets, you gradually learn the ropes and improve with persistence.
And you are not the first to walk the path, so finding a serious mentor really helps. Krown is just such a person, having started trading in his youth already, and making his way up under a mentor of his own. He learned from some of the best and ended up as a professional trader on the floor of the New York Stock Exchange where you learn every single trick in the book by the time you finish there.
Having moved on to crypto a few years ago already, Eric Krown is a full-time trader with skin in the game or "Proof of Trade" with the eye of a sniper when it comes to pulling the trigger on a long or short trade in Bitcoin, his primary trading asset. And he is also kind-hearted enough to run his own Youtube channel where he actually shows the viewers his own personal open trades so that you can see how legitimate he really is when he talks TA or shows the way.
Having grown up in America and lived in San Francisco, he actually went to live in Europe a few years ago and spends a year or so in one country before traveling to the next, so he is setting the example of how one can live the dream by trading from anywhere while seeing the world. Currently in Finland, he even talks about how much summer daylight time there is and how little sleep you end up getting with the limited night time.
More time to trade it seems.
If you want to check him out and learn a lot, then try his Youtube channel at Krown's Crypto Cave, where he discusses TA like a boss as well as trading psychology. Also highly recommended is an interview he recently did with Ivan on Tech, another expert, which you would greatly benefit from. In it he discusses Allessio Rastani's B-wave concept of Elliot Wave theory but will tell you from experience that expert traders don't buy into this fabled theory very much. And he should know.
Basically, it may look good on a chart but it ultimately makes TA look too simplistic, when it is actually quite complex, considering all the factors involved.
Krown is still young relatively, but having started even younger, he is a wealth of knowledge and experience. He will even show you his screen with open trades, both long term, where he bought Bitcoin near this year's bottom around $3200, and continues to hold that open long trade all this time, as well as more recent short term options trades on leverage.
BITCOIN $20K or $5K NEXT?! 😱 Ethereum UBISOFT Games - Krown and Ivan on Tech
You can literally see what he is doing and that he knows his business.
This is the kind of expert trader you want to learn from. His primary technical reference to show that we are in a bull market is the fact that the Bitcoin price has moved above the 21 weekly EMA (back in late March) and the monthly 21 EMA just recently. No need to look at the smaller time frames here because stepping back and seeing the bigger picture on the larger view is what he recommends.
The 21 EMA is a crucial technical indicator that all bots and algos will be set to react to, and is a key indicator even on the NY stock exchange. And if so many traders are watching it, then it pays to also be aware of their potential moves and to react accordingly. If we're above it, we are bullish and below it implies a bearish market.
Of course, the current rally has been so quick and parabolic, that a retrace is due, he agrees. We have had a 70% growth spike in April and 112% in May, so Bitcoin is really off to the moon since that 21 EMA upward cross.
This is the fist time in 18 months that Bitcoin price is really in an uptrend.
If you want to make regular gains in your trading then these are the kind of technical insights worth knowing, as Krown is imparting them freely. He also has a course for those wishing to know more, but his Youtube channel will cram twice the amount of info into it compared to most other channels.
He even says that it's actually good that the price has shot up so parabolic in recent months because, although it may appear too quick to be sustainable, it has also, from a psychological perspective, left the doubters "in the dust" as he puts it. This leaves them little opportunity to buy in, so they chose to buy in, they get emotional as they don't want to miss out, and then they get trapped as they do something foolish in the moment.
The fact that shorts are open much more than longs means many of these margin traders are getting caught in bad positions or trapped and the only way to get back is to buy in lower. And if Bitcoin comes back down in price they will all want to cover their positions. These and other lessons are all available from Krown based on his decade as a mainstream and now crypto trader.
If you want to learn how to trade on margin, or with leverage, then you can learn from the best at Krown's Crypto Cave.
This is someone who will show you Fibonacci retracement levels, remind you not to FOMO in and to rather look at the weekly or monthly charts to really get a better perspective of where the price is heading. He has had options positions open from $3950, $5150 and $9180, and can see price approaching the top. He then has a plan to buy back in below $9000 after the retracement.
You will make money learning from him, as well as learn how to set yourself up on the ground so that you can keep your money and not have to lose it all to taxes. His secret is setting himself up in Estonia, the new smart country of the EU, with the most crypto-friendly eCitizenship. That's the place to be in the long run if you are a full-time trader. Or you don't even have to be there but you can set up your bank account there as an eCustomer.
So learn from the best and follow in the footsteps of Krown if you want to make trading your career and travel the world as a digital nomad while earning as you go.
Life has never been easier for traders online now that social media is offering a platform for all of us to learn from the masters of the art anywhere in the world, which is now a digital global village and a wonderland for those who have the right mentors and the right attitude. You too could be on top of the world right now, where it's an endless summer as the sun never sets and crypto never sleeps.
If he can take 0.42 Bitcoin and turn it into 20 then so can we.
The path has been shown, now it's just up to us to walk in the footsteps of the masters. Check out his channel to find out more, join his discord to chat with him, visit his website if you want to become a pro trader and enroll in his course which is bound to take you to that level.