1.0 INTRODUCTION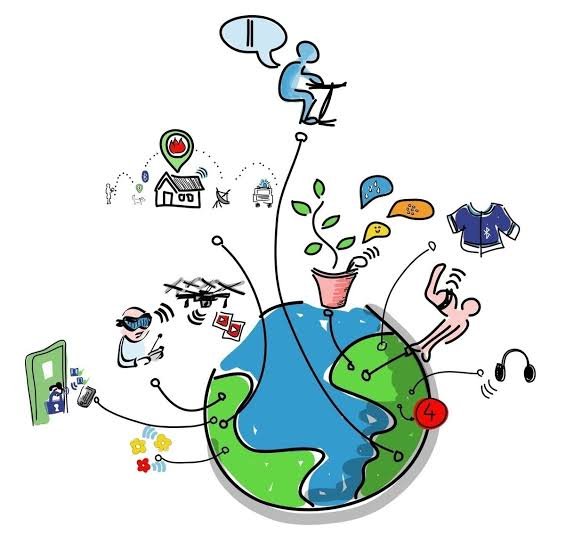 source
The Internet of Things (IoT), might be a new term to some, but it basically refers to how things (physical objects such as vehicles, household appliances and wearable devices) are connected via the internet, by being embedded with chips that makes this connection possible.
The IoT industry has been experiencing tremendous growth over the last few years, and according to Statista, the global IOT market will grow to $457B by 2020. The possibilities created by this industry-which we are still coming to terms with are endless.
Three major parts are needed for IoT to function, and these are servers, devices having sensors and humans.
With security being a major issue, a term I believe that will become common place in the near future is Blockchain of Things(BoT). This is due to security concerns, seeing millions of devices will be receiving and sending data every hour. With the better security features the blockchain has to offer, organisations will do well to move to the blockchain, to avoid embarrassing situations where users data/privacy is breached.
The BoT industry faces other major problems, such as not having a unified standard that will ensure data circulation, data transactions, and data sharing between parties is seamless.
These are the issues IONChain hopes to provide answers to with its solution it has created. By achieving this, it will ensure that the industry will be stronger, and able to meet the needs of users, much more effectively.



2.0 IONCHAIN: ONE DEVICE, ONE COIN, ONE CODE
IONChain makes use of this concept to be able to achieve the integration of IoT devices with its network. Edge computing technology is made use of, to ensure that all devices can become mining machines, and these devices will also derive financial benefit from this action.
Integration of infrastructure and available IoT hardware forms the foundation of IONChain's solution.
"One device" refers to IoT devices on the network. "Coin" refers to IONC (the fuel of the ecosystem) while "Code" refers to the unique identification code, within the IONChain network. This can be embedded into IoT devices. This also ensures that the problems associated with IoT are done away with.
As a result of this, users will be able to earn rewards, more hands can be involved on projects, and the best brains will also be attracted to the ecosystem to create solutions that can be applied on a larger scale. Users will also have better processing speeds and will also be better protected. This will also mean that the industry will grow at a rapid pace and groundbreaking solutions can be created.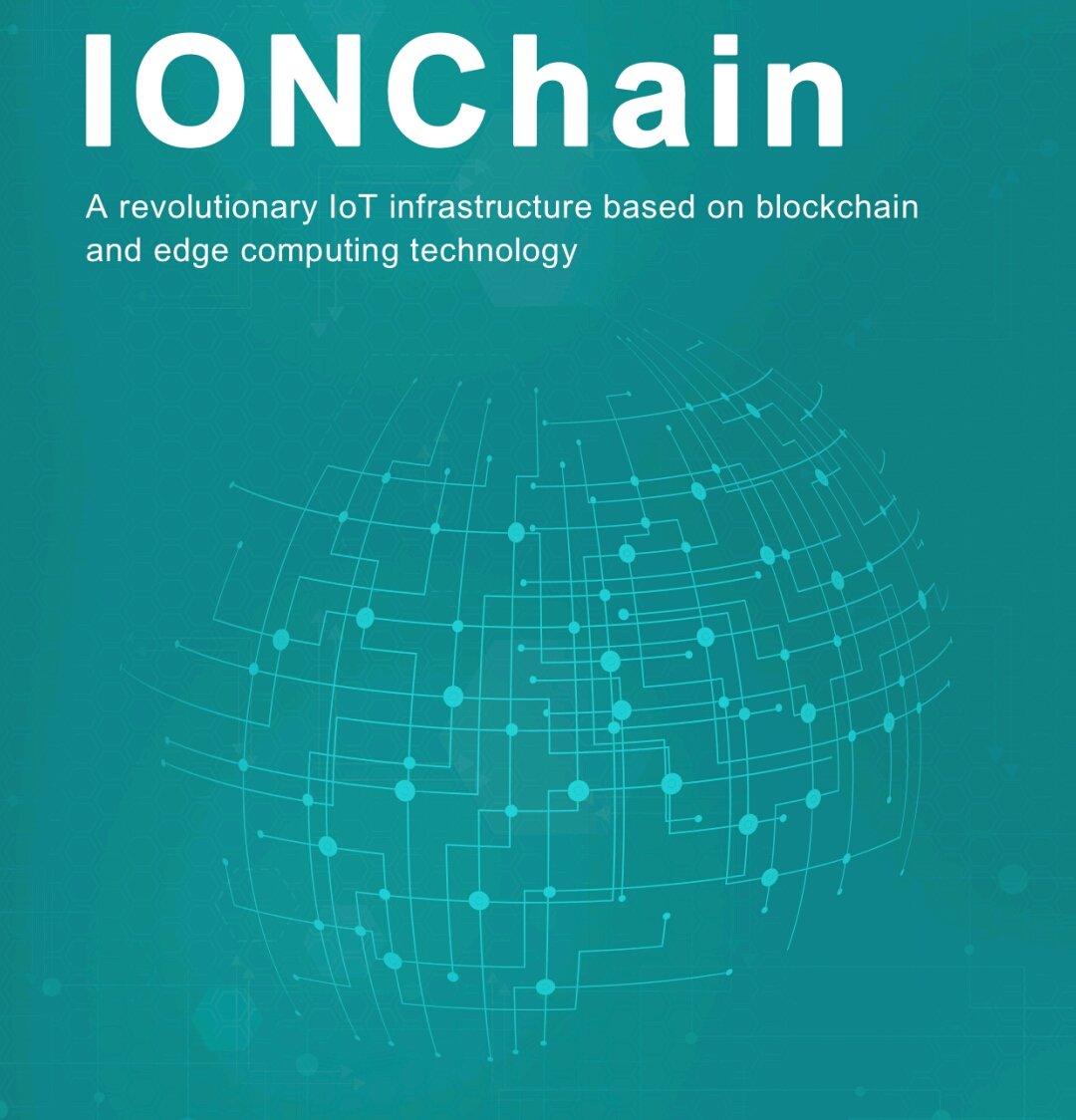 These are some of the impact that "One device, One Coin, One Code" will have on stakeholders in the industry.
3.0 CRITICAL LOOK AT THE PORBLEMS THE INDUSTRY FACES.
3.1 NO ESTABLISHMENT OF A BUSINESS MODEL
Unlike the case is in most industries, the IoT industry does not have a clear business model. As at the time of writing, RFID were the only clear use case with regards to IoT deployment. Data resources generated by IoT have not been applied to any industry on a large scale, yet.
Having a set global standard will ensure that collaboration can work, and transfer of data from one smart device to another will be seamless. This standard will also ensure that everyone is working on the same wavelength, and interoperability wont be a problem any longer.
3.2 LACK OF PRIVACY/DATA PROTECTION
Storage of data in centralised locations has proven in times past to be insecure. IoT devices are constantly sending and receiving data, and users have no control over their data. Also, it is not only gathering information of end users, but also of businesses. Stolen data can be used to trace the activities of businesses and individuals.
This data is also controlled by a few stakeholders in the industry, and this effectively means that once these organisations are breached, majority of users will be affected.
3.3 INTEROPERABILITY
Sharing of data with new entrants into the industry will ensure that these new players have data to work with, which will ultimately mean that the industry will be the better for it. However, early entrants are reluctant to give up data to people who more often than not are competitors. This ensures that true sharing of data is not achieved, seeing information is hoarded. When communication between platforms is difficult, tangible growth will be difficult to achieve.
When a true IoT economy exists, collaboration will be possible, and it will also be seamless, meaning that information can be shared easily. In industries such as these, the more the merrier. Having an enabling environment will ensures that more organisation will be attracted to the industry, to create more solutions which will be for the benefit of the people. When solutions that can be applied on a large scale are available, it will attract the masses, and will also ensure that mass adoption will be a possibility.
3.4 SHACKLES OF CLOUD COMPUTING ARCHITECTURE
There have been increments in network bandwidth of recent. However, when it comes to solutions such as Virtual Reality (VR) where real time interaction is very important, the solutions currently available are inadequate, due to the delays in rendering.



4.0 THE EDGE COMPUTING ADVANTAGE
Edge computing ensures that data storage, computation, and network are stored on the edge of the network, ensuring that they are close to the source of the data. All this is achieved on an open platform. This means that connection speed will be enhanced, and thus real time application will be possible, like in VR. It also ensures that security is improved upon, data is optimised, security is better, and also makes application intelligence possible.
Edge computing connects physical entities and industrial connections. Cloud computing will still be able to connect with the historical data of the edge layer.
It doesn't necessarily have to replace cloud computing. It can also be integrated with cloud computing to amplify its effectiveness.



5.0 IONCHAIN FOG COMPUTING
IONChain's technology is adequate enough to meet the requirements of Edge Computing, and also ensure that its power is put to full use, efficiently.
IONChain also believes that every device connected to the network can act as a mining machine, which they will receive mining rewards for. By incentivising its platform, individuals and businesses will be attracted to IoT projects, which will lead to collaboration, and ultimately, the growth of the industry.



6.0 INTERPLANETARY FILE SYSTEM (IPFS)
This ensures that the problems between data block volume and transaction speeds can be resolved. IPFS ensures that data can be distributed, encrypted and stored securely. Unauthorised access to this data is almost impossible, because the security is based on the total computing power of all mining devices connected to the network.
The separation of transaction processing and storage ensures that the data size/transaction speed contraction is taken care of. Hence, a greater volume of data can be handled, going forward.
Combining Edge Computing with the blockchain ensures that this is achievable. This means that data/privacy can be protected better, and data cannot be stolen, to be used for selfish or criminal interests.



7.0 APPLICATION SCENARIOS OF IONCHAIN
IONChain is highly adaptable, and it can be used in a host of use cases such as supply chain management and smart cities.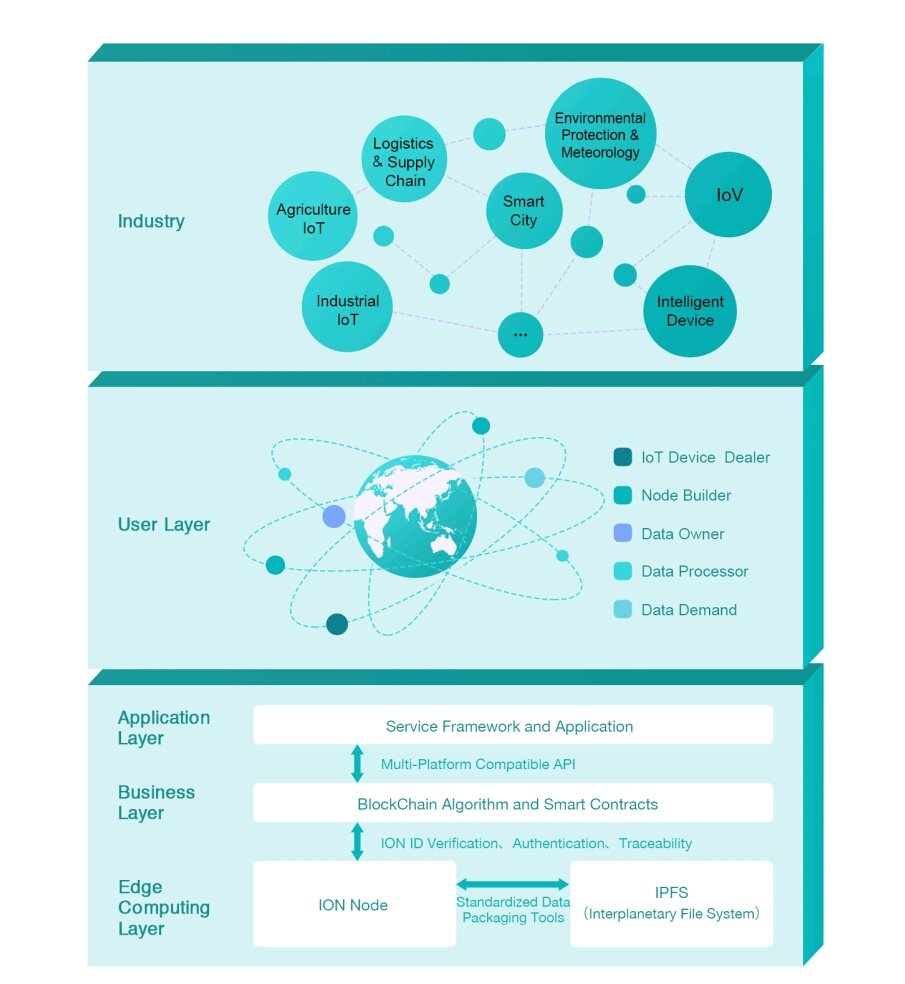 IONChain makes use of distributed nodes that are encrypted, which ensures that there is not a single point of failure, and users are in charge of how their data is used.
IONChains ecosystem will support B2B and C2B data exchange.



8.0 FACILITATION OF THE SHARING ECONOMY BY SMART CONTRACTS
On IONChain's ecosystem, it is possible to transfer operation authority. Smart contracts can be given a set of rules that enable device-human/device communication, to transfer value across the network.



9.0 TECHNICAL ARCHITECTURE
IONChain makes use of an ionisation algorithm, which in itself, is inspired by the formation of ions. This algorithm separates value creation and value transfer. In the industry currently, both are combined. This is suitable for some instances, but it is inadequate to meet the future needs of the IoT industry.
When this separation occurs, the value derived can be applied to create new consensus algorithms.
The Value Transfer Layer ensures that value can be transferred within the ecosystem.
9.1 VALUE GENERATION
Information is processed and stored in individual smart devices. This data is then converted to a standard format that can be passed on to the next stage, being the verification stage.
9.2 VALUE VERIFICATION
Similar to how it is handled on other blockchains. Any party interested in the data provided by an IoT device has to complete the value verification. Value is then transferred to the next layer, when verification is complete.
9.3 VALUE EVALUATION
Verifying the authenticity of the value is completed in this stage. It is more or less a second level of value verification. This second layer was put in place to prevent malicious attacks.
9.4VALUE CONFIRMATION
Here, the verified value is packaged and sent to value transfer aspect. This ensures that the value generated by IoT devices is officially present within the ecosystem, and it takes the form of a digital currency.



10.0 VALUE TRANSFER ON IONCHAIN
This is split into six parts, namely: Application Layer (provides REST API interfaces based on the HTTP protocol), Service Layer(adopts the binary-based GPRC protocol), IONChain Protocol Layer(unified access protocol), Smart Contract Layer, Blockchain Layer, and Data Storage Layer.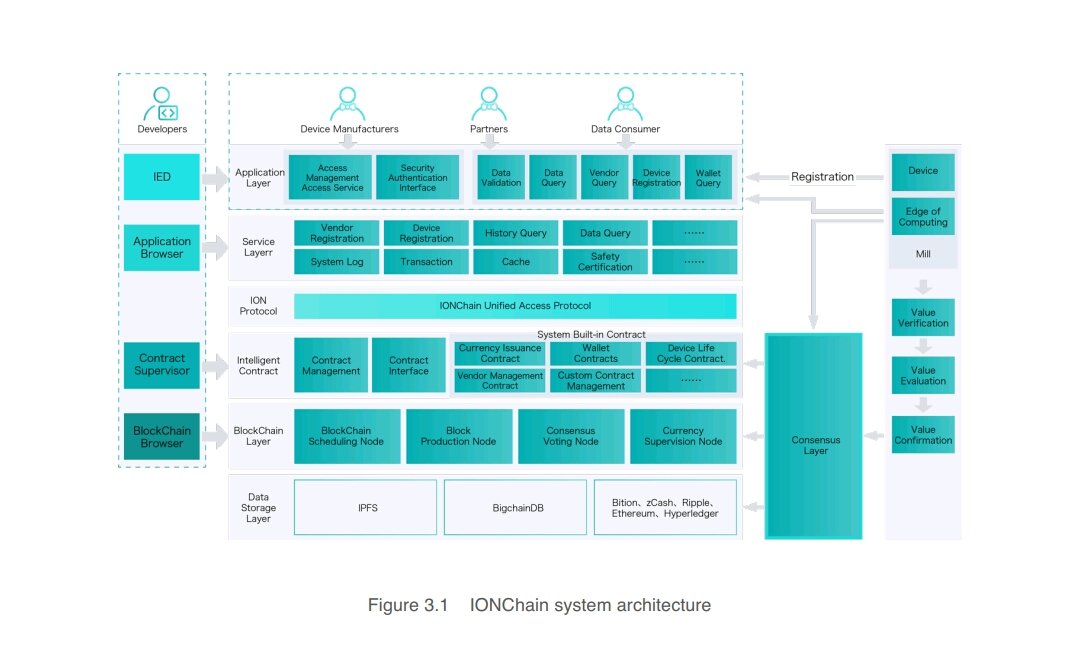 11.0 HOW THE IONCHAIN ECOSYSTEM CAN BE USED TO IMPROVE THE WAY SMART DEVICES ARE USED AND COMMUNICATE WITH EACH OTHER.
The IONChain ecosystem ensures that the lapses identified in the IoT industry, such as latency, security and privacy are improved upon. IONChain also creates an environment where organisations can improve on existing solutions. Seeing smart devices are continuously sending and receiving data, it is important that this data can be transferred securely, and users are not placed at risk. With a foundation and functional ecosystem created by IONChain, these smart devices will be able to communicate effectively with one another.
As more solutions are created within the ecosystem, they will also be applied to improve on how these devices communicate.

12.0 IONC TOKEN
Official token of the ecosystem, and it will be released over a period of twenty years. Maximum supply is 800 million. It will also be used to reward mining activities.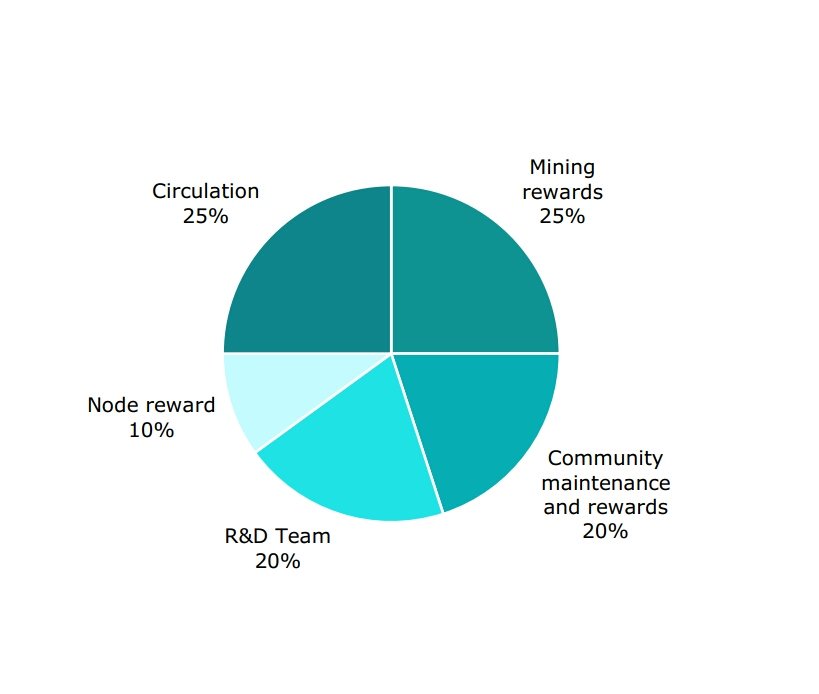 13.0 USE CASE
Slamo is a creator in the VR industry, and they are always looking for way to improve on their offerings.
Security and latency have been big issues for them, and this has seen a drop in DAU's and MAU's. To stem the tide, they decide to make use of IONChain's solution, which ensures that real-time transfer of data/information is superb. This ensures that their user base begins to grow.
Slamo also have access to data, which they can use ethically, and are not at the mercy of the bigger corporations anymore.
This ensures that they are able to fine tune their service, and their users are happier, ensuring that growth is maintained, and revenue also increases.

14.0 SUMMARY
By improving on existing solutions and ensuring that sectors such as VR can thrive only means that real value has already begun to be added to the industry.
Due to reasons highlighted above, the growth of the industry has been affected, and with IONChain, ensuring that users are better protected and also making sure latency issues are a thing of the past, will ensure that users will be eager to use solutions built within the ecosystem. Having control over data is something users have been clamouring for, for sometime. IONChain doesn't just improves on existing solutions, it ensures that new solutions can also be created, which can be applied on a larger scale.
Organisations will have more resources to work with, and these resources will be used in creating solutions that will be used to create such DApps for end users.

TEAM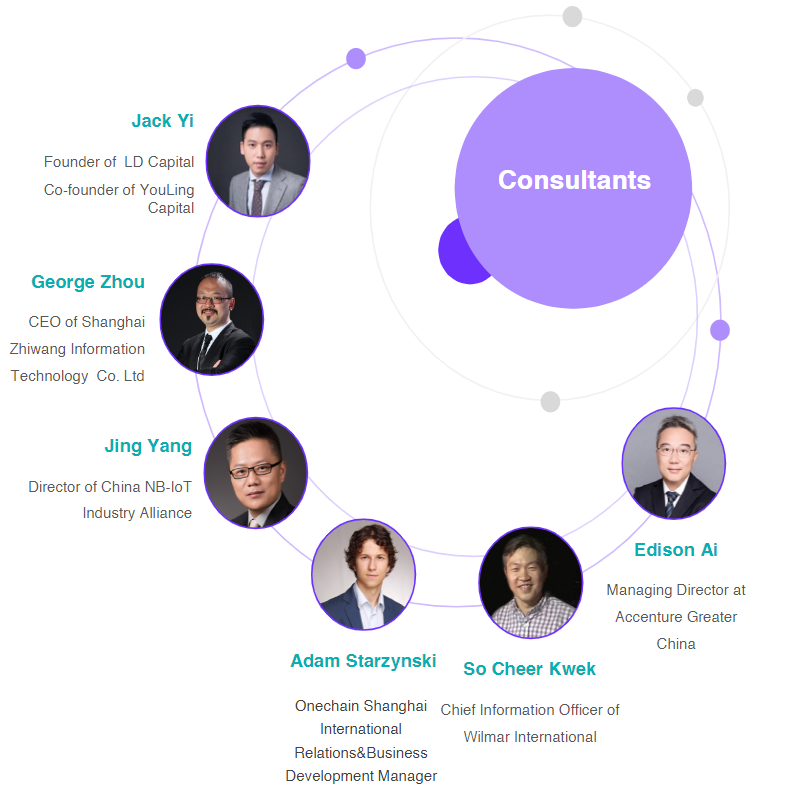 ROADMAP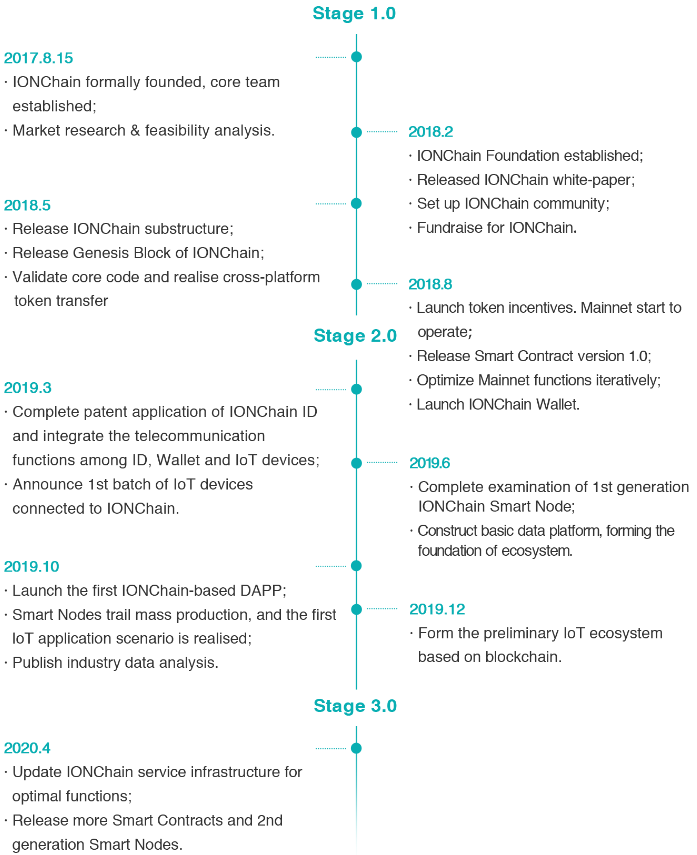 MORE INFORMATION & RESOURCES:
IONChain Website
IONChain Bitcointalk Explanation
IONChain WhitePaper
IONChain YouTube
IONChain Twitter
IONChain Medium
IONChain Linkedin
IONChain Github
IONChain Steemit
IONChain Telegram

Entry to the @originalworks contest that can be seen here
P.S: To those that enjoy reading about these blockchain projects, this will almost certainly be my last entry into the @originalworks contests, and most likely my last post with regards to blockchain/crypto in a very long time. I need to focus on other interests (forms of writing). Thanks for following.
Twitter link
https://twitter.com/deIdialu/status/1059906495041679360
ionchain2018 ionchaintwitter