INTRODUCTION
Exchanges are a critical part of the cryptocurrency/blockchain industries. It effectively ensures that value can be transferred from one individual or group to another. In so doing, it ensures that the industry thrives, users have better solutions to their needs, and the industries in question grow from strength to strength.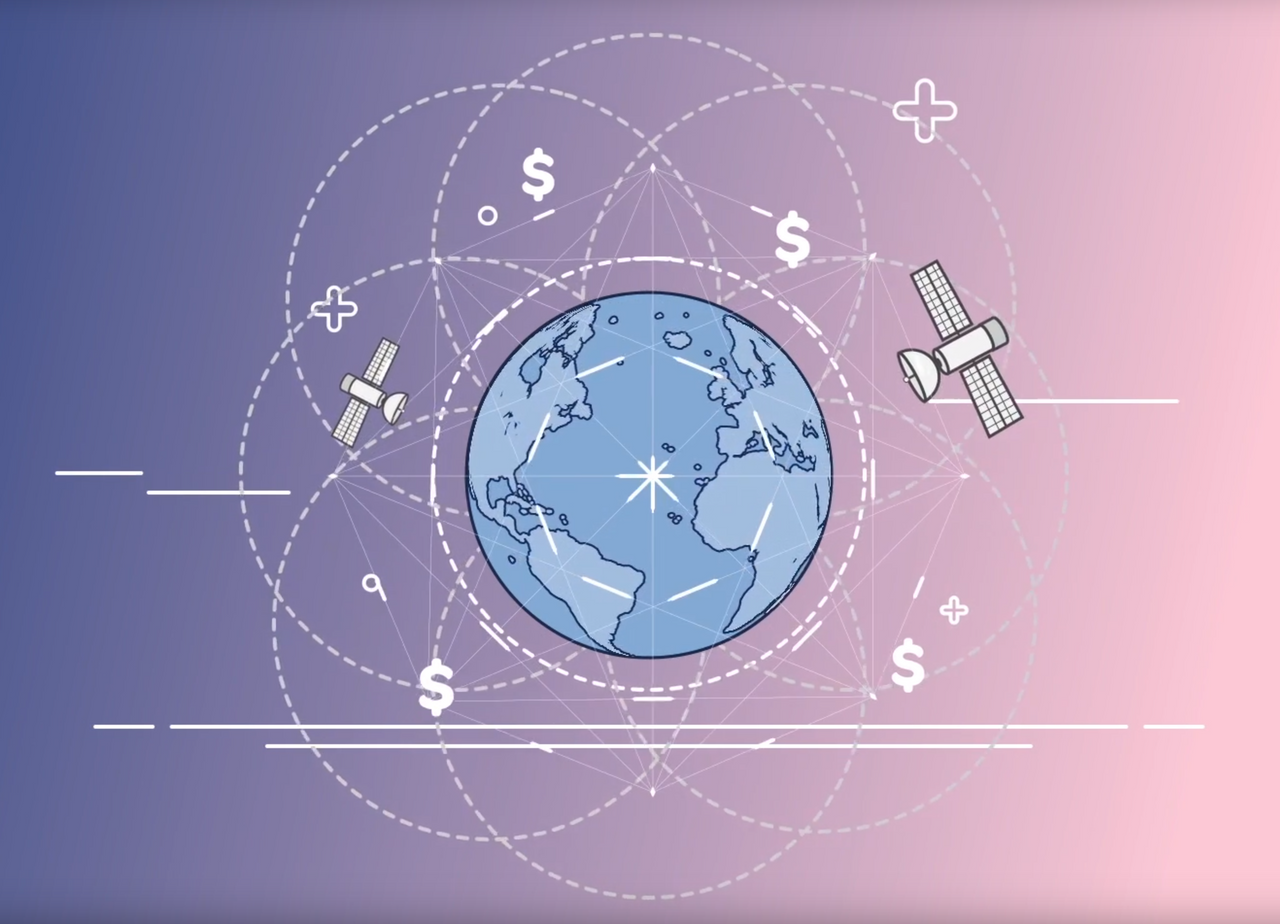 LIQUIDITY has created innovative solutions built on the Ethereum network that ensures that users are able to exchange value without limitations and at a fraction of the cost currently available. This doesn't leave the door open to breaches either, seeing blockchain technology brings its super security features to their solutions.
THE LIQUIDITY NETWORK
This ensures that financial and also intermediary exchange payments can be effected, by ensuring that the parties involved get the most value. Liquidity is non-custodial, meaning that they do not hold on to any funds.
By making use of the Liquidity Network, users are able to carry out transactions securely, and are able to save big on transaction costs. By proxy, this ensures that mainstream adoption is achieved, and becomes more of a reality, sooner rather than later.
The Liquid Network supports a web interface, as well as applications for iOS and Android.
The ecosystem is a product of their own innovative solutions, known as NO-CUST and REVIVE.
THE LIQUIDITY EXCHANGE
This exchange is not based on the blockchain, but it is built on the success and framework of the Liquidity Network.
Just like the Liquidity Network, the exchange is also non-custodial. This in its part, ensures that transaction fees are reasonable, and the network does not get congested, especially during peak periods. This is how Liquidity ensures the issues related to high transaction costs are resolved.
FEATURES OF LIQUIDITY
NOVEL PAYMENT &
EXCHANGE FEATURES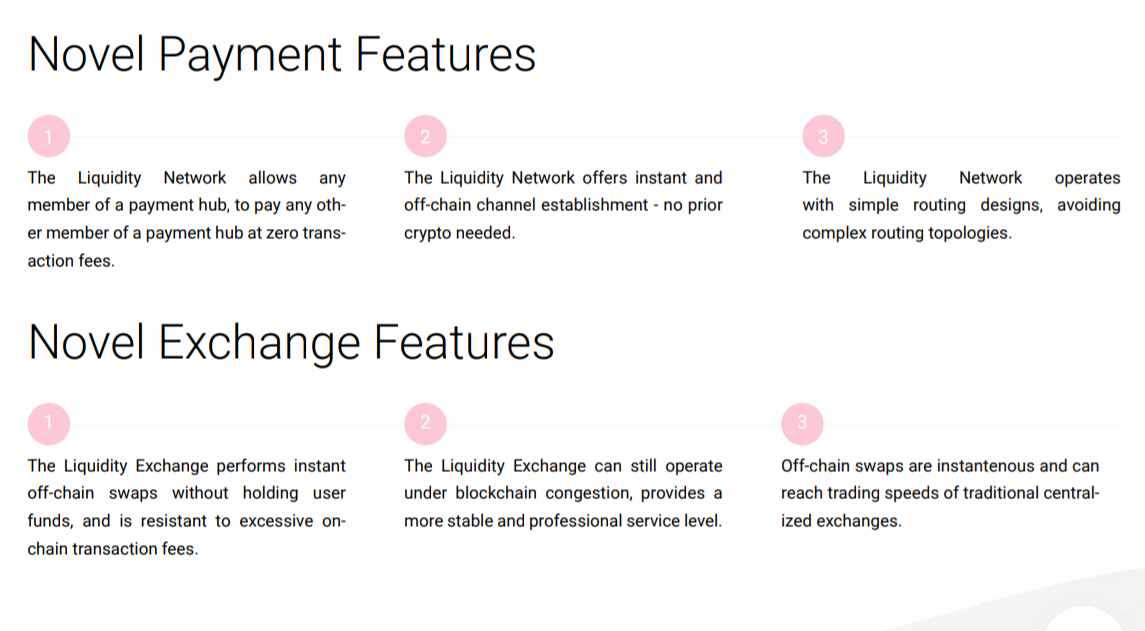 ARCHITECTURE (BUILD)
The concept of universal hubs plays a major role in the underlying technology. This means that when a new user joins the hub, that user is free to carry out transactions and exchange value freely with other members of the hub, without any hindrances. This also has a direct effect on the transaction costs, especially as compared to transactions on the blockchain.
This model ensures that funds are available to other users within the same hub-which could number in the thousands, rather than having the funds locked between just two people.
Blockchain technology plays a huge role; it ensures the safety of these funds, and only authorised users can have access to funds that are meant for them.
ADVANTAGES
Flexible. No rigid structures and locked funds.
Simplistic design and routing
No need to hold on to funds.
Off-chain exchanges.
Creating of channels instantly, and at no cost.
NETWORK OF HUBS
Liquidity ensures that the possibility exists to connect multiple hubs to one another. This essentially means that seeing there is now a bridge between two hubs-assuming we have two users on each of these, they will be able to transact with one another, as long as they are interconnected.
ADVANTAGES
-A user can decide to pull out of a hub at any time, and join another hub for one reason or the other. The hub operator has no power to stop that user.
-Funds are always owned by the users. As long as they possess the corresponding Private Key, only they will have access to it. The hub does not act as a bank, in the sense of holding on to funds.
-As stated earlier, a number of hubs can become interconnected to extend its usage and functions. This helps with regards to redundancy in a similar fashion as to how it functions on the Lightening Network.
REVIVE
This is a means through which channel owners are able to securely rebalance their channels as they deem fit. On-chain transactions are not required, except in the case of disputes. This increases the scalability of existing blockchains.
It is an integral part of the ecosystem, because of this key function.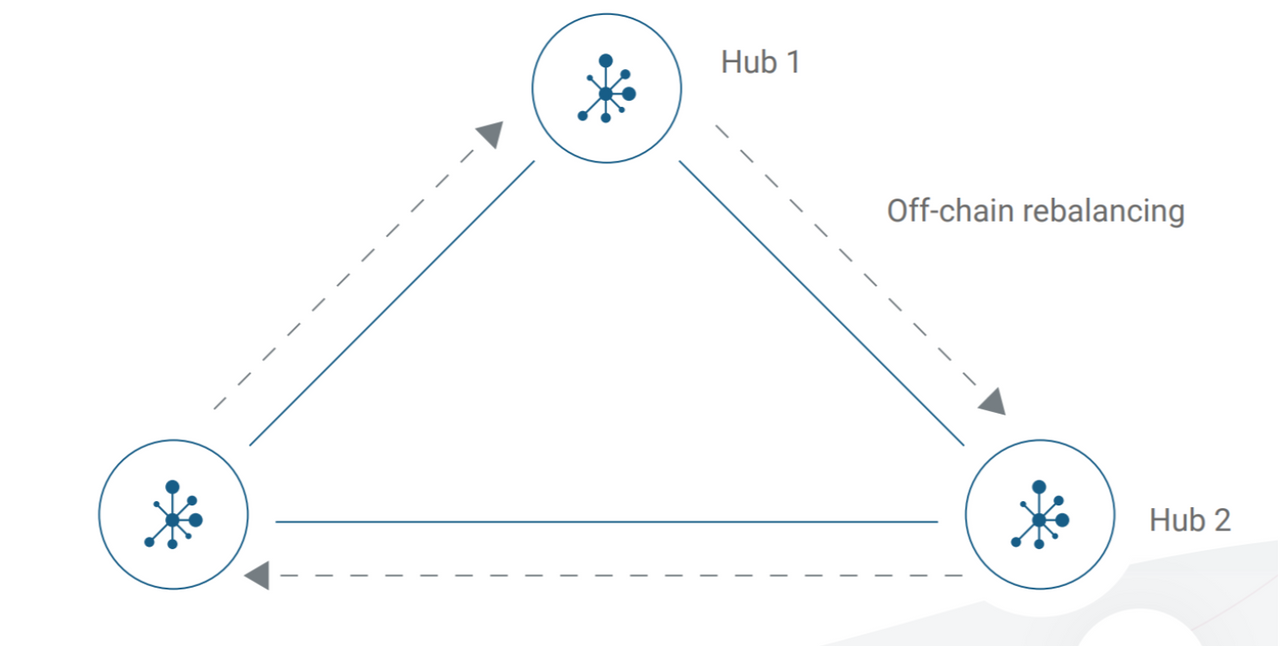 KEY USE CASES OF LIQUIDITY
AIRDROPS: A lot of solutions on the blockchain today, make or made use of airdrops to grow their communities and increase participation/engagement. Liquidity is a perfect solution for its distribution, because there are no transaction costs attached, they do not need to hold on to the tokens, can be sent instantly and securely, millions of users can be reached easily, airdrops can be instantly forwarded to friends/family and the possibility exists to run multiple campaigns-leading to more engagement and visibility.
This will also ensure that problems such as the need to send private keys to users, having a custodian for the tokens and the need to carry out millions of transactions that take up time and resources are done away with.
Other key use cases are:
MONEY TRANSFERS FROM ONE POINT TO ANOTHER
EFFECTING PURCHASES
IoT SENSORS
MARKETS THESE COULD BE APPLIED AS A SOLUTION
Some specific industries that could find this solution most beneficial are:
IoT
Merchandise
Gaming
Rental Services
Digital Goods
Blockchain Applications
Pay per view
Digital Payments
COMPARISION TO OTHER PAYMENT SOLUTIONS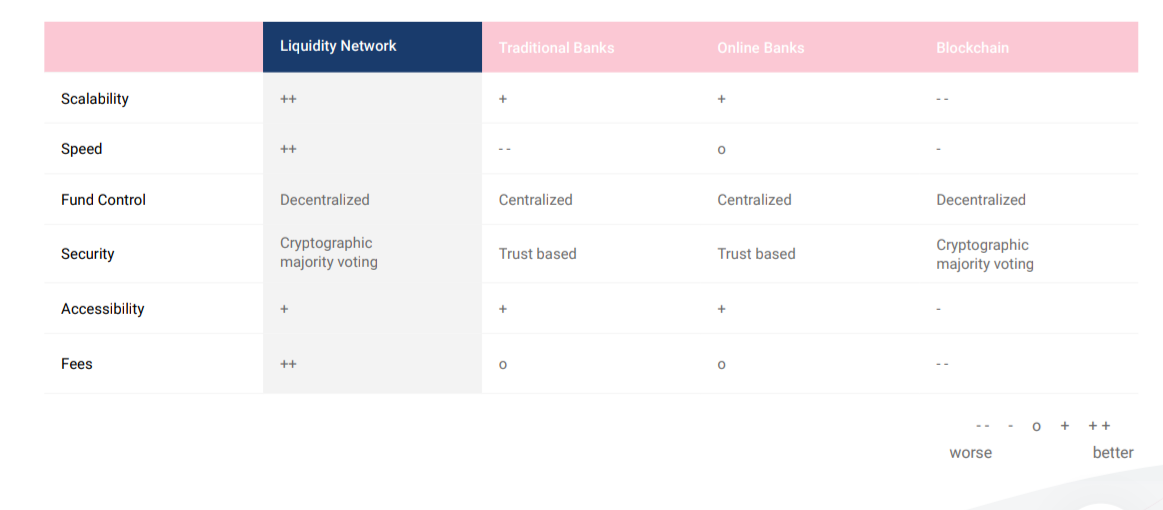 COMPARISION TO OTHER OFF-CHAIN SOLUTIONS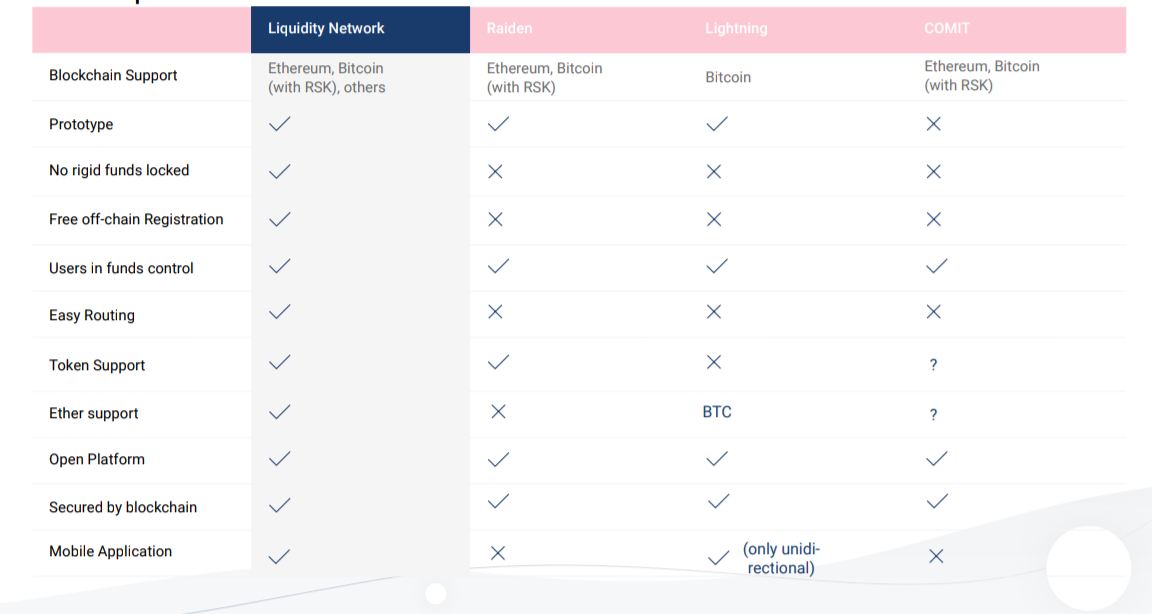 COMPARISION TO OTHER EXCHANGES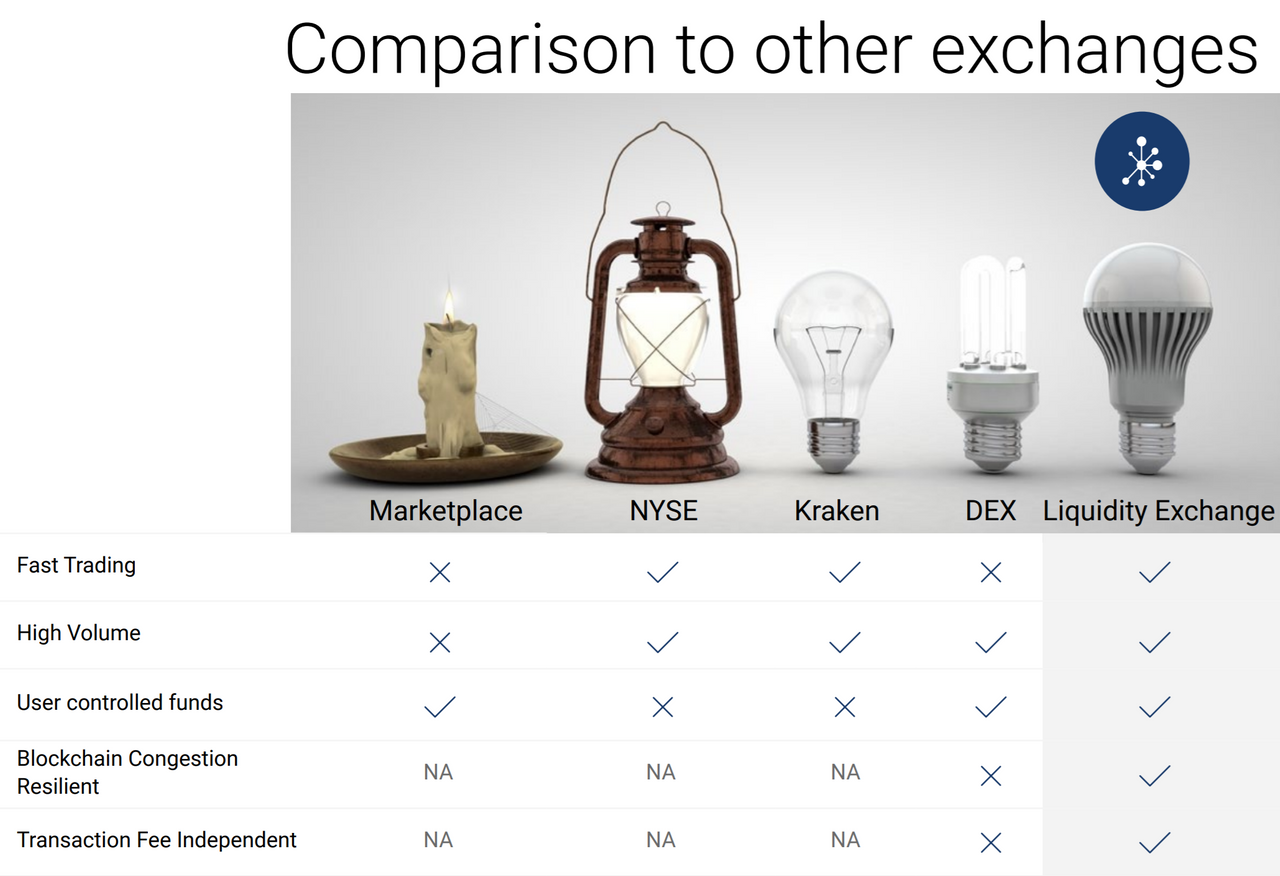 LQD TOKEN
The importance of this token is to ensure that users can have access to premium features.
It will not be necessary for everyday regular transactions.
SPECIFIC USE CASES
DuCafe is a coffee shops that wants to ensure that its users have a myriad of options to effect payments.
it has created a solution that ensures that customers can walk into its cafe, and their orders are automated, via access points in the cafe.
It decides to make use of LIQUIDITY, which ensures that a customer can effect payment for a cup of coffee, when he or she walks into DuCafe, and this payment is received instantly. By feeding their order into the machine, payment is accepted immediately, and the machine vends a cup of well packaged coffee to the customer. Without LIQUIDITY, this will not be reasonably possible, because they ensure that transaction costs are slashed.
---
iCashuals are about to start an airdrop campaign for their project, and they hope to reach out to at least, 2 million new users. The process of effecting distribution of airdrops can be a painful and slow process, which usually takes a considerable amount of time, and it only gets worse, as the number of individuals that need to be reached increases.
Seeing this before hand, iCashuals decides to make use of Liquidity's solution, which ensures that there is no longer a need for a custodian, and airdrops can be sent extremely fast, quickly and at no cost.
As a result of this new found efficiency, engagement is 25% better than expected and their users are happy, because they received their tokens faster than expected. This ensures that iCashuals is ecstatic, and they are already working on another campaign to grow engagement, while their peers are still struggling to fulfill their initial commitments.
SUMMARY
Liquidity's ability to scale and support millions of users, makes it an improvement on existing solutions, because seeing its solution is off-chain, users are able to effect transactions at lower costs, and even much more quickly.
This also ensures that the network does not get choked, as it is the case with other exchanges. Users are also in control of their funds, and they can decide to switch from one hub to another at any point. This ensures that they are not shackled, and the crypto/blockchain industry will grow even faster. Security and privacy are also improved upon, seeing the need for keys to be visible is done away with.
By being in charge of ones private keys, users are in total control of their funds, and can do with it however they please. However, they do not have to suffer from the challenges faced by on-chain exchanges, because Liquidity's computing servers are off-chain. This means that while they get the benefits they were getting from decentralized channels, they now no longer have to put up with its challenges, as they are now getting the best of two worlds-centralised and decentralised channels, working together like a well oiled machine.
Liquidity is suitable for being a tool via which true decentralisation is achieved, because the issues such as those highlighted earlier(transaction costs, duration, flexibility, control, etc) have been done away with, and only when these problems are tackled, can true decentralisation and mass adoption occur.
Liquidity's off-chain model ensures that less is needed to effect transactions, hence the reason transactions can be carried out for less. To go with this, transaction speed is also improved upon.
This ensures that faster and cheaper transactions can be carried out-in an environment as secure, or if not more secure than any on-chain solution.
TEAM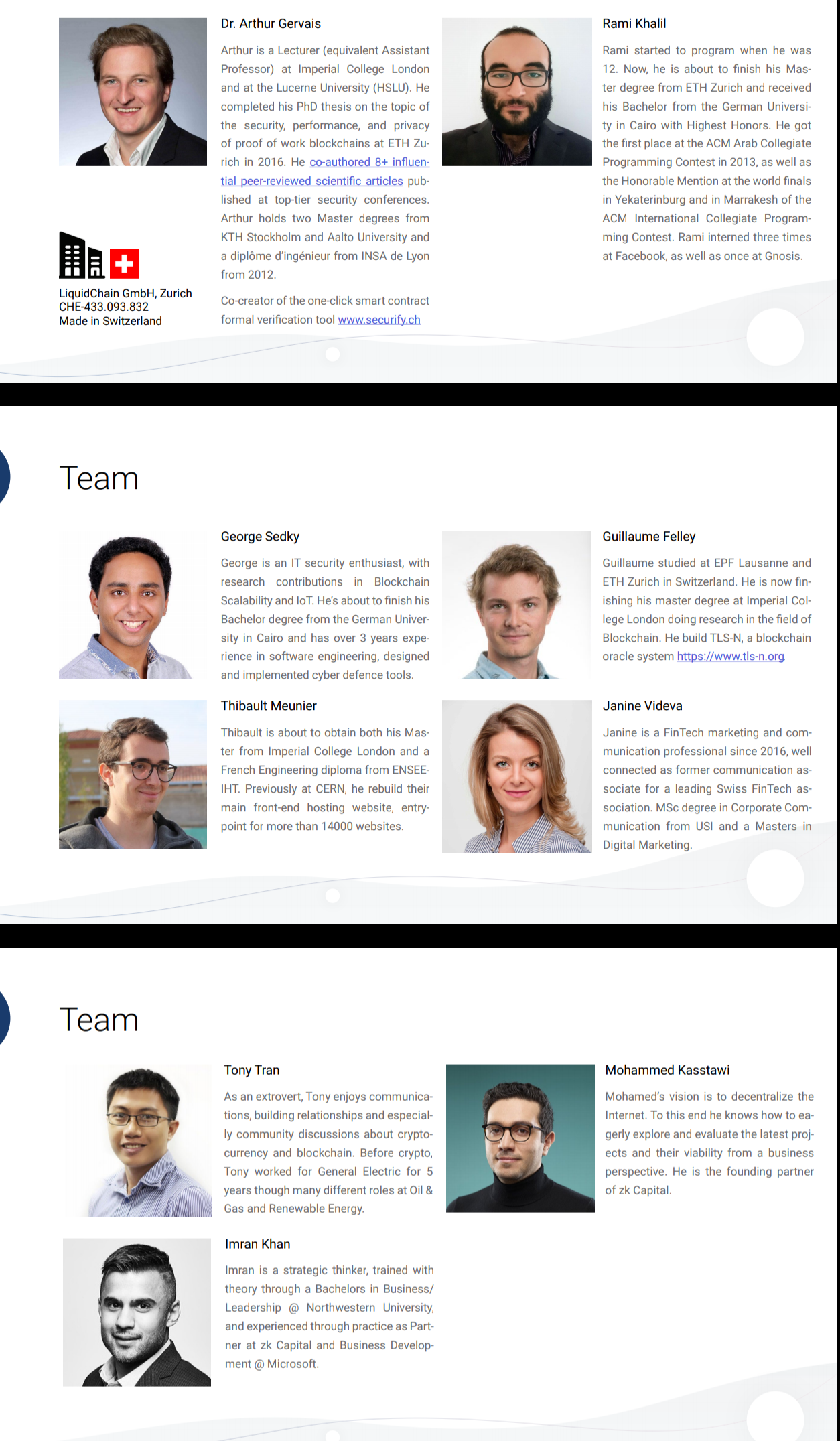 ROADMAP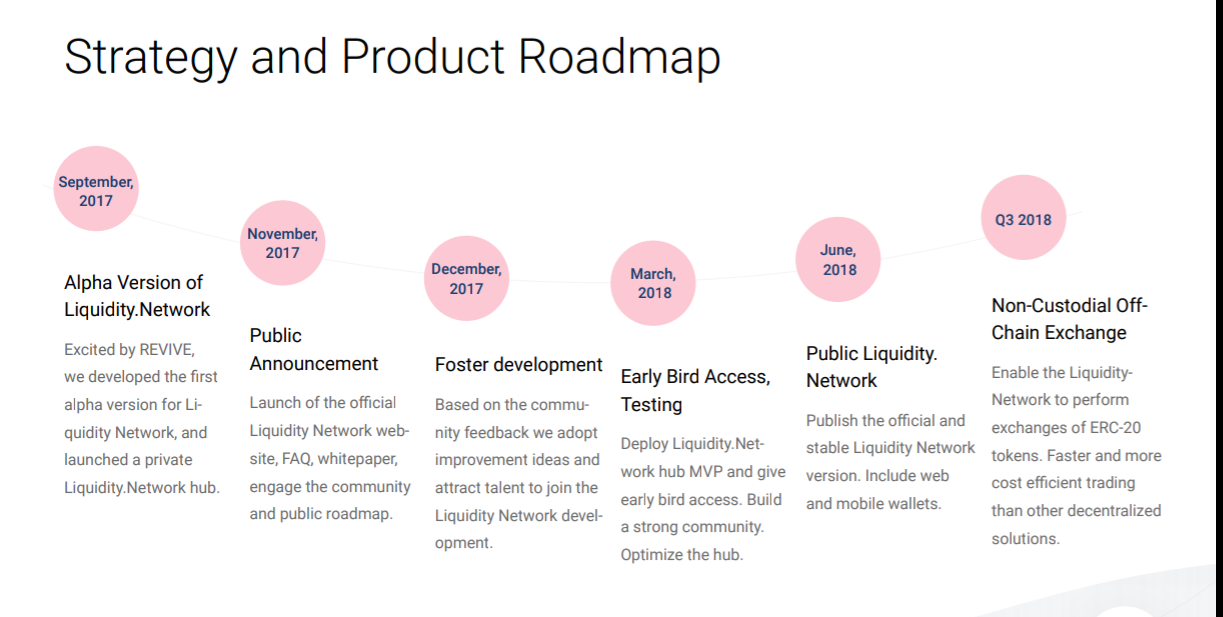 VIDEOS