1.0 INTRODUCTION


Often times, the need to exchange one currency for another arises, and crypto enthusiasts seek for ways this can be done easily and efficiently.
Some of these crypto exchanges have complex processes to get started, and this is why simplicity does it, everytime.

2.0 WHAT IS ONEPAGEX?
As its name implies, OnePageX is a simple one page cryptocurrency converter website that ensures that complex processes are done away with, and users can easily navigate through their website, to get what needs to be done, done. It ensures that trading and converting of crypto can be done very easily.
Obviously, efficiency is favoured over unnecessary clutter and complex processes.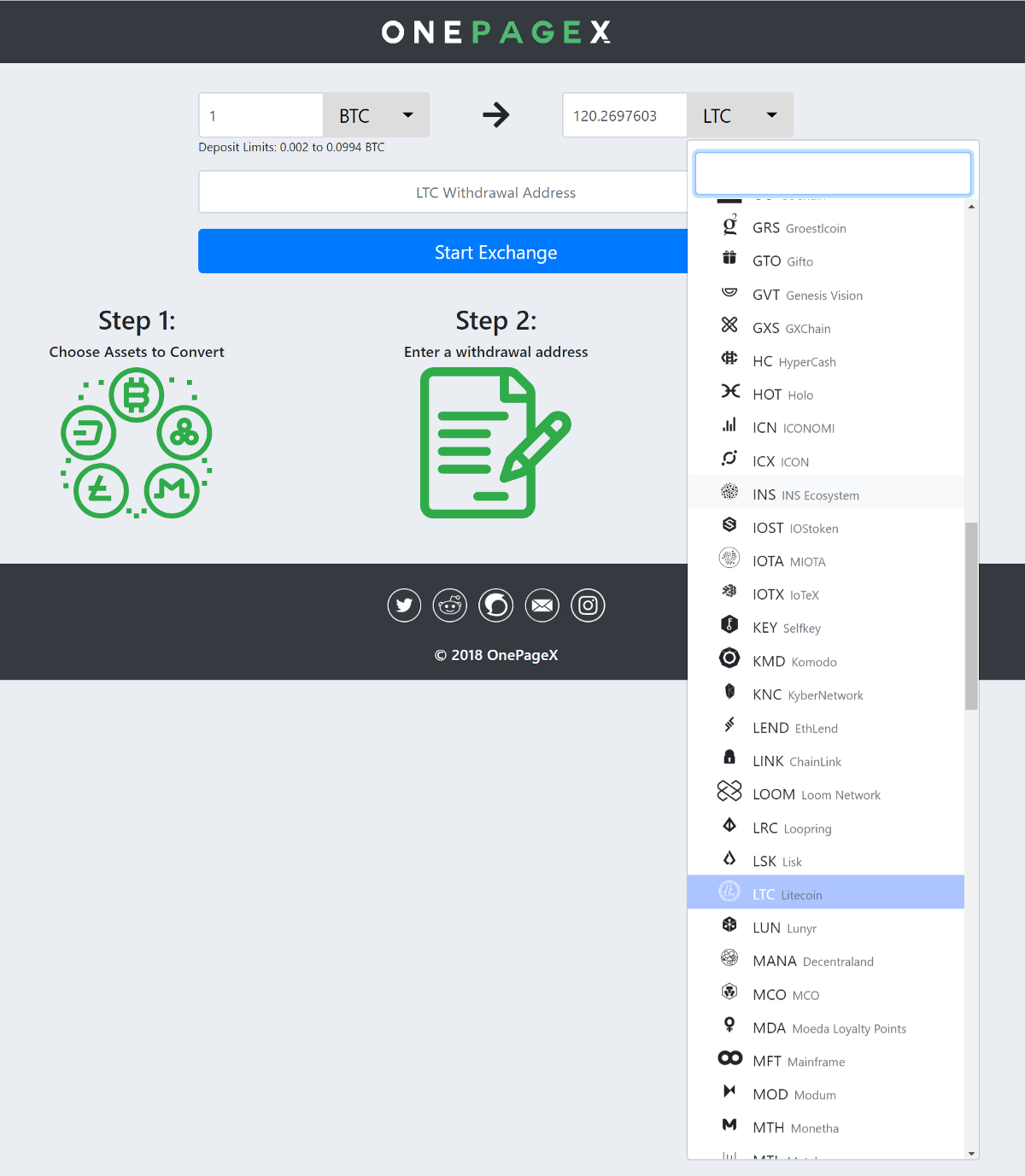 3.0 HOW TO USE ONEPAGEX
Using OnePageX doesn't even require the user to get registered. It supports a host of currencies, such as XRP, LTC, ADA and ARK.
To see the full list of support coins, kindly scroll to the bottom.

They claim to offer support for more cryptocurrencies than any other exchange-at first glance, it does seem to be true, for the ones I know of at least.



4.0 TRANSACTION STATUS INDICATORS
Indication of every transaction is done using transaction cards. Its goal is to keep users informed about transactions initiated.



5.0 ONEBOX
OneBox ensures that OnePageX can be easily integrated into any HTML page, with a little code.
To put it on any page, all that needs to be done is to copy the code below and paste it in their desired location, and viola!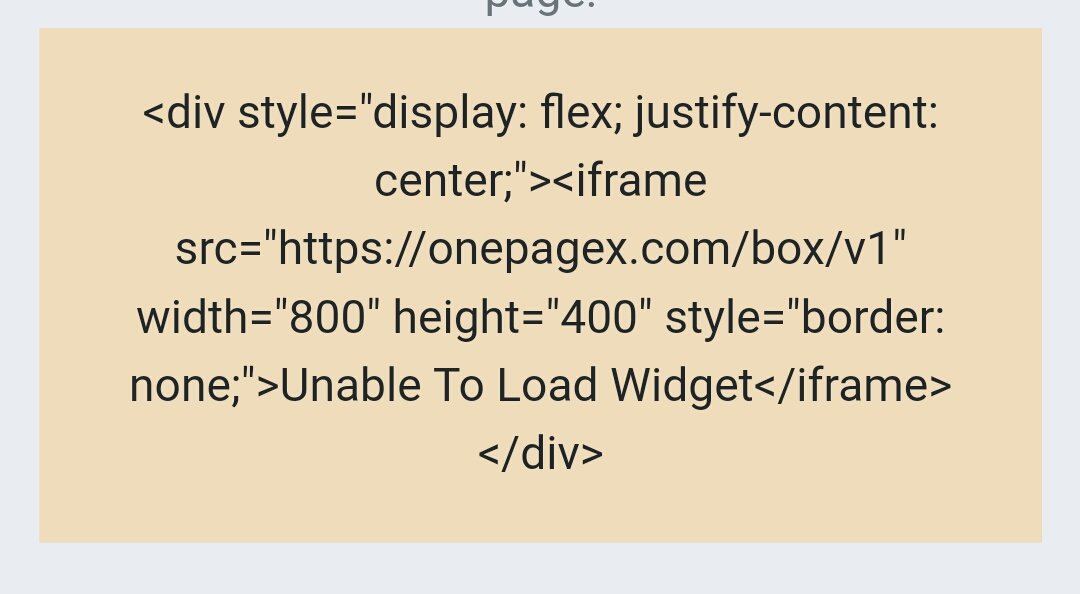 You will have something like this:



6.0 TRANSACTION DURATION
Transactions on OnePageX are almost instant. Obviously, for many transactions, appropriate fees need to be set. For example, if transaction fee set for bitcoin is too low, it will mean that the exchange will take a longer time to be effected. Most transactions are concluded within 25 minutes.

7.0 TRANSACTION FEES
Transaction fees are 0.5%, and also a little network fee on all transactions.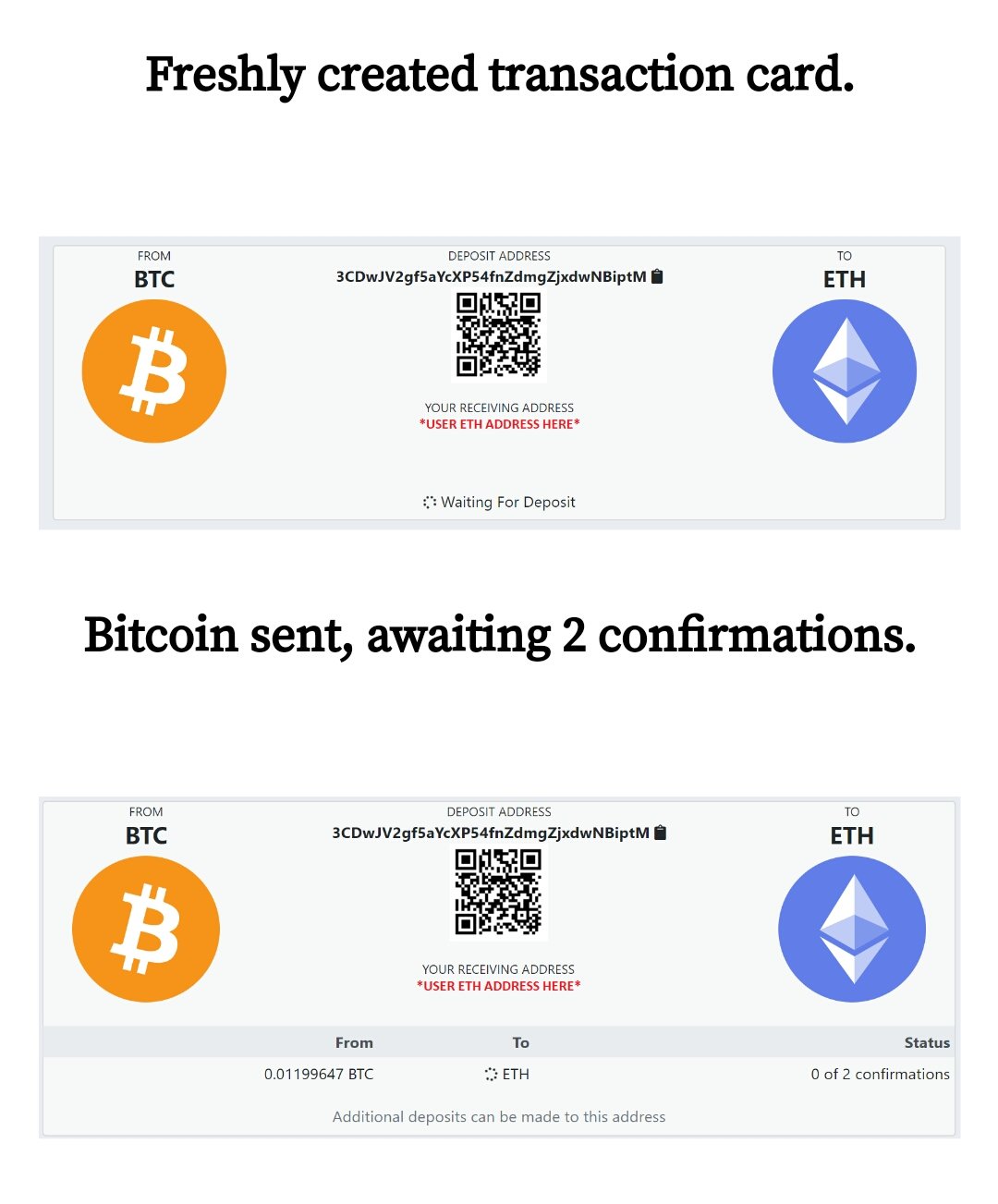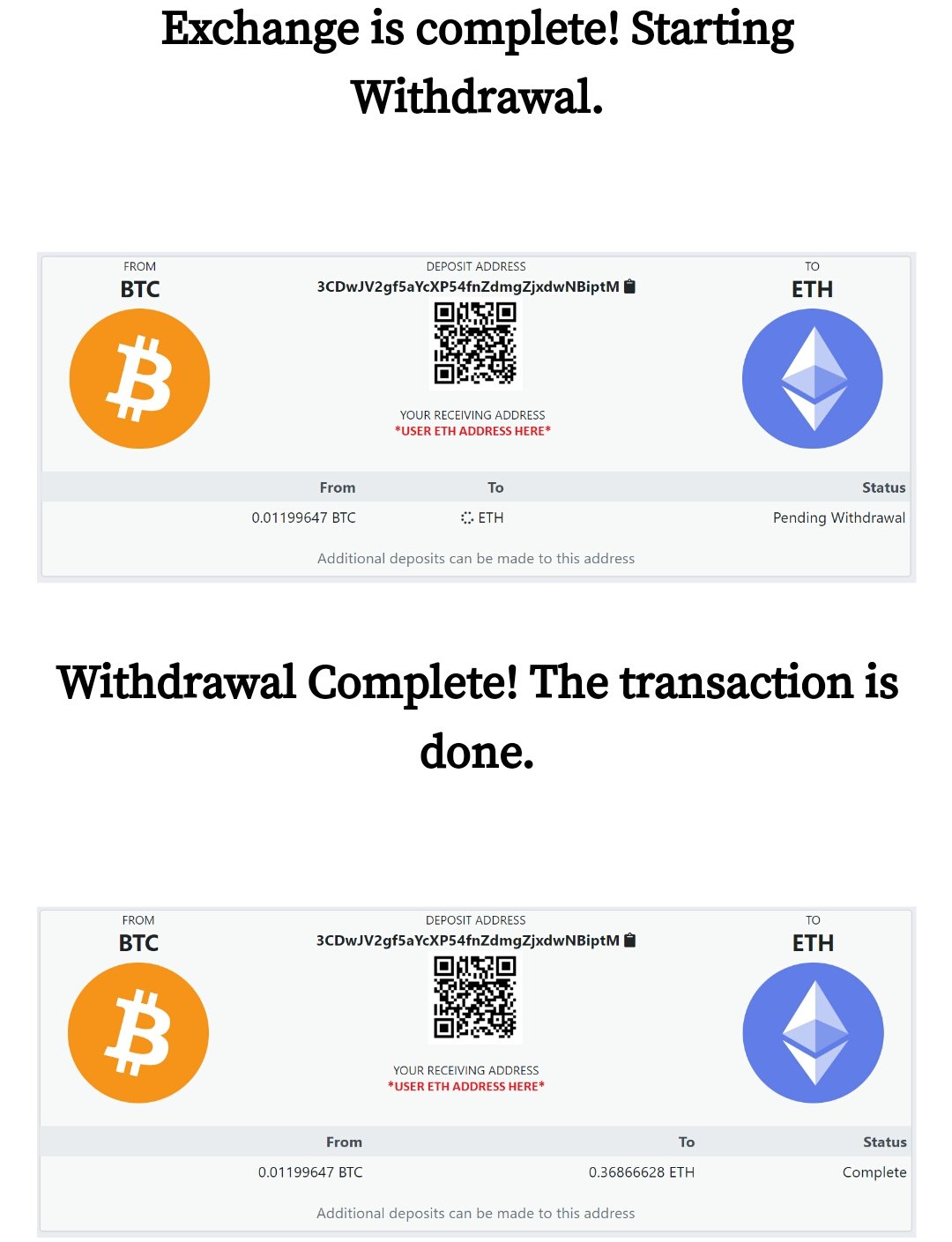 8.0 USE CASE
'Sol is a crypto enthusiast that has a diverse crypto portfolio. 'Sol is conscious, and would prefer to have his privacy respected. He also hopes to be able to exchange between a wide range of cryptos, without much hassles.
Due to his want of privacy, and services he is not satisfied with, he usually passes through long processes to buy cryptos with fiat.
Finding out about OnePageX, 'Sol doesn't need to signup or go through tasking processes to get what he wants done. With a wide range of tokens supported, he hardly needs any other service. This ensures that he is more effective in his investment endeavours, and he can gain more, by expending less energy.
USE CASE TWO
UGrill is a vendor in the food industry, and they offer the avenue for users to make purchases with cryptos.
Having support for a vast number of tokens can be tasking, and UGrill only supports a handful. So they simply make use of OnePageX's OneBox, to ensures that their customers can easily exchange cryptos on their page.
This ensures that sales improve, and they are able to keep their numerous customers satisfied.



9.0 SUMMARY
Having support for a wide range of cryptocurrencies is important, because users needs are very diverse, and the more options available, the larger the user base that can be catered to. It also ensures that OnePageX will be able to generate more revenue, seeing they will be able to serve more clients. Customer satisfaction also means that they will be more likely to be retained, refer their friends to use the service and will also ensure that the crypto industry keeps on growing. Ease of usage brings us closer to mass adoption.
Being able to perform multiple exchanges on one page ensures that users can be more efficient, and do not need to go through many pages, resources, or multiple solution providers to carry out swaps.
Having everything on one page ensures that the process is streamlined and extremely easy, that any dummy could make use of it.
Having support for about 143 tokens ensures that OnePageX offers support for more tokens than just about any other exchange. Like we said earlier, this ensures that the needs of most users can be met in one central location. It also shows that OnePageX is hellbent on ensuring the satisfaction of their users are met.
Being able to carry out exchanges without registration is equally important, because registration ensures that some users postpone signing up, and a number of them will never return after exiting the homepage, initially.
Users that are conscious about their privacy will also be won over by this service, seeing they do not need to provide any private information to get started.
It also ensures that OnePageX will be able to attract a wide range of users, seeing the appeal will be great.
On the flip side, it will be nice to see even more cryptos listed. For example, I was disappointed when I did not see STEEM or SBD listed on the exchange.
It doesn't take a genius to be able to make use of it. Simple does it, most times.



ADDENDUM
COMPLETE LIST OF SUPPORTED CURRENCIES (About 143 in total)
ADA (Cardano)
ADX (AdEX)
AE (Aeternity)
AGI (SingularityNET)
AMB (Ambrosus)
APPC (AppCoins)
ARDR (Ardor)
ARK (Ark)
AST (AirSwap)
BAT (Basic Attention Token)
BCD (Bitcoin Diamond)
BCH (Bitcoin Cash)
BCN (Bytecoin)
BCPT (BlokMason Credit Protocol)
BLZ (Bluzelle)
BNB (Binance Coin)
BNT (Bancor)
BQX (ETHOS)
BRD (Bread)
BTG (Bitcoin Gold)
BTS (BitShares)
CDT (Blox)
CHAT(ChatCoin)
CLOAK (CloakCoin)
CND (Cindicator)
CVC (Civic)
DASH (Dash)
DATA (Streamr DATAcoin)
DENT (DENT)
DGD (DigixDAO)
DLT (Agrello)
DNT (district0x)
DOCK (DOCK)
EDO(Eidoo)
ELF ( aelf)
ENG(Enigma)
ENJ (EnjinCoin)
EOS (EOS)
ETC (Ethereum Classic)
ETH(Ethereum)
EVX (Everex)
FUEL (Etherparty)
FUN (FunFair)
GAS (NeoGas)
GNT(Golem)
GO (GoChain)
GRS (Groestlcoin)
GTO (Gifto)
GVT (Genesis Vision)
GXS (GXChain)
HC (HyperCash)
HOT (Holo)
ICN (ICONOMI)
ICX (ICON)
INS (INS Ecosystem)
IOST (IOStoken)
IOTA (MIOTA)
IOTX (IoTeX)
KEY (Selfkey)
KMD (Komodo)
KNC (KyberNetwork)
LEND (EthLend)
LINK (ChainLink)
LOOM (Loom Network)
LRC (Loopring)
LSK (Lisk)
LTC (Litecoin)
LUN (LUN)
MANA(Decentraland -mana)
MCO (MCO)
MDA (Moeda Loyalty Points)
MFT (Mainframe)
MOD (Modum)
MTH (Monetha)
MTL (Metal)
NANO (NANO)
NAS (Nebulas)
NAV (NAV Coin)
NCASH (Nucleus Vision)
NEBL (Neblio)
NEO (NEO)
NPXS (Pundi X)
NULS ( Nuls)
NXS (Nexus)
OAX (openANX)
OMG (OmiseGO)
ONT (Ontology)
OST (OST)
PAX (Paxos Standard)
PHX (Red Pulse Phoenix)
PIVX (PIVX)
POA (POA Network)
POE (Po.et)
POLY (Polymath)
POWR ( PowerLedger)
PPT (Populous)
QKC (QuarkChain)
QLC (QLC Chain)
QSP (Quantstamp)
QTUM (Qtum)
RCN (Ripio Credit Network)
RDN (Raiden Network Token)
REP (Augur)
REQ (Request Network)
RLC (iExecRLC)
SALT (Salt)
SC (Siacoin)
SKY (Skycoin)
SNGLS (SingularDTV)
SNM (SONM)
SNT (Status)
STORJ (Storj)
STORM (Storm)
STRAT (Stratis)
SUB (Substratum)
SYS (Syscoin)
THETA (Theta Token)
TNB(Time New Bank)
TNT (Tierion)
TRIG (Triggers)
TUSD (TrueUSD)
USDT (TetherUS)
VET (VeChainThor)
VIA (Viacoin)
VIB (Viberate)
VIBE (VIBE)
WABI (WaBi)
WAN (Wancoin)
WAVES (Waves)
WINGS (WINGS)
WPR (WePower)
WTC (Walton)
XEM (NEM)
XLM (Stellar Lumens)
XMR (Monero)
XRP (Ripple)
XVG (Verge)
XZC (ZCoin)
YOYO (YOYOW)
ZEC (Zcash)
ZEN (Horizen)
ZIL (Zilliqa)
ZRX (0x)


VIDEO
Kindly see explanatory video below