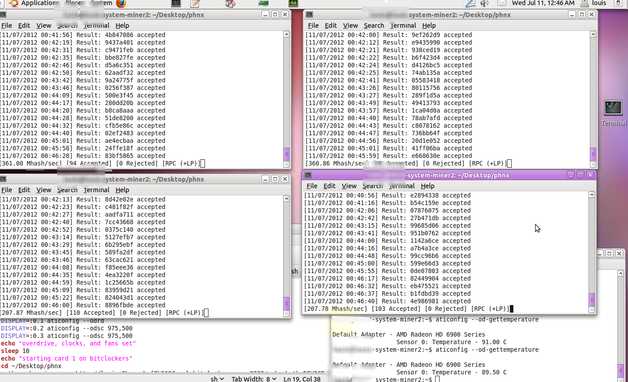 Each box is one video card.
This is an old video from 2012, the noise levels rise as each GPU begins to produce bitcoins.


This Represents
$12 per day.
The video shows the scripts that I wrote to automatically start the machine, open the fan monitoring commands, open the GPU configuration window, then start each of the four video cards to begin mining.
Video: first miner, start up and components.
These were the noise levels I lived with for three years as I chased the bitcoin mining difficulty with more and more equipment.
I was mining into a site called "bitclockers" which paid for hours of hashing power instead of percentage of work per block produced. The site stopped paying people one day and kept the coins. I do not want to go back and look how much they kept.
Normally a mining pool will pay our after each block is created. I had set a payout threshold of 0.10 BTC, which was usually met every two blocks. Sometimes the pool would solve 2 blocks in one hour and other times the pool might only solve a block every 14 hours. If one mining pool was not solving blocks, I would change my miners to another.
The summary to the right represents a day in October, seven years ago. I made ten to fifteen dollars per day at the time. Yet you see much more than that amount on the list. Why?
You see today's bitcoin price. You might even be doing the math in your head for the all time high. But I never had that frame of reference back then. I could only guess the potential.
At that time I was investing hundreds of dollars in equipment to make small change. I did not know that it would ever go higher than ten or twenty dollars each. I have to admit I spent many of the coins in order to feel like I was earning something for my time, sweat, and vigilance. (painful to think about now)
I am here on Steemit now, and I fight to make my seven to ten dollars (at today's prices) every day. I see the fractions of Steem come rolling in for every vote or comment. I sometimes think, "Is it worth it?" The little 0.004 or 0.031 figures on the rewards list seem so insignificant.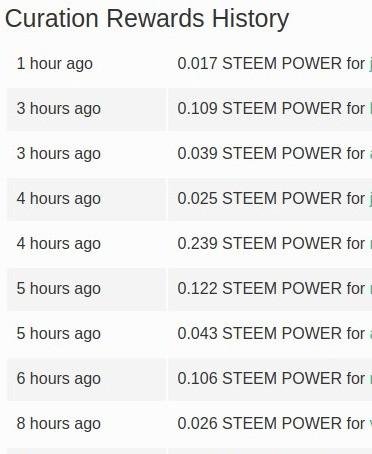 But I remember that same feeling when I saw 0.11 BTC coming in. My friends laughed when they heard I was earning a tenth here and a tenth there. They all did the math and shook their heads when they calculated the dollar amount back then. You can can calculate the laughable dollar figures for my curation rewards today if you want to. Both scenarios will be viewed the same in the future. I can hear people saying, "If only I would have posted more..."
For those of you who are disappointed with those dollar based figures under each post, I offer this post to encourage you! A one-dollar-post today is worth $62.00 when Steem goes back to its high!
A $2.00 = $124
A $5.00 = $310
But Steem will not only return to $8.00 per token one day. It may reach twice that or even hundreds of times its current value. The best time to mine cypto, or rather, write posts is when the value is low and there are less people out their competing for their share of the pool.
If you earn no dollars, you pay no tax.
Everything written herein is hypothetical and for entertainment purposes only. Please do not contact me in order to extract a percentage of non-dollar earnings alleged here.
If I were to collect sea shells every day, they would laugh. I would never hear from the bean counters. But, I used to collect digital nothings and fractions of digital nothings. They laughed. Then they came to me for a percentage? I laughed.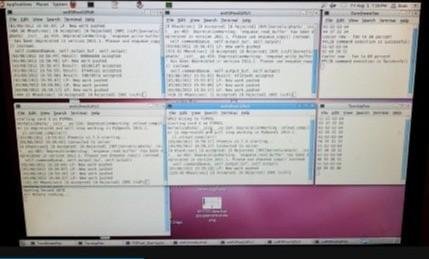 Screen shot of miners starting on video
I hear a lot in the comments from those wanting to start mining bitcoins. Mining bitcoin is no longer profitable from a private residence. Steemit is far more productive in creating crypto at this time.