2 days ago I did a post about how I was going to hold a class for a few friends on cryptocurrency where I briefly wrote about the different topics i planned to talk about and also asking for inputs and comments If there was anything i forgot or something I should explain more about.
https://steemit.com/cryptocurrencies/@timmyit/tomorrow-i-will-be-holding-a-class-for-my-friends-about-cryptocurrencies-what-should-i-focus-on
Me and my friends gather over at my place where I had prepared a powerpoint presentation with the different topics mainly for myself so I wouldn't forget to cover any topic (getting old you know haha). One of the first comments from my friends were "I've never been so excited about a powerpoint presentation in my life" and rightfully so of course, its cryptocurrencies how can one not get excited about that :D
After that I just quickly went through some of the topics I was going to cover and then got started with the first one which was
What is blockchain ?
Here i talked about Bitcoin and blockchain technology and how it was released to the world during the 2008 financial crisis as an decetralized option to the current centralized financial system running by the banks and financial institutions by someone or someones calling them self by the name of "Satoshi nakamoto" and that til this day no one really know who this person or persons are and that by it self is a pretty interesting mystery.
Also talked a little bit on how blockchain works but tried to keep it very simple so a layman could understand it. There was people who had IT background among the listeners and also those who didn't.
Top currencies and market cap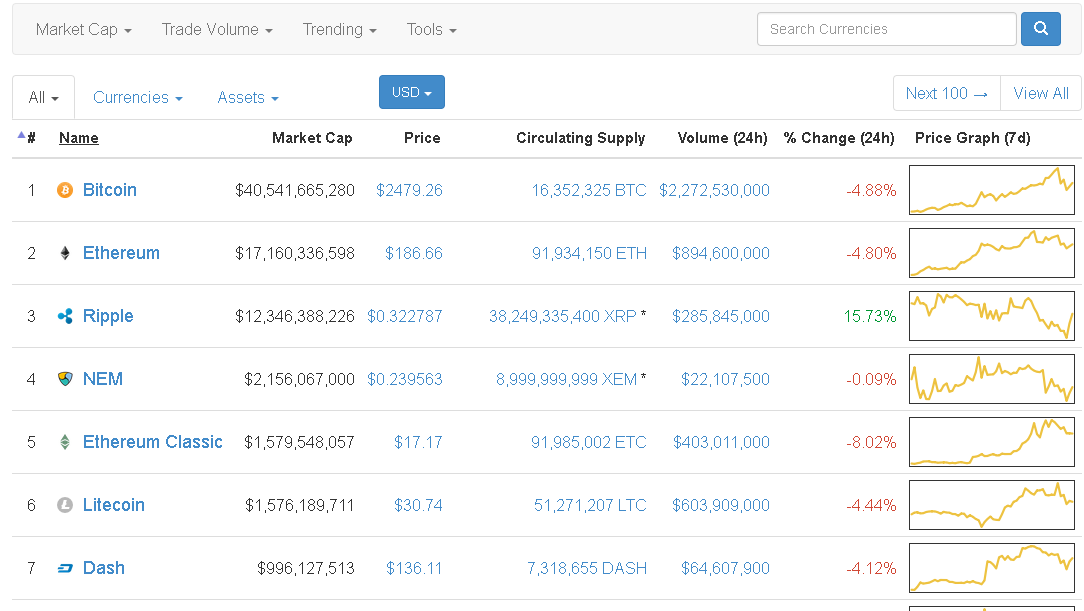 Here i showed of https://www.coinmarketcap.com and this was the first time many of them first saw how many different currencies that's out there right now and also showing off how much money that's been poring in to cryptocurrencies in the sense of the total market cap of almost $90 billion dollars right now.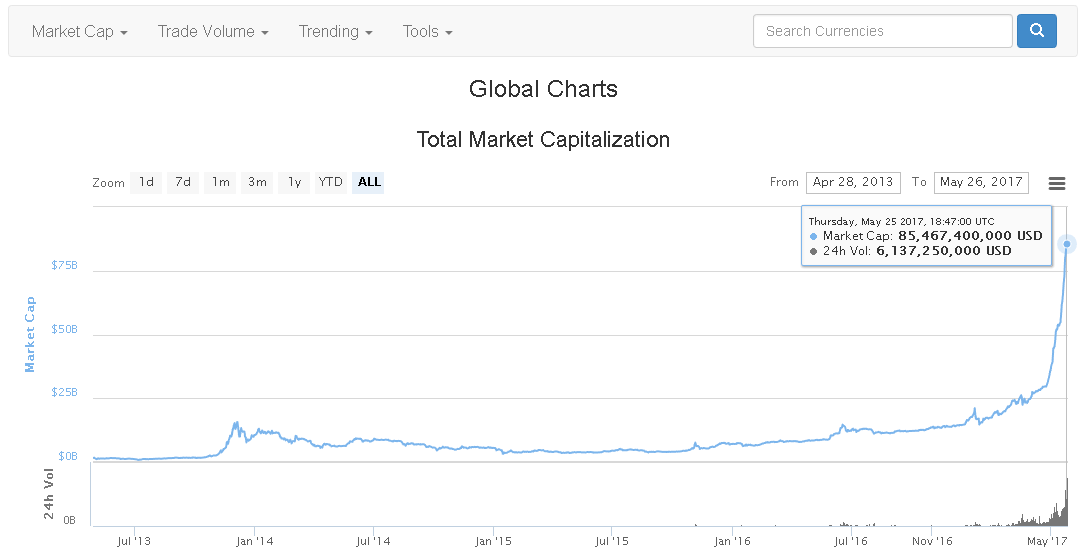 Next up was
How to buy in to crypto
Where i tried to showoff www.coinbase.com (which was unavailable during the presentation of course hehe) coinbase have had some issues the past days with high volume of new users and requests.
www.bitstamp.com which also have issues right now with deposit which now takes longer time than usual.
I did 1 debit card deposit on may 22th which got in yesterday and one on the 23th which I'm still waiting for as of writing this post.
debit card Deposits like that took just minutes before.
Also mentioned www.coingate.com
Wallets
Wallets it self is such a big topic where one could probably talk for hours on different one and how it works and also comparisons between wallets. The ones i mentioned was
https://www.exodus.com
https://www.myetherwallet.com
https://www.ledgerwallet.com/products/ledger-nano-s
Just to name a few and also talking about online wallets, paper wallets, hardware wallets and the difference between them.
Next topic on the list was
Exchanges
Here I mentioned but not limited to the following
https://www.poloniex.com
https://www.kraken.com
https://www.bittrex.com
I was showing off poloniex, how an exchange works and how to send money to one and from that point how to buy other currencies on it. For someone who's never seen an exchange before it's a lot of information to take in and its very easy to get
disorientated. After demoing for a short while people at least got the general grasp of it and why one would use it and conceptually how to use it to.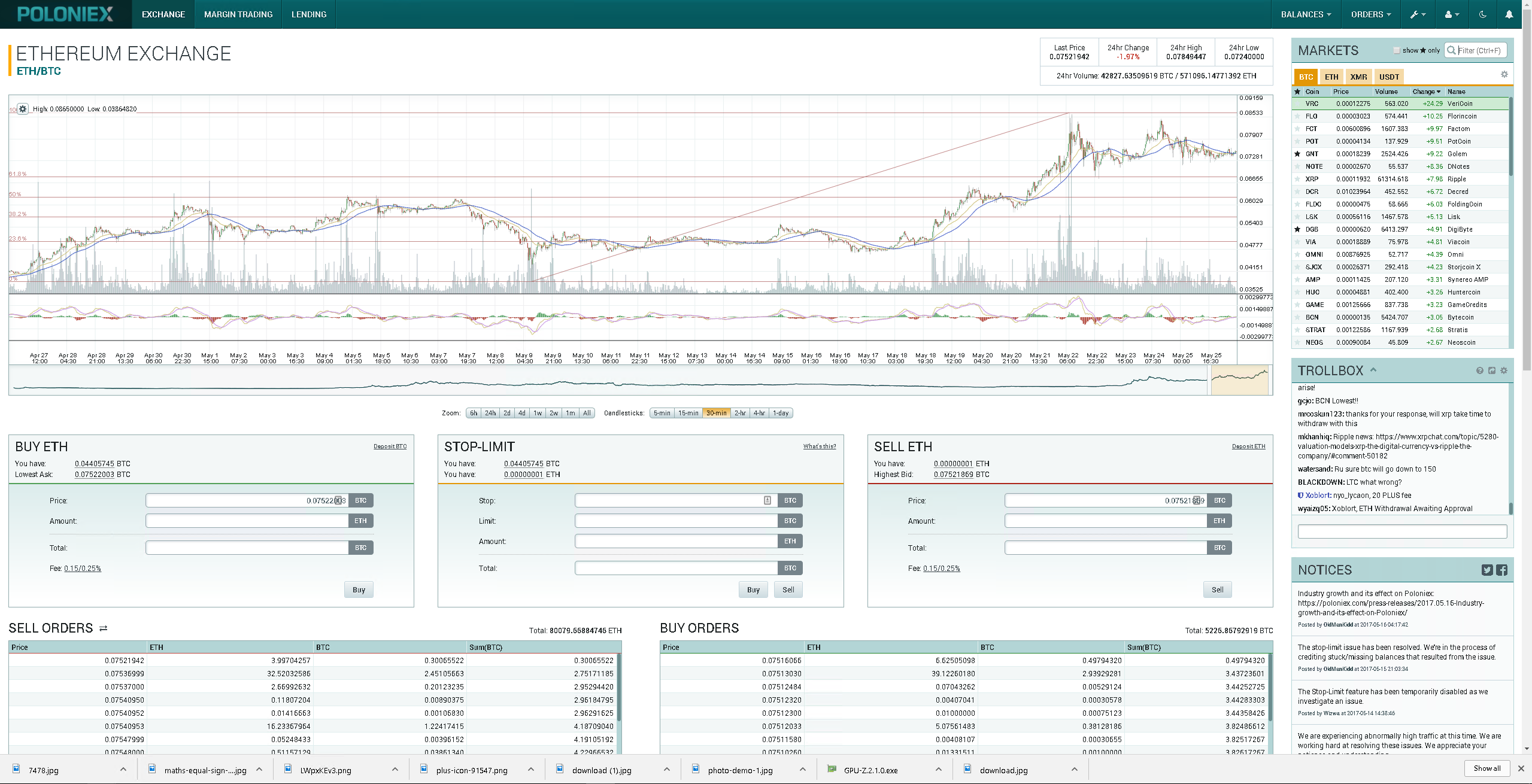 Applications running on blockchain and how to "mine" and make money
It's here where I started to show of Steemit, and people were just amazed when I started to talk about what it was and how people actually could make money out of blogging. I think that everyone who attended my talk have registered with Steemit so hopefully you will all see some new introduceyourself posts very soon.
I also talked about https://www.Lbry.io which is a decentralized version of youtube almost but it's not just videos but all kind of data. Where people can upload and then share it and also make money out of it.
I also showed of my mining rigs i had at home where i currently are mining Digibyte with and talked about my plans going forward with that. Hardware mining with GPU's isn't for just anyone but for a hardware enthusiast like i just do it because it think its fun and I like to have projects to work on.
Side note, If you are interested in mining check out my earlier post that i have done on that topic.
Here's a few examples
https://steemit.com/mining/@timmyit/new-mining-rig-hardware-arrived-today
https://steemit.com/mining/@timmyit/my-2-new-amd-rx480-mining-cards-arrived
https://steemit.com/mining/@timmyit/my-new-nvidia-1060-mining-card-arrived-today
Last but not least the important part!
Risk and Scams
As in any investment there's risk and along the whole time it came up questions about this so even tho it was its on topic I had already talked a lot about it during the time leading up to this topic. Talked briefly about the Mt gox hack and how that impacted Bitcoin.
Never invest more money than you can afford to loose !
Always do research about the things you want to invest in and be aware of scams
diversify your investments
Final words
This was an overview of the thing s I talked about and there was many great questions along the way from the people who were listening and time just flew by. They seemed very happy about the presentation (At least that was what they said hehe).
I'm considering doing more in depth talks about specific topics if there's an demand for it.
That's All for now, if you find this stuff interesting hit that follow button or leave a comment.
You can also find me over at https://www.timmyit.com
Or twitter https://twitter.com/TimmyITdotcom