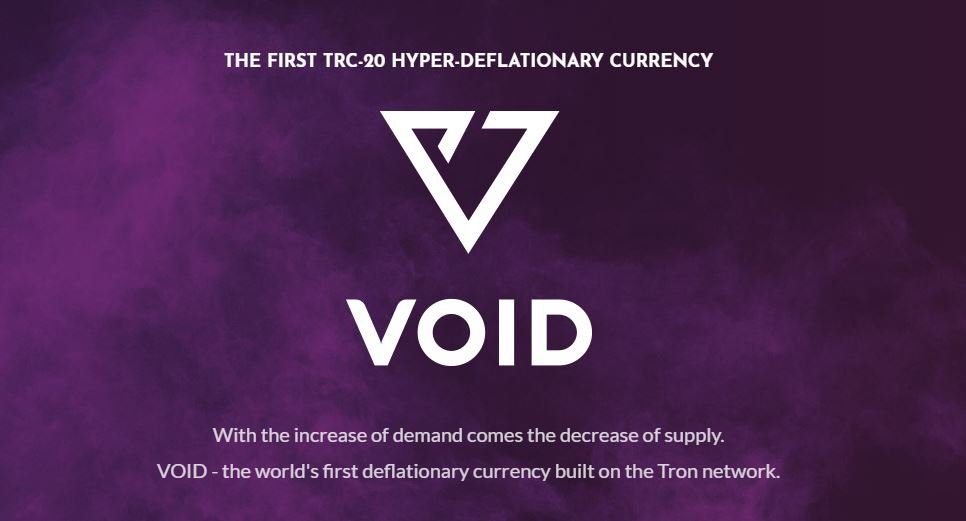 I wrote an article a few days ago on a competitor and there are many deflationary tokens hitting the market now. I am fascinated by this concept and have been researching many of these lately. Here is what makes VOID different.
What Is Void?
To start, Void fully supports dApps and has been programmed to make the experience fluid and seamless. Tron has fast, cheap transactions and is perfect for playing games. Currently, we are developing a suite of entertaining dApps with incentives for holders to explore. Ideally, this will provide motivation to transfer tokens and ultimately reduce the overall token supply of only 10 million.
Furthermore, we have decided to use 3% as our deflationary rate. We are aware there will be some controversy regarding this decision but our lead mathematician firmly believes this is the best approach to the deflationary model. We want the whole lifecycle of Void to be a gripping, intense experience that rewards the strongest holders in the long run. How long will it be until the supply drops to 10% of the starting supply? Only time will tell. We intend on keeping the project details fully transparent including the team holdings, airdrop criterias, promotional expenses, and everything that crypto developers usually try to keep in the dark. We are serious in our intent, and we hope you will welcome us into the Tron Ecosystem.
That is a brief description from the team. You can purchase VOID now or get involved for future airdrops. It is still very early and could prove to be a very successful speculation. You can learn more here : https://voidtoken.io/
My TRX address : TJY7zwJ2uMFbNCWPu4BpMrjsLDWEAZWiCW