Artificial Intelligence is an important, even necessary tool to parse through the vast reams of digital data the world now produces. Competing with traders using discretionary human trading skills becomes more and more difficult as computers are steadily taking over. So in order to stay competitive, fast decision making is an absolute must.
Machine learning and artificial intelligence are increasingly being used to analyse data, trade securities and provide investment advice.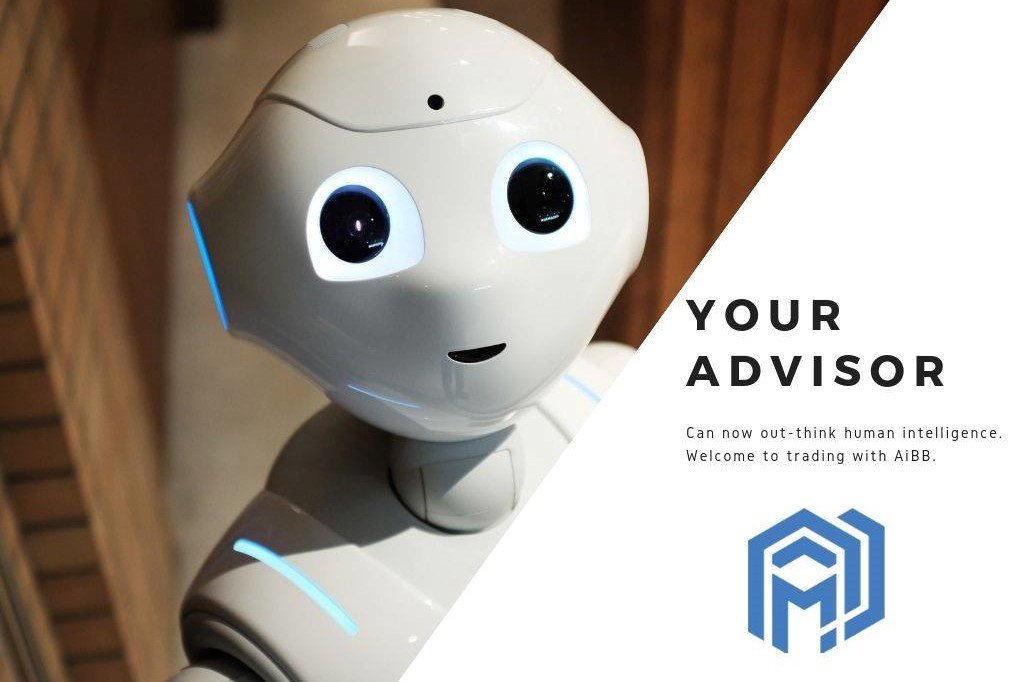 Artificial Intelligence can be summed up as the technology that can think and act for itself, and thus it is perfect for complex trading applications where speed and efficiency are key. Its application will change trading in many ways and this is already happening.
In stock markets, there is algorithmic trading or automated trading which is being used by many institutions and retail investors for almost a decade now. But most of the algorithmic trading that's happening right now isn't true Artificial Intelligence, it's just an algorithm with a set of detailed rules and action workflows.
Today, market knowledge is obscured by a large volume of sources. The current cryptocurrency market is also highly fragmented with multiple exchanges and trading applications, liquidity issues on exchanges, and lots ofnews reporting portals.
How will the Artificial Intelligence affect the financial trading?
Artificial Intelligence makes a real difference in financial trading by mining important data and providing cheap and easily available tools that benefit everyone, not just corporates. The investment decisions made by Artificial Intelligence will be calculated, accurate and unbiased unlike those made by humans, who are supposedly too emotional for the trading market.
What is AIBB
AiBB is an Artificial Intelligence assistant that incorporates Ai, various blockchain networks, smart contracts and banking into a single all in one application to equip their users with the decision making power they've never had before.
AiBB gives users all the tools they need for successful trades, including a payment gateway, personalized portfolio management, trade predictions advice, groundbreaking Ai chat, and Ai security.
Why AIBB
AiBB facilitates even more growth in the cryptocurrency market by bringing together reliable trade data, news, security and public education. They want every individual involved in the cryptocurrency space empowered with the right tools and understanding of their investments on a secured, reliable and decentralized platform.
AiBB is set to be the first Artificial Intelligence assisted application that will grow to become a completely decentralized platform that facilitates several functions and removes the need to trust 3rd party applications altogether.
Users will be able to execute trades across some of the most liquid and secure cryptocurrency exchanges, preventing the destabilization that can occur when a single exchange is forced to absorb a high-volume transaction.

AiBB Tools and Trading Resources
AIBB providing cutting-edge AI tools and comprehensive trading resources in a single, user-friendly application.
- AI Assistant
Which proactively gathers data and provides users with information prior to human users executing or performing a task.
- Analytics
It uses AIBB proprietary algorithms, performs deep analysis and presents the information in an actionable format.
- Alerts
AiBB can help grow portfolios by just anticipating the market ahead of trade orders and giving users a heads up. Its automated alert system is designed to gather information 24-7.
- Token Authentication Protocol
It is a tech-savvy, user-friendly way to verify details of each transaction before sending any asset within AiBB. The protocol eliminates user error like mis-typed addresses.
- Better Way to Trade
Via a private and secure API connection, the AiBB's users have the ability to execute trades across multiple exchanges .
- Portfolio Management Automation
It is a module that automatically gathers information from all connected exchanges like (trades, execution price, the dates, and associated fees).
- Trade Data
A snapshot of the trading data across multiple exchanges to help the users to get a clear picture of the buy and sell order.
- Fees
Reducing the fees charged by 3rd party exchanges on trades executed by facilitating a peer to peer trading platform.
- Security Layer and Protocols
Implementing a database of attack logs that can be shared between modularize of the app, keeping each individually protected but strengthening cooperation between all aspects of the app to prevent attacks.
- Payment Functionality
Users and merchants can instant payments for goods and services via Crypto or Fiat, by purchasing using the NFC technology on their mobile devices or use a payment card at any traditional retailer.
Bringing state-of-the-art Ai to the blockchain promises to enhance not only trading, but the future of decentralized applications.
Finally
If we made a comparison between the regular trade cycle and AiBB trade cycle we'll see that in a 3 minutes you can complete a trade using the AIBB platform, while it'll take from you at least 9 minutes to complete it with the regular way.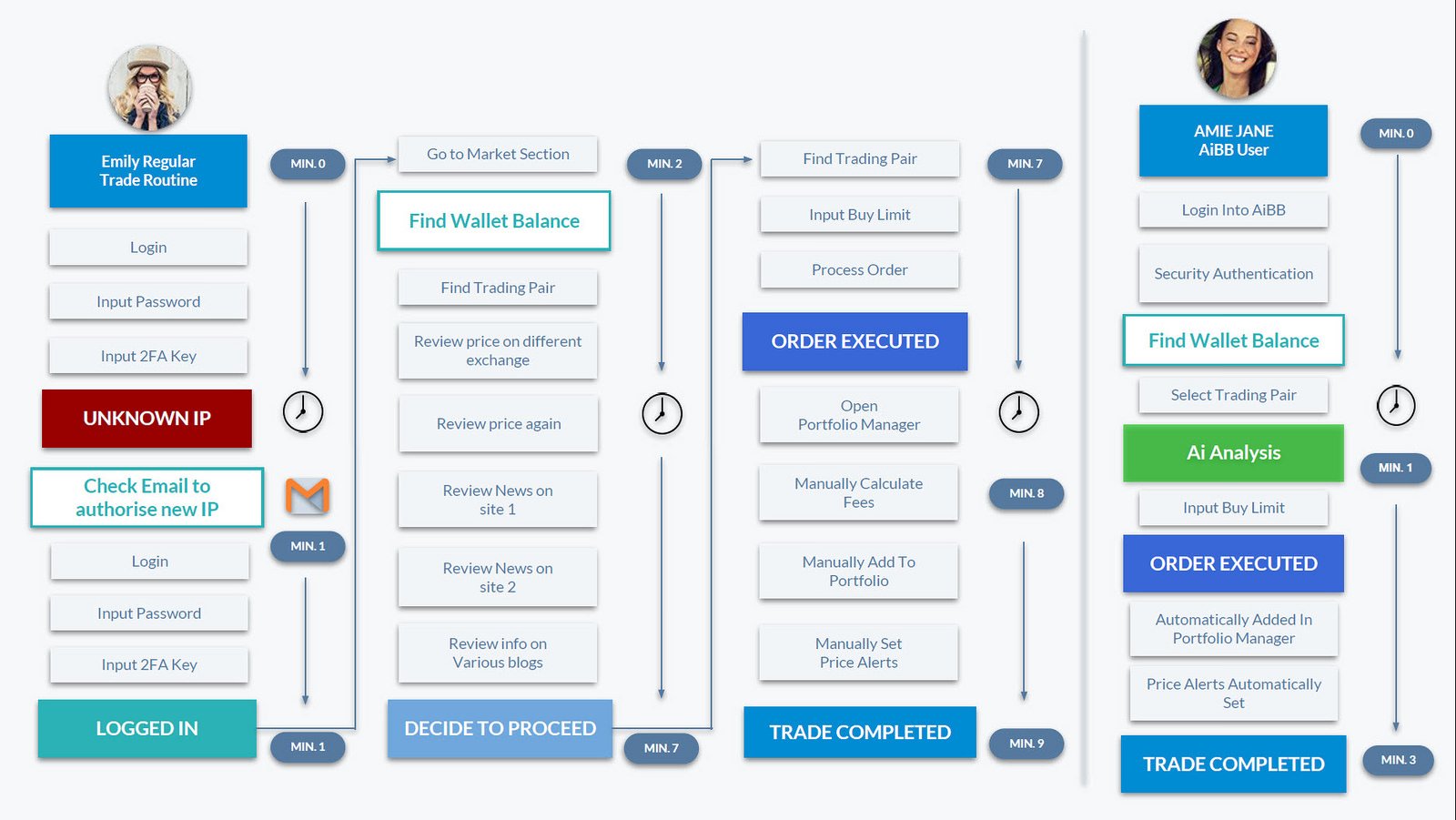 ---
✅Website: https://aibb.io/
✅Whitepaper: https://aibb.io/Assets/AiBB-Whitepaper.pdf
✅Twitter: https://twitter.com/aibbio
✅Facebook: https://www.facebook.com/aibb.io
✅Reddit: https://www.reddit.com/user/AiBBio
✅Medium: https://aibb.io/
✅Telegram Talk: https://t.me/aibbio
✅Telegram Group: https://t.me/aibbsale
✅Bitcointalk ANN: https://bitcointalk.org/index.php?topic=4849610
---
Author of the article:
✅Bitcointalk username: Erik_Smuel
✅Bitcointalk profile link: https://bitcointalk.org/index.php?action=profile;u=2020517