Transferring funds in bull markets is quite hard, never mind in bear markets. We have seen the drop in crypto prices in late 2017 and how it impacted a lot of crypto participants as they were either unable to liquidate their tokens into other financial instruments or were forced to pay large fees to do so. Until recently, the worry of an inefficient exit strategy in the Crypto market was disregarded, especially when prices were soaring. As more investors, institutions, and funds started participating, it has become apparent that neither the traditional financial system nor the crypto market can establish a direct connection between the two. Many enterprises across various industries now accept and store cryptocurrency as a method of payment in order to keep up with competition and increasing demand, but unfortunately most are unable to moderate their exposure and risk.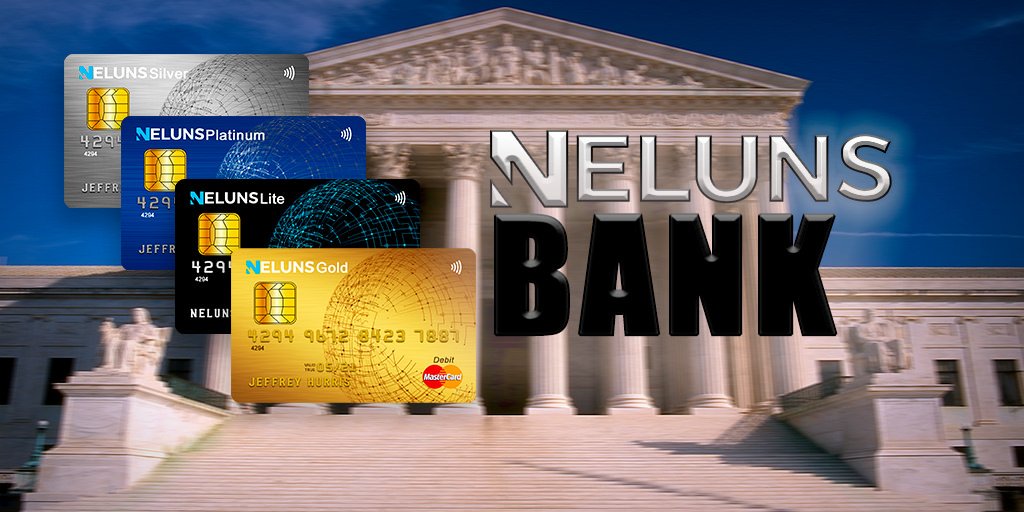 What is Neluns Bank
It is a licensed commercial bank, officially registered in accordance with all regulatory requirements.
The Neluns Bank presents a broad spectrum of services for physical and legal entities. While all operations are available in fiat and in cryptocurrencies.
Neluns Bank Development Stages
First stage (current stage):
Neluns Bank will carry out activities combining classical banking and banking on the Blockchain.
Second Stage (In the future):
Neluns Bank, together with its partners, will transition to its own Blockchain for international settlement purposes.
The utilization of leading technologies allows Neluns to create financial products, access to which will be available around the clock from any part of the world.
Neluns Bank' users Advantages
Neluns Bank users will have access to IBAN – personal and corporate multicurrency accounts.
Immediately after opening an account, users will be able to carry out operations in USD, EUR, GBR, as well as with cryptocurrencies.
Any cryptocurrencies and tokens traded on the Neluns Exchange can be added to the multicurrency account.
The user Neluns account will display the balance of funds in USD, EUR, GBR, as well as in cryptocurrencies (Bitcoin, Dash, Ehtereum, XEM). The remainder of new cryptoassets will be automatically displayed immediately after they are added by a user.
Cryptocurrency rates will be automatically determined based on data fed from the Neluns Exchange. Users will be able to automatically carry out trade operations, and execute transfers.
The user will have an access to corporate and personal accounts and merchantaccounts, allowing one to accept payments.
Every such user will receive a unique Merchant ID. Which will be tied to the account to which funds are transferred to by Neluns Bank users.
Holders of cards issued by Neluns Bank, will be able to pay for purchases. At the same time, payments in both fiat and cryptocurrencies are allowed. In case of payments being made in cryptocurrencies, they will be converted into fiat based on current Neluns Exchange market rates.
Neluns Bank users will be able to deposit fiat in any ATM, anywhere in the world, onto their bank accounts.
Depositing funds to the escrow account will be available from any part of the world with the help of an ATM or make an appropriate transfer.
Private and corporate Neluns Bank users will have access to a broad spectrum of loan products.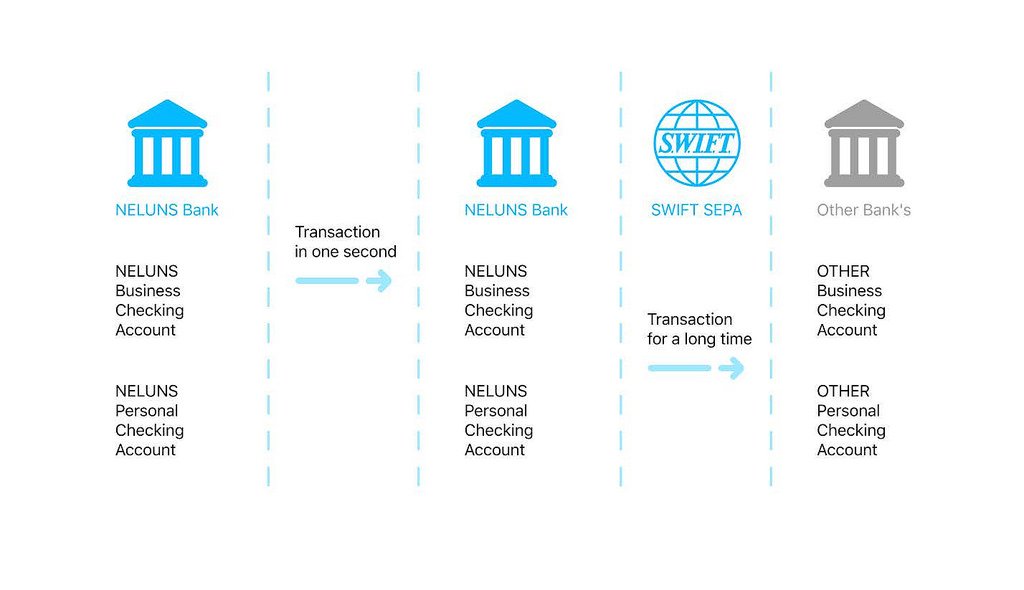 Benefits of Using Neluns Applications
Applications for iOS and Android will make it easy to transfer, exchange operations, receiving and giving out loans in fiat and cryptocurrencies (p2p-crediting) just in two clicks.
The iOS and Android applications will allow you to make all possible trade operations within the Neluns ecosystem:

Buy and sell cryptocurrencies on the Neluns Exchange in one click
Make an interest receiving deposit in the Neluns Bank
Receive a loan from the Neluns Bank
Provide or receive a loan on the P2P-platform
Make transactions anywhere in the world in a matter of seconds.
Neluens Bank Issuing its Cards to the Users
As an issuing bank, Neluns will perform the following functions:
• Issuance of bank cards to clients.
• Authorization of payments at the request of retail outlets.
• Payment of merchant accounts by writing off corresponding amounts from the client
accounts.
• Issuing cash money in any partnering ATM's of Visa, MasterCard, American Express, worldwide.
• Security (blocking of accounts in the case of lost cards, etc.)
Neluens Introducing Its Lending Platform
On the basis of the Neluns Bank, there will also be a platform for P2P-lending in fiat and cryptocurrencies.
Authorized users will be able to receive and provide loans to other users.
The system will automatically rank requests for a P2P-loan based on its own algorithms. Fraudulent applications, which did not pass the selection system will be rejected.
The P2P lending platform will aid users in quickly depositing and withdrawing interest in a short time frame. Users will be able to insure the risk of P2P non-return loans through Neluns Insurance directly in the mobile application.
Users will be able to receive a loan in cryptocurrency or fiat from Neluns Bank directly onto their bank card via the mobile application in a few minutes.
A User can instantly make a deposit in any cryptocurrency through the mobile application.
The issuance of loans will be available in any fiat currencies and cryptocurrencies. Loans will be implemented by crediting funds to a multi-currency account.
Among Neluns loan products, there will be various non-targeted and targeted loans, oriented towards different categories of clients. Cryptocurrency traders and funds will have access to special broker loans and margin trading.
Corporate clients will also have access to credit lines (renewable and nonrenewable), as well as overdraft-loans to cover cash gaps.
All loan products will be provided to customers in a short time and on favorable terms.
Neluns will use its own algorithms, based on leading technologies, such as Big Data and AI to select applications and verify the trustworthiness of borrowers.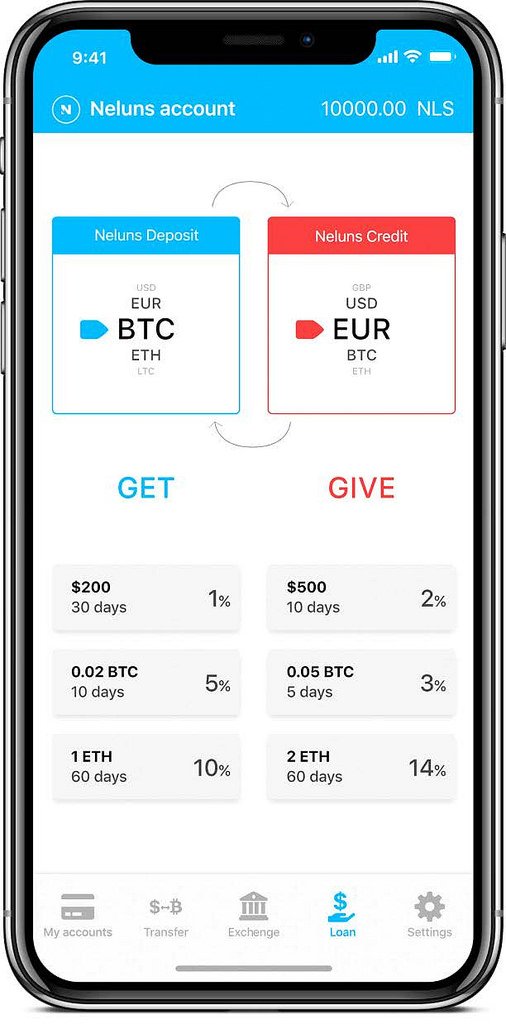 Finally
The Neluns Ecosystem will become a participant of SWIFT, and will be connected to various payment systems (Visa, MasterCard, American Express, and others). Clients will have access to IBAN accounts and bank cards for carrying out international payments. The activities of Neluns will also adhere to meet KYC/AML requirements as well as counter the financing of terrorism.
---
✅Website: https://neluns.io/
✅Whitepaper: https://neluns.io/static/ver165/whitepaper/whitepaper.pdf
✅Twitter: https://twitter.com/TheNeluns
✅Facebook: https://www.facebook.com/Neluns/
✅Medium: https://medium.com/@iconeluns
✅Telegram Group: http://t.me/TheNelunsChat
✅Bitcointalk ANN: https://bitcointalk.org/index.php?topic=4694028
---
Author of the article:
✅Bitcointalk username: Erik_Smuel
✅Bitcointalk profile link: https://bitcointalk.org/index.php?action=profile;u=2020517
✅My Ethereum Address: 0xA009D96EFB69bC8e328d43c4d18dd9B6d7422BC8