INTRODUCTION
The cryptocurrency industry suffers for a number of reasons, and one of these is ease of transactions, along with security and transactions speeds.
Users need to be able to easily navigate through websites/apps with easy to use UI's and Apps, along with API's that extend usability.
Managing multiple portfolios can be an uphill task, and as more crypto exchanges come live on the decentralized market, this can only get worse.


Caspian is a product of Tora and Kenetic's joint venture. It wants to ensure that managing multiple portfolios across many exchanges won't be cumbersome and exhausting.
Caspian ensures that users can manage their assets in one central location, think of a one stop shop, where users will not need to toggle between services to carry out actions.



KEY FEATURES AND BENEFITS
Caspian can be grouped into three distinctive categories.
Execution
Position Management
Compliance
EXECUTION: Caspian ensures that trading can be handled efficiently, therefore it has implemented some features that will make this a possibility.
Messaging functionality has been embedded, to ensure that breaches can be communicated in time and adequately, to forestall any calamities.
Margins can be viewed and managed across the multiple exchanges users have assets on.
User have the option to make use of Caspian's Smart Order Router (SOR).
Orders can be easily modified and sent.
Prices, bid/ask and depths can be viewed for each exchange.
Orders, pricing, execution and position information can be obtained, thanks to the use of API's.
Creation of audit reports.
POSITION & RISK MANAGEMENT: The use of Caspian's Position Management System and Risk Management System ensures that users are able to closely monitor Profits an Losses, Margins, Positions and exposures, enabling them to have detailed records, and they can refer to them when the need arises.
COMPLIANCE: Caspian's compliance engine ensures that latency is reduced to the very minimum-almost non-existent. It's framework gives room for the creation of new limits an compliance measures. Reports can also be scheduled. Delivery of alerts via email is possible.



TECHNICAL SUMMARY
ARCHITECTURE
Caspian has distributed services that is built around a microservice architecture. It's also a cloud based service, and individuals can have private clouds integrated, while organisations can also make use of cloud computing solutions available in the market to extend its services.
SCALABILITY
Data and communication channels are partitioned into distinct compartments for users. When threshold points are set and these thresholds are reached, re-partitioning can occur to accommodate for new requests.
RELIABILITY
Caspian's service is built on the experience gained by the Tora team. Tora has had a 99.99% uptime for the past 10 years. It's this same consistency that will be brought to Caspian. Caspian's services have built-in redundancy and replication. There is no single point of failure; in the event an issue arises other instances will cover, and the user will not even notice. It also ensures that load is balanced, and resources are made available to ensure that no area is stretched beyond its capacity.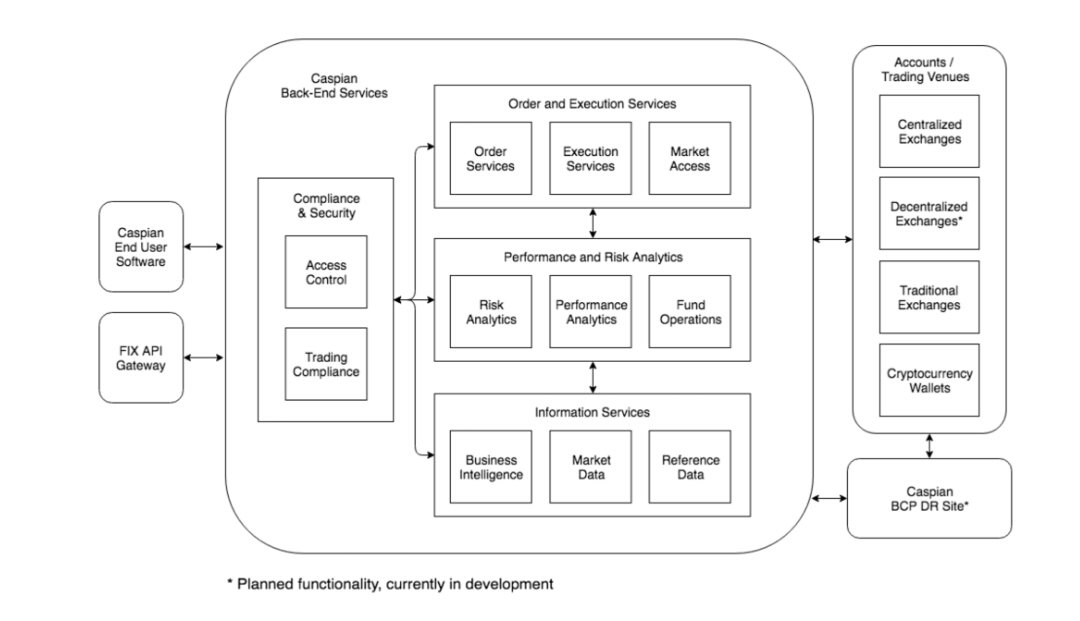 PERFORMANCE
Caspian is built to handle 50,000 orders and 400,000 executions every day, per user. Throughput is 2500 orders/sec.
SECURITY
Caspian makes use of of two factor authentication and enforcing strong passwords to keep users safe.
Back-end access is also restricted to a few administrators, and connections are always handled via encrypted channels.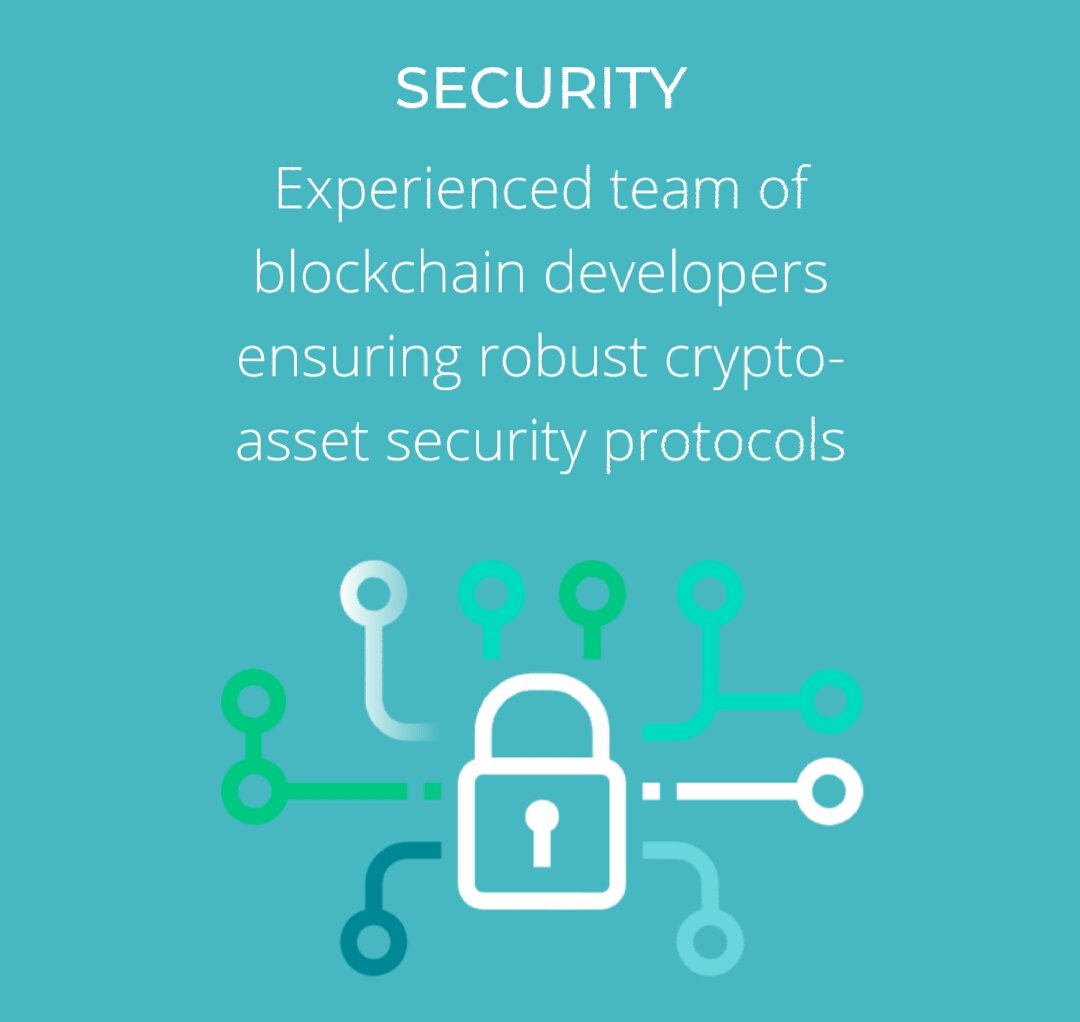 AUDIT
For the purpose of compliance and giving feedback to investors reports can be created. Caspian ensures that digital footprints are recorded, and it is easy to identify who initiated and action and at what time.
SUPPORT
Caspian ensures that tickets are attended to quickly, by having a dedicated and experienced team to handle this. Trading related tickets are given the highest priority, and they are attended to in a matter of minutes.
THIRD PARTY INTEGRATION
Third party applications/solutions can be easily integrated with Caspian. Exchanges and risk management applications are some examples of what that can be easily integrated.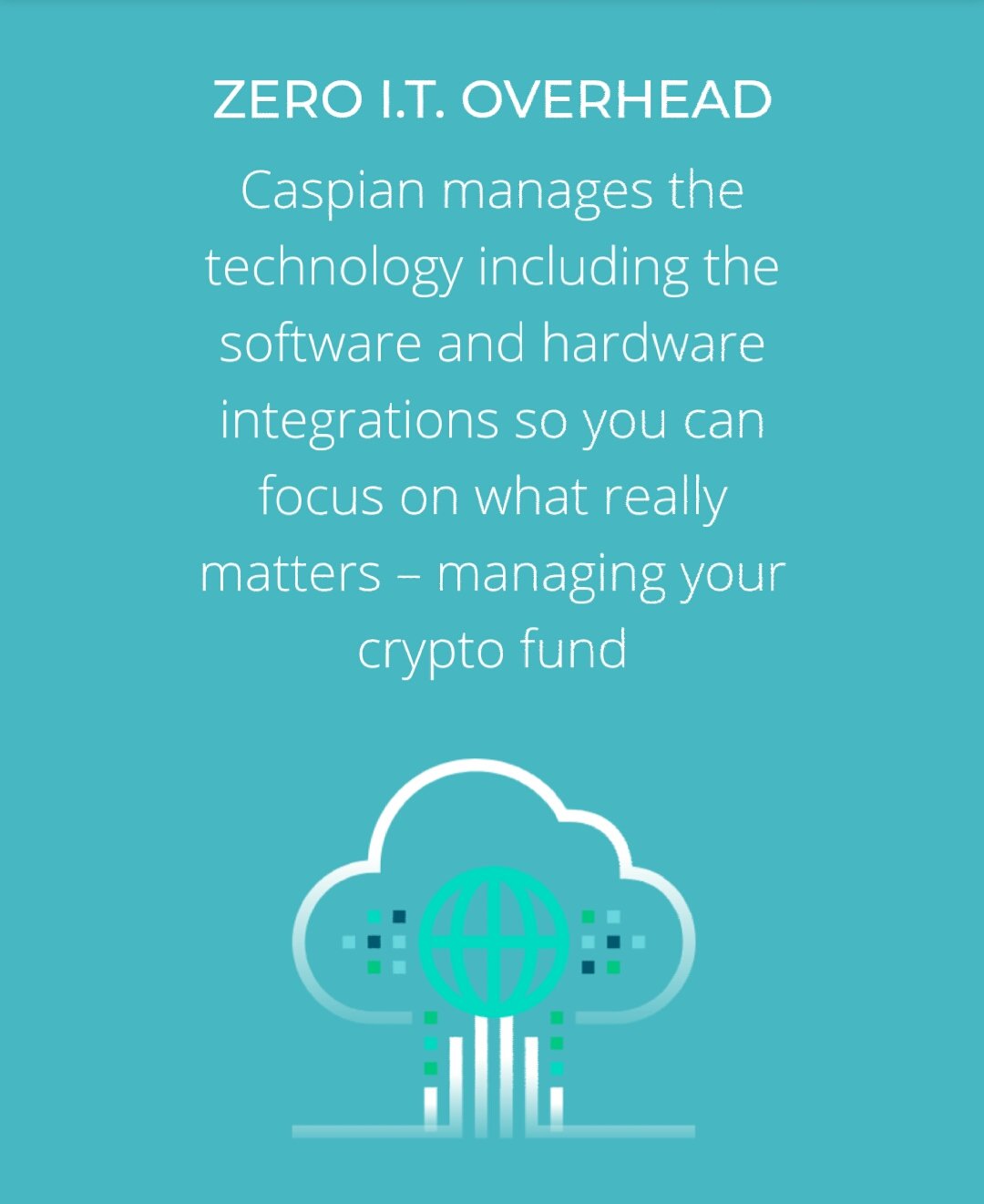 TOKEN
The token of the ecosystem is Caspian token (CSP). It enhances functionality and use of the platform, however, the platform can be used on its own.
CSP will be used to motivate third party developers to build free apps within the platform.



SUMMARY
Before now having to manage ones portfolio across multiple exchanges was a tall ask. Productivity levels are low, and collating data for investors were difficult. A lot of individuals were needed, to ensure that documents are files were prepared.
Having access to everything in one place ensures that productivity levels and profits will shoot up. Margin for error is also reduced, and other external factors such as high latency are done away with. It enables users to be able to focus on their primary activities.
Creating reports and comparing figures also become very easy to handle, and alerts are better manages as a result of this.
Being able to set limits and alerts, ensures that users can be sent emails for certain requests, and also when something goes wrong, it can be tackled quickly and effectively.
The way via which users interact with cryptocurrencies will be improved, because they do not need to toggle between multiple platforms and be affected by a host of external factors they have no control over.
With better UI, users will also be able to navigate easily, through the ecosystem.
Ease of usage will ensure that adoption grows, are more people will be open to signing up. As more users join, revenue will grow, and so will the industry, in people and figures.


TEAM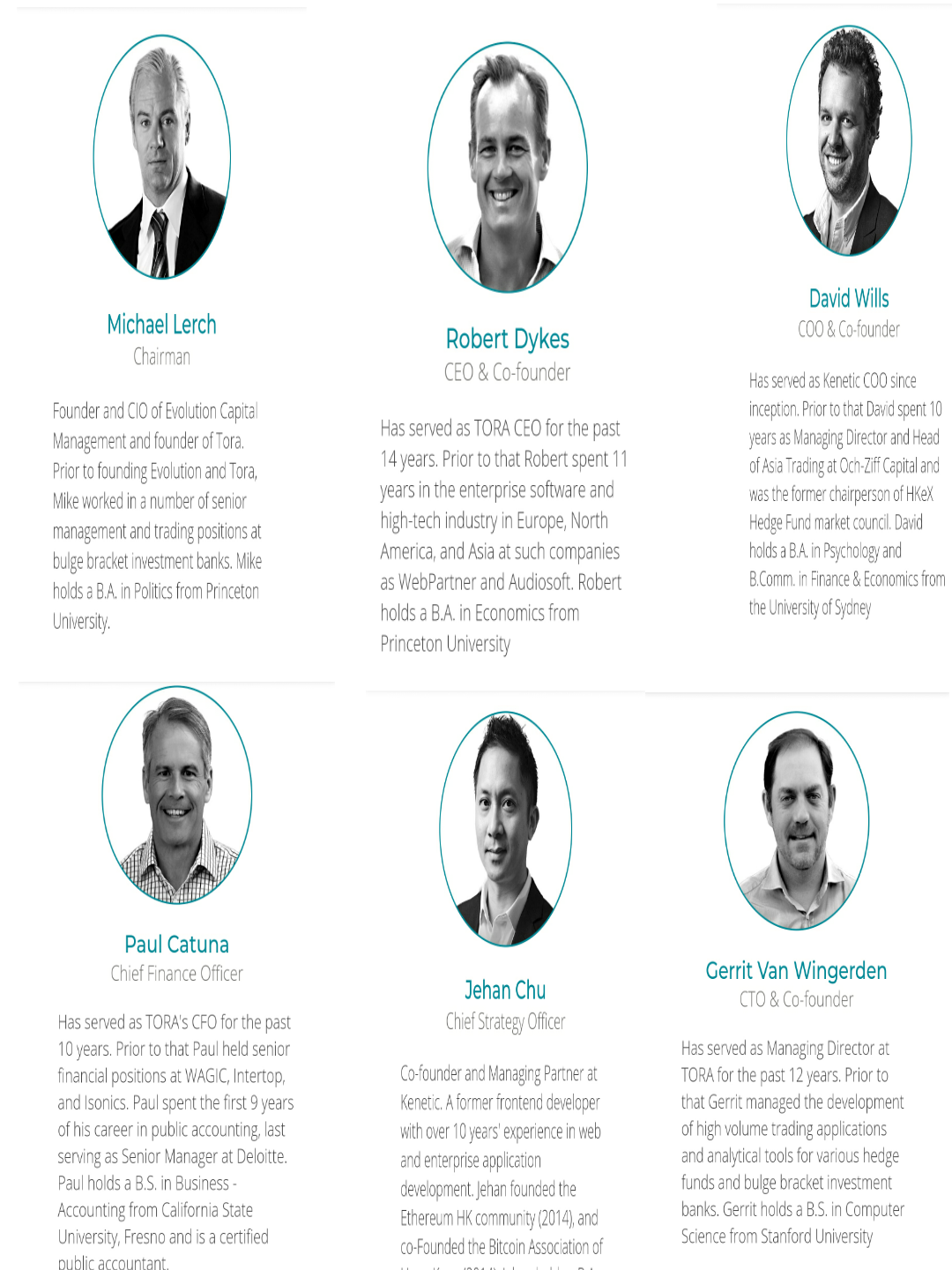 ADVISORS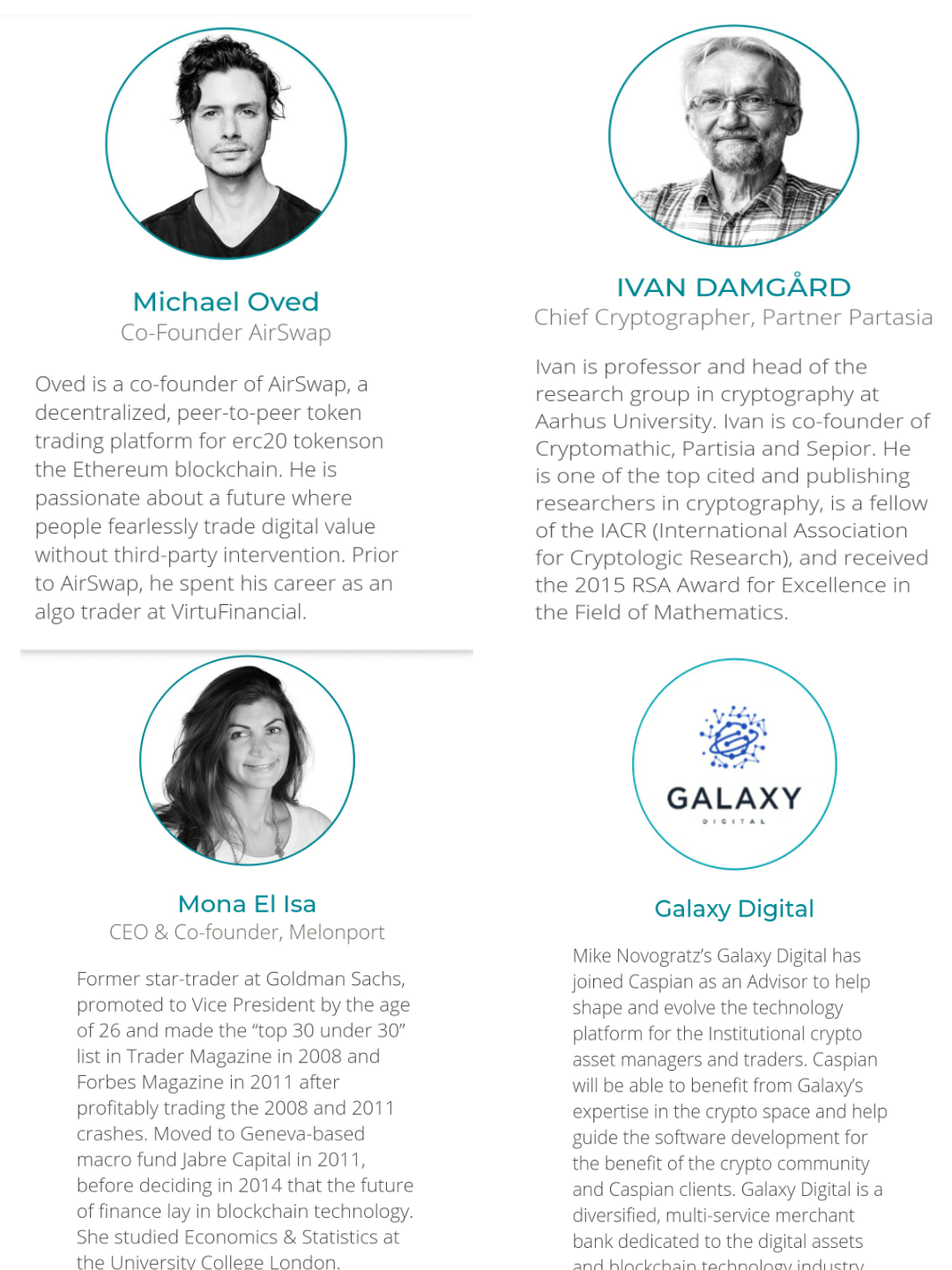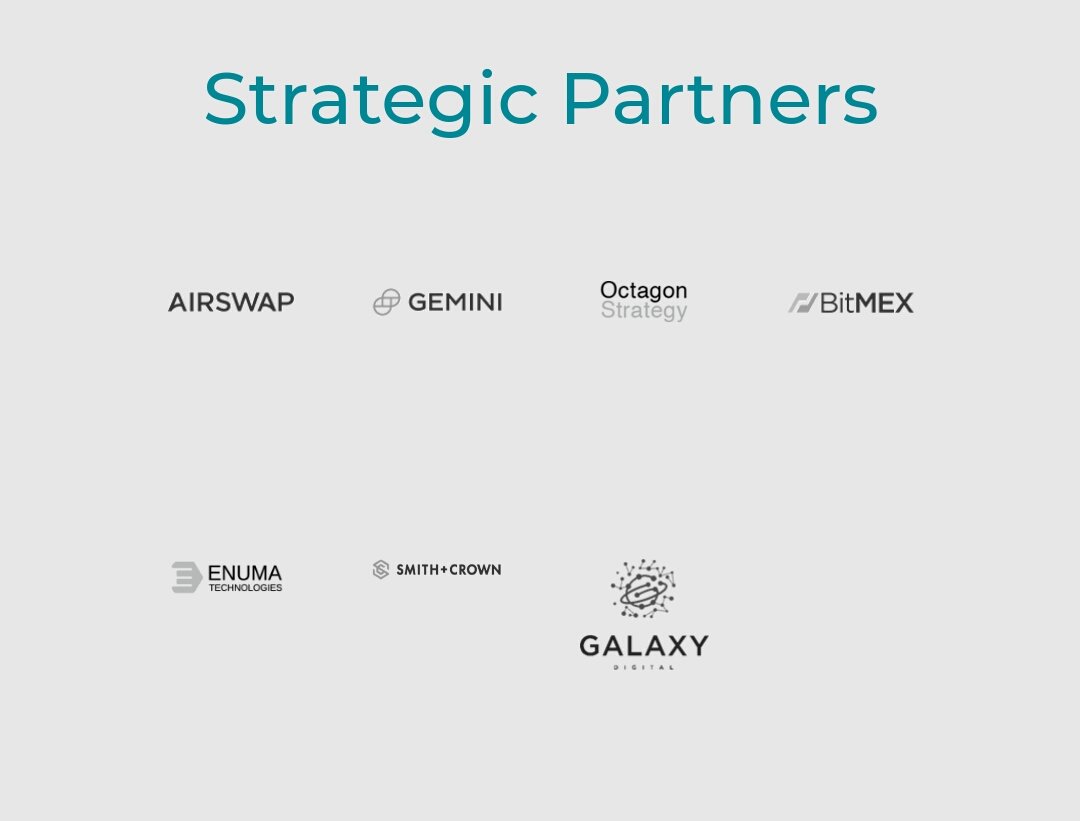 ROADMAP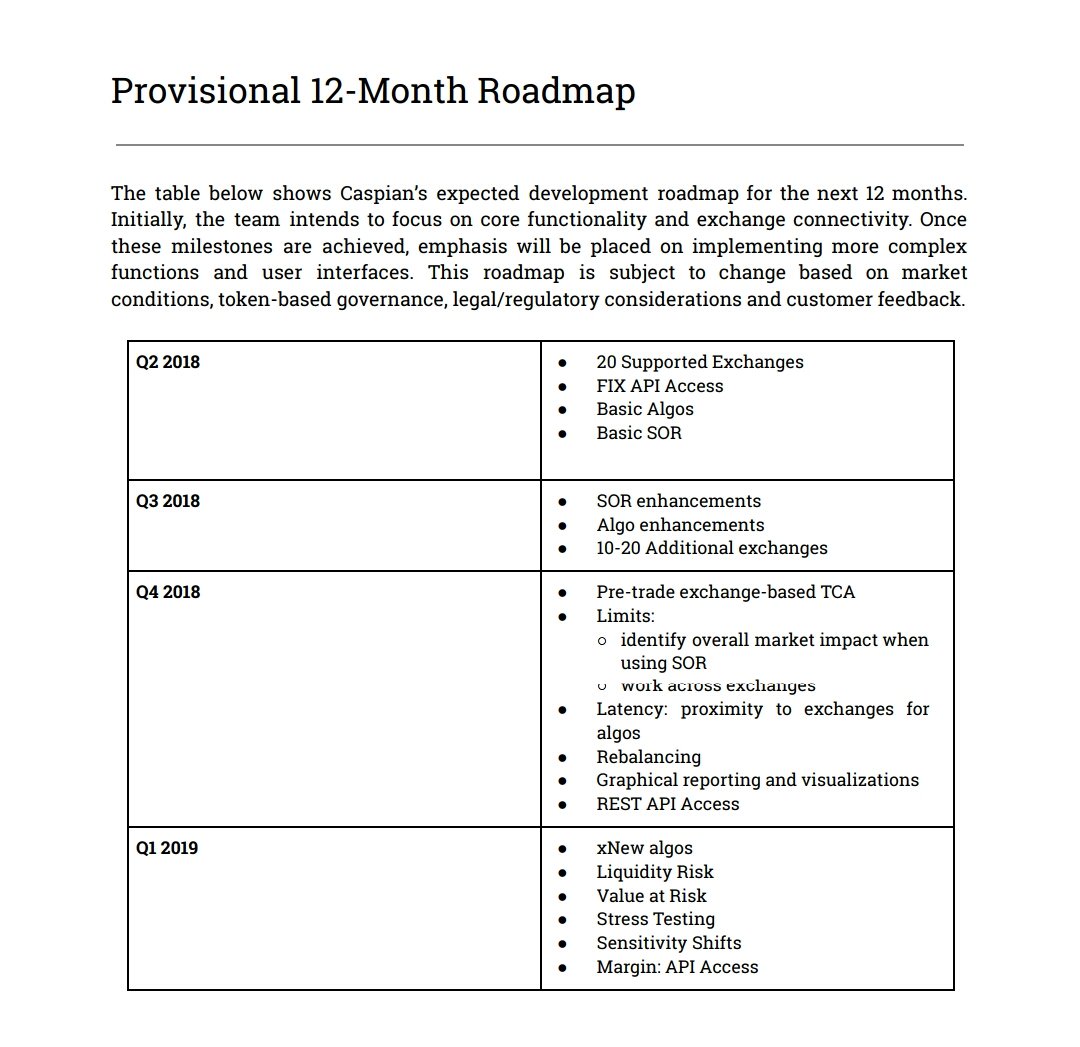 VIDEO

MORE INFORMATION & RESOURCES:
Caspian Website
Caspian WhitePaper
Caspian Steemit
Caspian YouTube
Caspian Telegram
Caspian Videos
Caspian Blog
Caspian News
Caspian Linkedin

This is my entry to the originalworks contest that can be seen
here
caspian2018


Twitter:
https://twitter.com/iswapee/status/1029423771847938049
caspiantwitter