INTRODUCTION
A major problem many traders complain about is the huge commissions they need to pay, with regards to trading activities.
The downside of this is that many of these people get put-off by this and the industry suffers.
Digitex is a futures exchange that wishes to ensure traders can get the very best of service, which basically means zero transaction costs on trading activities.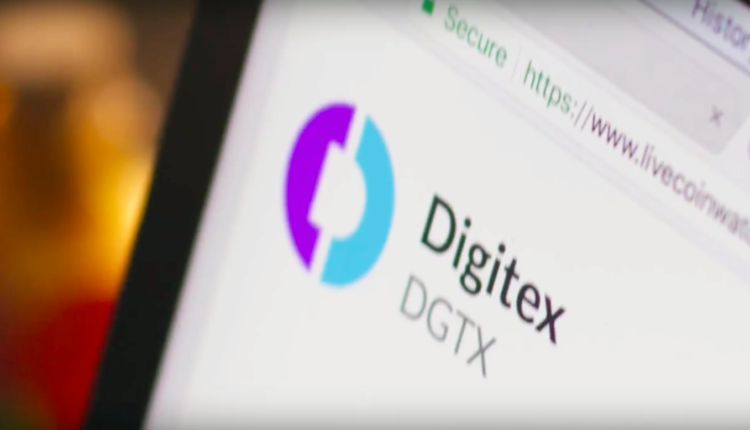 Futures exchange handle trades that deal with a promise to buy something.

COMMISSIONS FREE FUTURES TRADING
Digitex ensures that traders are able to retain full value for trading activities that are carried out within its ecosystem. This is achieved with the use of a native token known as the Digitex token (DGTX).
For any activity to be carried out within the platform, users need to purchase DGTX. All profits and losses are listed in DGTX.
Initially, operations will be funded with funds raised at ICO, and no tokens will be created in the first two years.
Traders will need to submit proposals for the creation of new tokens, which will come into effect in the first month of 2021.
It is expected that the demand for new tokens will compensate for the inflation creating new tokens will cause.
Profit made by using Digitex over other solutions: A case study.

DGTX TOKEN: ITS FEATURES
DGTX is an ERC-223 complaint token, and it is based on ethereum.
Traders need to have a balance that will compensate for losses during trading activities, assuming these are encountered.
Total amount created initially will be 1 billion tokens.
100million will be reserved for the founding team, and they will be released as vested shares over three years.
700 million was set aside for ICO and referrals.
200 million will be kept aside by market makers.

TRUSTLESS FUTURES TRADING
By studying the market, Digitex understands the problems traders face, and also found out that decentralized exchanges and centralised exchanges both have pros and cons.
Digitex ensures that its traders can get the best value, by stripping away the cons of both, and merging the pros to have an efficient hybrid system.
The decentralized sector brings security and smart contracts, which makes the trustless process possible.
Decentralized channels are faced with problems such as privacy, high latency and scalability issues. Margin trading is also not possible on decentralized exchanges.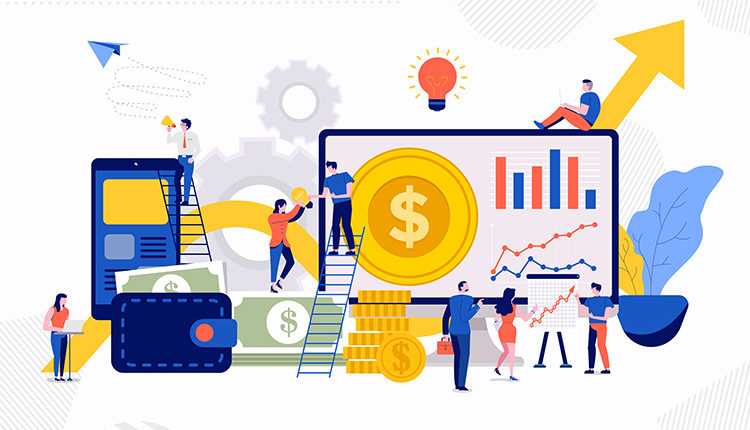 On the other hand, privacy is much better on centralized channels, and margin trading is possible. By having this two units communicate effectively, users are able to carry out transactions without any fees, and get the best service available.

THE DIGITEX FUTURES EXCHANGE
Digitex does not have any access to traders funds, neither can it freeze funds, because this is handled by the smart contract.
The exchange supports BTC, ETH and LTC, has large tick sizes are carries out order matching quickly and efficiently.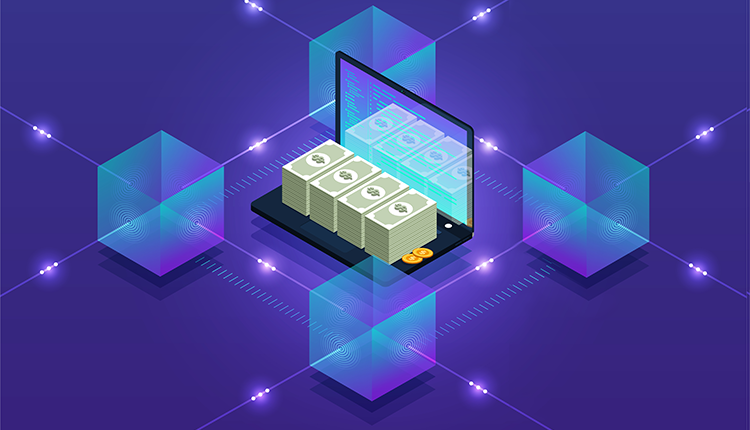 By making use of Digitex, traders are able to get massive returns, especially when compared with other services.

DECENTRALIZED GOVERNANCE BY BLOCKCHAIN
Voting on token creation and how many tokens should be created to cover operational needs are all made possible by the blockchain. The blockchain also ensures that communication between both parts is seamlessly done, and pulling up of traders balances is done effectively.
Digitex ensures that accounts call up is done from the roots, to avoid situations when people want to withdraw more than they have in their accounts.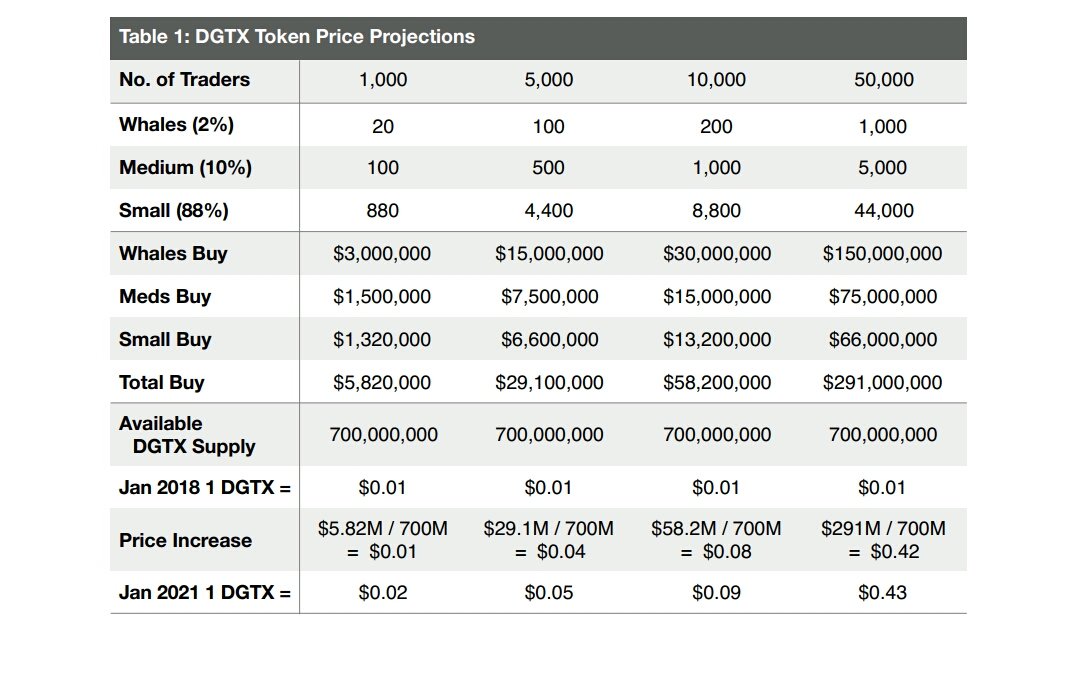 Token Issuance Inflation Projections

Users can also pass on their voting power rights to other users, who can then vote in place of due. Voting takes time, and they might not be available for one reason or the other.

USE CASE
Emilio makes use of multiple exchanges in order to try to get the best value, but he is left unhappy by the results he achieves, because after he has made awesome returns, commissions take a huge chunk of his profits.
For some time now, usage of his accounts has stalled, because he feels it is not worth his time.
Reading about Digitex on twitter, he signs up and is able to make good money-without losing any part to commissions.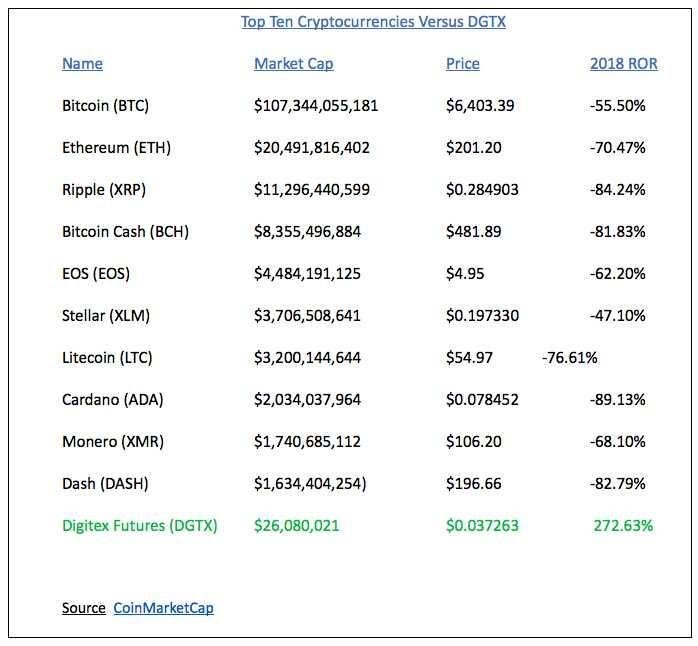 Emilio is overjoyed, and this strengthens his position, and sees him invest much more into the market, seeing he is even getting better returns than expected.

SUMMARY
Futures trading will receive a massive boost, thanks to Digitex because commission charged have been a massive headache for traders. The initial problem not being transaction fees, but the huge transactions fees to a large extent. By taking this away, Digitex ensures that users will get full value for their actions, and they will be in total control. No transaction fees equals more value gained. This will ensure that users will come in in their droves, and be much more willing to resume trading activities, ensuring that more funds are pumped into the sector.
Digitex will be looking to consolidate on their position in 2019 and 2020, seeing a lot of users will come on board, and solutions created need to be adequate enough to meet their needs. By the end of this period, I expect Digitex to have users numbering in the hundreds of thousands range. This will ensure that creation of new tokens in 2021 will not be felt at all.
By giving users power, Digitex ensures the sustainability of the platform, as this will mean that users will be eager to see the platform succeed, because they are the platform itself. It will also ensure that they platform will be able to evolve in any way necessary, and the platform will thrive.

TEAM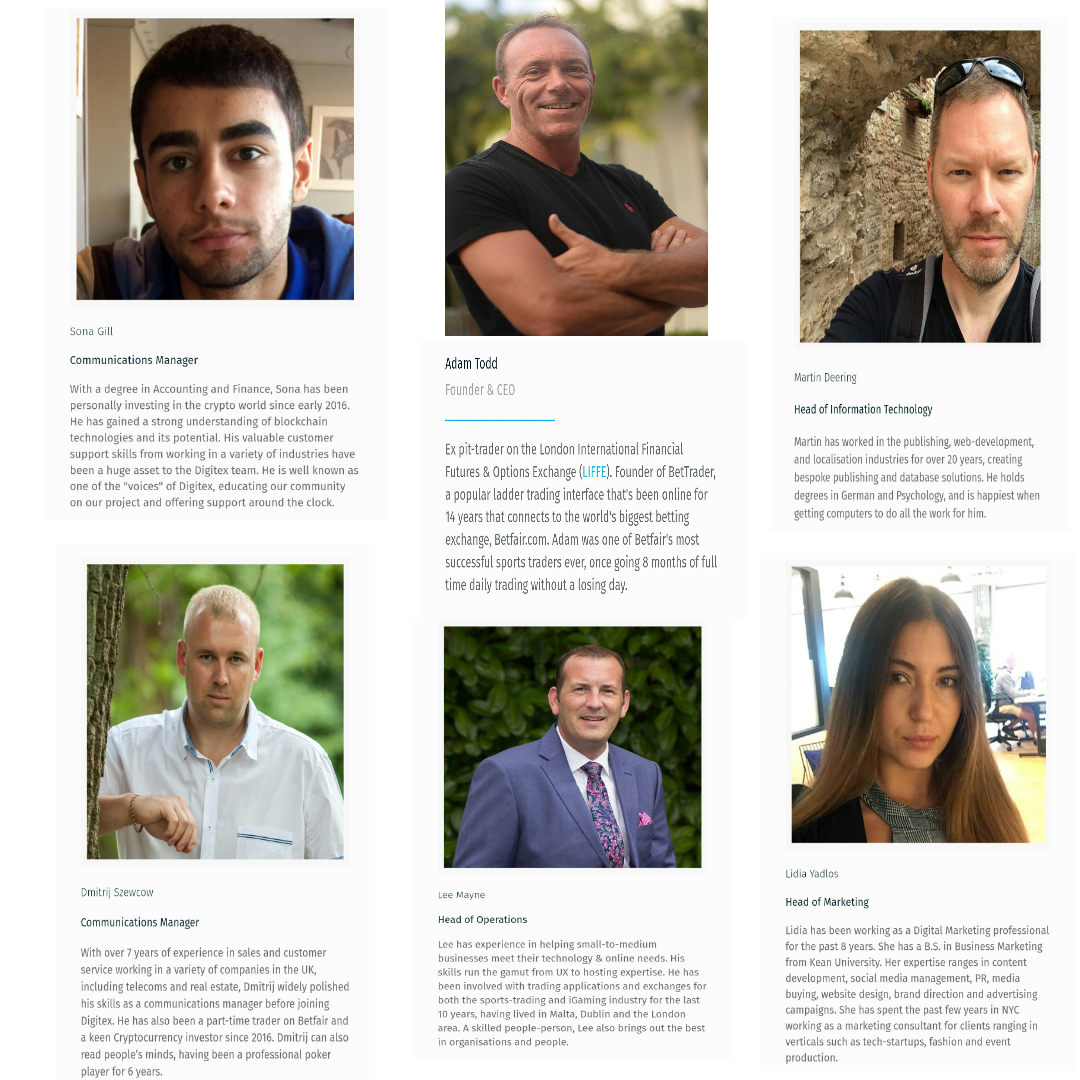 ROADMAP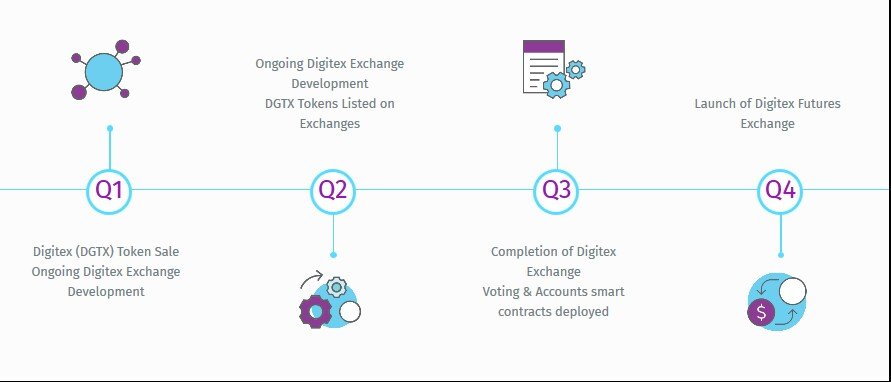 VIDEO

MORE INFORMATION & RESOURCES:
Digitex Website
Digitex WhitePaper
Digitex Blog
Digitex Telegram
Digitex Reddit
Digitex Facebook
Digitex Twitter
Digitex YouTube

@originalworks
contest located
here
Twitter link
https://twitter.com/iswapee/status/1041898687071510528
digitex2018 digitextwitter