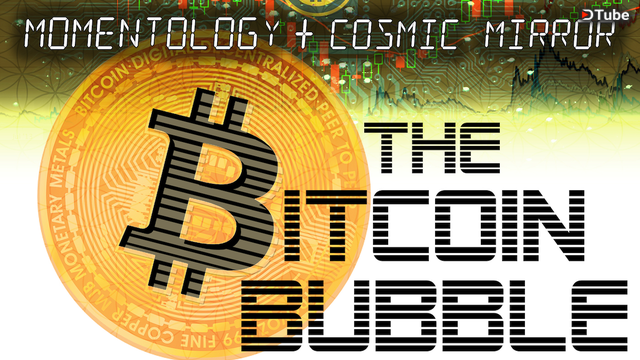 ---
The first and only of it's kind!!! As a crypto enthusiast, I've written this track to inspire faith in the blockchain. To explain the technology, dispel the FUD and give some bootys an excuse to groove.
The producer (Momentology) and I (Cosmic Mirror) have both dived deep into the world of cryptocurrencies and emerged believers. If this has inspired you, send it to your friends... we hope to use this track to get more attention to crypto, while providing some funny moments for insiders.
Lyrics are below
Accessible on nearly every streaming platform (Spotify, iTunes, etc)
https://fanlink.to/thebitcoinbubble
We would love to do more of this, and even make a more well-produced video for this track. We are accepting donations of BTC, ETH, BCH, LTC, and NEO to fund our future musical endeavors!
DONATE if you feel!
BTC:
3Ce4DntM5qscLtyQv4MZhnXiEHAxKS9cGJ
BCH:
187kcS2uv1YzmCTEoYhNcFfa4ibWqu1nbH
ETH:
0xE9dd1c774a2497a321c0af05795d120feE60acFa
LTC:
LNdFhDue6UVvvbtxbXZ7dGnt77FQ7YxsLm
NEO:
AbeEEyzPmGrKk6YC5b3it67TMQiyZ7YrXk
Lyrics...
Is Bitcoin a bubble, bound to pop? Or a current of currency, fated to top-ple
Governments and institutions, in an epic revolution
Or a brilliant new technology of elegant solutions
A load of crap, an overinflated ponzi, stuffing day traders pockets with the pockets of ungodly Wealth, well out of reach, of you and me, when you hear cryptocurrency, tell me
What do you see?
I see the opportunity, to watch the world shift right in front of me, while pulling up the rug
Right out, from underneath, the feet, of the elite
To sew a tiny seed, and watch it grow, till it becomes a tree
And I become a whale who wanders the sea
I see investment opportunities in intelligent new technologies
The blockchain based scripts, like the internet in 96
And not my interest is, in the internet of things
IOT version 3, 2018 bring-in it in, and I'm in it to win
Panic fold, when the market is low,
FUD no, I buy low, sell high or hold
Hodl on our rocket's Lumens and we'll be there soon
(But where we goin'?) Yo, we goin straight to the moon
Initial blast, smart contracts and daps
Decentralize the internet, incentivising investment
Enabling, money to exchange without the bankers in the way
To hamper fair transparent peer to peer trade
Fair transparent polling, there's a DApp for that
Incentivising solar, there's a DApp for that
And these abundant opportunities have barely been tapped
To adapt computing powers from all over the map
So say AI, and scale it wide
Automate and open source, connect the nodes and change the course
Of new neural networks, devoted to trust
There's so much more to these markets, than boom or bust
So I'm a human with a vision who's invested in this process
Not just flipping inadvertently to make a daily profit
Aiming to be, a new technology prophet
I deposit funds, into revolutionary projects
As a human with a vision who's invested in this process
Not just flipping inadvertently to make a daily profit
Aiming to be, a new technology prophet
I deposit funds, into revolutionary projects
Bitcoin itself may or may not last,
And Bitcoin Cash… Roger Ver is an ass
Coinbase takes forever plus a hefty tax
And EtherDelta has hackers Phishing from its cracks
Bittrex gets pumped and dumped like dumb skanks
And Banks will buy headlines to see that the market
Tanks, the IRS is coming to Gank
As much as they can, with no reach around, thanks
It's the Wild Wild West, get the gist
Still the ones who win, are the ones who get in
So come play, it's fun, get mo crypto flow
Watch YOUTUBE videos and Suppoman that ICO
You are the Souljia Boy, so fight for the right
To invest with the same benefits, the super rich always get
Decentralize the internet, bring order to the mess
And get a Monaco or 10x to spend success
This is rags to riches bitches
And if you wanna come,
Hodl on this is gonna be fun
Yeah if you wanna get that crypto flow it's time to go
Hold Strong and don't be dumb
And be a human with a vision who's invested in the process
Not just flippin inadvertently to make a daily profit
Aiming to be, a new technology prophet
Who deposits funds into revolutionary projects
As a human with a vision who's invested in this process
Not just flipping inadvertently to make a daily profit
Aiming to be, a new technology prophet
Who deposits funds, into revolutionary projects
Now I gotta come clean, when I hit the scene
I started out, with about, 300 beans
Not enough flow fo no po-sition
So I doubled up on rumors from Einsteineum
Bought Stellar and Ripple, caught a good run
And by the holidays my bitcoined become point one
By the new year, I'd nearly doubled that
Then the Asian FUD came, and it set me back
Did I get all depressed? Moan and Cry?
Hell naw, I knew that it was time to buy
And by the time I'm in the sunshine, sitting to write
Though somewhat small, my portfolio's tight
Got on the Walton Chain, before China came
And got on VeChain to bring things to the main frame
EOS oh yes, Elph and IOTA to be an owna in the new tech
And now I'm a doner
Got on puff the magic Dragon Chain from Disney stoners
And a little bit of TAU, I found well under a dollar
Vibe and Flixx, just for kicks
And PO.ET to get mo dough for this
And again I'll come clean, I sold my Steem
So please upvote my post so I can make mo G's
And advertise on BAT, Oyster Pearl and APP
And if you don't know what I'm saying Request Net it back
QuantStamp the truth, are we gone with Tron
And will the UTrust system take Paypal on
One day we may see, On Bitdegree
While my Whale as Swims in the sea
For being a human with a vision who's invested in this process
Not just flipping inadvertently to make a daily profit
Aiming to be, a new technology prophet
I deposit funds, into revolutionary projects
As a human with a vision (Yeah, Crypto 2018)
Who's invested in this process (Bitcoin back at 10,000 USD)
Not just flipping inadvertently (But then again)
To make a daily profit (Dollars will be irrelevant)
Aiming to be, a new technology prophet
I deposit funds, into revolutionary projects
---
▶️ DTube
▶️ IPFS