Let's take a look at the action in the Cryptoshpere today in another rendition of Balake's Bets!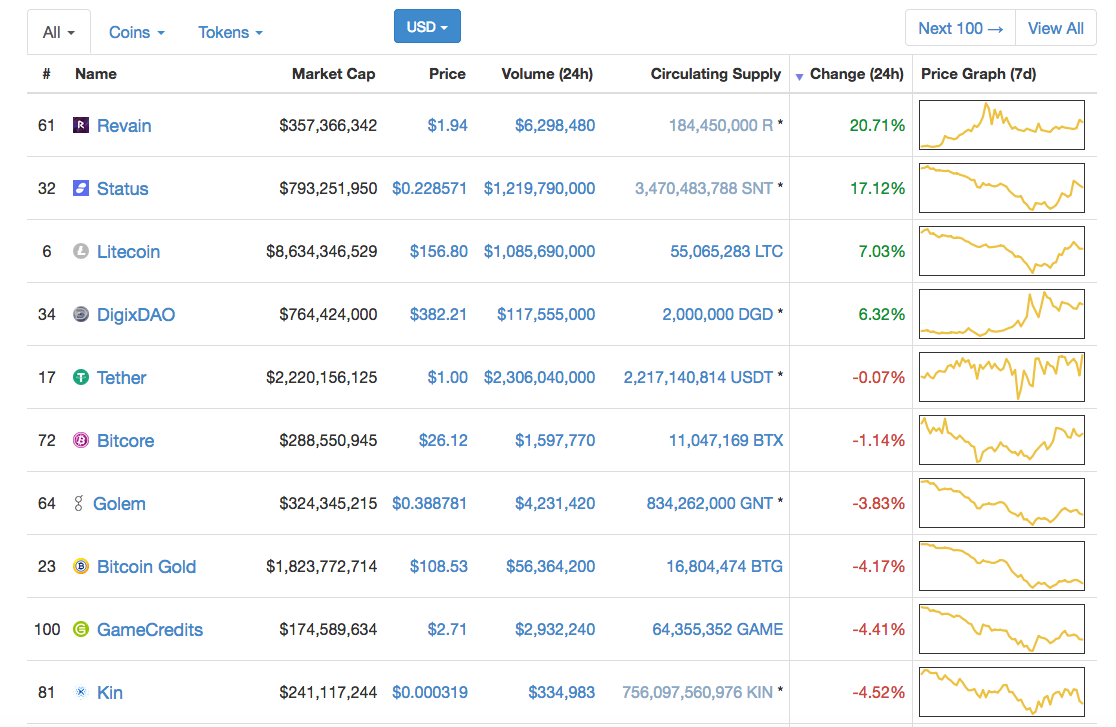 Above are the top 10 coins sorted by 24 hour change on coinmarketcap. As you can see, not great for the market overall.
With only 4 coins in the green from a % change standpoint, the correction is still being felt across the market. I do say correction and not burst bubble because I am optimistic for a bull run come this month or next.
Revain is numero uno today with an almost 21% increase. They have an interesting concept behind them. I view them as essentially the steemit version of yelp. Users can be rewarded for posting reviews. Interesting and will be watching this movement today.
Status creeping up behind at number 2 with a 17% growth over the last day. Status is an app to send, receive, and store ether and chat with those you are interacting with.
Tether is in the mix at #5, but that's because it's flat due to the nature of its objective as a stable fiat-like currency. The company has had a lot of bad press this week and will need to respond to the SEC's claim that they potentially don't have the funds they claim to.
What coins do you feel bullish about today?
Small ask- I'm just getting started and would appreciate any upvotes, follows and comments if you found this article useful :)
Legal Disclaimer: This is only my opinion, make of it what you wish. This means that it's not advice or a recommendation to either buy or sell anything! It's only meant for use for entertainment purposes. Do your own research!