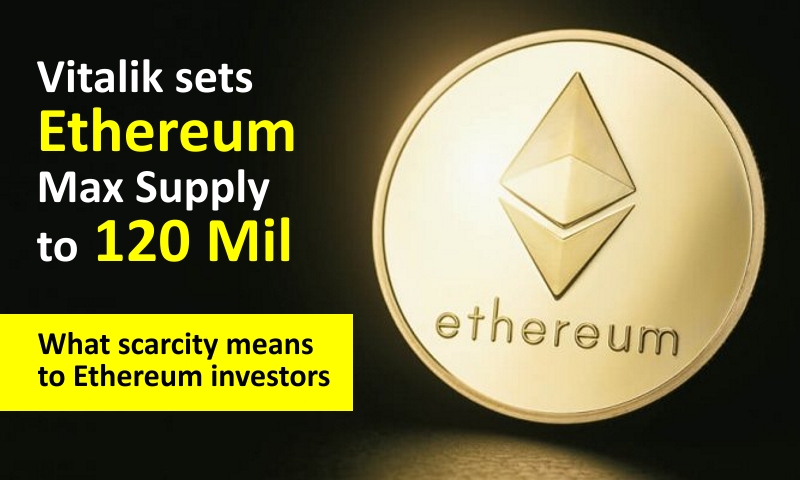 Vitalik Buterin, founder of the Ethereum, has proposed a hard cap of 120 million on the total supply of the Ether cryptocurrency. The hard cap will be included in the upcoming Casper hard fork.
Why is this good news for Ethereum investors?
The current total circulating supply is 98.5 million. With a hard cap of 120 million, this means that there will only be another 21.5 million ETH to be issued, a maximum of 21.8% inflation.

With an issuance limit of 18 million ETH per year, the hard cap will be reached in a little over a year (about 14-15 months) after the fork.

During this time, investors will likely choose to hold their ether (ETH) in anticipation of the upcoming Casper hard fork that introduces the scarcity to the Ethereum blockchain and at the same time switches Ethereum over to the Proof-of-Stake (PoS) protocol.

Under the PoS protocol, block rewards will be given to stakers. A staker can be anyone who holds some amount of ether in their wallet that helps validate the network. The more ether they set aside for staking, the bigger the reward.

In this perspective, investors will naturally want to hold or acquire more ether to stake for bigger rewards, especially when there is a limited supply. This will lock up a huge amount of ether from circulating the market and upset the equilibrium between sellers (supply) and buyers (demand), keeping the value of ether in a state of deflation as mass adoption grows.
Where can I buy some ether (ETH)?
You can buy ETH from the following exchanges by clicking the links below:
PLEASE UPVOTE, FOLLOW & RESTEEM
My fellow Steemians, I am not begging but I am really broke. As you can see I have withdrawn every Steem I had to cover expenses so please upvote my post if it is not too much to ask. I will bring more interesting stories. Thanks!