Last week I started a blog series about coin faucets and whether or not they were worth the time it takes to click the collect button. Check out the first post here https://steemit.com/teamaustralia/@biggordo/coin-faucets-are-they-worth-it. Before I get into the faucet update I want to share how my Eobot account is doing. Last week I had it my Gh/s up to about 2.5. This is a damn slow mining speed however with the daily faucet on the Eobot site I have been able to increase the speed by
0.1 Gh/s. I can actually see the numbers ticking over... but as you can tell from the goal I set in my last post I am still
77.4 Gh/s shy of my target. There a screenshot underneath to show you my current Eobot status.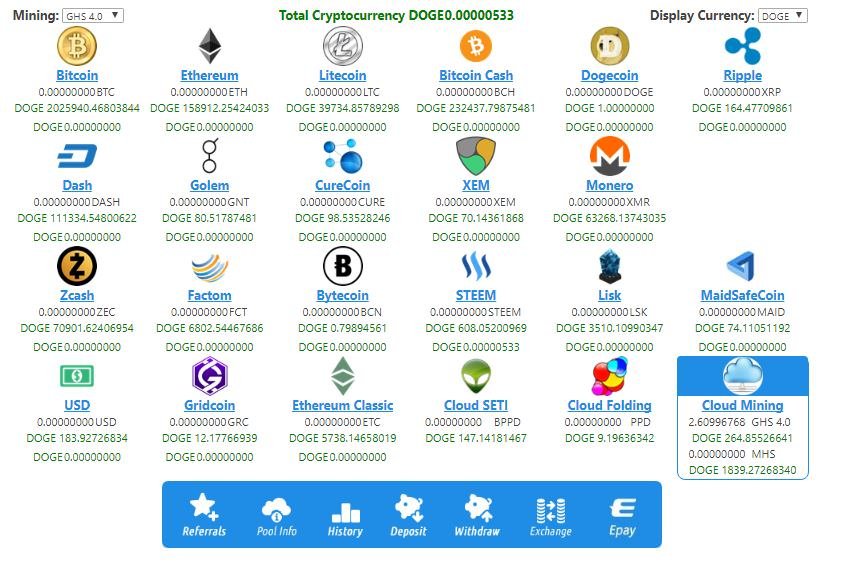 To keep these posts reasonably short and a quick read I thought I'd focus on one crypto at a time. This week's coin is going to be one of the first coins I ever invested in. The original meme coin... DOGE!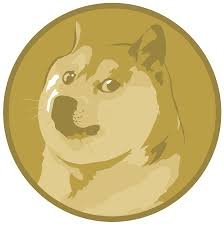 I have found numerous (literally hundreds) of Doge Coin faucets that are still fully operational today... But after filtering through some of the shit ones I have settled on a few (maybe 4 or 5) that I keep going back to. I will paste a link for the faucets below with a screen shot of the UI if you want to try them out for yourself, (be forewarned, the links will be referral links, but why shouldn't we all benefit from a few easy clicks of a mouse?)
#1 - MOONDOGE http://moondoge.co.in/?ref=486b26306a08
Probably my preferred and most lucrative Doge faucet (if a faucet can be considered lucrative). I check in every 4 hours or so make a claim and bank a minimum for 40% of a Doge coin. You're probably thinking that's the smallest fraction of a penny or cent but keep in mind all of these faucets are FREE. To boost your claim there is a loyalty bonus that increases 1% every consecutive day you claim up to 100%. There is also a mystery bonus of any where between 1% and 100% on each claim that is also awarded (the highest I've had paid out is 77% bonus (my 0.4 Doge claim turned into a 0.7 Doge claim). To claim from MoonDoge you will need a CoinPot wallet. To check it out here https://coinpot.co.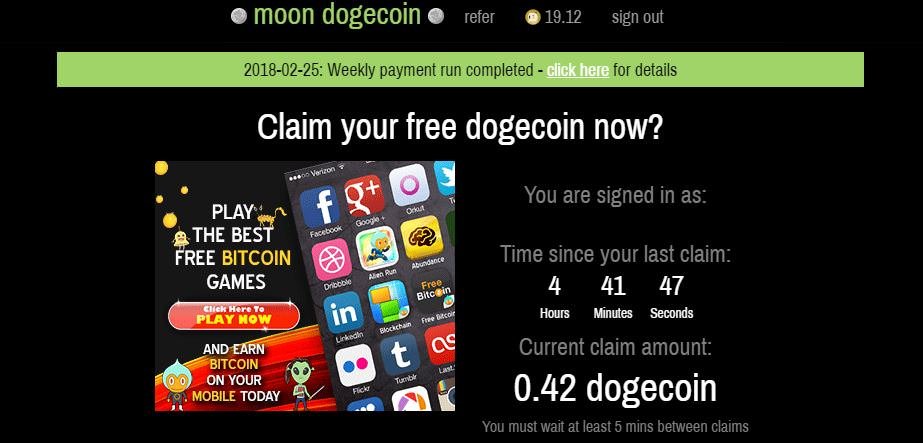 #2 - FREEDOGECOIN http://freedoge.co.in/?r=2119657
This faucet does not payout as much, and unlike MoonDoge's 5 minute payouts you can only collect every hour. However, it really does only take a few seconds to claim. This faucet is based on a random number generator between 00001 and 10000. The payout structure will be provided in the screenshot. While most of my payouts so far have only been the minimum, I have been lucky enough to hit the 2nd tier once. You can try your luck and attempt to multiply your claim by playing the hi-lo game, but I wouldn't recommend this. The image below is a shot of what the payout screen looks like after a claim.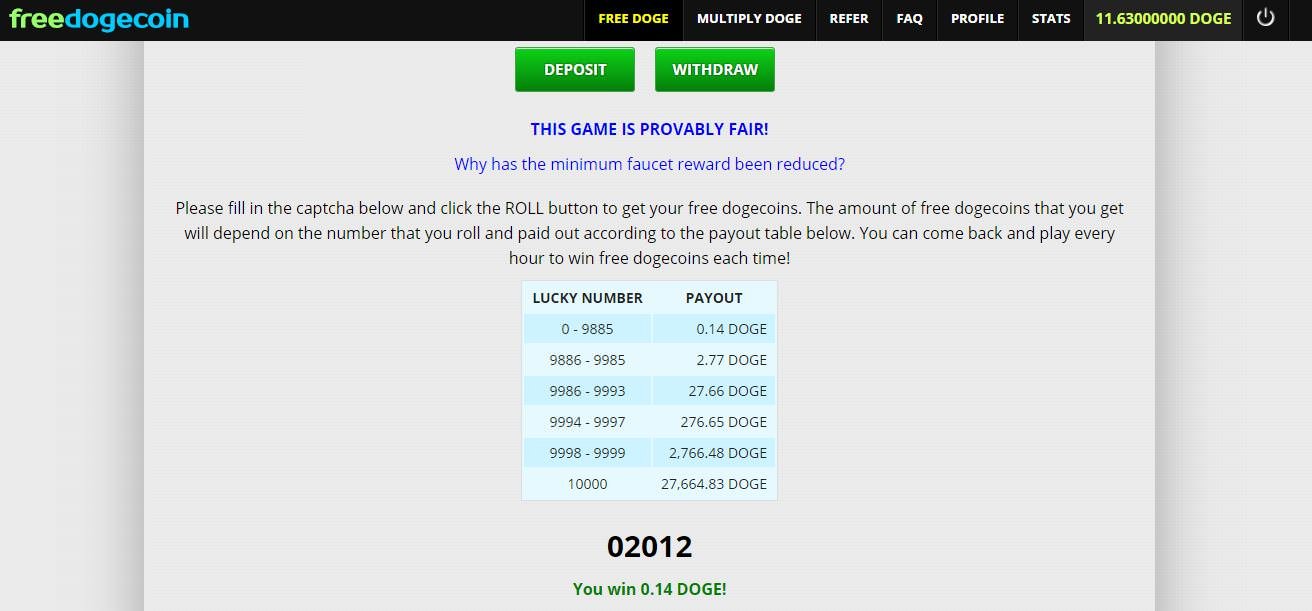 #3 - DOGECOINFAUCET https://dogecoinfaucet.co/?ref=xFeKly6m7
Similar to MoonDoge, Dogecoinfaucet requires withdrawal into a designated site (faucethub.io). I simply used my Doge wallet address from Eobot on the Faucethub site and everything is working fine.
This faucet is a pretty small payout, so if I had to stop using one of the faucets this one would probably be it. The claim is only 0.05 Doge and can only be collected every hour. It is however linked to other crypto faucets, so it really only takes a few extra clicks. It will just take a long while for any real accumulation to occur. Overall, a steady faucet but as mentioned not a huge payout. If you like what you're reading so far, feel free to send a few Doge to the address that is in the following screenshot (jokes, hahaha).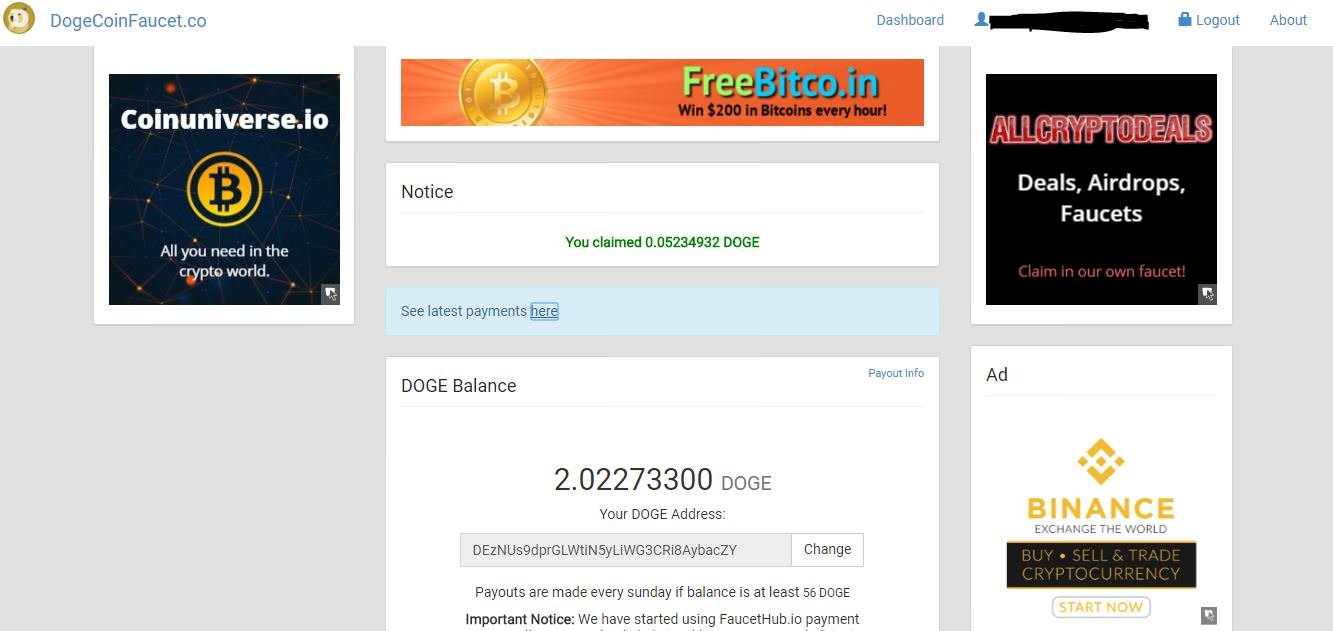 #4 - MYDOGECOIN http://mydoge.co.in?ref=DEzNUs9dprGLWtiN5yLiWG3CRi8AybacZY
I like this one nearly as much as MoonDoge. You can collect as often as you like and the claim amount grows the longer you leave it. If I claim every 4-5 hours or so the claim amount is usually up around the 0.25 Doge amount as you can see in the screenshot (for some reason there is always a default 10 hour time from last claim). You'll see if you try it out. I have this account linked straight to my Eobot account, but as you can see in the image there is a 56 Doge minimum withdrawal. My current balance is 8.5 so I have a ways to go yet.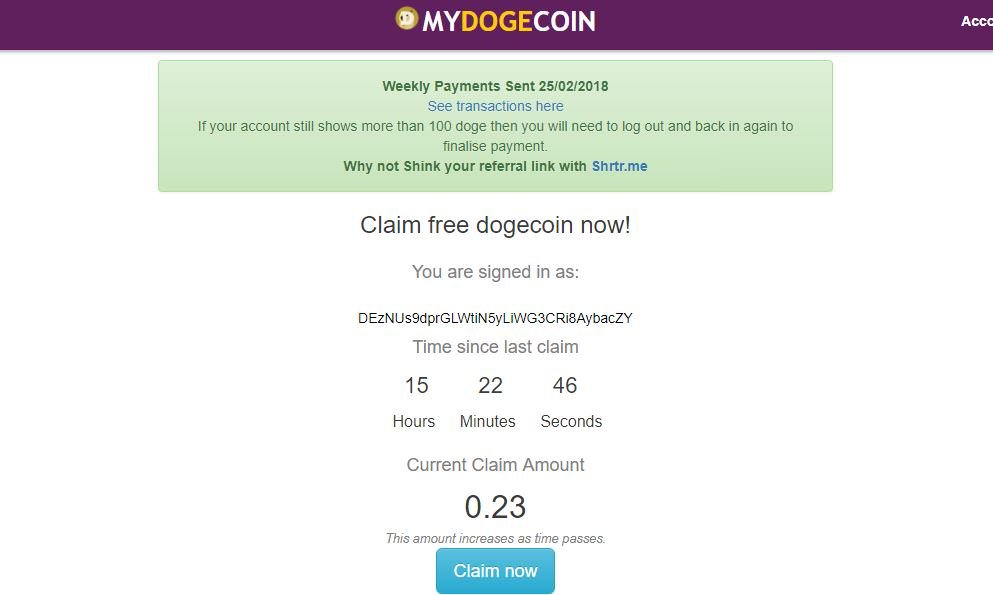 #5 - DOGE-Faucet https://doge-faucet.com/?r=3192
This is another pretty decent faucet. With a minimum payout of nearly 0.2 Doge, coming back a few times a day will see your Doge count increase pretty fast. Head back to this site every hour to try your luck. This faucet uses the random number algorithm like FreeDogeCoin but you also have the choice of taking the whole claim or taking 80% of the claim as well as a lottery ticket. With less than 5000 tickets in the current draw it might actually be worth trying your luck and splitting your claim. There are 10 prizes ranging from 2 DOGE for 10th place up to 80 or so DOGE for first. Next week I might try my own luck in the lottery.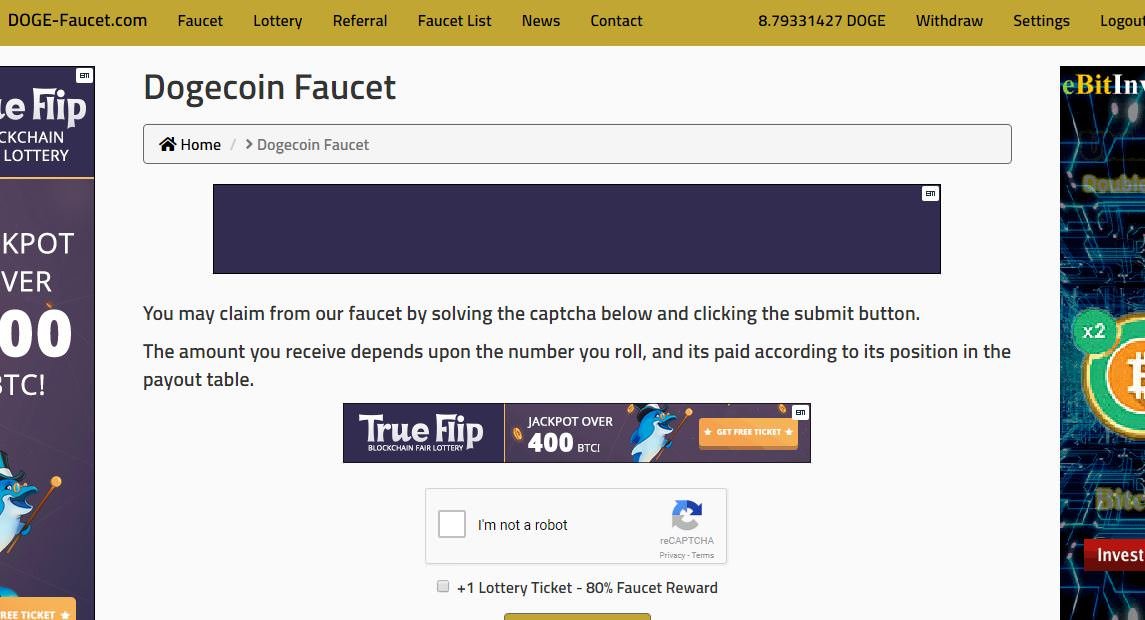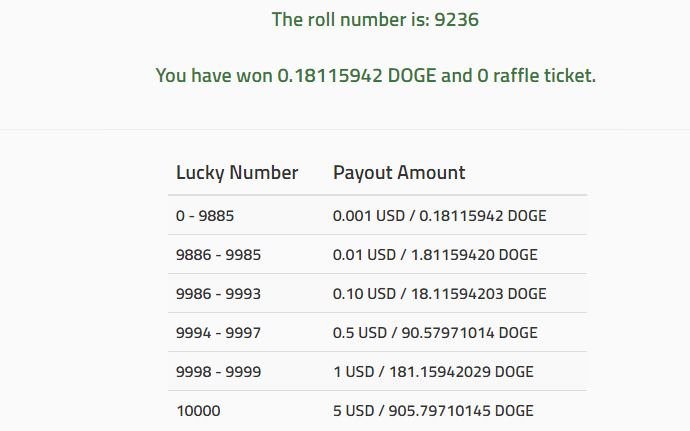 I still have a ridiculous amount of DOGE faucets to have a look at, but these are the ones I have chosen so far to increase my DOGE count. Remember, once I have enough DOGE in each wallet I'll be sending them straight over to my Eobot wallet to purchase more Gh/s power! #roadto100.
If you have enjoyed what you've been reading, please upvote this post and follow me to stay up to date. In the coming days I'll do a faucet review on a few more cryptos that I'm using to eventually power my Eobot 'mining'. Some of the faucets I found were a bit of a surprise... Feel free to also suggest any faucets you are currently using!