Dear Crypto-Fans,
today we have a closer look on the Sentiment and Korrelation in between Markets or Assets.
Why does Correlation between Cryptocurrencies Matters ?
The Correlation between different Markets shows us, if they do the same or the Opposite.
That means a Correlation " 1 " means, it is Identic and " -1 " means the exact Opposite.
I had a look at the Market Capitalization of the biggest Coins and what you can see that the Correlation between Bitcoin and most of the other Coins is almost exact " -1 ".
So imagine. Thats means when the Market Cap of Bitcoin is going Up, the other Coins going Down.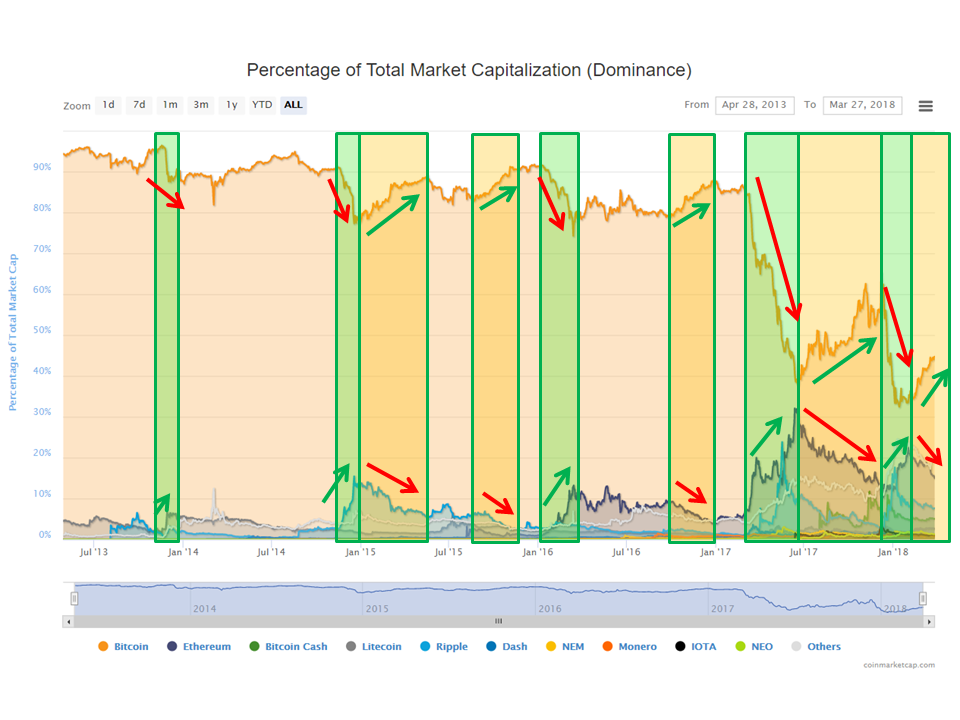 Chart by CoinMarketCap.com
Why does it Matter ? And Sentiment-Trading...
As you know already I'm coming out of Future Trading and there you can see the Sentiment of Investors. The Sentiment showes you how many institutionel Investors or privat Ones are Buying or Selling.
Statistic tells us that around 95% of the privat Investors are on the "Wrong-Side" !

It's true. What tells us that ?
As we can see in the Chart when Bitcoin Marketap is dropping fast, then it is propably some "Big Guys" selling some Contracts. Important aswell is that only the Bitcoin can be sold by Futures.
"The smaller Coins" with less Possibilities, to place easy big Orders. Thats propably us, the privat Investors.
> That means the "Big Guys" Buy, when the Blood is on the Street, when Everybody is crying and selling their Positions.
> Just another Indikator for a hopefully soon raising Market !!!
Have Fun,
bitcoin.news