Flash Coin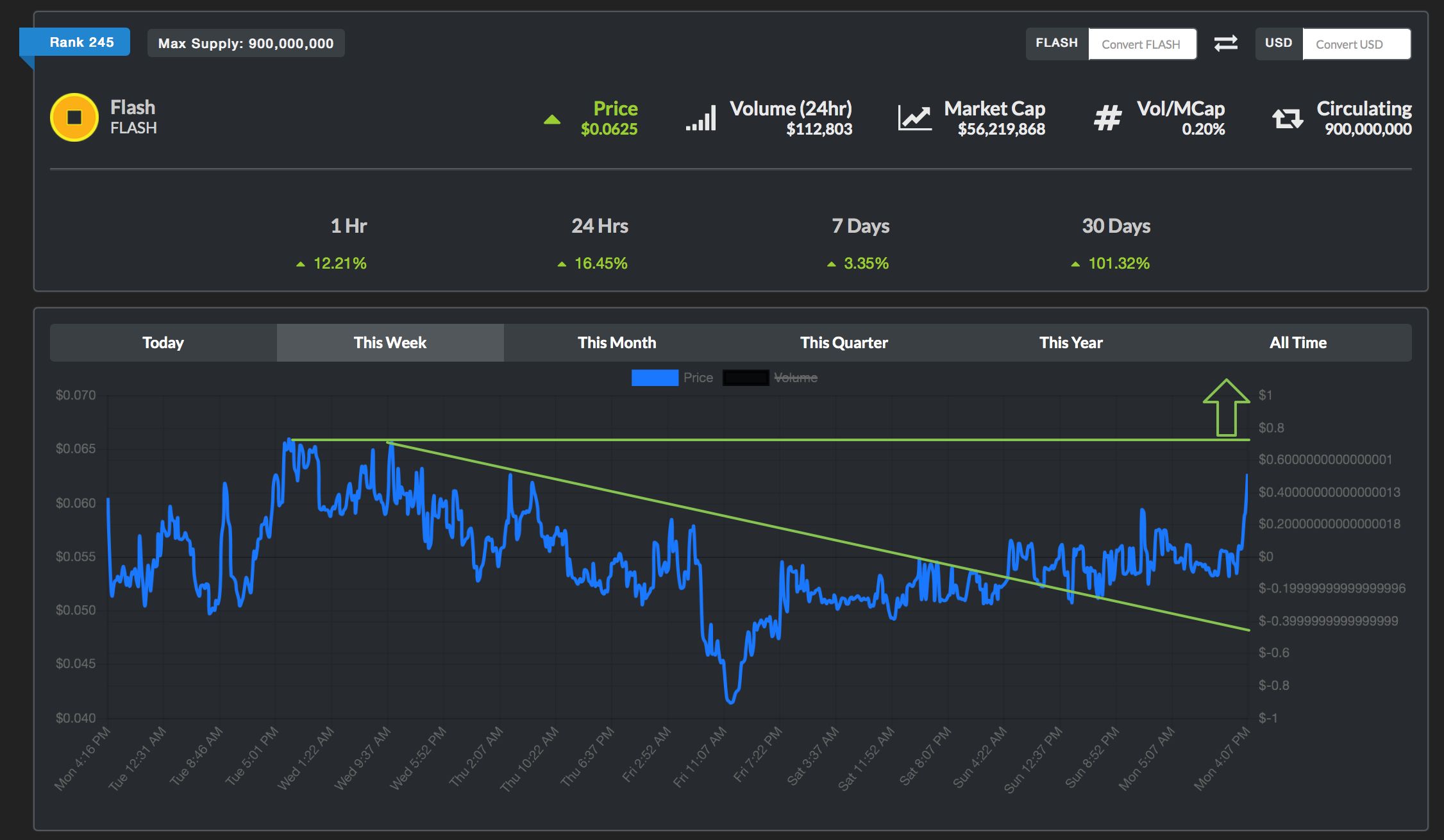 Flash Coin Update
A few days ago I spoke to you in my previous post (
https://steemit.com/flash/@cloudaut/flash-coin-it-could-be-a-good-investment-now
) of Flash Coin. I explained what are its characteristics that in my opinion give this coin a potential growth for this very huge 2018.
Here are the first signs of awakening at the end of January.
Like all cryptocurrencies, the month of January is a hard, difficult month, there is always a phase of decline and collective devaluation that has also affected Flash Coin, but now that the market is in slight recovery (total capitalization of over 550 Billions of dollars) cryptocurrencies that will tend to grow are starting to show their potential as of now and, although many other cryptocurrencies are falling today, there is some that start a strong recovery just like Flash Coin.
Its position varied from 266th to 24th in the Coin Market Cap in just four days.
As you can see in the graph that I have inserted, there is a resistance in area 0.8. Throughout this resistance, the Flash Coin will be able to best express its potential, placing itself also for the short period of important objectives, one of all, to reach the level already tested on January 8, 2018 at around 23 cents of a dollar.
Since I really like this cryptocurrency, I will keep you updated on your progress.
Disclaimer
These are just my personal opinions and should not be considered as investment advice.
Aggiornamento Flash Coin
Qualche giorno fa vi ho parlato in un mio precedente post (
https://steemit.com/flash/@cloudaut/flash-coin-it-could-be-a-good-investment-now
) del
Flash Coin
. Ho illustrato quali sono le sue caratteristiche che a mio avviso conferiscono a questo coin un potenziale di crescita per questo 2018 davvero enorme.
Ecco i primi segni di risveglio di fine Gennaio.
Come tutte le criptovalute, il mese di gennaio è un mese duro, difficile, c'è sempre una fase di discesa e di svalutazione collettiva che ha colpito anche Flash Coin, ma ora che il mercato è in leggera ripresa (capitalizzazione complessiva di oltre 550 Miliardi di dollari) le cryptocurrency che tenderanno a crescere cominciano a manifestare il loro potenziale sin da adesso e, anche se molte altre criptovalute sono in calo oggi, c'è qualcuna che inizia una forte ripresa proprio come Flash Coin.
La sua posizione è variata dalla 266° alla 245° nel Coin Market Cap in soli quattro giorni.
Come vedete nel grafico che ho inserito, c'è una resistenza in area 0.8. Rotta questa resistenza il Flash Coin potrà esprimere al meglio le sue potenzialità ponendosi anche per il breve periodo degli obiettivi importanti, uno tra tutti, quello di raggiungere il livello già testato l'8 gennaio 2018 intorno ai 23 centesimi di dollaro.
Poiché mi piace molto questa criptovaluta, vi terrò aggiornati sui sui progressi.
Disclaimer
Queste sono solo mie personalissime opinioni e non devono essere considerate come un consiglio di investimento.