Many newcomers do not fully trust the cryptospace yet and are afraid to invest their own money. That's why I like projects that allow you to earn cryptocurrency, so you can familiarize yourself with it before you are confident enough to take the leap.
Of course Steemit is our favorite platform for that, but I also really like the concept of EARN, which is the perfect example of the "tokenization of the future" to me.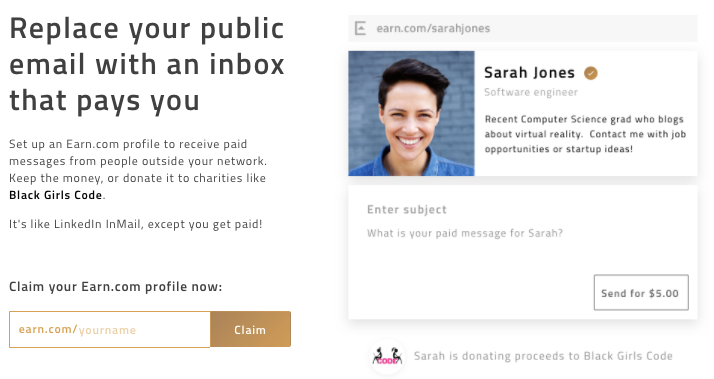 What is EARN?
You know all those emails you get, like "Please fill in this short survey" or "Can I pick your brain?" - You can now get paid for answering these messages (instead of deleting them :)).
Whenever a company (or advertiser) wants to do market research or get customer feedback, they will send an email to a list of people who are registered on the site (this could be you). If you choose to reply, you will get paid between $1 and $10. You can also choose to ignore the message. The company who sent the email, will only pay for the answers they receive.
This creates a fantastic win-win, because instead of being annoyed by those messages and constantly deleting them, we now have a chance to get financially rewarded for them. And the advertiser will increase the number of responses and data they get. Their marketing and research budget might be much better spent this way, and they'll probably save a lot of money, too.
How does it work?
Once you have signed up to the platform, all you have to do is browse through the lists, see which ones you want to belong to. Join lists that fit your experience (whether you work in Sales, or you're a student or you hold Bitcoin or Dash or Ethereum for example) so you only get emails that are actually relevant to you.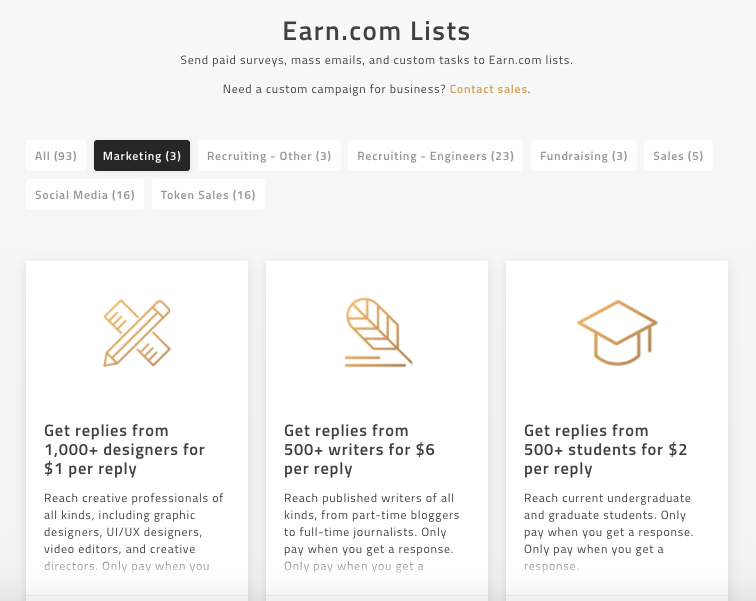 Click on the appropriate list(s), and hit the apply button.


Depending on the list you will have to add a little more information before you get approved.
Don't worry about the "get replies from" wording. It's a little confusing, because the language is geared towards the advertisers, not to you. When you join a list, you basically become a potential "responder" of the advertisers' messages.
Direct emails
While the lists have fixed prices, you can also set a price between $1 and $100 for individual emails just to you. Just pick a price that you consider worth your time.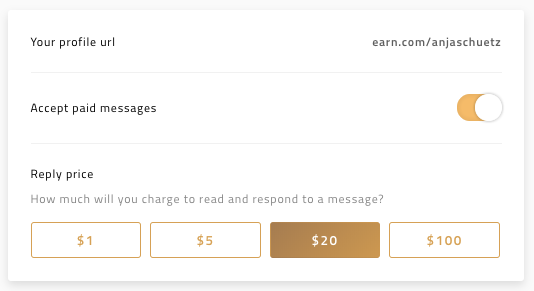 Take some time to fill in your profile, so that advertisers get a good idea about your expertise and know what you contact you for.
Give it time
The platform is still in its infancy, so you won't get many emails yet. It also depends on how many lists you belong to. I have subscribed to many, but I don't even get emails once a week. I have made around $40 or so on the site so far. And most emails are just 1-question-messages like, "Do you want to participate in our ICO?" I just respond "No" and voila, I made $2. That's not bad for 10seconds of work…
The nice thing is, while the value is shown in USD, you get paid in Bitcoin. So the value of your Earn account will grow as the Bitcoin price rises.
Free coins for signing up
Another advantage is that startups will be using earn.com for airdrops. An airdrop is basically a gift of free tokens/coins, mostly as part of an advertising promotion.
Here's my invite link. If you're happy for me to get $1 for having introduced you to it, I'd be happy if you click it. Otherwise you can of course also go to earn.com directly.
You will earn your first coins simply for signing up and completing your profile!
Note: Since the site is still so new, most of the emails you'll receive will be crypto related. But I really believe that it is one of the first examples of the "tokenisation of the future" and I hope marketers will begin using it more and more.
I hope this was useful, good luck!