Hello friends, I want to introduce you to the excellent project Bountyhunters.io!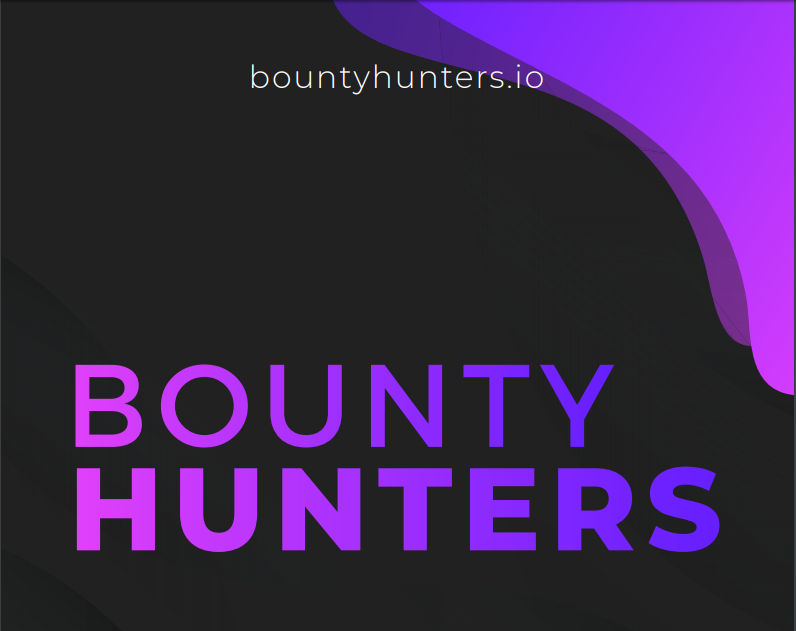 Bountyhunters.io is an online platform for conducting ico bounty in automatic mode. This platform simplifies the work of bounty hunters and projects ico conductive bounty.
For me, as a bounty hunter and I think for all hunters, this platform is the best of all existing and has a number of advantages we will examine them later. Thus, Bountyhunters.io becomes attractive for projects ico conducting bounties. After all, projects need quality bounty hunters, and hunters have quality bounty projects, that this platform provides.
The advantage of using the platform for projects ico:
All-in-one Platform: BountyHunters is simply a manageable platform that contains all existing social networks and communication channels - Facebook, Twitter, Youtube, LinkedIn, Instagram, blogs, forums and much more. You can also create custom tasks and campaigns for all influential individuals or targeted hunters.
Optimize marketing campaigns: Launch more transparent marketing campaigns from the standpoint of ROI, CPA. Get analytical data on every performed activity and its impact on the effectiveness of your company's sales-funnel.
Increase brand awareness: Significantly increase the number of people who know about our project or product, visit your website, leave personal contacts and read your social media content.
Spend money on valuable actions of hunters: Avoid spending funds on irrelevant and low-quality activities and copied content. Platform algorithms qualify hunters and their social activities to deliver better results and RIO.
Access to 27,000 targeted hunters: Get immediate access to over 27,000 social media professionals worldwide who are ready to collaborate and promote your brand, share your news and create original content.
Automatic tracking and payout system: System automatically tracks actions and task performed by our registered hunters.
The platform also has a built-in reputation system: Platform algorithms provide full transparency for your brand, the quality of partner accounts and their overall performance in the sales funnel. The BountyHunters platform checks each account on social networks, analyzes the potential effectiveness of all selected types of hunters and the actual results of the campaign.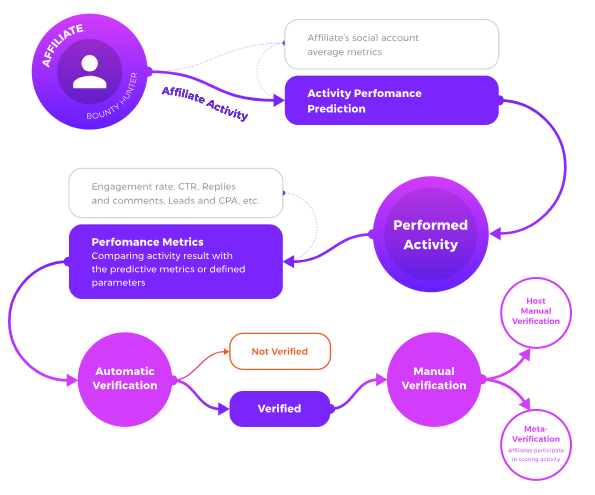 Advantages of using a platform for hunters:
Content monetization: Monetize your social media activities in a convenient way. With BountyHunters platform you will have access to multiple bounty campaigns and marketing tasks on one ease-to-use website. Get rewarded for your shares, posts, tweets, blog posts, youtube content, translations and much more.
Participate in different campaigns: Platform allows you to participate in multiple ongoing campaigns. Choose projects that interest you, mention them in social networks and monetize your efforts in a productive way.
Verification of all companies, brands and projects: We verify our participating projects and brands by performing an overall audit, assessing project's team, it's media presence and gathering market feedback.
Automatic Payout: Our platform help to avoid payment delays. Payouts and rewards distributions occur on a monthly basis pf within 7 days of a campaign end.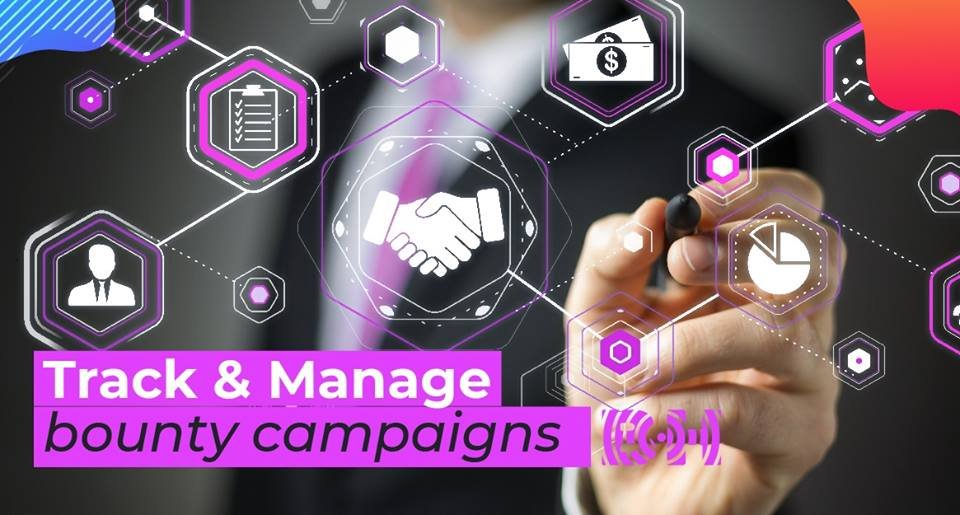 The platform is already working and has achieved great success. Despite the fact that the platform is working qualitatively it is constantly being improved. It is evident how the team is working on its creation and will not stop to stop, and will constantly work on improving the quality, ease of use, safety of work for both Brands and bounty hunters.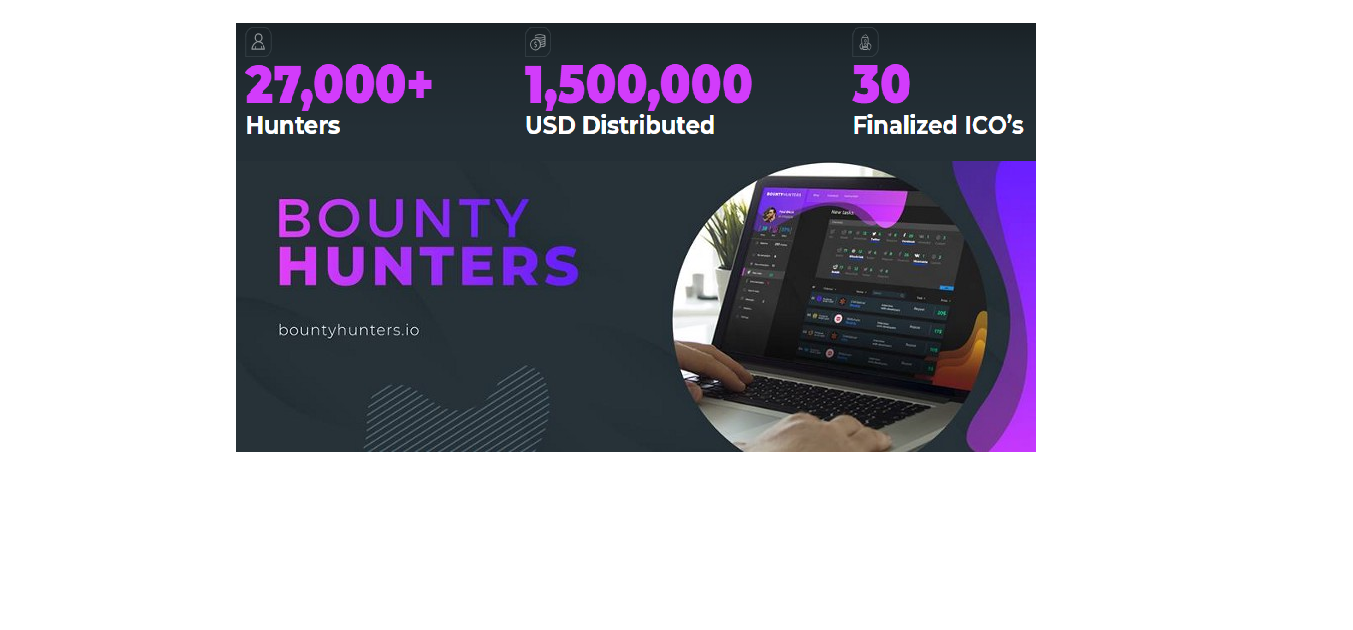 In conclusion, I want to mention a professional team with many years of experience, which qualitatively works on the project. Excellent support that will answer all your questions and quickly solve your problems. I recommend participating in this project, you will be satisfied with the cooperation with the platform!
More information:
✅ Website: https://bountyhunters.io/
✅ White paper: https://bountyhunters.io/files/whitepaper.pdf
✅ ANN Thread bitcointalk: https://bitcointalk.org/index.php?topic=4455785.0
✅ Twitter: https://twitter.com/iBountyhunters
✅ Facebook: https://www.facebook.com/bountyhunters.io/
✅ Telegram: https://t.me/icoreward
author of the article: https://bitcointalk.org/index.php?action=profile;u=1082701
ETH address: 0xA7eB88B3319c1961148e3977BeEc6Bb4fF502774