Good afternoon, I present to your attention the Innovative project ico UMKA (https://umka.city/)


It is a decentralized labor exchange, a platform for implementing projects and creating working teams, based on blockchain technology. This is the space for cooperation between the employer and the performer, which creates the most environment-friendly environment, thanks to the tools integrated into the system.
UMKA does not just offer a job search, it is a smart system that allows employers to formulate exact requirements for employees, and performers to increase competence in accordance with market trends. The integrated services of educational institutions in UMKA provide an opportunity to increase the competence in online courses of the leading universities in the world with the issuance of international certificates. Information about the courses passed is displayed in electronic passports, which gives the performers an advantage in finding work and projects.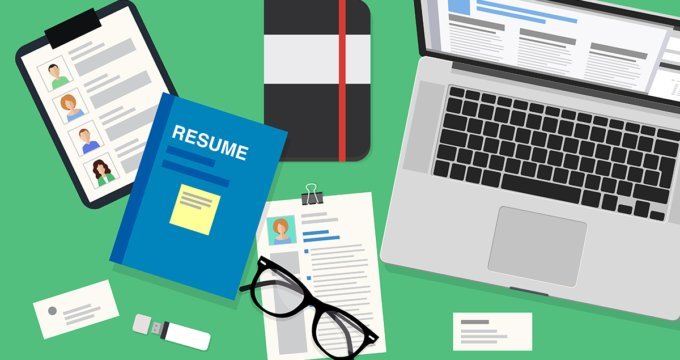 The task of UMKA is to form expert communities and provide the most convenient conditions for work, education and self-development. To customers UMKA offers a choice of tens of thousands of employees, with the required level of competence, fixed in electronic passports. UMKA specialists get access to thousands of projects and vacancies, test systems that allow self-monitoring, educational programs of leading educational institutions of the world.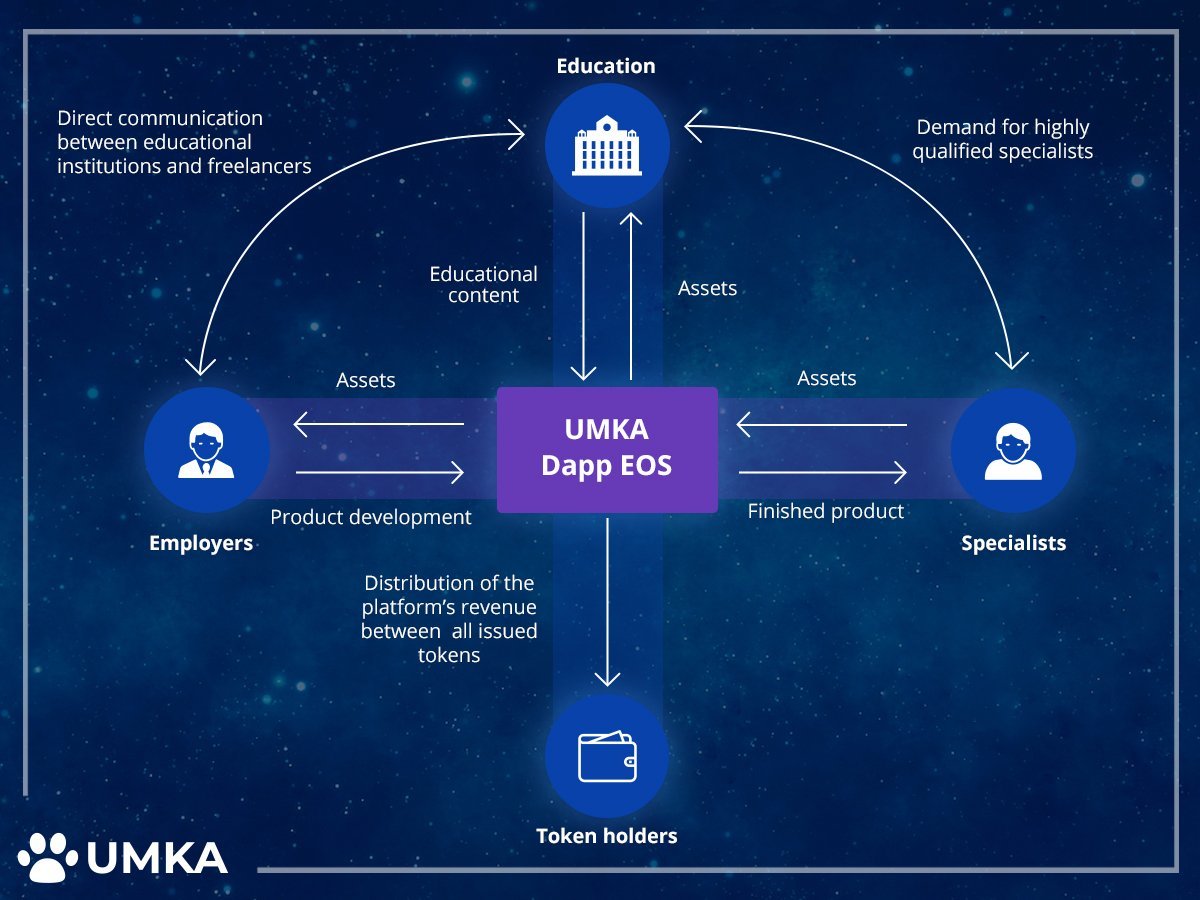 UMKA Decentralized labor exchange. instruments:
No guarantee: No payment guarantee and no guarantee of a proper fulfillment.
Decision Safe deal: Agile Smart Contracts: smart contracts that allow for progress payments and introduction of changes to contracts (with the consent of both parties).

User cooperation: Interaction on most platform is only possible in p2p format. Meanwhile multiple freelancers, working on a single project are in need of live communication.
Decision Project groups: In UMKA employers can create project groups to organize the work of multiple freelancers working on a single task. There can be any number of freelancers in a project group. The employer signs an Agile smart contract with each of them individually.

High commissions.
Decision: The Platform takes a 1% commission for transactions.

Traditional smart contracts: On other platforms, when making a secure deal trough smart contracts users can't break the payment and the work into several stages, which increases risks.
Decision Agile Smart Contracts: AgileSC is a unique technology developed by the UMKA team. They make it possible to break a project into iterations, set milestones and set them up by adjusting the three parameters: Time, Work and Budget. Using AgileSC minimizes risks for both employers and freelancers.

Slow and expensive: All current decentralized solutions are based on the slow and expensive Ethereum blockchain.
Decision EOS blockchain: A new generation EOS blockchain with fast and free smart contracts.

Language barrier: It is often difficult for users from different countries to cooperate due to the language barrier.
Decision GNMT in UMKA's chats: In order to make communication between users easier, UMKA's chats have the Google neural machine translation built in. Translation quality gets better with each passing day thanks to the neural machine translation mechanisms. Language pairs with the English language will be available for the users of the platform.

Single currency: Decentralized platforms on other blockchains operate with only one cryptocurrency.
Decision: On the UMKA platform, 15 cryptocurrencies and fiat currencies will be used. Every currency is represented by a corresponding asset in the blockchain, there are no transaction fees.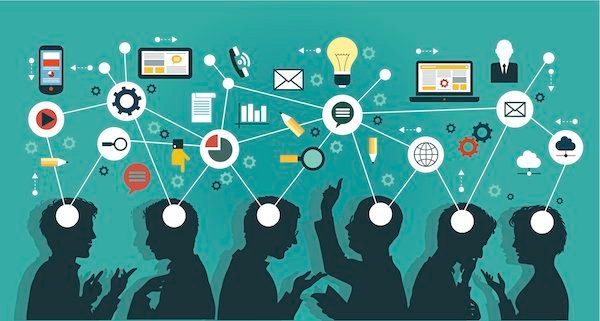 As you can see the project UMKA is effective for all parties involved. What makes the project unique and attractive. More details about the benefits of using the project by the participants.
For Specialists:
Attractive freelance job opportunities;
Payment guarantee;
Professional communities;
Digital passport;
Online courses in world's leading educational institutions;
For employers:
Professional integrity of freelancers guaranteed;
Project groups [a way to coordinate the work of several freelancers];
Search for freelancers made easy;
Agile smart contracts for secure deals;
Customized staff, freelancers' databases;
For Educational Institutions:
Growth of demand for services;
Feedback from labor market;
Graduate employability;
Sharing experiences;
In addition, the project will have its own platform for the exchange and trade of crypto currency and fiat where participants can:
Users can make deals in cryptocurrencies like ETH, BTC, LTC and many others.
A commission of 1% will be distributed among token holders in accordance with the amount of tokens.
Deals in the systems are carried out through smart contracts on the EOS blockchain which enables the tracking of each operation in the public network.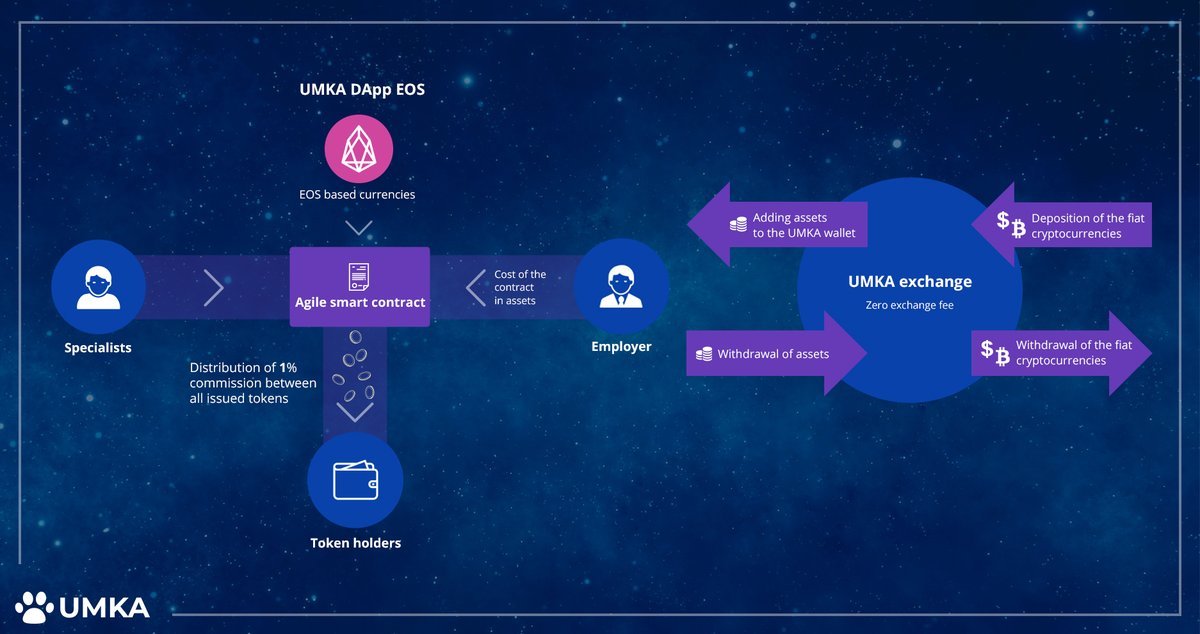 Details for ico:
Category: Education
Token name: UMK
Token type: Ethereum ERC-20
Token price: 1 UMK = 0.10 USD
Goal of funding (Soft cap): 1.000.000 USD
Goal of funding (Hard cap): 10.000.000 USD
Total supply: 180,000,000
Sales dates: 01.05.2018 - 01.08.2018
Currencies: ETH, BTC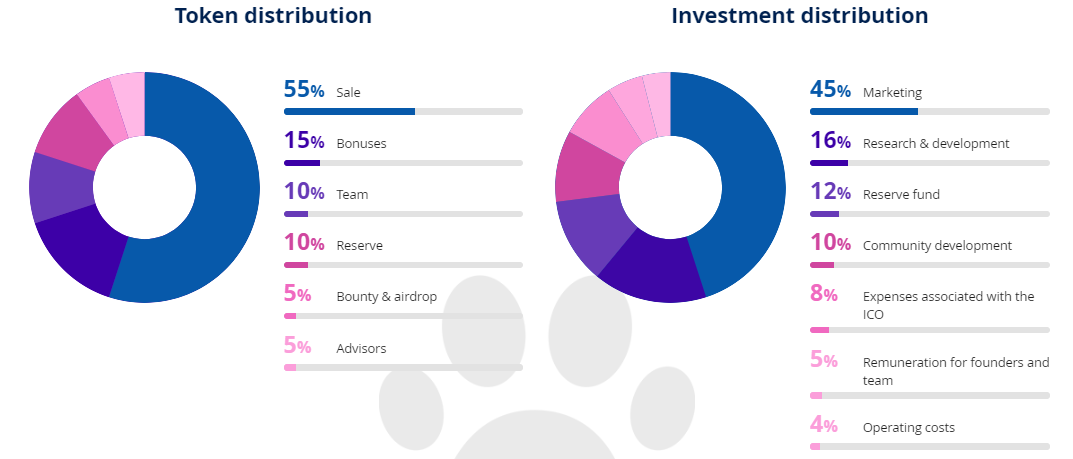 More information:
✅ Website: https://umka.city/
✅ White paper: https://umka.city/wp-content/uploads/UmkaWP_Eng.pdf
author of the article: https://bitcointalk.org/index.php?action=profile;u=1082701
ETH address: 0xA7eB88B3319c1961148e3977BeEc6Bb4fF502774