Hello friends, I want to introduce you to a unique project ico idap.io (https://www.idap.io/)


The International Digital Assets Platform (IDAP) is the first self-contained ecosystem for the cryptocurrencies derivatives trading market. Contained within this ecosystem are the IDAP Exchange, the IDAP Desktop App with advanced trading tools and most importantly, crypto derivatives instruments by IDAP, for trading and investment. By bringing together individuals and institutions in need of risk management or with an eye at profit via risk acceptance, goal is to become the most diverse crypto derivatives marketplace for buyers and sellers.
The volatility of the current crypto market has made imperative that the issue of risk management and hedging options for crypto assets be addressed without delay. And such a solution is the platform idap.io with unique tools, what makes the platform promising and very attractive.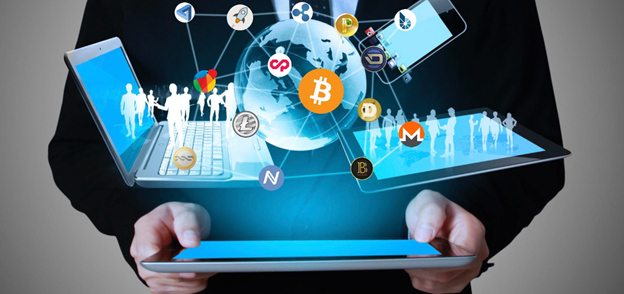 Let's get acquainted with the tools idap.io!
Trading Instruments:
Spot: Easy access for buying & selling of cryptocurrencies and tokens. Product offerings include Crypto/Crypto & Crypto/ Fiat trading pairs.
F&O: Evergreen products for Hedging and speculating crypto market. Futures & Options trading for major cryptocurrencies and crypto indices. Serial futures contracts, spreads, butterflies and American options.
Perpetual Swaps: Leverage trading could be synonymous to perpetual swaps trading. IDAP offering includes perpetual swaps for major cryptocurrencies, equity indices, FX, stocks and commodities with leverage up to 50X.
Investment Instruments:
P2P Lending: IDAP Peer to Peer lending and borrowing platform enables individuals to lend and borrow crypto and fiat assets without going through any financial establishment. Lending and borrowing rates will be decided by market participants.
ICO Venture Fund: Statistically, the highest ROIs are achieved by early backers of ICO projects. However, early access to these funds is a privilege extended only to HNIs. IDAP aims to change this paradigm by creating listed ICO/venture funds that will empower retail investors to benefit from investing early in ground-breaking blockchain projects' ICOs.
ETFs: A low cost, diversified investment vehicle that allows investors to lower risk and maximize profit potential. IDAP ETFs offering includes Crypto payment coin ETF, top 20 Cryptocurrencies ETF, and other sectorial ETFs.
Advantage in the use of IDAP:
Derivatives Instrument: Single click trading interface to hedge & speculate through outright futures, calendar spreads, butterfly spreads & American options.
Extended Product Offerings: Crypto pairs, crypto/fiat pairs, perpetual swaps, crypto indices, ICO venture fund & P2P lending.
IDAP Matrix & Spreader: View and trade multiple futures contracts, exchange quoted and synthetic spreads.
Institutional Grade Matching Engine: Supports DMA, CLOB & RFQ scenarios. FIFO & Pro-rata matching algorithm, supports multiple conditional & implied orders. Advanced risk control.
Advanced OMS & SOR: OMS with FIX interface. Order routing to multiple exchanges, ECNs, third parties trading systems.
Low Latency & High Availability: Servers across multiple regions, active geo replication, guaranteed 99.99% uptime, FIX 4.2/4.4 protocol for HFTs.
Security & Compliance: CCSS (Level 1) Cold wallet management, Insured hot wallets, OWASP & EU GDPR compliant.
Token Utility: Zero trading fee for ICO contributors. Permanent 50% discount on trading fee if paid in IDAP token. Listing and management fee in IDAP token.
Customer Oriented: User friendly UI, feedback driven product improvements, detailed FAQ and tutorials, 24x7 support.
Using the IDAP token:
Zero Trading Fee: Lifetime zero trading fee for ICO participants buying 20,000 or more IDAP tokens.
Discount in Trading Fee: 50% permanent discount on trading fee if paid in IDAP token.
Management & Listing Fee: Applicable Management & listing fee will be charged in IDAP token.
Burning of IDAP Tokens: 20% of IDAP tokens received as fees will be burned till supply reaches 500mn.
As you can see platform idap.io offers a large number of advantages in contrast to current platforms. This makes the project unique and in demand for all market participants.
Details for ico:
Token name: IDAP
Token type: Ethereum ERC-20
Token price: 1 IDAP = 0.03 USD
Total Supply (FIXED): 1,000,000,000
Soft cap (IN IDAP): 200,000,000
Hard cap (IN IDAP): 750,000,000
Minimum Personal cap: 0.1 ETH
Accepted currencies: BTC, ETH
Location: Estonia
Bonus: Available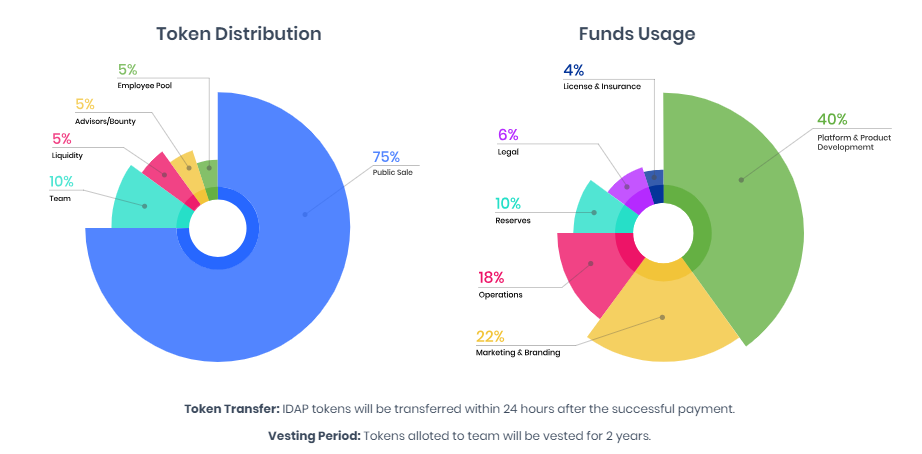 In conclusion, I want to mention a professional team with many years of experience, which qualitatively works on the project. I recommend paying attention to the project, it is really an innovative project of 2018 with great potential and an excellent future. Become a part of the future, have time to buy tokens while there is still a possibility at a discount!!!
More information:
✅ Website: https://www.idap.io/
✅ White paper: https://www.idap.io/docs/idap-io-whitepaper.pdf
✅bitcointalk: https://bitcointalk.org/index.php?topic=3431151
✅ Twitter: https://twitter.com/idap_io
✅ Facebook: https://www.facebook.com/idapio.exchange/
✅ Telegram: https://t.me/idap_io
✅linkedin: https://www.linkedin.com/company/idap-io/
author of the article: https://bitcointalk.org/index.php?action=profile;u=1082701
ETH address: 0xA7eB88B3319c1961148e3977BeEc6Bb4fF502774