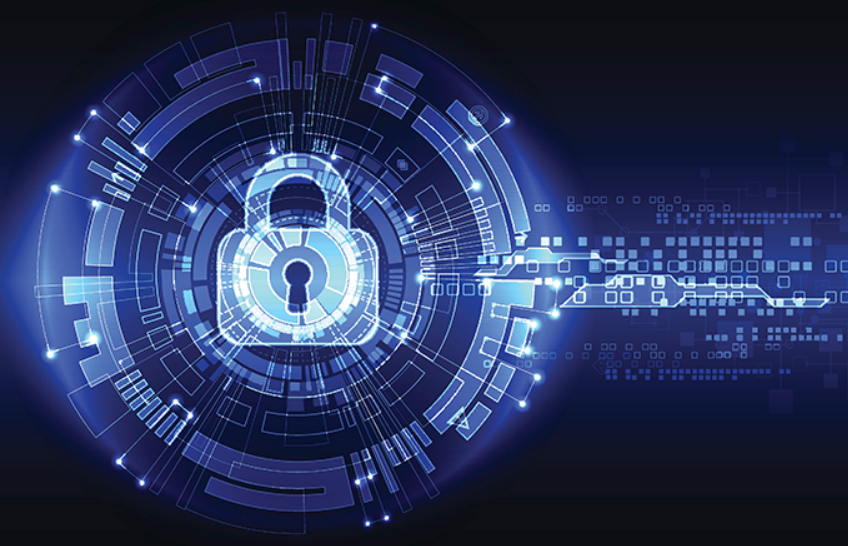 The cryptocurrency markets are still extremely volatile with "blood on the streets" (term for when all cryptocurrencies are showing losses in price across the board) every other day.
This isn't necessarily a bad thing, depending on how you look at it. Firstly, it's good to see pullbacks to show us that things are tracking well to allow room for more growth later. Secondly, if you've prepared enough and have a strategy in place for times such as these, it can be a great opportunity to build new positions in your portfolio with the profits you hopefully locked in during the previous period of exuberance.
Disclaimer
I'm going to share some insights below on two new positions I'm trying to build myself, but let's firstly be clear. I am not a professional trader or financial advisor. Anything I state below is my personal opinion only. The very reason I know about the cryptocurrencies below is because I'm investing in them, so although I always attempt not to be biased, I'm clearly positive (bullish) about them. You should never invest based on someone else's advice and should always do your own due diligence on anything you are thinking of investing your own money into. Also, always
try to understand markets, trends and values to avoid becoming a bag holder or loss taker
!
Furthermore; if you're looking for charts with ichimoku clouds, falling wedges or deep dive info on how LUA is far superior to C++, stop reading now. The following summaries are based on my impressions of the products and how I personally believe they interact with the market either now or in future.
VeChain (VEN)
VeChain has been one of very few cryptocurrencies going up in both USD and BTC value whilst the rest of the market has been bleeding out half of their recent gains.
Normally this would be a slight warning signal that something sinister could be happening such as a "pump & dump", but in the case of VEN (soon to be 'VET'), there is good reason for the massive enthusiasm it has seen in recent days.
In late 2017, VeChain announced that they were going to rebrand VeChain to "VeChain Thor"


You can get many interesting details of what the rebrand actually means from the link above and HERE, but in essence, VeChain is about to become a full platform similar to NEO rather than just a specific tool to manage supply chains.
I don't wish to detract from VeChain's awesomeness for a second, but without getting bogged down with comparisons of transactions per second and compatible programming languages, the crux of it is that VEN will change to "VET" on February 26th and with that comes the kicker that has everyone selling their grandma to buy it for.......you will earn something just for holding it!
The fastest way to explain the long and short of what's going on is that basically VeChain will become a competitor to NEO and offer "Thor Power" in place of GAS
Legends have told of people buying AntShares for $0.30 which then became 'NEO' which is currently worth $118.47 at the time of writing. Again, I don't want to do disservice to anyone or anything here, but I'm thinking that the main scramble to get hands on VEN right now is because at the heart of it, many people are thinking that they are buying up those AntShares early doors and becoming part of the legend. Everyone will tell you they have read the white paper and done hours of research, but I honestly think that what I've just described above will account for a vast amount of buyers.
Are the masses that are buying VeChain crazy? I don't think so. The great thing about the VeChain Foundation is that they are not only working with corporate giants such as PwC. They are also tapping into those resources and know a thing or two when it comes to marketing and encouraging confidence in products.
Below are the minimums for Thor Power generation per VEN/VET:
• 0.00042 THOR Power per VET per Day
• Approximately 0.15 THOR Power per VET per Year
• To generate 1 THOR Power per day requires approximately 2,381 VET
As you'll see below from the 4hr VEN/BTC chart, prices have climbed quite a bit since the announcement of VeChain Thor. MACD is struggling to find room in "overbought" category and is looking for a new category such as "ridiculously overbought".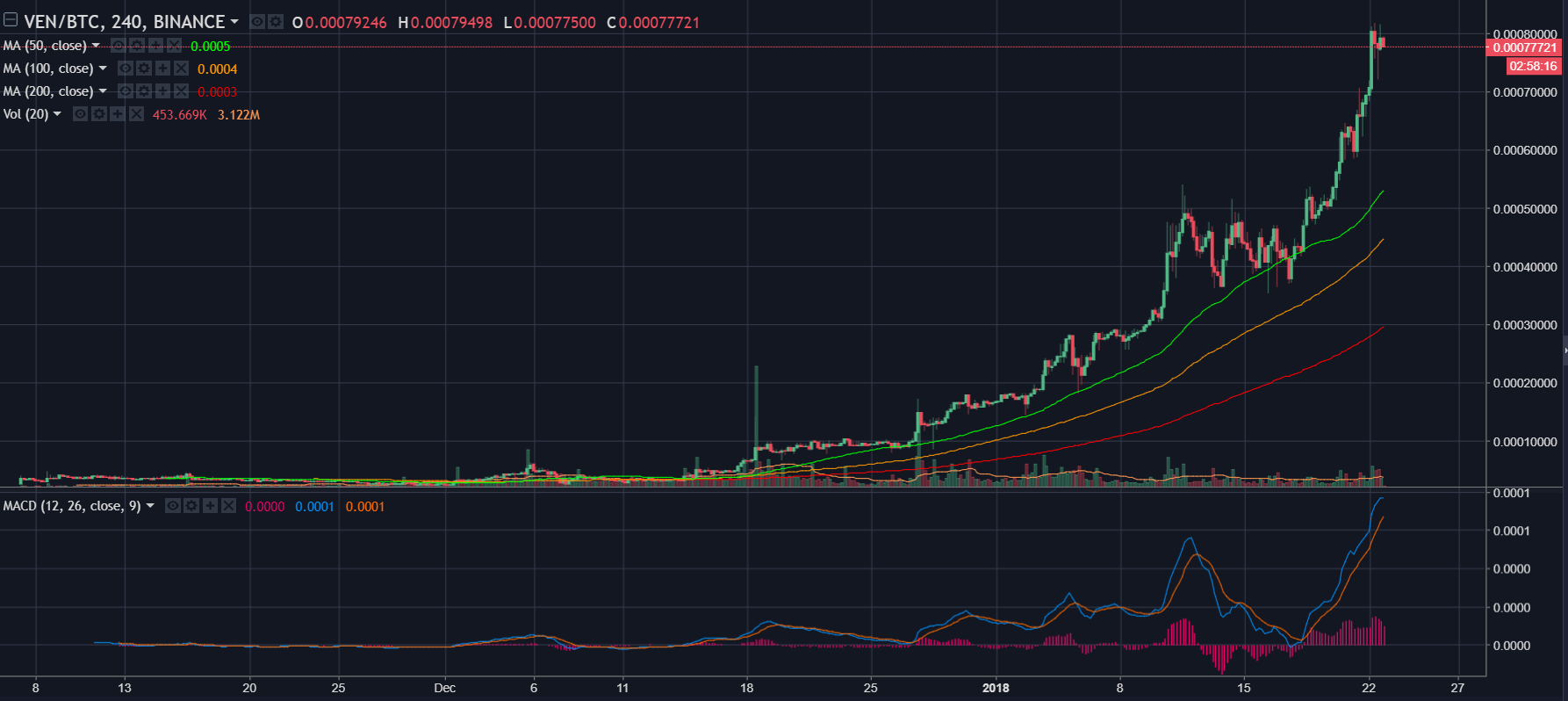 A rule of thumb for smart trading is to never buy at the top of the market and especially not when it is extremely overbought. For long-term investment however, I like to think that providing you're not planning to flip something for a fast buck or have to sell out because you bought in too deep, you can buy at any time you think the price is reasonable in comparison to the potential upside.
I can't advise you what a good price is, as per the disclaimer above, but do your homework and compare VEN to what you think are it's closest competitors. You'll soon find what you believe is the true value of it and a number for where you think it can be in the future.
• Do make sure you read the whitepaper and technical details
• Do make sure you research the team and partners of the business
• Identify competitors and assess how they might affect the ability for VET to claim some marketshare
• Do think about current and maximum circulations (and compare those to similar products with similar circulating tokens)
(Seriously though, they're going from targeting Louis Vuitton to Marvel movies....)


Achain (ACT)
I already gave a very brief introduction to Achain just over a week ago HERE, so I'm going to move on from first impressions and cut to exactly how I'm seeing this product as it stands today. I will consider making up a specific post to share the due diligence I've collected at a later time, but for now, let's get into what I think the opportunity is.
First things first, there are what I feel are two considerable risks with Achain.
I can't secure it on a hardware wallet, so has to be paper wallet for max security (meh, had a few of those thrown in the bin by accident already)

Although everything points to it being well established, adopted and far from a lemon (something of no actual value), it is just very difficult to find the types of information you would normally like to see to get truly comfortable with it. (That is probably why it's currently so undervalued). GitHub doesn't have an awful lot going on, but I'm aware that it's possible to have other repositories outside of this.
I won't mince words, I think Achain offers similar products as NEO, ARK, Ethereum, Qtum, ICON and any other platform doing the rounds right now and it looks like a very convincing contender. One of the main differences however is that Achain is actively encouraging Hard Forks and although Asia seems to know a lot about it, us in the west are just waking up asking "what the hell is this and where did it come from?".
It trades at the time of writing for $0.45 with 300 million ACT in circulation and has a maximum supply of 1 billion. That gives it a market capitalisation of just $136,924,200 which I think is pennies for a crypto platform that is working product and does what most do in the billionaires club!
It runs the same transactions per second (TPS) as Neo and has more dApps than any competitor apart from Ethereum. It also facilitates side chains to avoid congestion on the main chain (I bet Vitalik is kicking himself he didn't think of that one...)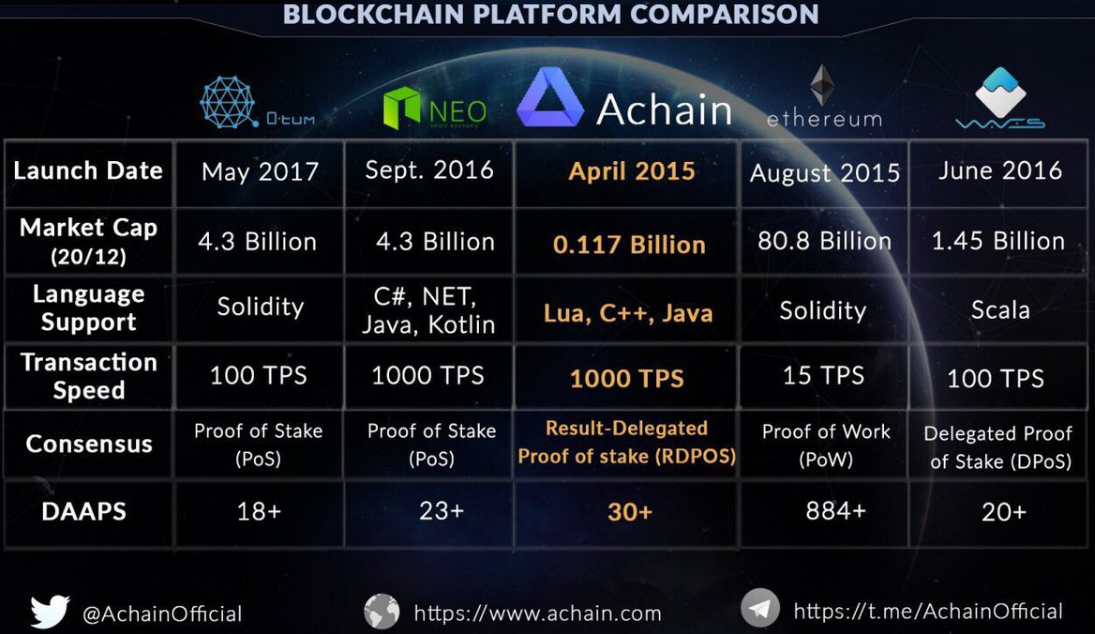 If you hold ACT, you will receive forked currency each time the platform is used to create a new chain and currency. I tried my very best to find out if you would earn passive compound interest for holding ACT outside of the fork bonus, but unfortunately came up relatively blank.
It looks like the RDPOS mechanism puts the validation onto the creator and user of the side chain rather than allowing the main chain to become bloated with transactions (similar to how Ark plans to put their VM on side chains for the very same reasons), so there is no fee for running a node to be had. (I will continue looking into this though as I'm really unclear on how RDPOS works).
If correct, what that means is that the benefit to holding ACT is that you will get random drops of forked cryptocurrencies along with the potential price upside if it happened to gain wider attention and adoption in the west.
For all I see, it is basically a hybrid that fits somewhere between Ark and Neo and appears to be doing everything it should except for climb in price and ultimately market capitalisation.
I particularly like one of the Achain partners Pundi X. Definitely check out what they are doing HERE. Kcash, another partner also doesn't look too bad!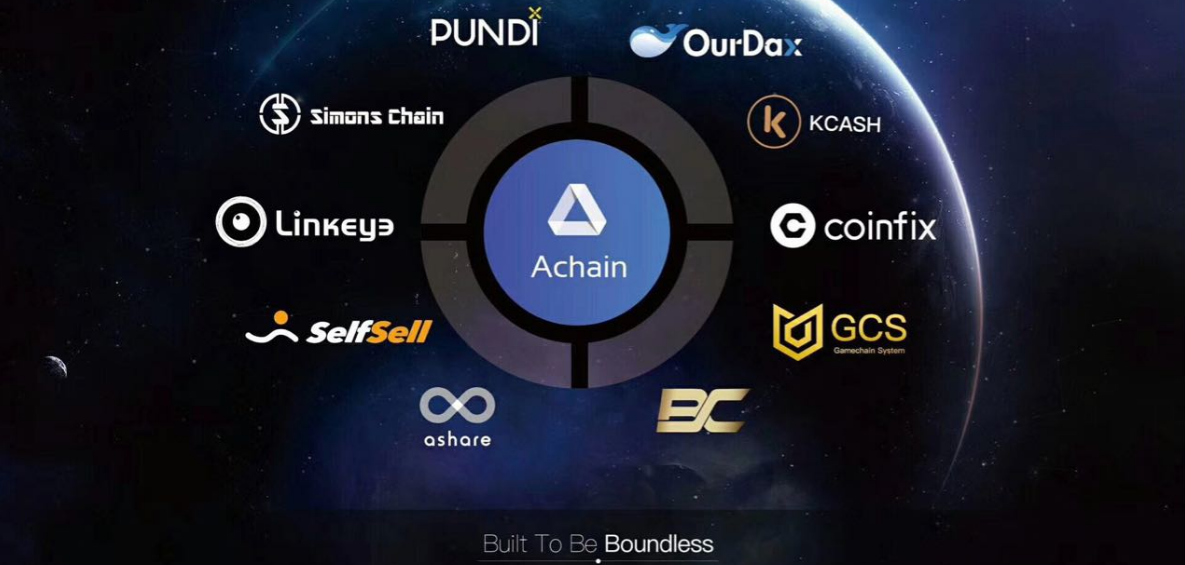 As you'll see from the 8hr ACT/BTC chart below, the recent ABTC hard fork airdrop to holders of Achain encouraged some serious buying action to claim the coins, then a dramatic selloff afterwards. Personally the selloff is perfect because I was completely unprepared for this beforehand. In the short-term, this might be ok to flip occasionally, but longer-term it looks like a really strong product you can get a decent stake in now, and that will continue to keep giving after each fork.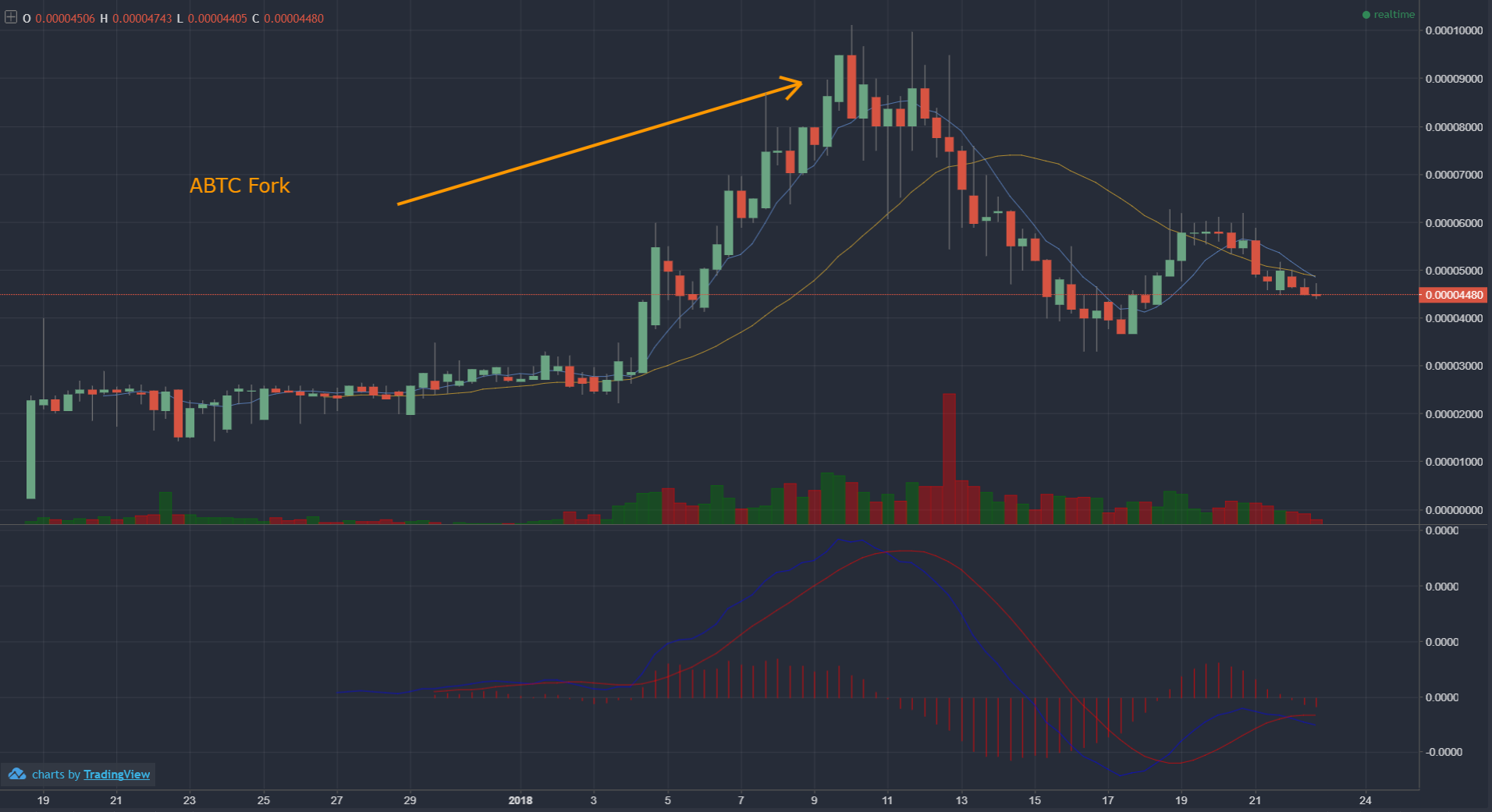 At $0.45, I'm seeing a lot of potential upside, so I think this is one that has been badly misunderstood, underrated and undervalued by the western markets it's now penetrating into. There is another review of it HERE that gives an overview and assesses the potential upside.
As always, I hope this post has been informative and helpful. Do you think VEN is all hype and a house of cards build on PR mania or the start of a potential gold rush? Is Achain rotten at it's core and abandoned by it's dev team or the sleeping giant about to thrash it's way through the market cap rankings? Please comment or ask questions below.
This is post only contains my personal views and opinions and is not financial advice. You should always do your own research and only invest what you can lose to afford.
Donations are as welcome as an upvote or reshare!
BTC: 158u9zzx29JPaLRh392vbLSmSHYkpCmEzX
ETH: 0x25695f8145F9ccee1eDE955603D22955E63848f4
Dash: Xrb4Y9U8mxQT9uoAatW3fymVhxEQM6eBZU
LTC: LXAQrzHuRo4bmW1eJap25wJeBF1vUShK1k
OMG: 0x25695f8145F9ccee1eDE955603D22955E63848f4
Signup here to use the free Bitcoin faucet
Visit CryptocurrencyPro.io for news and information on trading and portfolio management