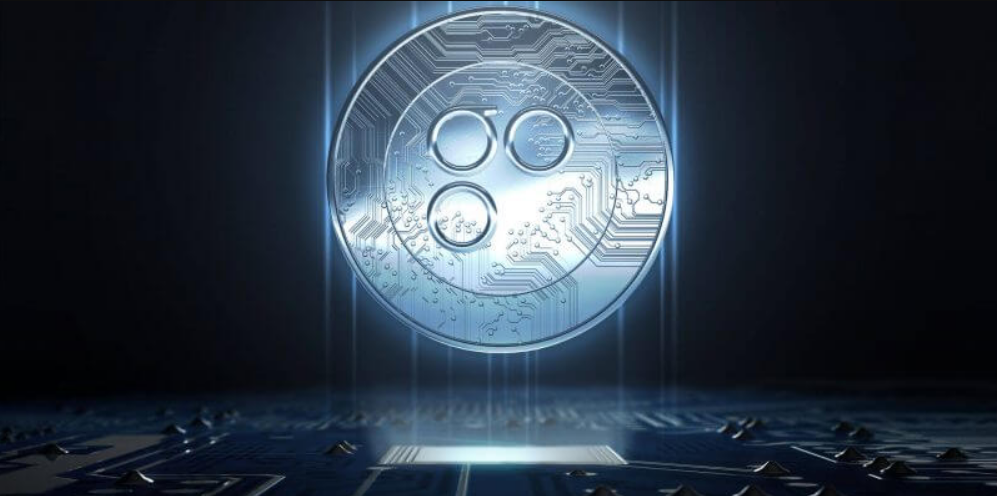 So I've been interested in OmiseGo (OMG) for quite some time now. I've traded it before, but also hold a long-term position as I love the concept and the project, team and product sounds like a world beater (time will always tell on that front!).
Personally, I'm getting the vibe that we are heading into a less opportunistic trading market (my rough take on Bitcoin in the near future - chart below), so I'm starting to look at a plan that will allow me to continue to build on my portfolio should we see a downtrend similar to last September.
BTC/USDT (Bittrex) 4 hourly chart with long-range forecast (I've left older analysis indicators in which showed a head and shoulders pattern (purple line) then a projected price path towards support at $13,250 (orange arrow).)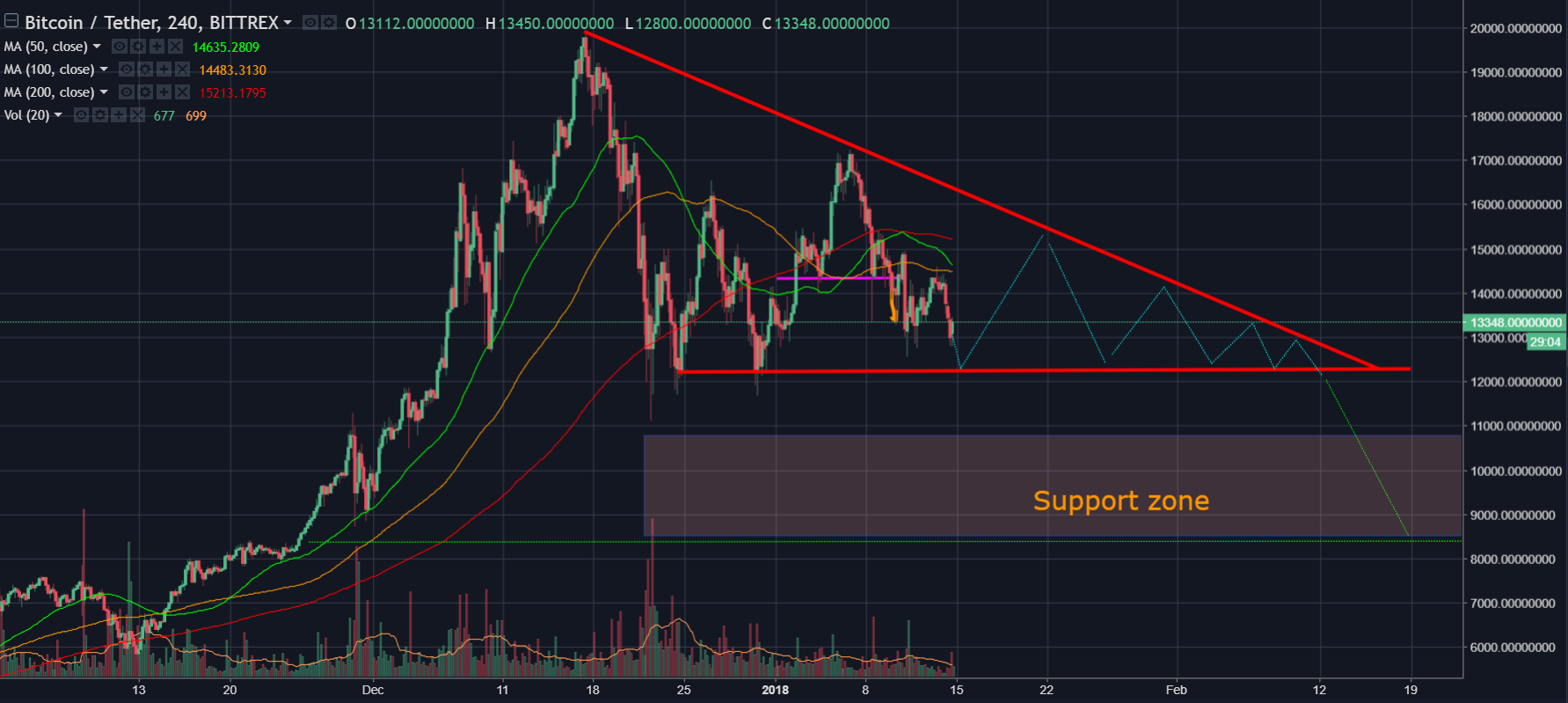 Although there is no forecast that can really see how the BTC and wider market trend will go; and nothing can be done if we do see a month of negative price action across the board, there are a few currencies I'm interested in both holding long-term and for occasional trading that will hopefully be fairly resilient should we see a bad month or two. (I.e. I'd be happy enough to just keep any of these longer term)
I'll cover other crypto I'm interested in over the coming weeks; but to start with, let's look at OmiseGo
OmiseGo (OMG)
Why have I chosen OMG?

because of my belief in the product. "billions of computations per second" sounds like a good thing for a payments processing product to have?!

because it was a great buy in July last year (50k satoshis) and went well during the first part of September 2017 (296k satoshis peak on 07/09/17)

because the recent price action is presenting a broadening formation in the charts which can be fairly good for swing trading (see chart below)

recent price is relatively high, but the trend is upward and should Plasma launch (and work!), I don't see why OMG can't be worth more in both USD and BTC value in the longer term. Personally, I'm happy to look at something like Ethereum when thinking about future equivalents to compare (supply, price, use cases).

linked to point 4, there is a chance that news and market hype could lift the price if the market were to become stagnant. N.B. The opposite is also true if it turns out that Crypto Kitties has hampered efforts and delays delivery of Plasma!
Before we get to the charts; I'm always interested to hear what other people think, so feel free to comment or ask questions below!
Best of luck everyone!
OMG/BTC (Bittrex) daily chart with Broadening Formation (orange) and potential channel (yellow)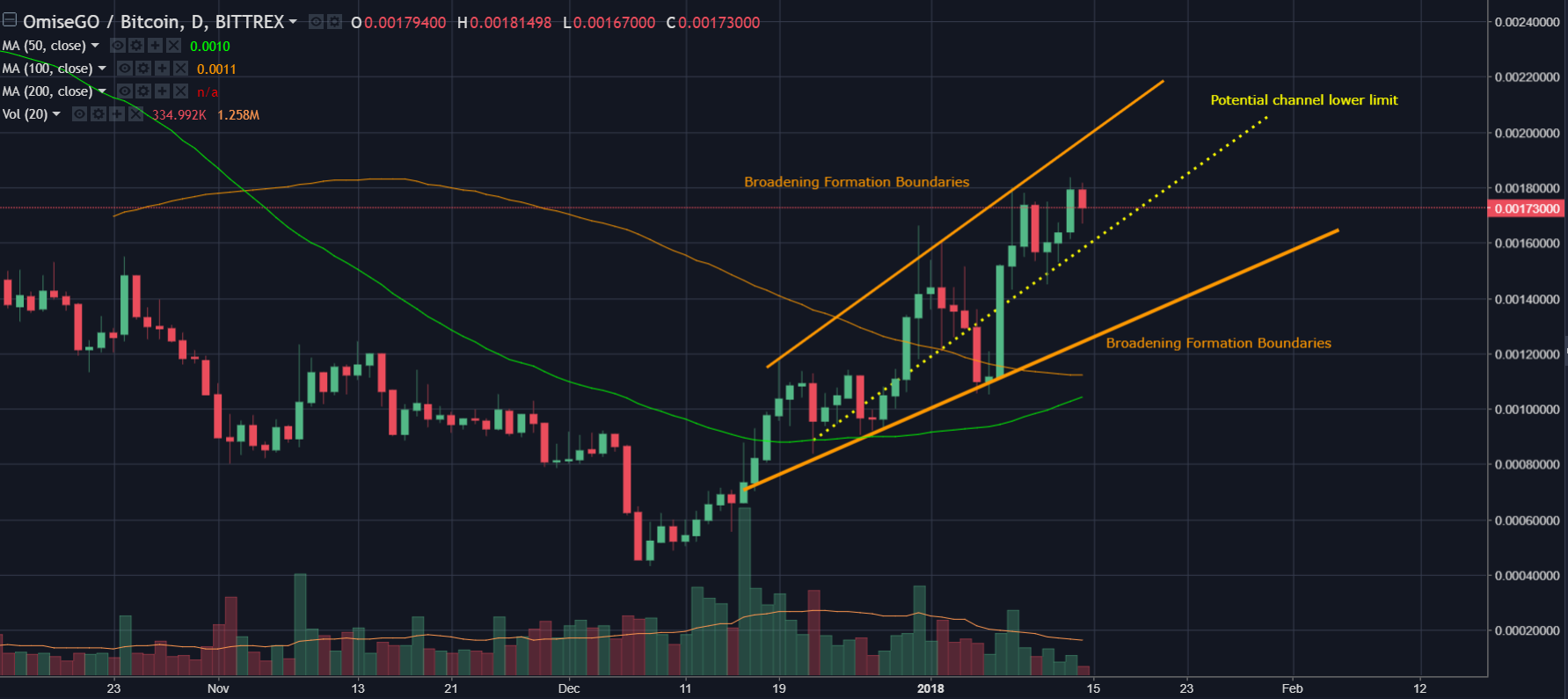 OMG/BTC (Bittrex) 4 hourly chart - potential to find support on the 50 MA (green line) and remain within the channel marked in yellow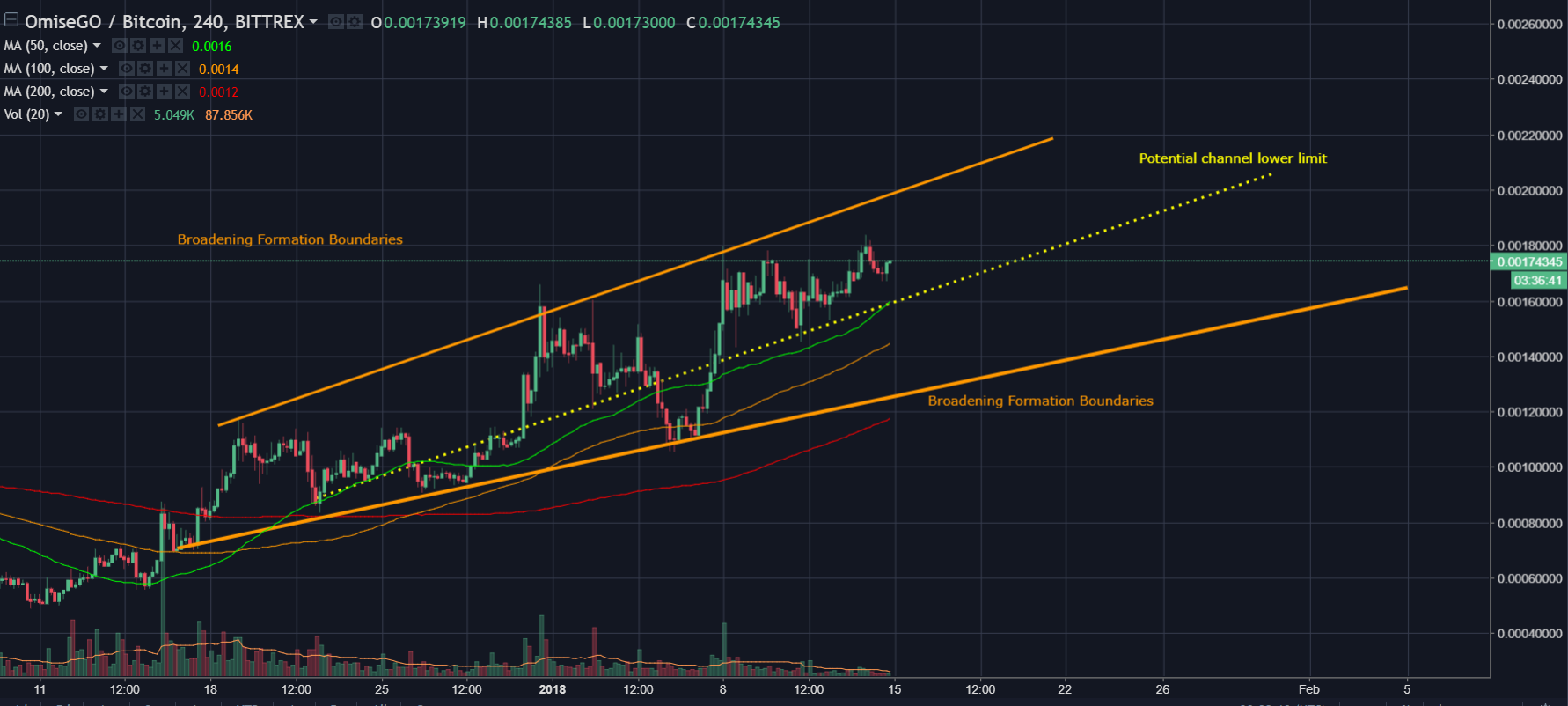 This is post only contains my personal views and opinions and is not financial advice. You should always do your own research and only invest what you can lose to afford.
Register at KuCoin.com here to start trading, earning bonuses and collecting compound interest on KuCoin Shares (KCS)
Signup here to use the free Bitcoin faucet or here to collect free Dogecoin
Visit CryptocurrencyPro.io for news and information on trading and portfolio management