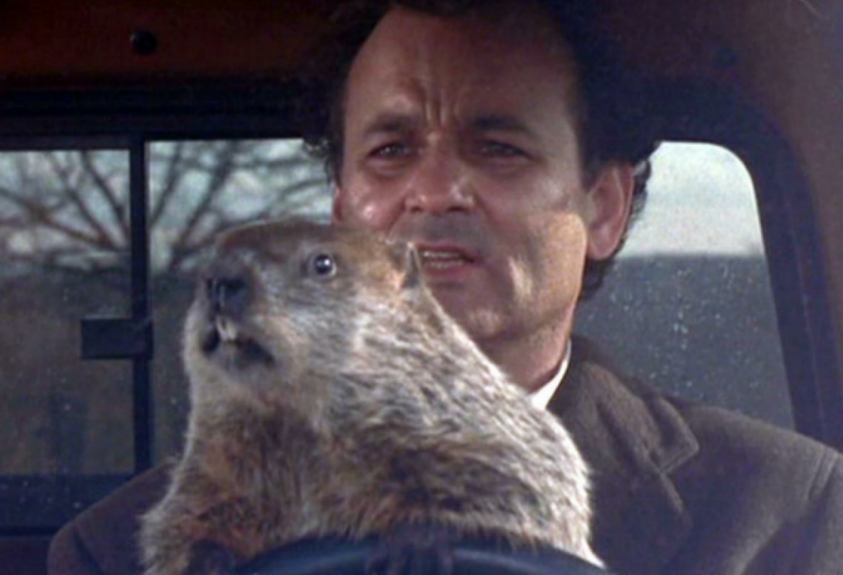 We've had a few days of highs and lows, so I thought it might be good to catch up on some cryptocurrencies I've been tracking the last few weeks and see how things are looking.
First of all....BREAKING NEWS!


As always, never panic buy or sell and don't go too deep!
With big business news going crazy to do all it can to disrupt the cryptocurrency markets, we have to be especially careful as we're seeing some absolute shocking examples of complete and utter FUD from the mainstream media.
First it was "South Korea Bans Cryptocurrencies!", which was actually more like "South Korea says it's considering regulation for the future of cryptocurrencies".
Then we had "France moves to ban cryptocurrencies", which turned out to be something along the lines of "France to investigate why people are buying Bitcoin instead of giving their money to government".
I think we had another one to do with South Korea this morning, but I didn't get chance to see it as I was busy quitting my job, whilst trying to sell my car, to buy some crack and Bitcoin so I could get high and watch that shit MOOON! That is a joke of course! (I would never sell my car!)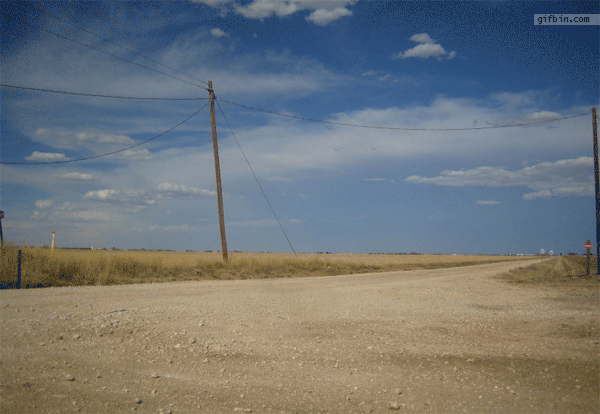 Moving swiftly on...
Technical Analysis
This is post only contains my personal views and opinions and is not financial advice. You should always do your own research and only invest what you can lose to afford.
My last update on these charts is HERE if you want to compare then to now on both my thoughts and charts. Gas has been dropped as it reached good enough heights (chart at very end of post).
Bitcoin (BTC)
Bitcoin/USDT daily chart - I'm still thinking mid-February until we see some kind of bounce back by Bitcoin. It may never happen and the bubble could burst, but I'm not overly worried personally and happy to wait it out. Saying that, I have implemented a personal Bitcoin embargo as I don't want to go deeper until I see a positive return or complete collapse. If either happens, I'll be happy to either pick it up cheap for later or pay a slight premium once we're firmly back in bull territory. The light blue lines are the pattern I thought it would follow and the yellow lines are very roughly what I think it will do (i.e. bounce around marginally but not break out for a while). I've moved the solid red line down to where I think bottom price is, but no one is perfect and it may well gather steam and run right through that (although I doubt it). If we see another good dip with positive signs from the MACD before a breakout, providing that comes with strong enough volume and gains, I think we'll be on for a wild ride!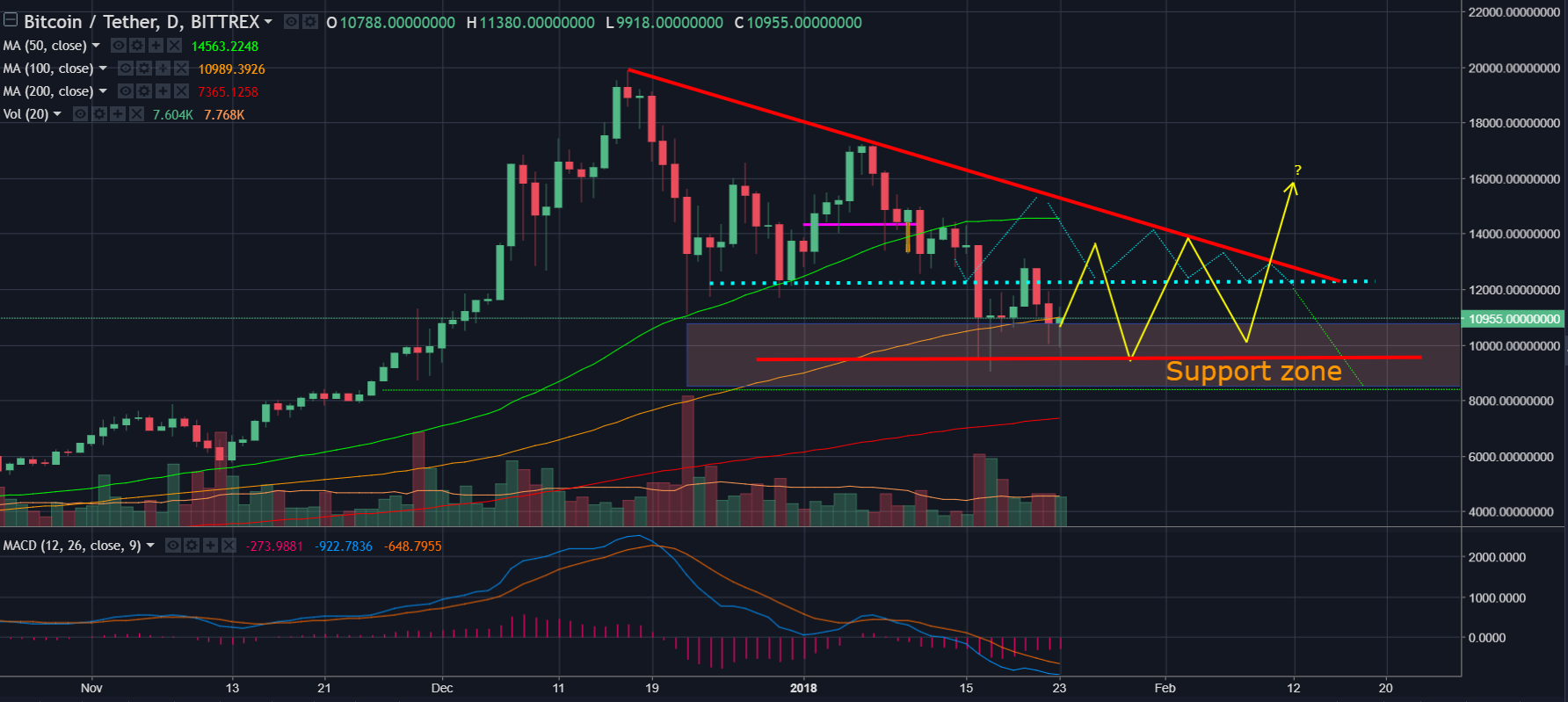 Ark (ARK)
Ark/BTC daily chart - I'm not changing my mind on this one from my call a few weeks ago (no accounting for dramatic headlines re: below unfortunately!):
"Based on positive returns to the market after this news acting as a catalyst, I believe that if we see the pattern below start to complete within the next 4 weeks, the price of Ark is likely to reach new ATHs. Around the the 25th January is where I feel the gains will most likely occur.
For me to gain more confirmation on this, I'll be looking for a very similar chart pattern to the one shown by the orange arrows below (dip straight down then start to climb up steadily at first and increasing to near vertical), combined with ARK trade volumes of over $45,000,000 USD and gaining momentum as it gains in upward in direction."
You can keep an eye on the volume HERE. I think that steady climb we were looking for may have been disrupted by recent news, but as I've said, I'm still happy enough with how Ark is shaping up.
Below is how that chart is looking today: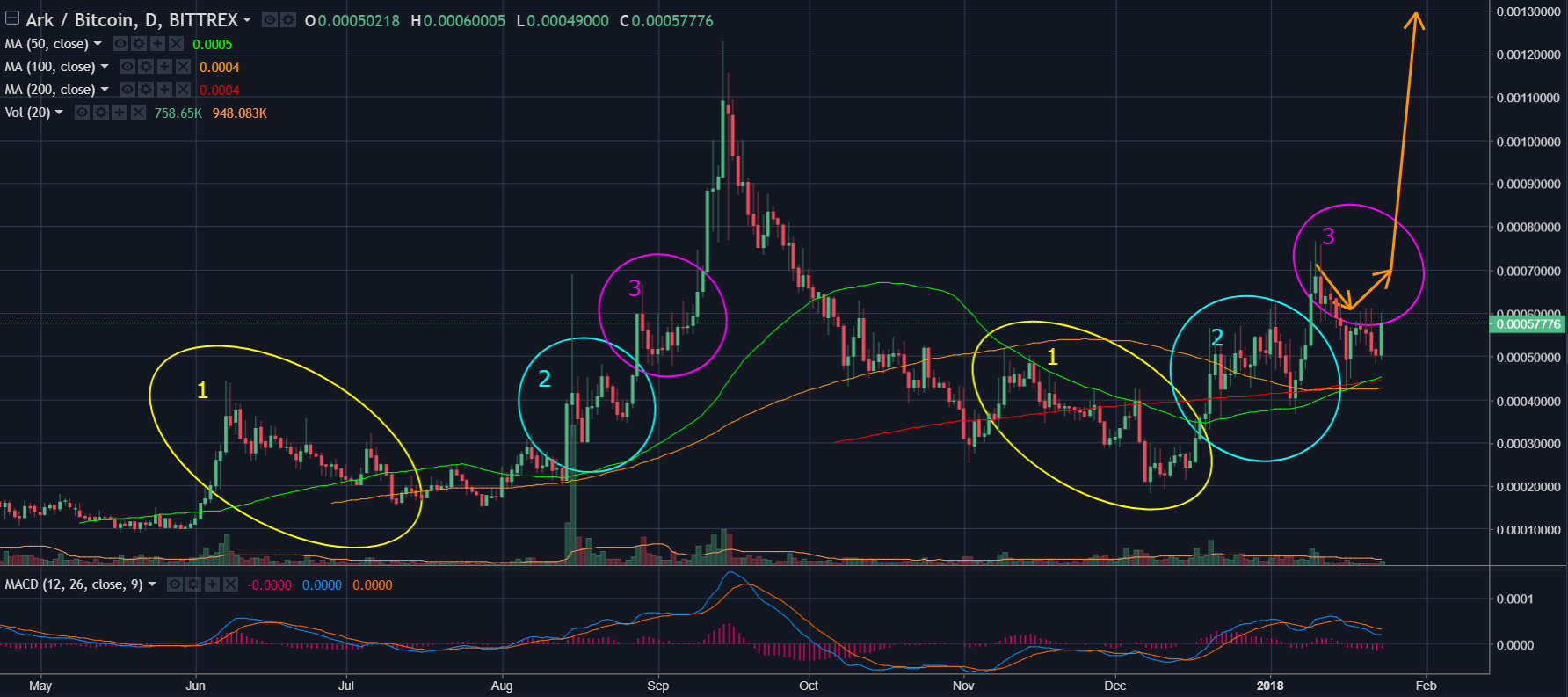 Dash (DASH)
Dash/BTC daily chart - as with BTC, I've adjusted this chart from where I called it (dotted yellow lines) to an updated model (purple lines). Original chart HERE.
I'm still happy with my overstock in Dash. I'm holding long as I think that like it or not, Dash is going to be a winner in the market (if it's not enough of one already!), but I do also like it for a shorter term trading opportunity. I did originally call 1000% of potential upside a few weeks ago. Crazy as it sounds, I'm still up for that. My call is not only based on current trends, but also previous historic performance (golden cross from original post) and the steps Dash is taking to get out to the masses (click HERE and watch the video).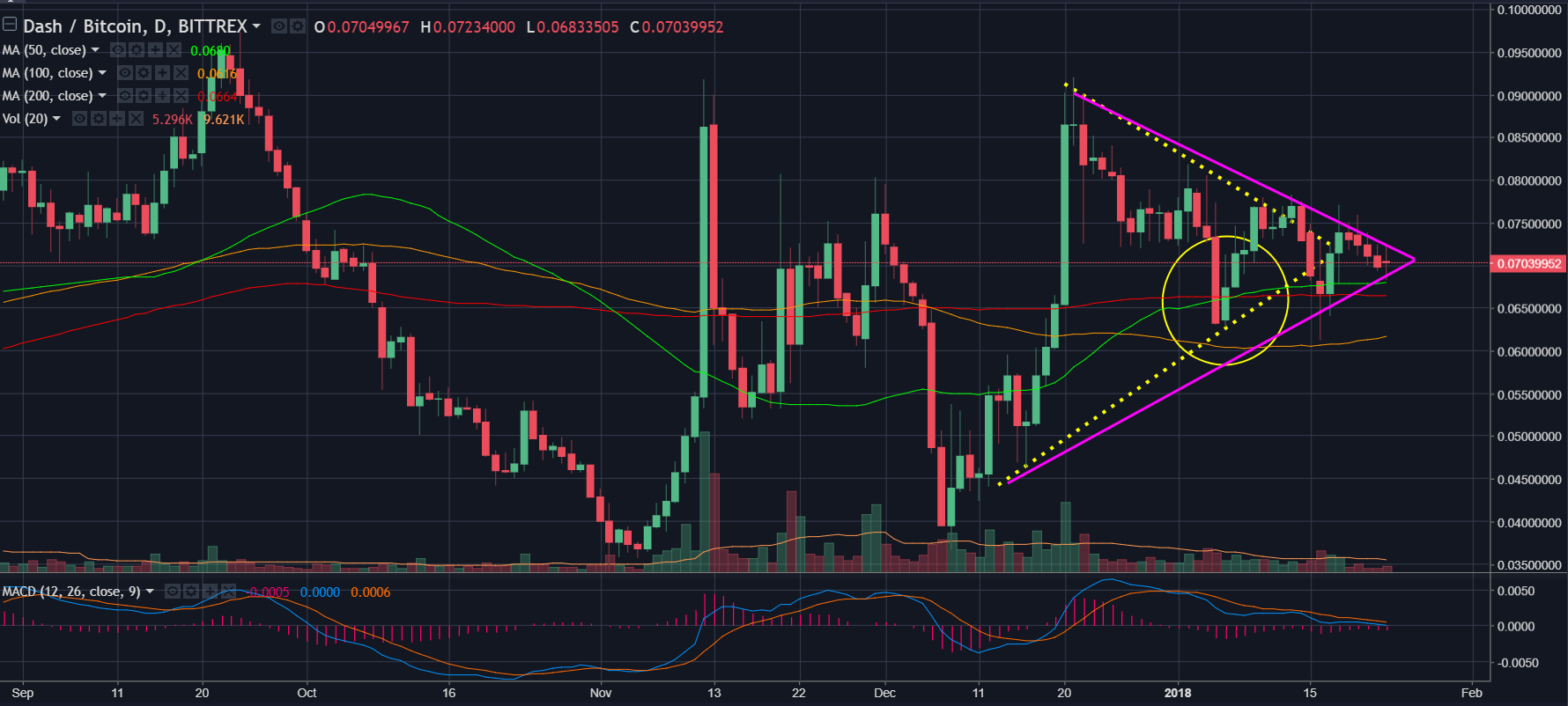 I'm also closely watching Achain, VeChain, Vertcoin, Everex, Civic and Omisego. In the case of Achain and VeChain, there isn't much TA we can really do, but I'd still be happy to provide updates and thoughts about what is happening with them and where I think they are going.
If you'd like me to include these or any other cryptocurrencies in my regular analysis and updates please comment below.
This is post only contains my personal views and opinions and is not financial advice. You should always do your own research and only invest what you can lose to afford.
Donations are as welcome as an upvote, reshare or simple "hello"!
BTC: 158u9zzx29JPaLRh392vbLSmSHYkpCmEzX
ETH: 0x25695f8145F9ccee1eDE955603D22955E63848f4
Dash: Xrb4Y9U8mxQT9uoAatW3fymVhxEQM6eBZU
LTC: LXAQrzHuRo4bmW1eJap25wJeBF1vUShK1k
OMG: 0x25695f8145F9ccee1eDE955603D22955E63848f4*
Signup here to use the free Bitcoin faucet or here to collect free Dogecoin
Visit CryptocurrencyPro.io for news and information on trading and portfolio management



GAS/BTC daily chart: