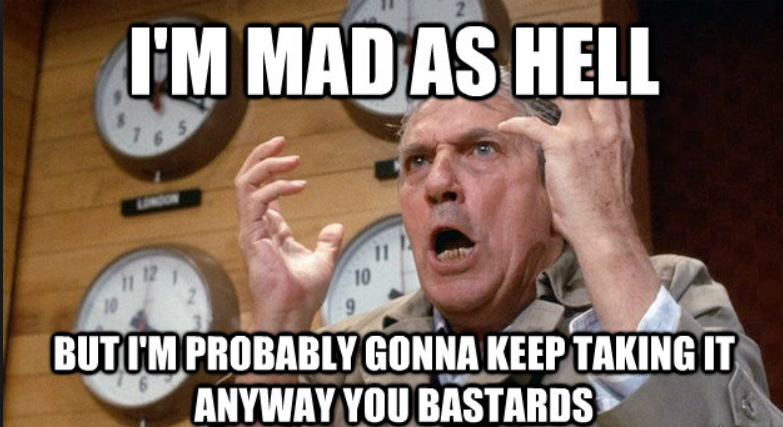 Neo Gas (GAS)
Gas is back! Great news! Why is it good and why is it back up so high again? I don't know - I only saw it today!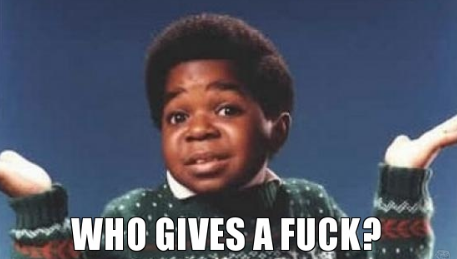 Just kidding, I've been tracking it all along since my first chart pattern was drawn and posted HERE where I called to roughly 740k satoshis, then updated HERE where I extended the arrow up to 900k satoshis. Some major FUDstorms were released between each of these posts so a relatively healthy high around 694k satoshis was enough for me to close my earlier position, but lucky me I don't ever sell all of anything unless it reaches the prices I really want it to.
I'm not dishing out trade specifcs here, but I'm happy enough to transpose my purple arrow of Gassplosions (term for when Gas is breaking up to high prices....) a little out for time passed since FUD and down a little for momentum lost leaving me with the below chart. I've marked sell points 1 and 2 for myself here, but that's only so you can keep me honest if I don't make them. The volume has come in so fast that it could leave just as fast!
Never follow anyone in on a trade and always do your own homework! Better yet, start reading the entire sitemap of Investopedia and learn a little cryptomagic of your own! (see what I did there with the cryptomagic thing...)
4 hourly GAS/BTC chart with MACD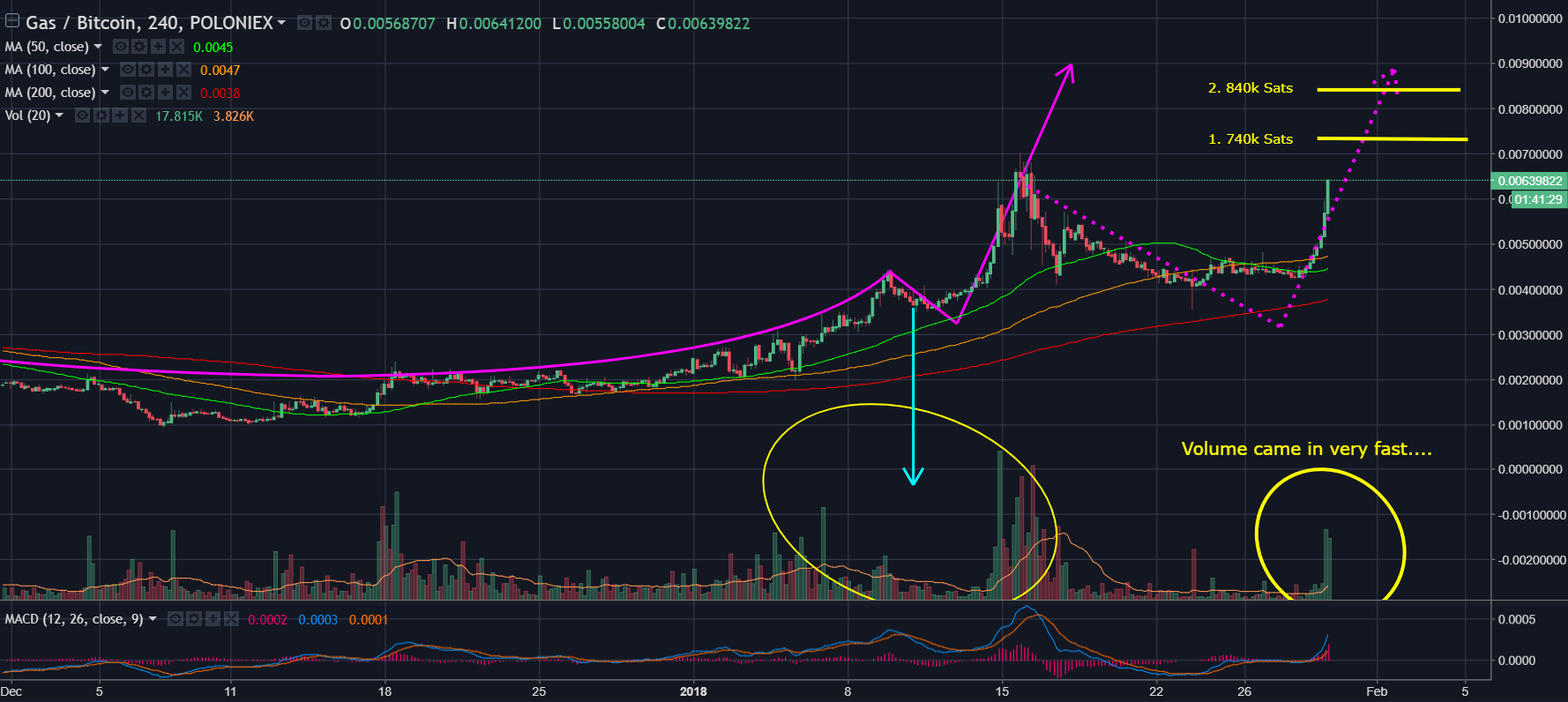 Bitcoin (BTC)
Still thinking mid-February before we seen any real movement. Between now and then you could keep an eye HERE and perhaps watch it go up a few % every time a few hundred million USDT are printed...
4 hourly BTC/USDT chart with MACD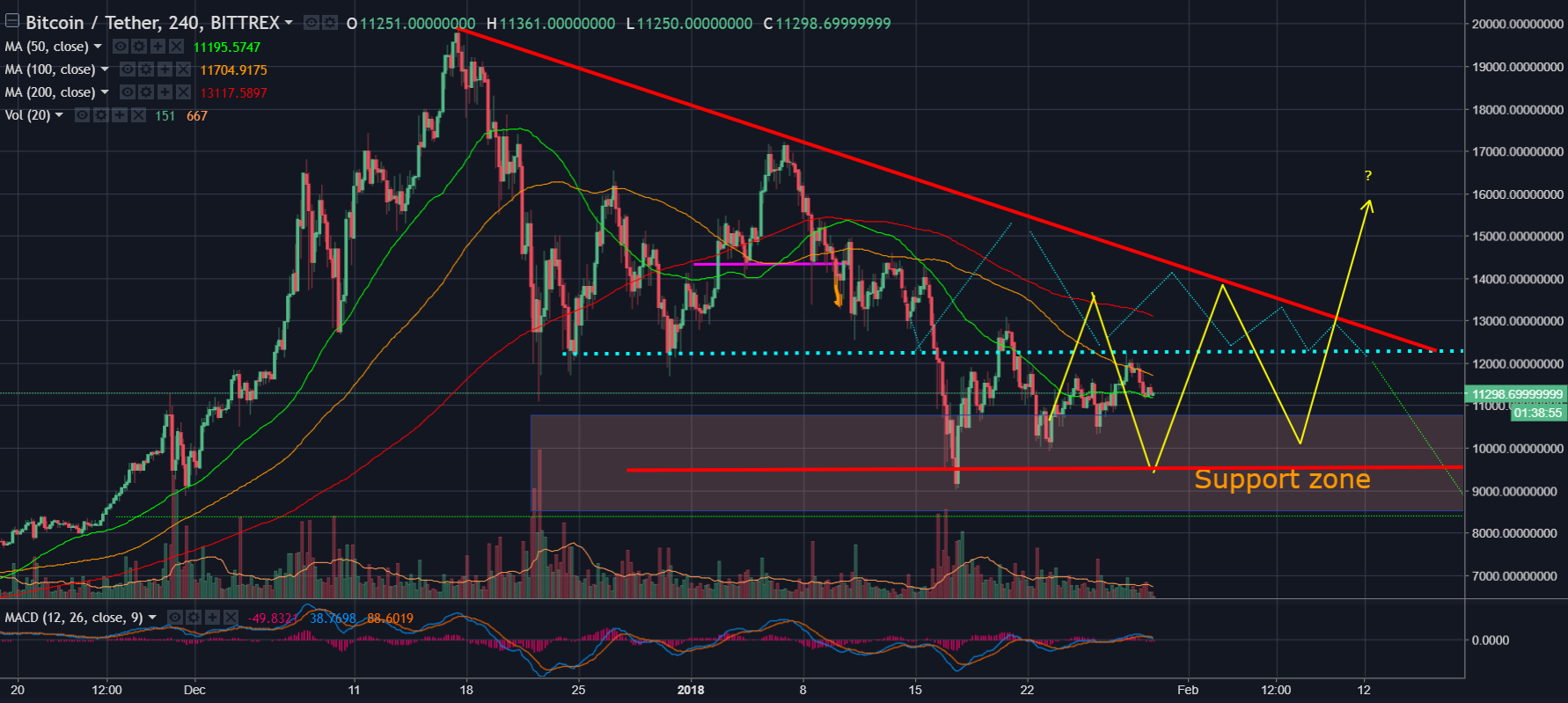 OmiseGo (OMG)
I'm including OmiseGo today as I've been waiting for what I think are good swing trading opportunities, and it's looking like I may well find some!
Although I spoke about the broadening formation in my last post on OMG and although we're currently at the lower limit I had marked out, you'll notice that I've tried to make the 200 MA stand out a bit more as it must hold on that line! And bounce back up from it of course!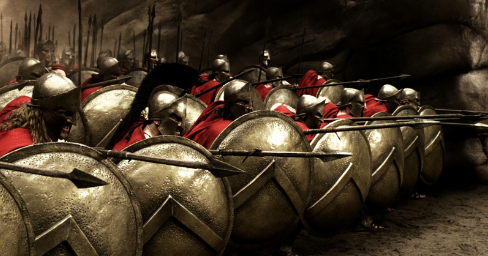 I won't lie, I'm already in on my stock of OMG for trading and I'm going to be fairly blunt headed because I like the idea of Plasma, so as I've said previously, sell it, hold it, it's all good from my perspective! If it can make it into the potential channel I marked out and stay up there, I'll hold for bigger gains, but if it enters the upper channel, I will be holding until it takes an initial drop before calling it a trade complete.
4 hourly OMG/BTC chart with MACD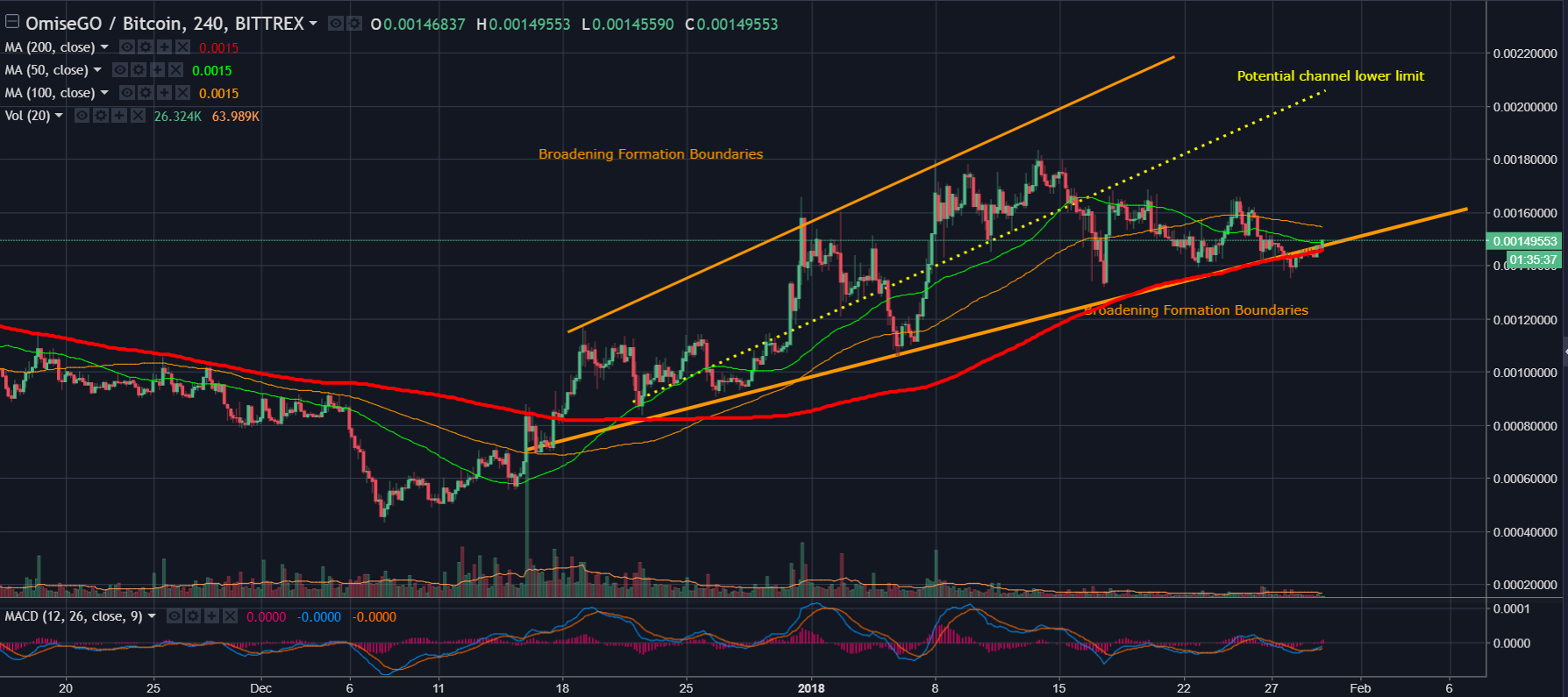 Ark (ARK)
So the 25th came and went and Ark is not yet at new ATHs......you must be thinking "surely he's not going to persist with this madness.....IT'S MADNESS I TELL YOU!"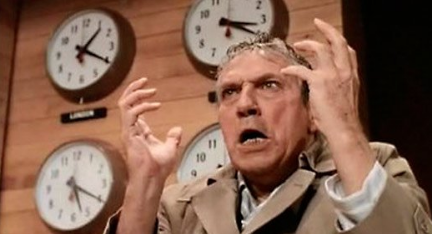 It is mad to continue to chase something purely from technical analysis (TA), but it's also just as mad to think the markets can be predicted to the day or news stories can be predicted or any other thing. That doesn't mean however, that you cannot start looking at what you think are the most probable outcomes and apply a little common sense, TA and what you know about a chosen product and it's market.
Ark is currently still roughly following the fractals marked out on the chart below. It's also a very consistent product, as without hype and breaking news constantly being put out into the market, you'll find that many new Ark investors are actually upset that it hasn't "Mooned" yet.
It's precisely for that reason that I'm sticking to my prediction that ATH are incoming for Ark. It hasn't been pumping out promises of "the next big thing" and only passively releasing news through the Ark.IO blog. Much lesser blockchain products are nowhere near the same level as Ark in terms of progress and development, but have seen significant gains during the recent Altcoin bull run. It was recently posited on Reddit that Ark is doing exactly what many blockchains are not which is targeting workable solutions for developers. This surely is how technical products truely gain adoption and a thumbs up from those trusted genius devs. You can read a comment about this HERE.
So what do I think for Ark price and what am I doing? I hodling tight and buying the ....... dips. I still believe ATHs are due soon based on the fractals in the charts, but if that isn't correct, then release of core V2 and the ARKVM in March/April will do me just fine too. I'm long on Ark and earning more of it due to the awesome DPoS it has, so there's no rush and I'll also not be making the mistake of taking a fast buck trading at 60-70k satoshis!
4 hourly ARK/BTC chart with MACD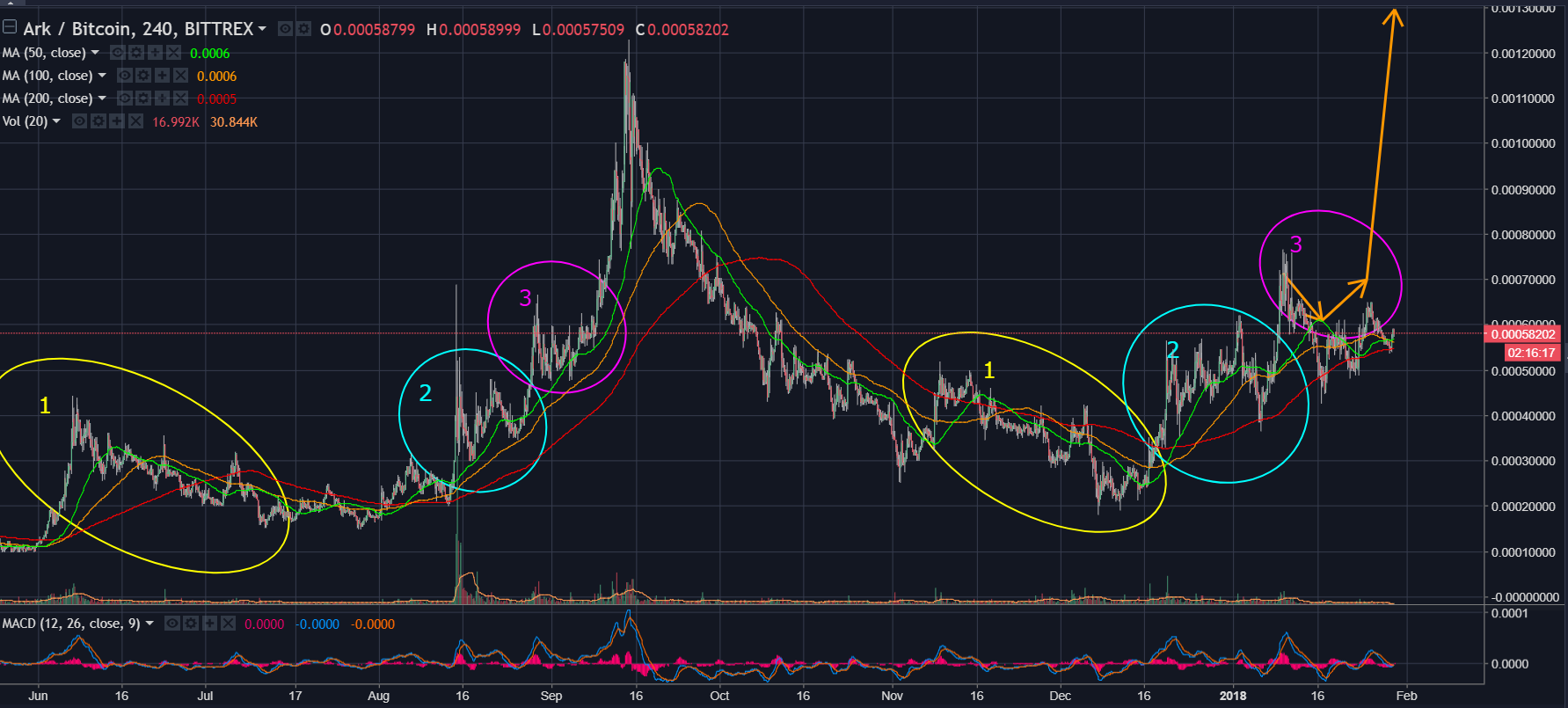 Please leave comments below and let me know what you're thinking about any of the above or if there is something else you think would be good to debate or analyse.
And till next time.....Down with the fiat and FUD!

This is post only contains my personal views and opinions and is not financial advice. You should always do your own research and only invest what you can lose to afford.
Donations are as welcome as an upvote or reshare!
BTC: 158u9zzx29JPaLRh392vbLSmSHYkpCmEzX
ETH: 0x25695f8145F9ccee1eDE955603D22955E63848f4
Dash: Xrb4Y9U8mxQT9uoAatW3fymVhxEQM6eBZU
LTC: LXAQrzHuRo4bmW1eJap25wJeBF1vUShK1k
OMG: 0x25695f8145F9ccee1eDE955603D22955E63848f4*
Signup here to use the free Bitcoin faucet or here to collect free Dogecoin
Visit CryptocurrencyPro.io for news and information on trading and portfolio management