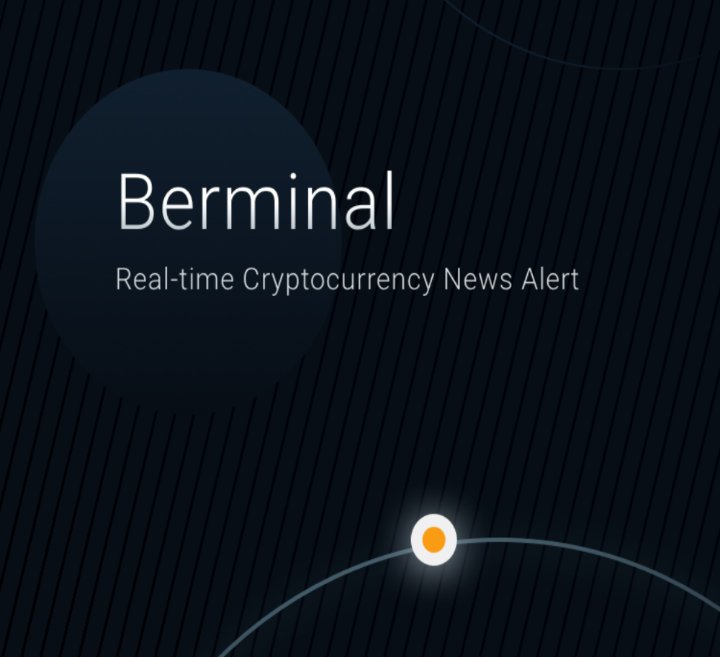 Berminal is a real-time cryptocurrency news platform and mobile app with a full-time staff of professional reporters who both create and curate content. Additionally, Berminal delivers live prices and technical trading indicators for over 100 cryptocurrency assets around the clock.
Mobile App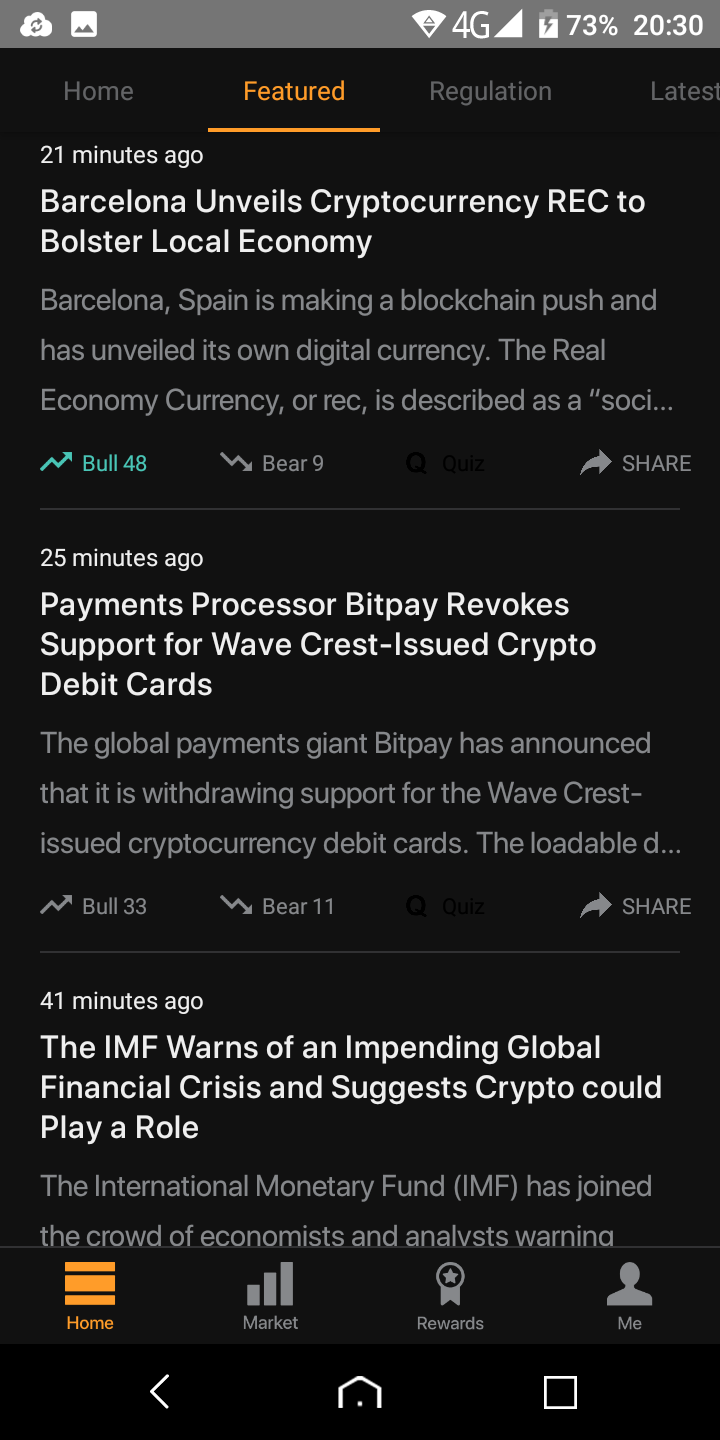 Featured news highlights are shown on the main screen along with a cryptocurrency price watchlist and a menu with categories of Featured, Regulation and Latest. Clicking on any of these options brings up the full list of news articles in these categories. There is a menu at the bottom of the screen with four options : Home, Market, Rewards and Me. I will examine each of these in turn.
Market
The cryptocurrency prices are broken down between Top Performers (all) and Watchlist (customisable). Clicking on the Watchlist brings up two further options — Portfolio and Coins.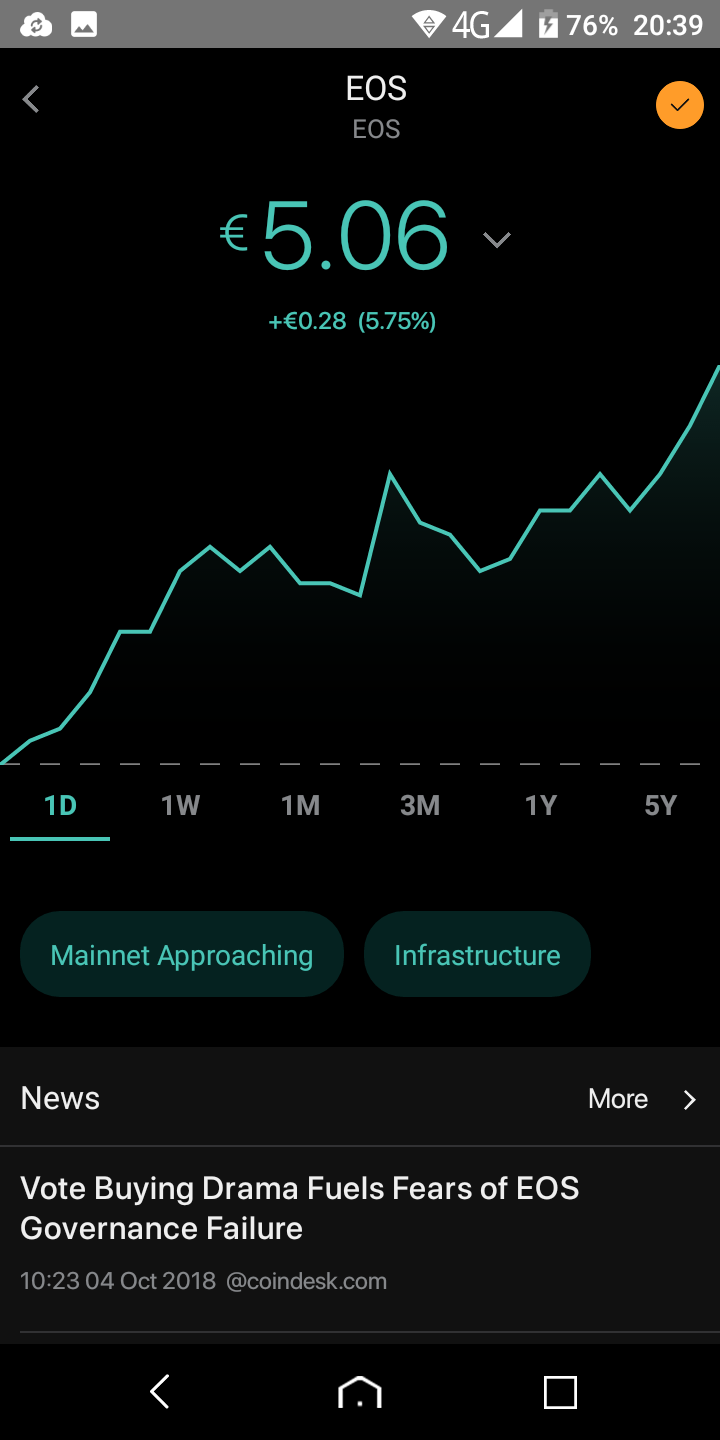 Portfolio is the list of cryptocurrencies you have selected to (your portfolio), along with options to add or delete currencies and your balance in BERM tokens. Selecting any individual currency will bring up full details for that currency, including real-time price and adjustable graph, and upcoming events or related news, a Long-Short Ratio graph (data taken from Binance and Bitfinex), further information about the cryptocurrency (including circulation, total supply, date launched, algorithm used, etc.), a summary and related web links (main site, GitHub, Telegram, white paper, etc).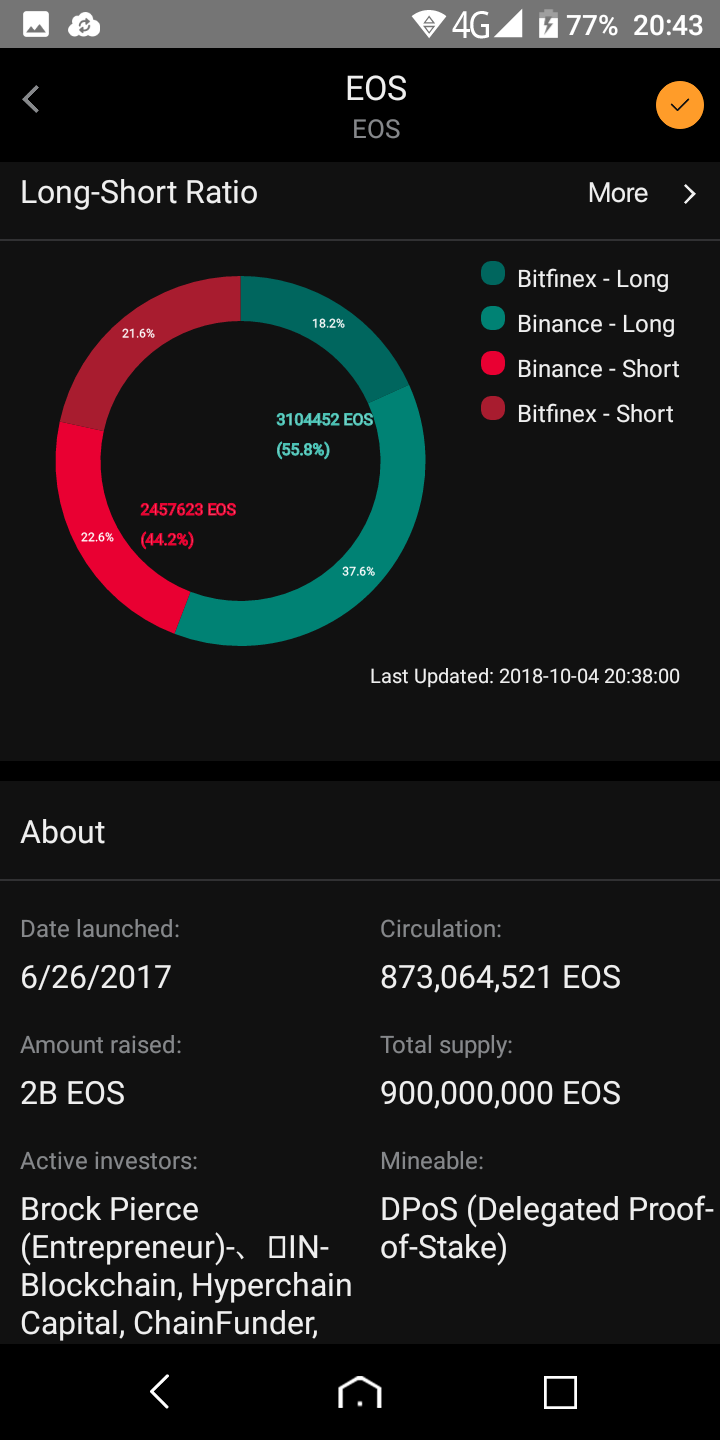 The Coins menu displays a list of all cryptocurrencies sortable by market capitalisation, percentage change, volume or price. There is also a Search option allowing you to search for a specific coin. From the Search screen, selected coins can also be added to your Portfolio.
Rewards
The Rewards menu option displays the total amount of BERM a user has earned so far as well as the various options available for earning more BERM. At the moment, these are divided into four categories :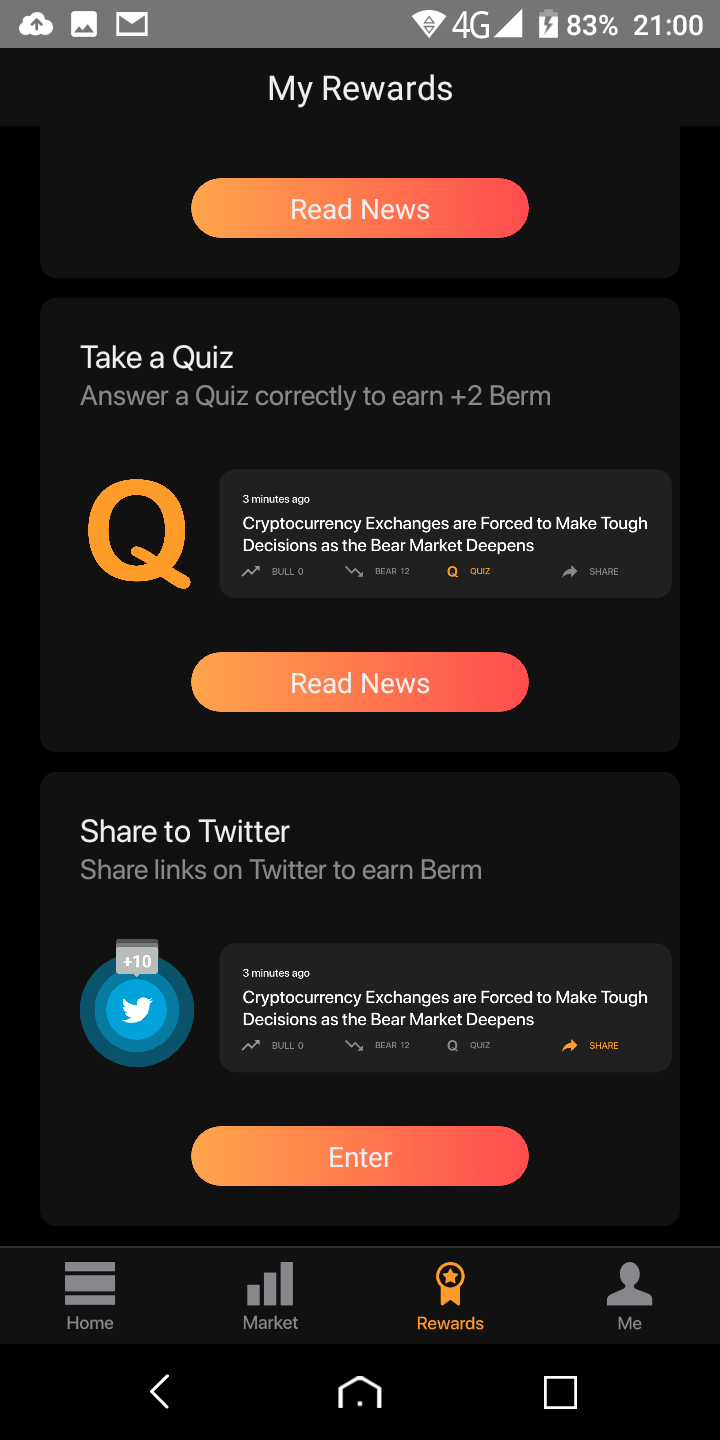 Crypto Psychic — predict the BTC price and win BERM from a daily pot
Vote Reward — upvote (Bull) or downvote (Bear) up to ten news articles per day (1 BERM per article)
Take a Quiz — selected news articles have a quiz attached. Answer correctly to earn 2 BERM
Share to Twitter — share a selected news article and submit link to tweet to earn 10 BERM (once per day)
Me
Finally, the Me section contains details about the user's profile and account. Various options exist including changing language and a Night Mode setting. At the moment, several languages are supported, including Chinese, German, Portugese, Spanish, Russian and Turkish amongst others. Additionally, there is support in the form of a link to Frequently Asked Questions and a link to the Berminal Telegram group. The Berminal Telegram is very active and currently has over 77,000 members.
From this screen, it is also possible to invite other users using a unique invite code. The invited user will receive 50 BERM after signing up and redeeming the invite code from within the app.
How to Register
Berminal is available for both Android and iOS and can be downloaded from both the Google Play store or the Apple App Store.
Google Play (Android) : https://play.google.com/store/apps/details?id=com.berminal.android&_branch_match_id=561349144917607789
App Store (iOS) : https://itunes.apple.com/us/app/berminal-live-crypto-news/id1395341829?mt=8&_branch_match_id=561349144917607789

After downloading and installing the app, you can take advantage of a free introductory offer of 50 BERM by using the invite code "107c34b2".
Conclusion
Despite the fact that there seems to be a recent wave of similar crypto news apps, Berminal stands out from the rest. This is largely down to the quality of news stories reported and the way the news items are presented. Whereas other apps simply replicate headlines or include referenced sections of the article, Berminal rewrite the content so that it is condensed into a summarising paragraph. A link to the source article is also provided. This seems to give the feeling that Berminal is more of a complete news environment, rather than being just another news aggregator.
Overall, the app is extremely intuitive to use and is reasonably lightweight and low in memory consumption. Menu items are clear and logical and the entire app is very responsive and easy to use. A good colour scheme also improves usability while carrying out tasks. While there is support and a FAQ available, I have not needed to use them so far.
Berminal is still quite new. As such, there is still a lot of potential for future developments. With the current version already having an impressive list of features and a high level of usability, any future improvements can only cement Berminal as the leading crypto news source.
Links
Web : https://berminal.com/
Telegram : https://t.me/berminal
Twitter : https://twitter.com/BerminalApp