Hey ! Today I wanted to talk about the booty pattern and how I use it as a primary tool to trade cryptos.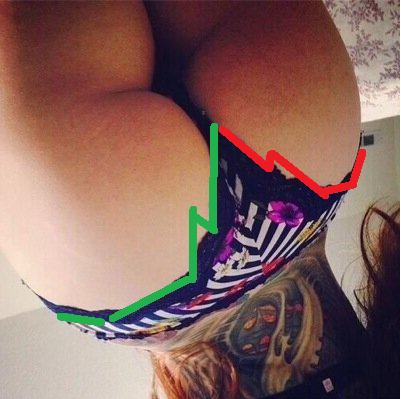 Basically it is a really simple pattern to spot nice potential, but also shows you, at what points you have to take caution. You really wanna accumulate at low volatility phase, when no one is even thinking about that big spike yet. So it is crucial to spot a potential booty already, before it becomes really obvious. When it becomes really obvious, then everyone will want to chase dat booty and everyone thinks they are going to the .. oh.. ye.. you know.
But what ends up happening most of the time, is the exact opposite and you will end up further away from reaching your goals than before. Unless you get in and out fast.
So let's look at a booty pattern in the real world.

As you can see, we really went up really fast and were accelerating, but also crashed really hard after that. It is nice to be in when you see it unfolding and to be aware of a booty pattern also gives you a lot of protection to be aware of the possible downside risks.
But one booty can also be a good indicator for another one. I especially like the double booty pattern, which I will personally look to trade on GCR soon. And as I already said, I will accumulate now, as no one wants it yet.