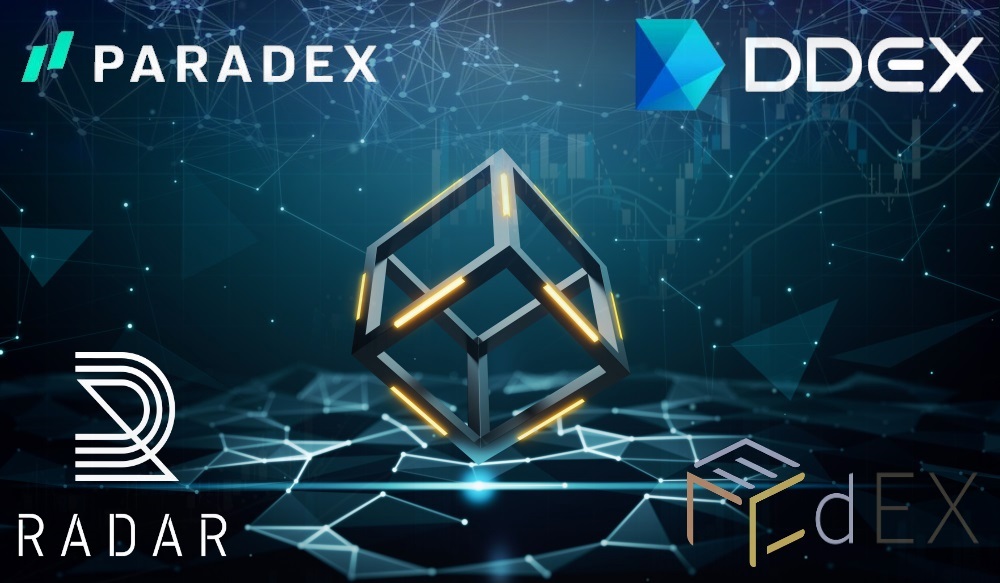 At Ethereum, there are more and more decentralized exchanges that run solely on the basis of a smart contract. Thanks to the 0x protocol, a standard has already been established that ensures that the exchanges are compatible with each other. I have tested some of the decentralized trading platforms.
While Bitcoin is a decentralized currency, Ethereum is a decentralized computer. Here not only monetary transactions are processed, but also complex scripts, algorithms and tasks. Among the many applications that emerge, decentralized exchanges could be the most compelling: exchanges where the order and its execution are processed through the Ethereum blockchain without relying on the usual middlemen in trading.
Of course, one can discuss whether such a thing is sustainable. Blockchains do not scale, and so why you could flatly reject the idea of building a exchange on the blockchain. But you can also just find it cool that you can trade digital assets without a middleman in the game. That's one big step in the revolution Bitcoin has started.
So far, the decentralized exchanges only work with tokens that are natively on the Ethereum blockchain - that is, Ether and ERC20 tokens. The trading spectrum is therefore quite limited. Nevertheless, it is worthwhile to try out some of the decentralized exchanges.
The 0x Protocol
But first, let's look at the underlying technology. Because, as a matter of fact, not every decentralized exchange is on its own smart contract, but many use the 0x Protocol together. This is exciting in that it leads to an extremely high compatibility between the exchanges. If you have a balance on one, you have it at the same time on the other.
To understand exactly what the 0x Protocol does, you have to read in deep (for example, in the white paper). Here only so much: The protocol is modularly built from several smart contracts, which are also updated over time. One governs the exchange logic, the other the transfer of the tokens, and so on. The special feature of 0x is that it combines onchain and offchain: You can create, modify, and delete the exchange order, but their execution takes place as a real transaction.
In essence, this works in a similar way to the Lightning Network: A user who makes a purchase order for the BAT token, for example, writes a special transaction signed by him that only becomes valid if another user accepts the order and signs it , The "relays" make sure that the orders reach buyers or sellers by placing them in an order book. They perform a similar function to exchanges, but with the difference that they are unable to execute orders themselves or confiscate funds. They only provide a user interface and an order book.
The 0x Protocol has the greatest chance of prevailing in the competition of several different protocols for decentralized exchanges on Ethereum. The reason should be above all the combination of on- and offchain. Because so far it was quite annoying that you ever needed a real Ethereum transaction to create, change and delete orders. To process the offchain reduces the friction costs through fees.
Meanwhile, a number of exchanges are already using 0x, and another long list of exchanges is still under construction or in beta mode. It seems that 0x has been a stroke of luck. Some even think that the protocol for decentralized exchanges did more for Ethereum than all the ICOs of the past year.
Using a Decentralized Exchange
The 0x Protocol seems to become the standard of many decentralized applications on Ethereum. More than 30 Dapps or exchanges already use it or plan to use it when it starts operations. For this article, I have tried only a part of it, namely the exchanges RadarRelay, DDEX, ERCdEX and Paradex.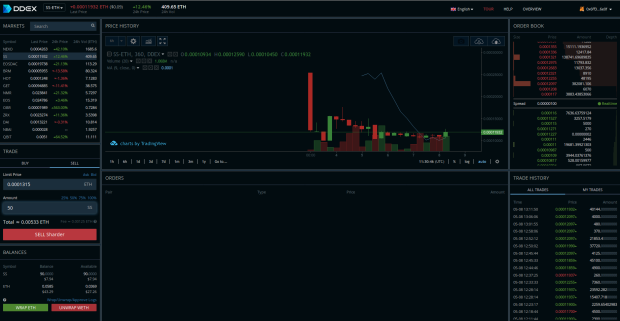 The decentralized exchange DDEX. At the top right you can see the Metamask icon for my account.
To be able to use the decentralized exchanges, you have to connect a wallet with it. For the exchanges I tested, this works only with the hardware wallet Ledger or with the browser plugin Metamask, which is now available for all browsers. Why exactly MyEtherWallet or Parity are not an option, I do not know. I used Metamask for the tests.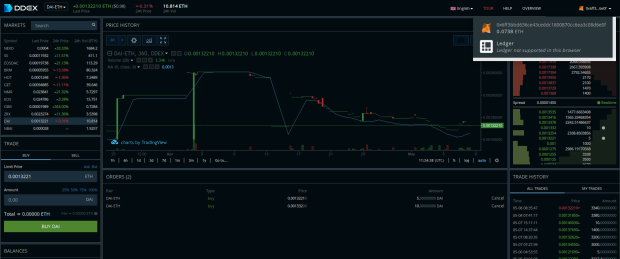 Alternatively, you could log in with Ledger.
To log in, you have to sign a message. The exchanges then show the credit that I hold in Metamask, ie the ETH, but to trade, I have to convert some of it into "Wrapped ETH", ie WETH. This is done by a transaction on the blockchain. Once confirmed, you can trade with WETH. It was a pleasant surprise for me that the WETH generated on one exchange also applies on the other. After "wrapping" on DDEX Ethereum, I was able to trade with them on ERCdEX. The credit is therefore present on all exchanges simultaneously.


RadarRelay wants me to confirm an action on the exchange with Metamask.
Then you can buy or sell tokens as on other exchanges through market or limit order. User guidance is relatively similar on most of these exchanges. Not as easy as the big, centralized crypto exchanges, but alright. Who has exercise, will find his way relatively quickly. I found RadarRelay and Paradex to be the clearest. However, Paradex has an extremely thin order book and virtually no trades, while at RadarRelay, after all, something is going on and the order books are relatively full. DDEX and ERCdEX are also trading fairly actively, even though the orders I have made on a test basis have not yet been serviced.
Coinmarketcap shows the daily volume of some of the exchanges. With $ 3.24 million a day, DDEX comes first, followed by RadarRelay with $ 0.4 million, while Paradex is relatively far behind at $ 159,000. ERCdEX does not even show up. The daily turnover is tiny compared to the turnover of the big crypto exchanges - but they are, after all, there. The movement has begun.
Overall, one could say that the decentralized exchanges based on 0x do not yet come up with the trading convenience of large, central crypto exchanges. But because these are the first trading platforms based on smart contracts and offchain protocols, the user experience is surprisingly fluent. It's worth trying out.
---
---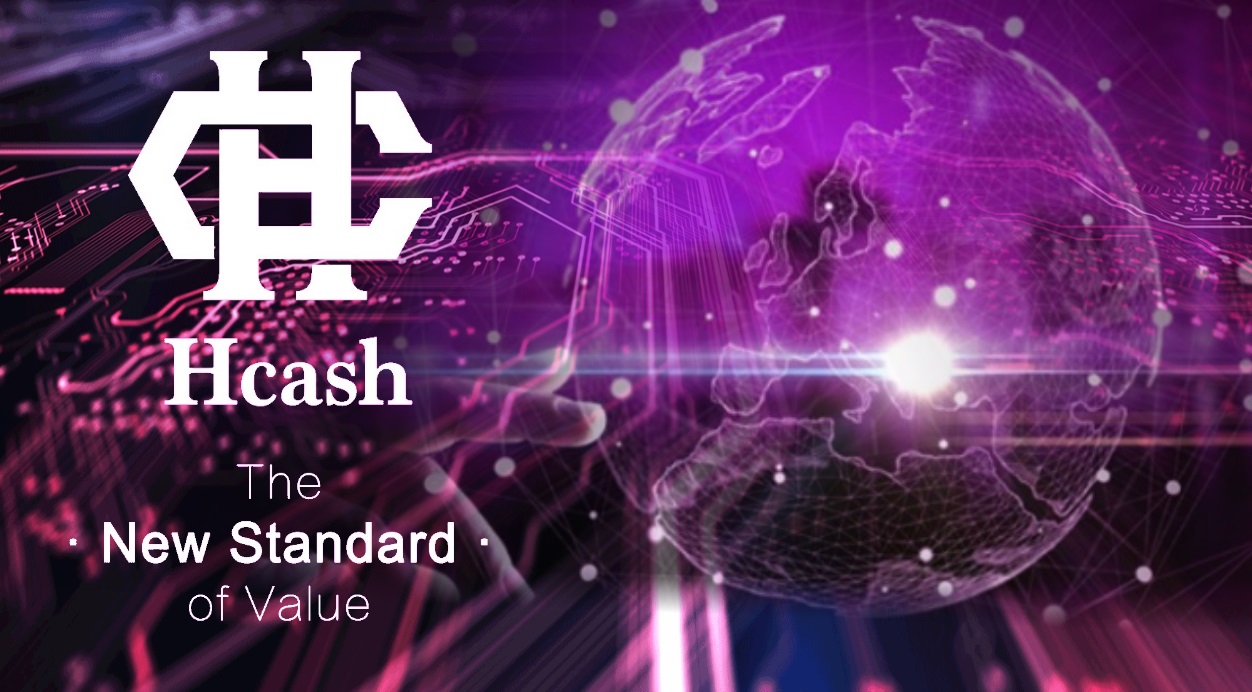 Why HCash?
Interoperability between different blockchains or distributed ledger systems is important for a user-friendly and frictionless flow of information and value.
There are currently hundreds of different public and private ledger systems, each with its specific coin or token, and its own rules of development and governance. As a result, it is rather difficult to transfer values from, for example, the Bitcoin biotope into the Ethereum universe. Thanks to the numerous crypto exchanges, we can exchange - for example, ETH in BTC or vice versa - but for additional often quite impressive fees.
But would't it be much more elegant if we could trade values directly between different systems, independently of centralized exchanges and the associated risks?
HCash represents such a solution - a decentralized and distributed ledger system that bridges between different blockchain-based systems - such as Bitcoin or Ethereum - and blockless, DAG (Direct Acyclic Graph) based systems - such as IOTA and ByteBall.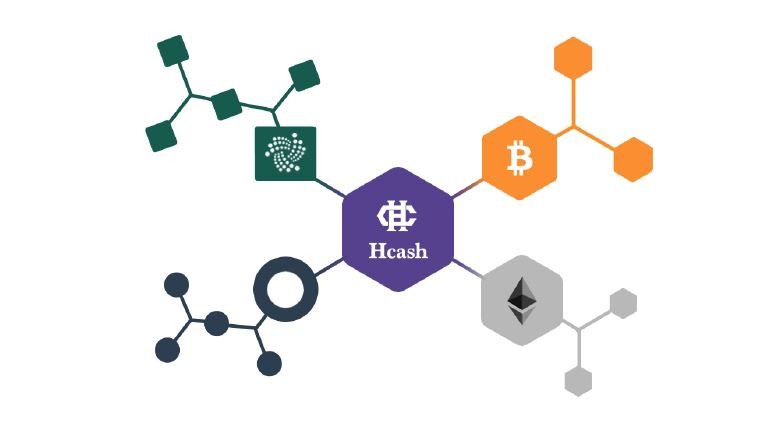 HCash stands for the platform - designed as a side chain for both block-based and blockless DAG systems.
New Blockchain - New Coin
HCash also stands for the associated cryptocurrency HShare, which can be traded under the symbol HSR. HSR is a mining grade coin currently traded at various exchanges for $9.93 USD per coinat the moment, with about half of all transactions being executed via the Exchange OKEx with BTC. The market capitalization is $426,732,889 USD at the moment. There are a maximum of HSR 84 million, of which around 43 million are in circulation, with a daily trading volume of around $55,904,200 USD.
A look at the HSR charts shows that the Coin was traded shortly after its launch for around 43 USD apiece, but then dropped to even below 5 USD, before he - probably in the course of the general cryptohypes in the end of 2017 - again almost its initial price level reached, and finally settled around the 10 USD mark.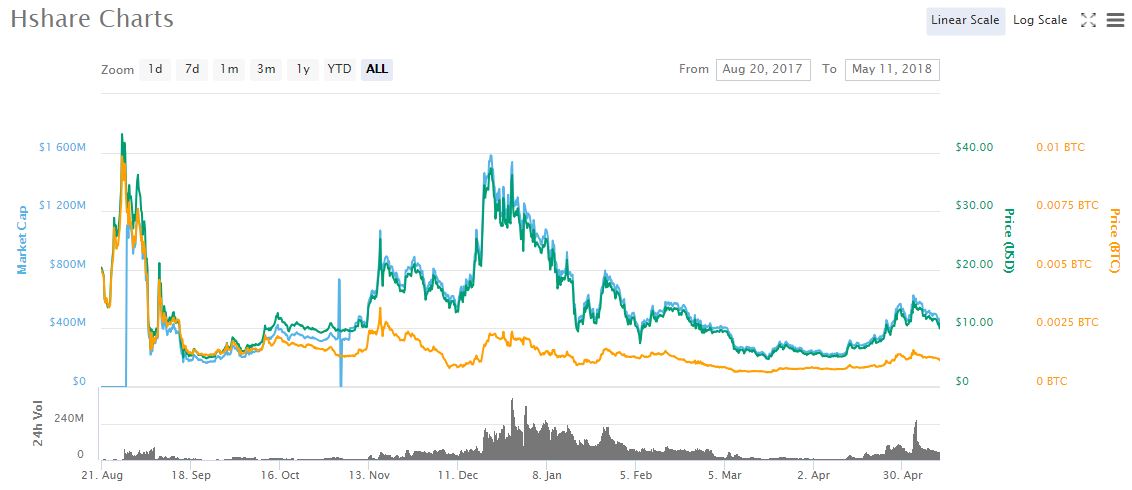 Investors will certainly look into alternative projects such as Blockcollider, Cosmos or Polkadot, or the Blockchain Interoperability Alliance with ICON, Aion and Wanchain, to optimize their portfolio. The price will play a role here, but also functionality, user-friendliness and above all the potential to set standards for interoperability and to anchor them quickly and broadly in the market.
Who is behind HCash?
HCash reveals a few details about the creators behind HCash on his website.
It features a very slim 3-person team: CEO Dallas Brooks, financial and investment strategy expert and host of the TV show "Dollars with Sense", CTO Khal Achkar and Andrew Wasylewicz as Business Development Managers.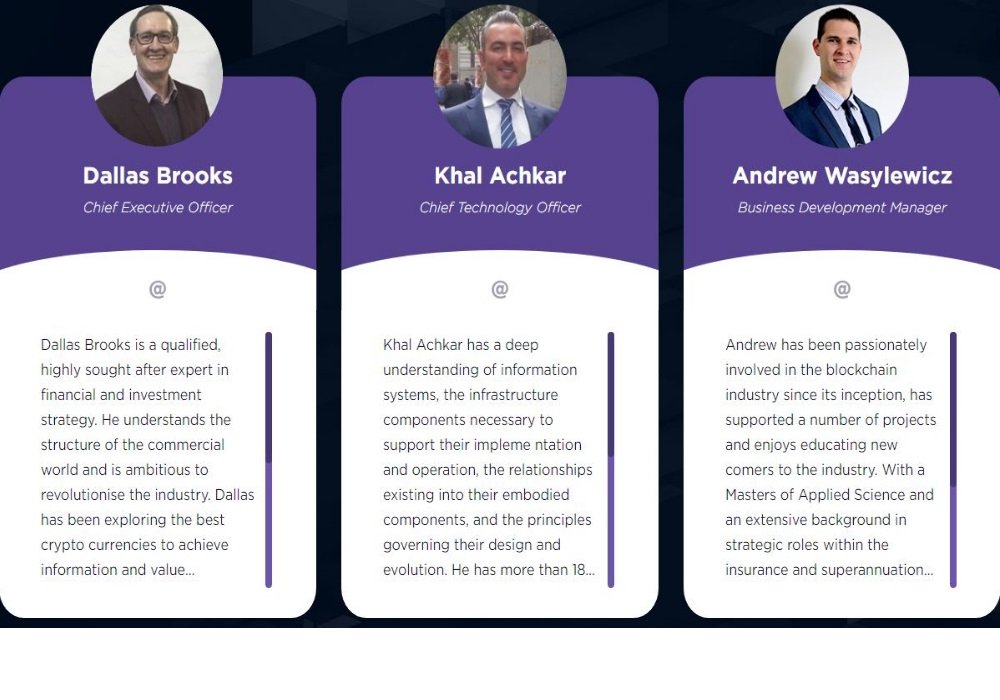 Next an equally large advisory team, with Dr. med. Joseph Liu as cybersecurity expert, also known as God Father of Monero, Dawu Gu - Computer Science Professor at Shanghai Jiao Tong University and Ryan Xu, Managing Director at Collinstar Capital.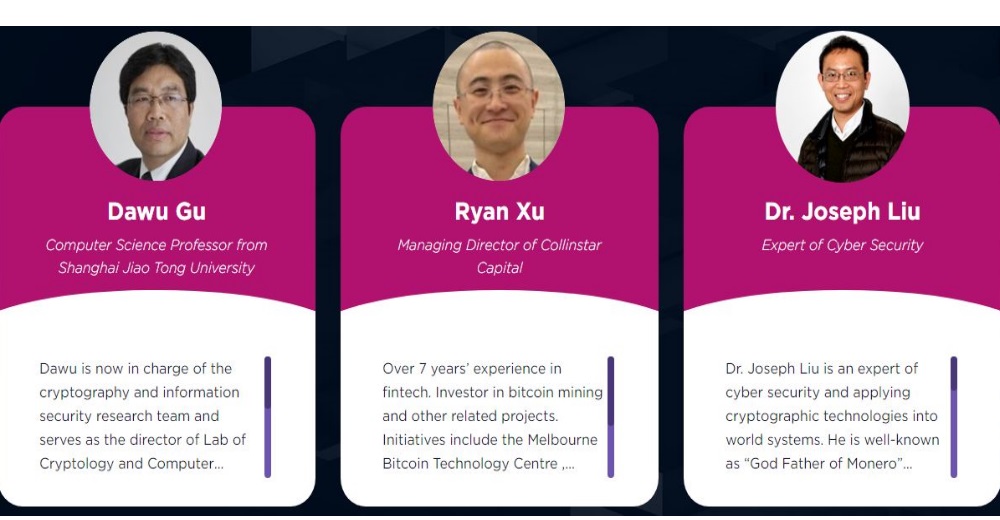 Interestingly, HCash has a dedicated research team, with 4 members being the largest - Dr. Ing. Gavin Burning (Macquarie University, Australia), dr. Miklos Santha (CNRS & National University of Singapore) Troy Lee (Nanyang Technological University, Singapore) and dr. Marco Tomamichel (University of Technology Sydney, Australia) - all with a strong focus on quantum computing.
As a research partner, HCash names Shanghai Jiao Tong University, Hong Kong Polytechnic University, and Monash University.
HCash also lists on its website a number of investors such as Collinstar, FinTech Blockchain Group and iYES Ventures and Coorperate Pools, such as BTC.TOP, Antpool or BATPOOL.

According to the Australian Digital Commerce Association, the HCash Foundation was launched in July 2017 in Australia to develop, publicize and grow the HCash ecosystem.
What makes HCash - architectural details
HCash mentions on his homepage 7 reasons why it can be a revolutionary cryptocurrency:
Hcash is Hive
It has a dual sidechain composed of blockchain and DAG systems, designed to implement an unrestricted flow of information and value between blockchain-based and blockless-based distributed systems.

Hcash is Hidden
Your privacy can be protected. Hcash will adopt Zero Knowledge Proof technology to achieve bi-directional encryption and many other areas demanding transactional privacy.

Hcash is Hybrid
POW+POS Open-Governance Model. Every Hcash holder has the ability to participate in significant community-wide decision-making, including protocol updating and upgrading through a POS mining mechanism.

Hcash is Hierarchy
DAO Governance. Holders of Hcash determine the use of funds in a real-time dynamic voting system. Decentralized Autonomous Organization is the driving force behind future advancement and provides the Hcash community with continual vitality.

Hcash is Hard
Quantum Resistance. Hcash takes quantum resistance into consideration from the very beginning of system design. Therefore, Hcash still has a natural advantage over other systems at the system level, even after the rise of practical quantum computers.

Hcash is Haven
Hcash holders can transfer between public and private addresses through their own wallets or client panel. The transaction or delivery across different systems can be requested for public-addressed or private-addressed coins.

Hcash is Handy
Hcash enables Hcash holders to transfer unlimited times with a limited block size, No matter the speed of transfer or amount of transfer.
HCash, like most coins, comes with its own wallet for Mac OSX, Windows, App and Hyperpay to keep and trade HCash, as well as a dedicated explorer.
If you want to know more about how HCash works, take a look at the white paper or the source code at github.
HCash Roadmap
After HCash had 2017 milestones such as the foundation of the HCash Foundation, the implementation of the DAO, development of post-quantum cryptographic functions and completing the beta core code on the agenda,

in January 2018, the finalization of the PoW and PoS mining functions and the Start on the test chain or the main chain, followed in February by the 1: 1 swap HShare against HCash, as well as the Q2 / 2018 planned completion of the HCash beta version with the also ZKP based client-encrypted communication:

For Q3 / 2018, the roadmap will show the full implementation of encrypted communication between the HCash client and byteball, the complete destruction of HShare, and the gradual establishment and optimization of the HCash ecosystem.

HCash offers a interesting technology, with some great features. Interoperability looks like the next big thing in blockchain technology. It remains exciting to see how well HCash develops in the near future. I for sure will keep an eye on it.
---
---
Video Source:
Image Sources:
Article headers created by myself


Have a nice day!
LOVE&LIGHT