This is currently trending on Reddit and is pretty interesting. Yesterday saw the highest ever volume of Bitcoin futures traded.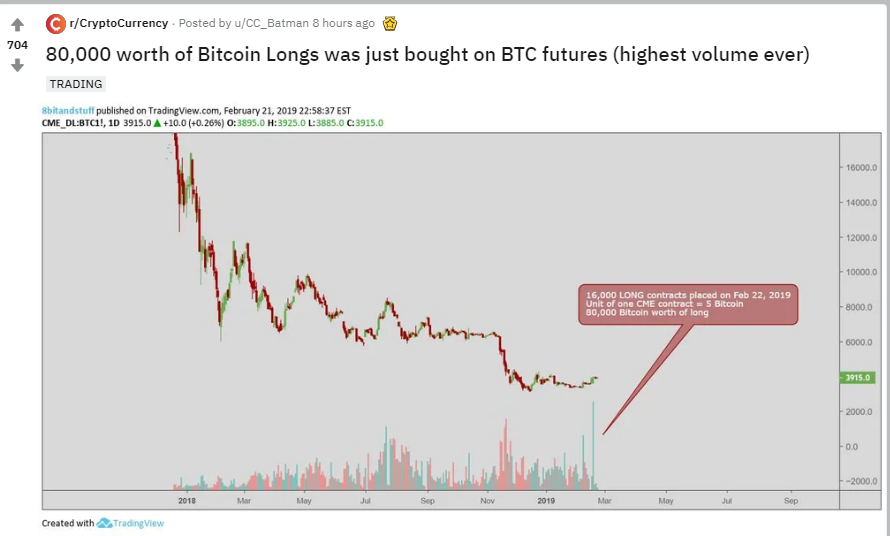 Source: Reddit
What is a futures contract?
A futures contract is an exchange traded derivative (which is a financial instrument linked to an underlying asset). The futures contract has a buyer and a seller (which are also known as going long and going short). The buyer of the contract agrees to buy the underlying asset from the seller for the "futures price" at a time in the future that is stated in the contract. Unlike an options contract, there is no "if they would like to" in a futures contract. The buyer is betting on the market (spot) price going up and the seller is betting on it going down (i.e. there will be a winner and a loser from this contract). Since the futures contract is a tradeable derivative, I can sell my position in the contract to someone else. The cost of the contract depends on the difference between the current (spot) price and the futures price of the contract.
What does this high volume mean?
It is hard to say exactly but there will be plenty of hypotheses so watch out for plenty of hyperbole in crypto news over the next couple of days. It does suggest that people are pushing more in to bitcoin futures although I would want to see more than a single spike to be fully convinced of this. It doesn't necessarily mean people are more bullish (or more bearish) about Bitcoin. Since a futures contract requires one party to be long and one party to be short it is a zero sum game.