18 Days ago, Trade.io listed ATom Token/
This week, news has it that they have going ahead to list 4 more tokens on their amazing platform. Among the tokens to be listed are Miota, XRP, TRX & XSG.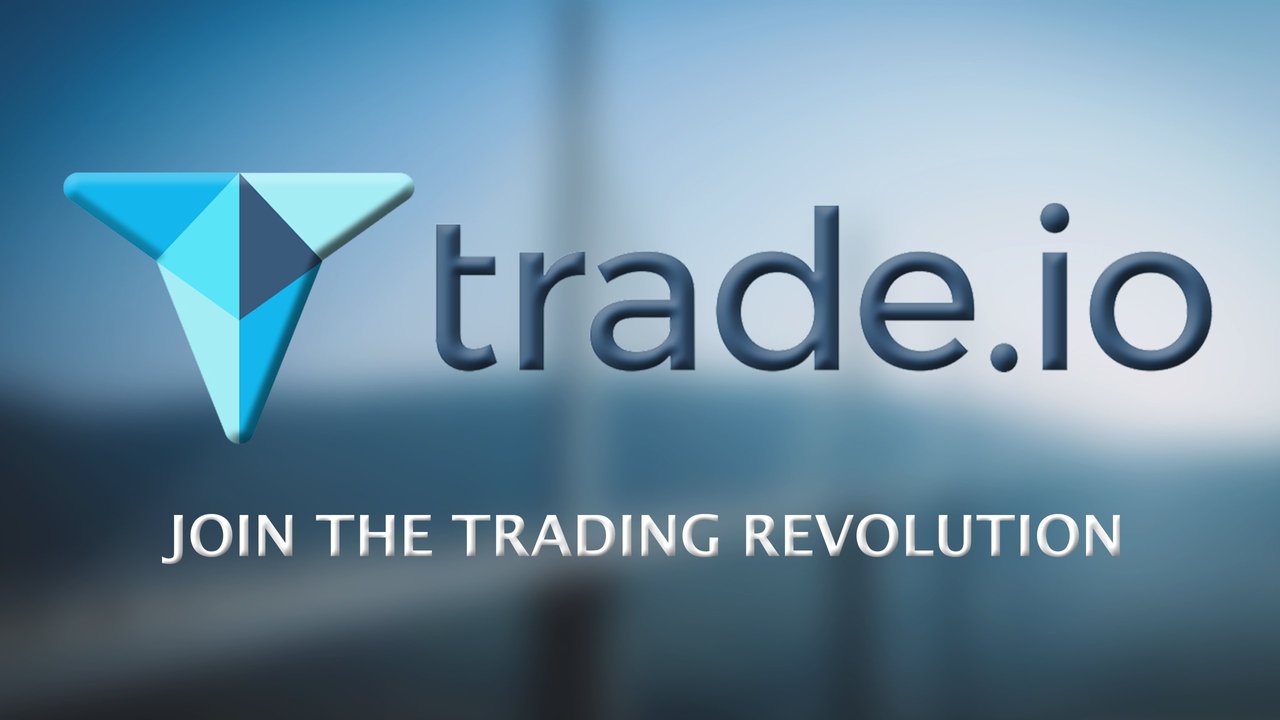 Source
I'm I excited about this?
Totally!
Why?
Because it is a step closer to making crypto more accessible to the masses, and a time is coming when this will be a very crucial aspect of mass adoption. In that sense, we need as many tokens in as many exchanges as possible. Access and convenience is going to go a long way if cryptocurrency is going to be considered as a legit, legal way to make payments and trade on a global level. Of course we must not get ahead of ourselves by jumping in on every token that launches, we have seen plenty of scams come & go, leaving a lot of people financially crippled. Which is why I completely understand if exchanges take their time to make new listings.
Trade.io, though relatively young an exchange, is making some great strides. Listing some of the most undervalued tokens yet hold the most potential in my opinion.
Have you started trading on Trade.io?
Maybe the question I should be asking in the first place is, what is Trade.io all about? For the sake of those that are a little behind the news;
.. is a cryptocurrency exchange that offers lightning-fast execution and a fully-customizable interface.
On this exchange, you can trade your Bitcoin & Ethereum for alt coins, basically.
What do I love the Most About this exchange?
For starters, No deposit fees, No Maker Fees, Minimal withdrawal fee and on top of that, Just 0.1% taker fee!
I get very excited sharing about projects I'm truly passionate about. And this is one of those, also, I like to help you understand the why before I give you the how. It's also very important to cover the basics so we are on the same page right?
Talking of listings...
I feel it is important we look into the newly listed tokens on trade.io, at the very least, we may learn something new, or maybe we may understand why Steem isn't listed yet. Did you check the Twitter Announcement About the New Listings?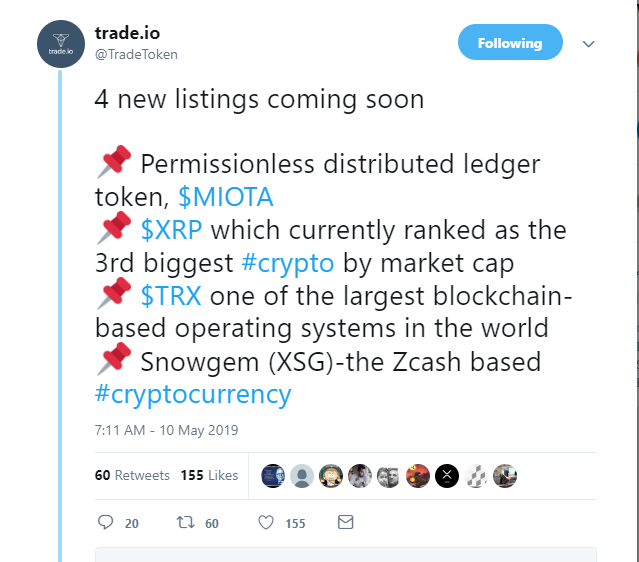 Shall we look at the incoming listings now?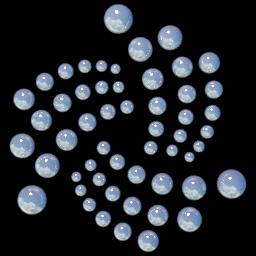 Credits
Simply put, IOTA is a permission less distributed ledger for a new economy. The argument is, we have entrusted banks and financial institutions with so much of our data, debit & credit records. What happens when they can no longer safeguard these sensitive records or store them accurately? We are currently living in a digital world where we are constantly or most likely to be victims of cyber bullying & cyber crime. What happens when the time comes for us to transfer this sensitive data via the internet, how do we make sure it is legit and not susceptible to cyber crime?
That's where IOTA comes in, to help verify the data that we receive on the Internet, to help build verifiable trust, for an inclusive and permission less economy. IOTA does this by removing the need for 3rd parties (such as banks) through "The Tangle"..
IOTA seeks to solve the blockchain inefficiency of sluggish transactions by using a stream of individual transactions entangled together, hence the tangle..



Source
My Take
I can see why Trade.io would prioritize such a project. For this space to be successful, we will need close to zero transaction time. If IOTA's technology can do this, then it will be something a lot of crypto projects can benefit from. I have had moments when I had to wait over 15 hours for a BTC & ETH transaction to show up. If you have as well, then we can agree how annoying that can be. This is a well deserved listing.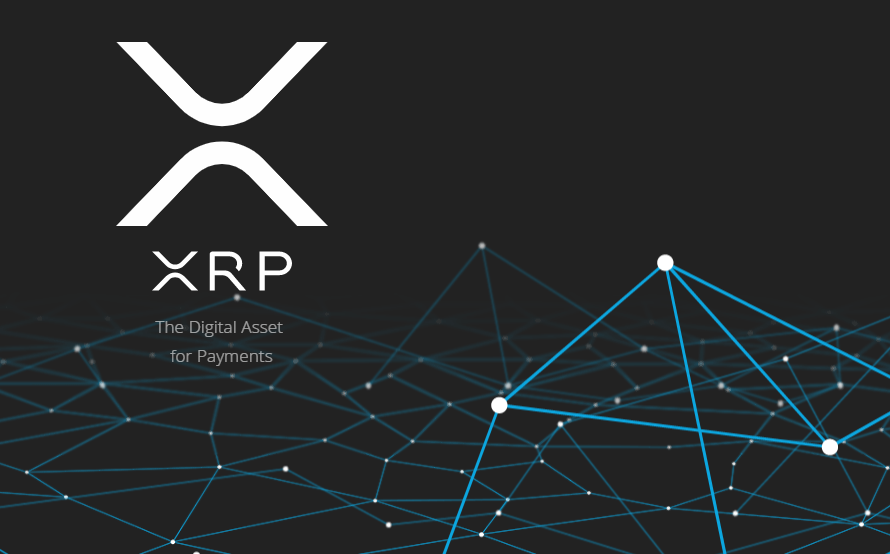 Source
Before we jump into this listing, I must admit this must have been a no brainer. Currently sitting in 3rd position on coinmarket market, this is definitely a project to keep an eye on. If my memory serves me right, I believe there was a moment last year when XRP gave ETH a run for it's money when it took the 2nd position.There's been a lot of controversy revolving around XRP in the past, but still it holds steady.
Built for enterprise use, XRP offers banks and payment providers a reliable, on-demand option to source liquidity for cross-border payments.
What this means is, XRP seeks to help banks source liquidity on demand in real time without having to pre-fund nostro accounts which will in turn translate into Payment Providers expanding their reach into new markets, lower foreign exchange costs and provide faster payment settlement.
My Take
In as much as we want the world to fully accept the blockchain technology and cryptocurrencies in general, it is a process that's going to take time, assuming it does. It will face a lot of resistance mostly from governments (as it already is) and financial institutions. If we could find a way to integrate the 2 worlds in a manner that benefits both parties then the better. Projects like XRP may play a major part in bringing that to life. If banks can work more efficiently and effectively with the help of such tech, then it would be a WIN-WIN for both parties. This was also a well deserved listing.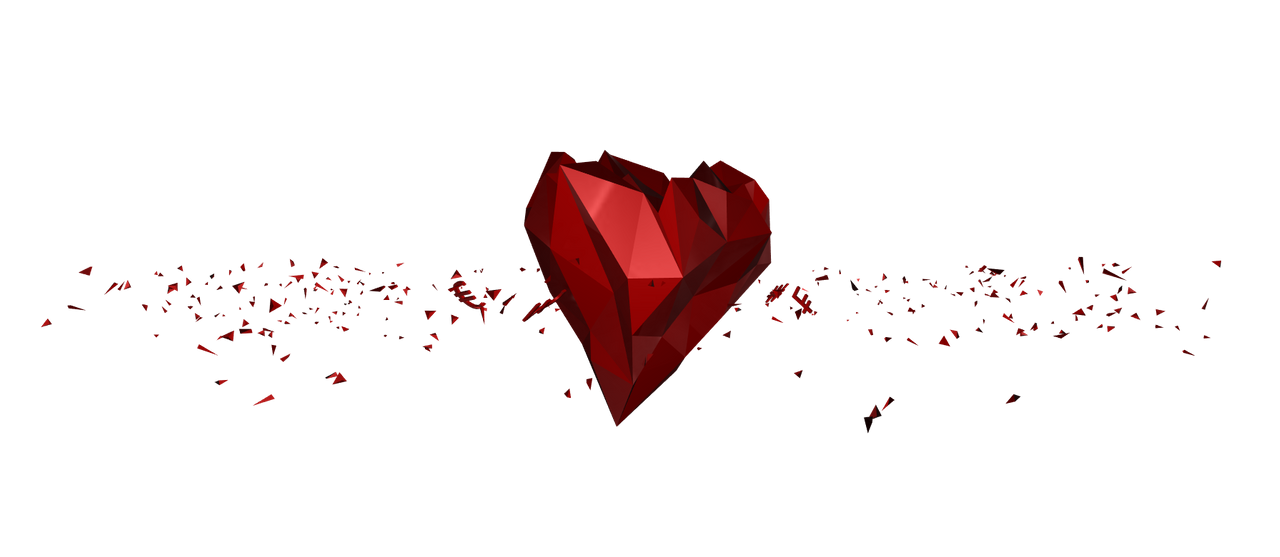 Source
Yet another very controversial project. TRON is a love-hate kind of project. So many fanatics and equally many haters. I don't know about you guys, but numbers speak volumes, and volume Tron certainly has. Currently sitting 11th place on coinmarket cap, Tron is undeniably doing so much better than many other projects. Love or Hate it, Tron has something to offer and a lot of people believe it so too, including the Trade.io team hence this listing.
Tron's Main objective is to decentralize the web & its infrastructure as we know it. Besides that, Tron handles 2,000 transactions per second, 24x7, its wallet supports other tokens on Tron's mainnet and it's highly scalable.
Here's a 1min video to give a more visual understanding...
My Take
If I'm being honest, I love how Tron's CEO Justin Sun is vocal, present & involved in his project. It maybe one of the reasons why people are so drawn to this project. It also does help how Tron seems to be making news right, left & center. In a way it helps build confidence in his believers, whether the project is questionable or not. What is it that markets say ?
People DON'T buy goods and services, they buy relations, stories & magic.
And Tron has a lot of those!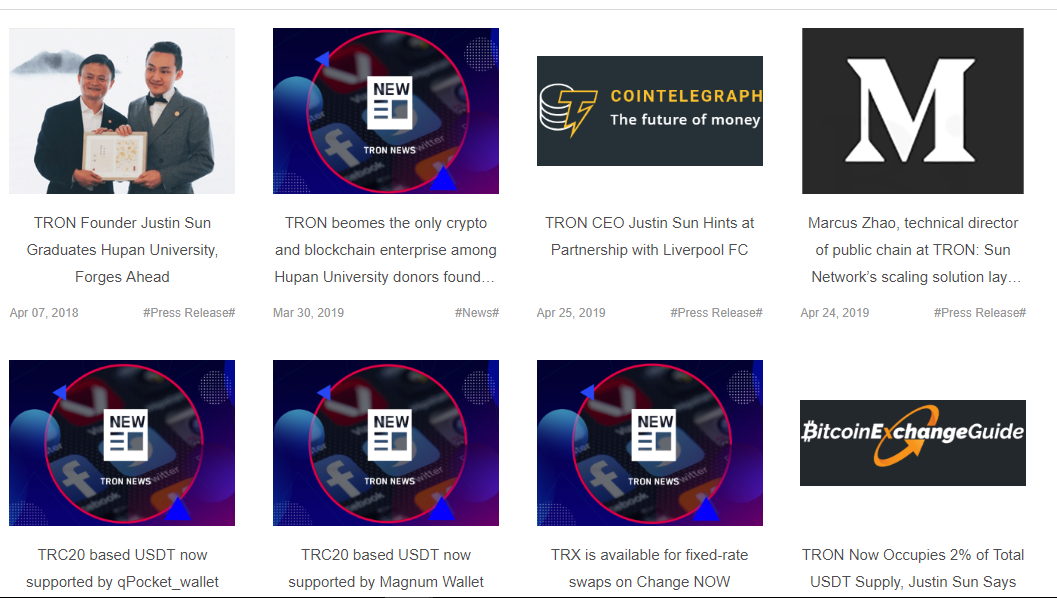 Source

Source
WOW. OK
That was my first reaction when I first saw this token. Mostly because I had never heard of it before this, you can't blame me, the token ranks #884 on coinmarket cap, when was the last time you looked beyond the 100 token on coinmarketcap?
Snowgem, A better cryptocurrency for everyone...
Snowgem is a project that is purposely dedicated to Masternode ownership. It is a Zhash (144,5) designed to help maintain a healthy GPU mining community
There will be similarities between SnowGem and other cryptocurrencies where we find that the existing solutions are sufficient, but there will also be differences in philosophy, direction, as well as execution where we believe we can improve upon these existing solutions.
I guess all I can say about this token is, it is one worth to keep an eye on. It does seem to have some potential.
Conclusion...
I would say the first 3 listings were well deserved, because, like I said, numbers speak for themselves. They may not have the most value to offer compared to STEEM as most would argue on here, but there's a reason they are doing so much better than Steem, hence, well deserved.
If you haven't started using Trade.io then I'd encourage you to look into it. You don't even have to sign up right away, you can first try the guest mode to test it out, but I guarantee once you get on it you might like it a little too much so be warned! I think Trade.io is doing a great job for the crypto & blockchain ecosystem in general and they deserve all the love & support from everyone that cares about this space. That's You & I.
Go Check Them Out!
RESOURCES
Disclaimer
This is not financial advice, nor a guarantee or promise in regards to any result that may be obtained from using the above content. The information provided here is for informational and entertainment purposes only. It should not be considered as financial and/or investment advice. No person should make any kind of financial decision without first consulting their own financial adviser and/or conducting their own research and due diligence.