Goodbye! Ethereum Classic , Hello! Ethereum Classic Vision

Well everybody knows ethereum and if you are a solid fan/investor of it you probably know about upcoming hardfork this coming January 11 , 2019 which named as Ethereum Classic Vision .
What is Ethereum Classic Vision ?
ETCV is a hardfork of ethereum that will happen on January 11 , 2019 . All ethereum holders who have 1 Ethereum will get 3 ETCV after snapshot had been taken (ratio 1:3 ) . Your ethereum should not be in exchanges as you are not eligible to received ETCV its required you have your ethereum in ( MetaMask, Jaxx, MyEtherWallet, Ledger Nano, etc.)
Why ETCV ?
| PROOF OF STAKE | SHARDING |
| --- | --- |
| A more efficient, secure, and profitable mining protocol that will keep the network fully decentralized. | ETCV network will be able to process 25000+ transactions per second as compared to just 25 in ETH. |
| IPFS INTEGRATION | FAIR REWARDS |
| --- | --- |
| Cheap decentralized file storage for your dApp. | ETCV miners do not need to worry that their reward will be arbitrarily lowered – in our system, miner and trader interests are carefully balanced. |
Launching a smart contract will incur a minimal one-time fee; unused contract can be placed in temporary sleep state as a result of a vote.
Why goodbye to Ethereum Classic ?
After 2 and a half years in the market Ethereum Classic Dev posted on their twitter last December 03 , 2018 that they are lacked of funds already and this means that the ETC will soon to be shutdown . Well, as of today we can still see that ETC still up on exchanges but since team already abandoned it time will come no more people will trade it and it will be delisted in exchanges .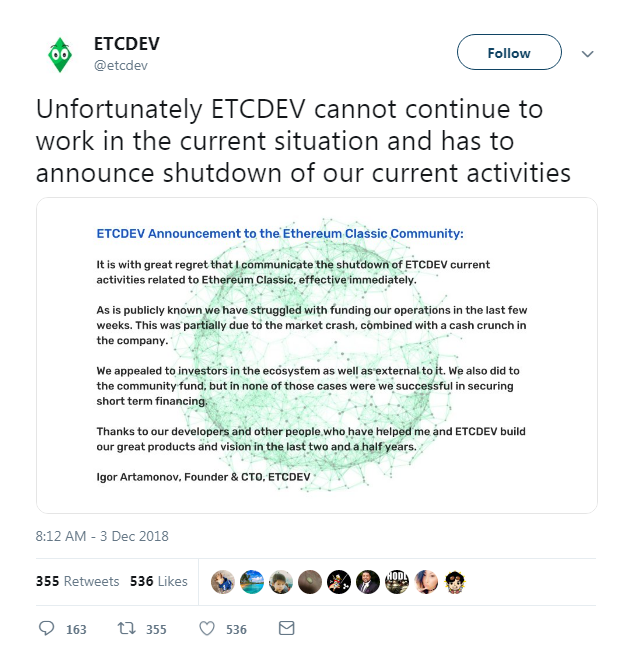 Hard fork Ethereum - Ethereum Classic Vision - 11.01.19
—----------------------------
Whitepaper: https://ethereumcv.io/whitepaper.pdf
Website: https://ethereumcv.io/#subscribe
BitcoinTalk profile link: https://bitcointalk.org/index.php?action=profile;u=997049