Regular daily update on BTC ta analysts opinions.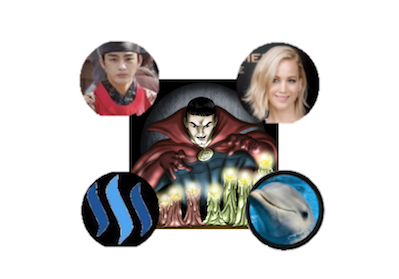 Own comment:
In general bullish momentum continues. In general a correction is expected to come soon - probably within next 2-3 days.
Significant resistance seems to be between 12'100-12'500. Critical support around the 10'000ish.
Analysts key statements:
Tone: On the weekly if we go over 11'700 numbers count turns official bullish. Daily chart runs into resistance. We started below three level of resistance and are now trading above them. If we close over them (around 11'400) he is bullish for another 2 days. Than we get a 9 which makes him expecting a pullback. 4 hour chart stagnated somehow. He expects it anyway to go two more candles up until we get a 9 and than correct.
@haejin: It might be a triple decker inverted Head & Shoulder (iSHS) in play. next critical resistance is 12'150. Wave more and more comes aways from being three'ish (bullish sign).
@ew-and-patterns: He expects correction wave 4 to be not completed but the wave b (on a lower degree of an ABC correction) seems to be completed. He expects wave c to go down to 10'000 support before wave 4 (on higher degree) is completed and bullish wave 5 starts.
@lordoftruth: Affected by the iSHS the price got pushed above 11'150 as expected. Next big resistances are 12'650 and 12'850. RSI indicates that bears are coming back soon. Move upwards is therefore to be expected to keep below 12'000. Expected trading for today 10'150 - 12'600.
@philakonecrypto: Resistance due to double channel barrier at 11'750. Count is very difficult at the moment. So no clear picture here. Support zones are 10'900ish and than 10'300.
Overall sentiment: bullish
(last: bullish)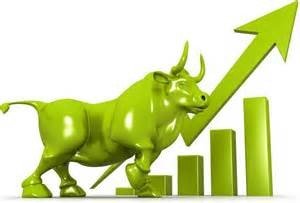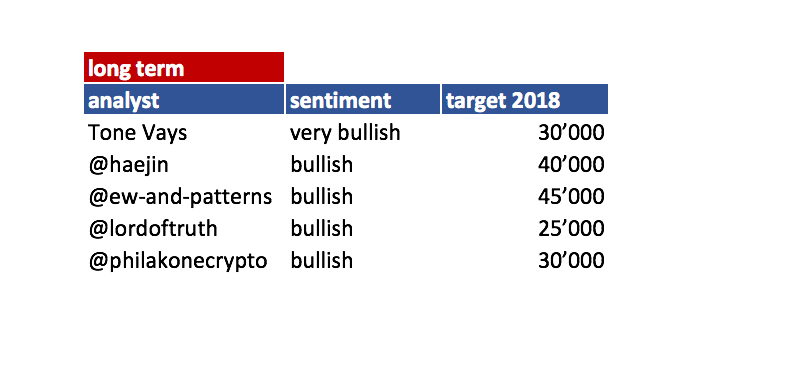 Reference table
Definition
light blue highlighted = all content that changed since last update.
sentiment = how in general the analysts see the current situation (bearish = lower prices more likely / bullish = higher prices more likely)
target 1 = the next price target an analysts mentions
bottom = price target analyst mentions as bottom
Both target are probably short term (so next few days/weeks)
lower/upper barrier = Most significant barriers mentioned by the analysts. If those are breached a significant move to the upside or downside is expected. It does not mean necessary that the sentiment will change due to that (e.g. if upper resistance is breached it does not mean that we automatically turn bullish).
If you like me to add other analysts or add information please let me know in the comments.