Introduction: The blockchain technology will become the next revolution in the digital market. Nowadays, this technology is using for multi-purposes by the businesses. There are much online based business platforms is available but it is very rare to find out a platform that works for developing the relationship between the businesses. The Loyakk Vega is a decentralized platform powered by the blockchain technology and governed by smart contracts that help them to collaborate and thrive in the decentralized economy. At present, businesses are facing numerous challenges like contract disputes, inefficient processes, limited governance, data reconciliation, privacy and security and these issues causes the loss of billions of dollars. The Loyakk has implemented most mature blockchain technology for addressing these types' challenges and they use smart contracts and artificial intelligence to enable the companies to share their essential data with partners, distributors, channel and vendors throughout the world. The Loyakk team has rare technological talent and also has a strong combination of business leadership experience with top companies around the world. This platform is a global platform for having a global identity. They have multiple branches in the top cities and top countries. They allow everyone to become a participant of their community. They have launched their crypto token and started token sale rounds. They also implement multiple reward engines in order to reward their community members from several perspectives. The early stage investors will get the most promising surprises. So, if you will invest in this platform as early as possible. I would like to suggest you for visiting their official website to know more details about their servicing system. Website link: https://loyakk.io

Company Roadmap: The Loyakk Vega Enterprise Relationship Platform is one of the most strategic platforms in the digital market. They have equal distribution and pre-plan of their works. Recently they have launched their roadmap officially that includes regular activities and goals. Here, I give you a short description of their roadmap.
• 2015-2016: The Loyakk has started their journey from 2015 and they launched the customer relationship platform in November 2015. They included SAP, Infosys, Abbott, Novartis, Emphasis and other Blue chip clients for onboarding from January to October in 2016. In that same year, they enhanced the Enterprise Relationship capability with Blockchain grade security and integrity.
• 2017: They had gathered the required elements of the customers into the platform from January to April in 2017. They also implemented enterprise blockchain solution scoping and design from May to July. At the month of August in 2017, the Loyakk has planned for ICO and patent filing.
• 2018: The Loyakk has started their main ICO sale in April of this running year. They started token Reconciliation and platform development last month. They will launch the Alpha version of their platform in September. The Loyakk will develop the customer engagement in the market with the Charter Technology and Services partners in October. They will provide industry value web solution for insurance launched and also will focus on Customer success and reference ability by the end of this year.
• 2019: The Loyakk has planned for multiple activities in 2019. They will provide industry value solution for wealth management released and launched the Vega platform update version during the first quarter of 2019. At the same time, they will release their API for third-party app developers and will include blockchain developer and implemented Vega blockchain into the platform. Industry value web solution will be provided for High-tech releasing in April. This platform will start their ecosystem marketing growth and showcasing developers and their software and add-ons in June.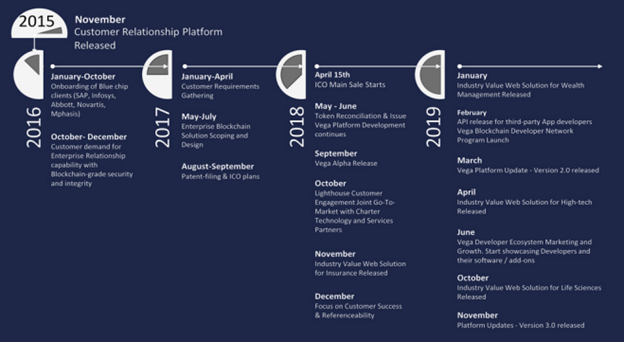 You may have a look on the Loyakk Vega informative whitepaper to get detailed information about their servicing system. Here the link: https://loyakk.io/wp-content/uploads/2018/03/Loyakk-Vega-Business-Overview-O22.1.pdf
Token distribution: The Loyakk has created a large amount of token and made the nice distribution of them. The token has distributed for the token sale, team members, advisors, partnerships, incentives and rewards and for bounty. Here, I give you a short description in below:
• 34 percent LYK tokens from total amount has distributed for sale in order to enlarge the Vega community with the participants from all over the world.
• The team members are playing the most significant role in improving the service quality. The Loyakk has distributed 18 percent of their tokens for the team members as their rewards and wages.
• The advisors help the team members to run their activities in a strategic way. They provide unique guidelines to make the services more attractive to the users. 7 percent LYK tokens has distributed for the advisors.
• The Loyakk Vega Enterprise Relationship Platform has made multiple partnerships with the world's top companies to enlarge their business fields. They have distributed 14 percent tokens from total budget to make more strategic partnerships.
• This platform has several kinds of reward engines for rewarding their community members from several perspectives. 16 percent LYK tokens has distributed for incentives and rewards.
• Another 11 percent LYK tokens has distributed for bounty campaigns in order to advertise their platforms in the digital financial market. You will able to earn LYK tokens easily through taking part in the bounty campaign.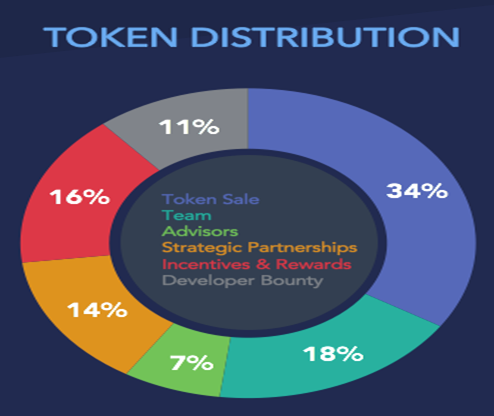 If you want to know more details about their tokens, you should visit their official website. Here the link: https://loyakk.io
Conclusion: Those who like to enlarge their profits within a short period; the Loyakk Vega Enterprises Relationships Platform is the best option for them. This platform will allow you to earn LYK token at free of costs through arranging bounty campaigns. This platform is a nice combination of the blockchain, smart contracts, artificial intelligence and more. The Loyakk Vega is a user-friendly platform where the users will always come first for any kind of services or requests. They created their digital currency in order to improve the relations between the platform users that help them to run their platforms self-sufficiently. The businesses can share their sales, deal data, actionable enterprises and drive the automated process by using smart contracts and also able to create value for their end customers. The Loyakk is the best illustration for you if you want to become a beneficiary within a short time. Nowadays, this becomes the first choice for the peoples because of their disciplined and transparent services. The token sale is live now and it will be continued for a limited time. If you do not want to lose the chance to get attractive bonuses on LYK tokens, you should not make late to take part in their token sale events. I highly recommend you to dispel your thoughts about traditional platforms and make the stable decision of investing in the Loyakk Vega Enterprise Relationships Platform.
Here, I give you a few important links that may help you:
• Company Website: https://loyakk.io/
• Twitter Pages: https://twitter.com/loyakkvega
• Whitepaper Link: http://www.loyakk.io/#white-paper
• Telegram Group: https://web.telegram.org/#/im?p=@loyakk
• Facebook Page Link: https://www.facebook.com/loyakk
• Bitcointalk ANN Thread: https://bitcointalk.org/index.php?topic=2838562.0
• BitcoinTalk User Name: freelancer.zakir
• BitcoinTalk Profile Link: https://bitcointalk.org/index.php?action=profile;u=1296290