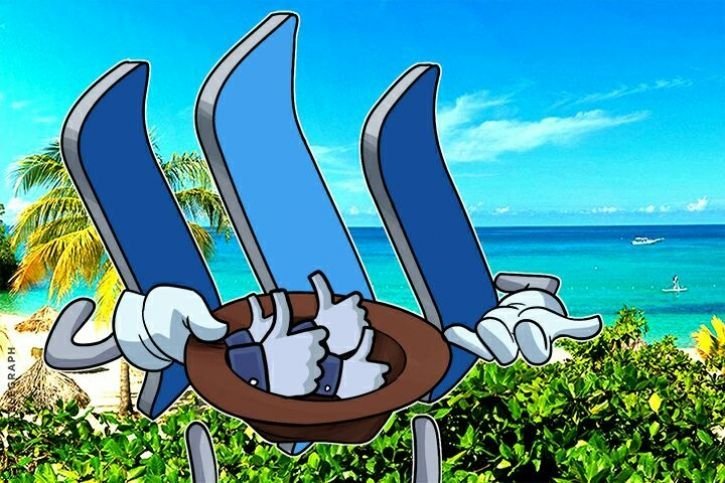 I've been MIA this weekend thanks to whatever messed up Chinese flu virus took hold of my body and fucked me up gooooood. I haven't been proper sick like that in a while and I'm going to treat it as a bit of a wake up call to fix my diet up a little better again and not get lazy.
Well, I see that the crypto markets this weekend have been as healthy as ever, swinging around like the crazy mofos they are. I still have to check myself when I'm looking at charts trading normally on the weekend, but this is the new paradigm that crypto has brought markets into and if you want to be on the edge of where it's at, then you have to be right fucking here.
For the currency traders on my @forexbrokr Twitter that read these Steemit blogs, the cryptosphere is where things are happening RIGHT NOW and I can't stress enough that you want to be involved now before things even start to get going.
Let's get into it.
---
STEEM
I honestly just love STEEM. Everything about it. The site, the concept, the logo (how good is the logo), everything!
And finally I can get around the direction that the price of STEEM is headed.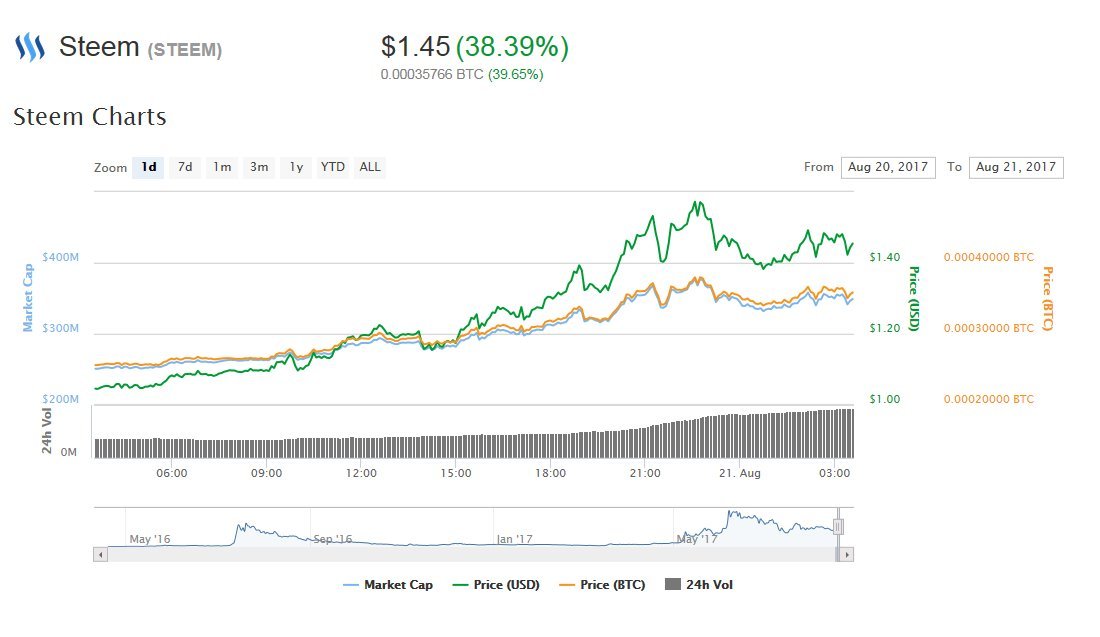 Yep, that was a 50% rip on a Sunday haha!
I just hope you have been and you still are accumulating STEEM here because while a +50% rip might sound huge on the surface, just take a look at price over the last year or so and see that right now, we're not even close to anything resembling a high.

If you're on Steemit then you probably believe in the potential of rewarding quality content creation with crypto, rather than letting the profits filter straight into Zuck or Google's pocket. You know the value that could be created here is UNREAL. Well now we're starting to see that backed up in price movement on the charts.
Let's take a look at STEEM/BTC on the daily: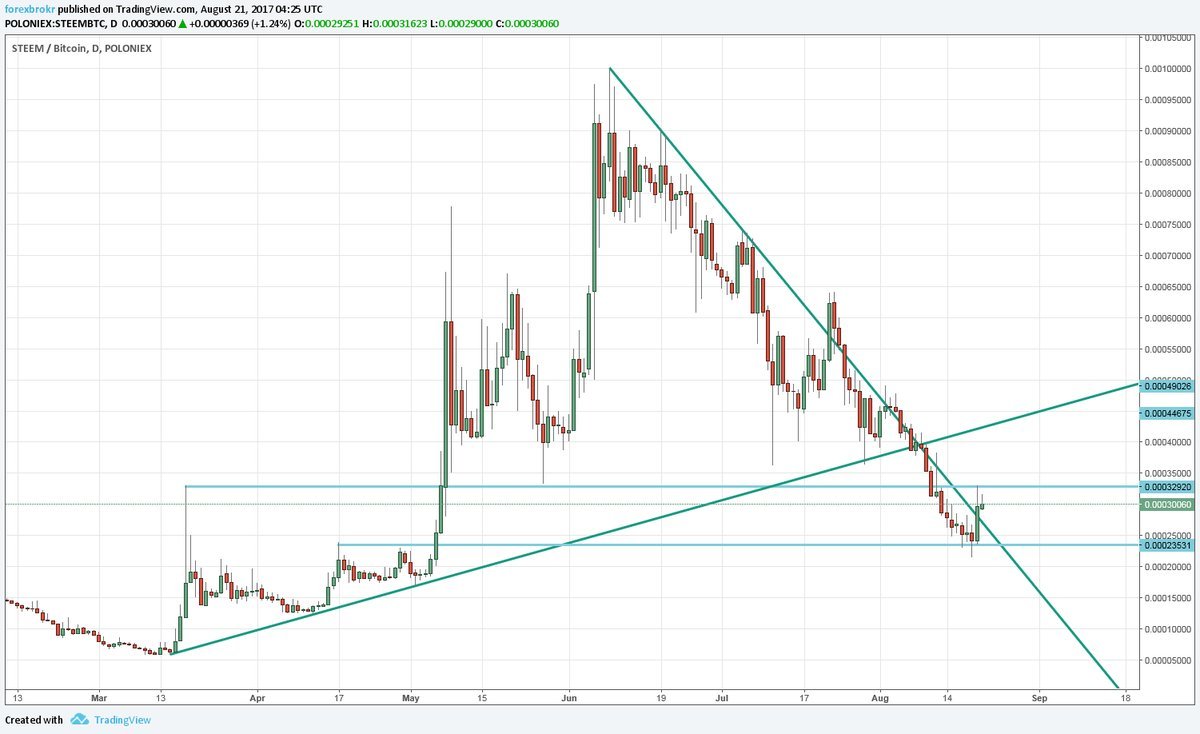 The last time we looked at STEEM/BTC, things weren't looking too bright and to be fair, we're still not actually above that level from just a few weeks ago.
But look at that beautiful previous resistance turned support retest that price ripped off (coinciding with the $1.00 USD mark pretty much). If we do in fact break this downtrend, faces are in line to get ripped the fuck off quicksmart.
What I want you to do here is to look on that STEEM/BTC chart from back in May and compare it to what we are seeing now at pretty much the exact same price. Does it look familiar?
Well for us STEEM bulls, let's just hope that the outcome is the same!
Ah it's good to be back.
Peace!
---
Related @forexbrokr CHART ART Blogs
If chart setups that I've spoken about before are related out then I'll leave them here.
CHART ART:
STEEM/BTC Hits Confluence of Short and Long Term Resistance
---
Please leave a comment with your ideas or just share a chart.
Blogging about markets is all about sharing ideas and making us see all possible angles. I look forward to having you follow along and reading what you throw at me.
Twitter:
@forexbrokr
Instagram:
@forexbrokr
Website:
www.forexbrokr.com