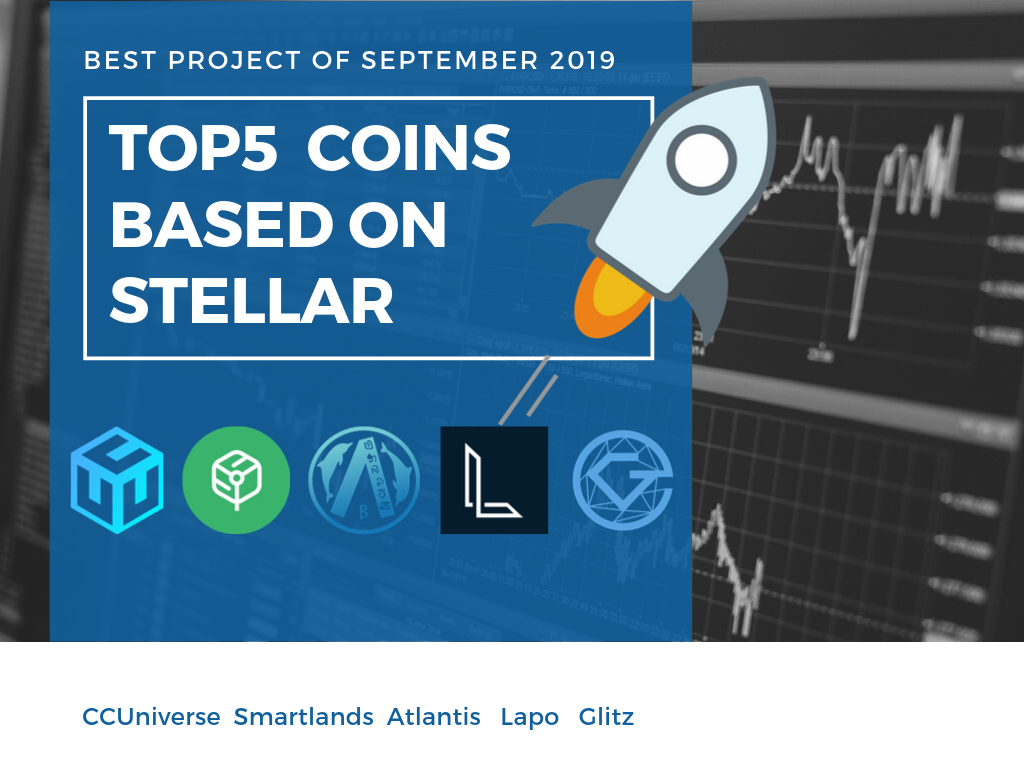 We have prepared for you a list of 5 projects that stand out from the others based on the Stellar blockchain.
Remember that Stellar has its own DEX exchanges. Among other things, Stellarport.io, there you can trade the currencies listed.
Please watched carefully each coin and give us Yours feedback. We think that all of that crypto is worth to invest for future profits.
We chose these currencies because of:
team activity, interesting vision and market potential (development level since its inception),
CCUniverse ( UVU ) : https://ccuniverse.org
Smartlands ( SLT ) : https://smartlands.io/
LAPO ( LAX ) : https://lapo.io
Atlantis Blue Digital (ADBT) : https://atlantisblue.org/
GLITZKoin ( GTN ) : https://www.glitzkoin.com/
VISION:
CCUniverse UVU
CCUniverse is a project connected with infrastructural program. The initial focus of the project will be on an ATM crypto program. CCuniverse plans to set up its devices in Europe to facilitate the purchase and exchange of various cryptoassets. In the future, CCUniverse plans to set up charging stations for electric cars, including crypto-payment services that will facilitate car rental services.
Smartlands SLT
An unrivalled co-investment model that allows you to invest alongside experienced asset managers and affluent property owners. They are using the blockchain technology to change investing in real estate by making the process more accessible, transparent and less costly for a wide circle of global investors.
Lapo LAX
Simple and powerful tools to make it easier for businesses to accept cryptocurrencies. Open a new world of opportunities by integrating crypto-payments in your business. Lapo tools are designed to work with your mobile phone, computer or tablet. Easily accept any cryptocurrency with our Merchant Portal and exchange them in a simple way. Platform also allows you to create customized promotions for your clients that use crypto.
Atlantis Blue Digital ABDT:
Atlantis Blue shows yet another real-world application of cryptocurrency, securing Larimar, a semi-precious gem. This stone is found only within a particular dead volcano on the Caribbean island of Hispaniola, alongside the Dominican Republic. Larimar is also known as the Blue Stone of Atlantis, hence the name for the platform. The new currency will be Atlantic Blue Digital Tokens, and it will dramatically improve the entire process of mining and selling Larimar.
GlitzKoin GTN:
GLITZKOIN seeks to leverage blockchain, smart contracts, and machine learning to reduce risk and fraud for banks, insurers, and open marketplaces in the diamond industry. The team claims to provide an ecosystem, viz. a supply chain solution, tracking & certification, and 'DiaEx', a decentralized exchange for the trade of diamonds (and related services).
POTENTIAL:
CCUniverse UVU: unique vision, young energetic team, fast growing project, small supply 310m,
Smartlands SLT: solid, recognizable project from the real estate sector (rapidly growing blockchain industry),
Lapo LAX: great site, very experienced in financial sector, successfull roadmap,
Atlantis Blue Digital ABDT: sensitive mission to save nature, good ideas for project development, coin miner.
GlitzKoin GTN: valuable team, good token economy, sustainable development
TRADE:
You can trade with these coins at Stellarport.io for example or You can buy it directly at their websites.
CCUniverse ( UVU ) : https://ccuniverse.org
Smartlands ( SLT ) : https://smartlands.io/
LAPO ( LAX ) : https://lapo.io
Atlantis Blue Digital (ADBT) : https://atlantisblue.org/
GLITZKoin ( GTN ) : https://www.glitzkoin.com/