Hello Friends,
Today I will explain that why investing in ICOs is better if compare with day trading but let me tell you one thing before moving forward that everyone is here only for one purpose, making smart investment and earn good profit.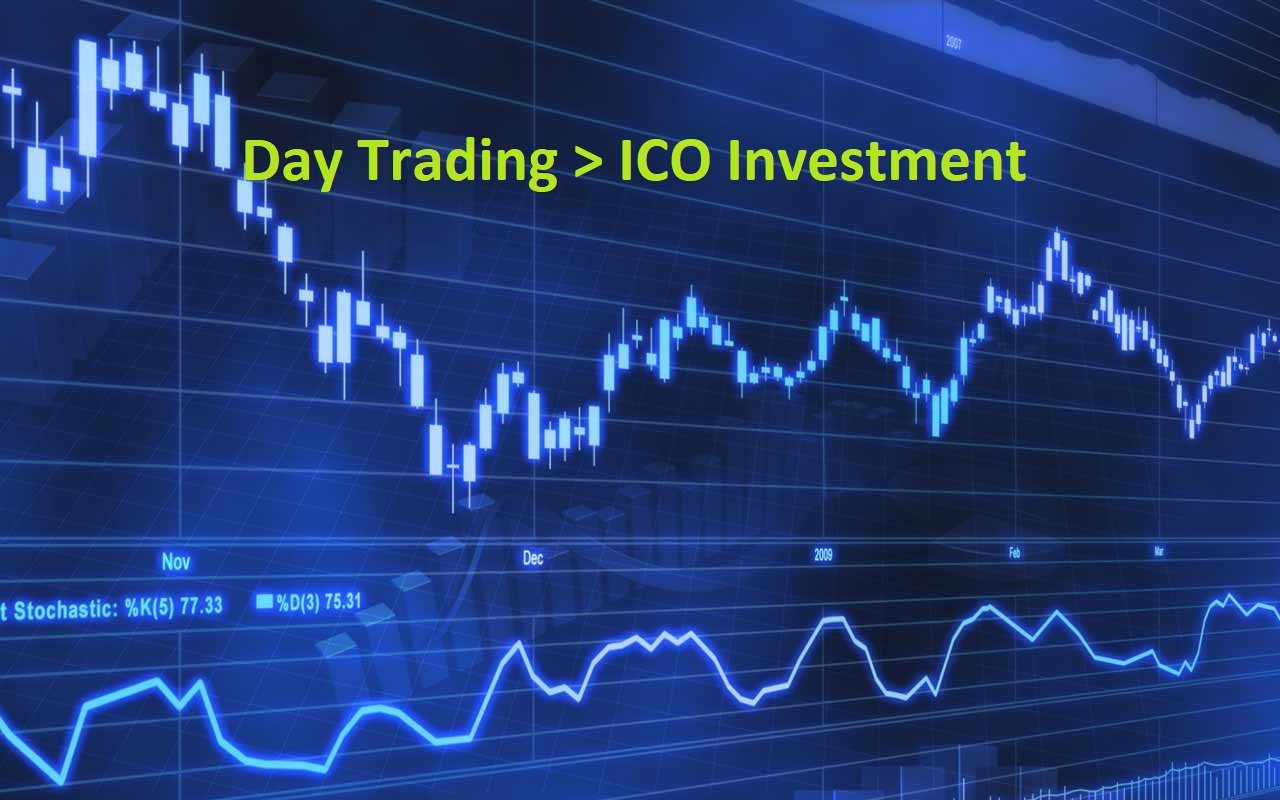 There are two types of investing in cryptocurrency. One is day trading and other is investing in ICOs. Investing in ICOs means that you are funding in a project or in a product that you think will do well in future. From an investor perspective, making investment into an ICO is significantly more secure than investing in bitcoin and altcoins.
Here are some reasons which I am going to tell you that why you should start investing in ICOs.
Safe Investment
From an investor perspective, investing in an ICO is safer than purchasing coins. Because during ICO period, investor buy tokens in very cheap price and after completion of ICO, the token price increases.
The main instability of the price an ICO token is when it lists on exchange. Then the value of token will depend on demand and potential of the token, hence ensuring a rise in valuation.
The ICO tokens which fail to hold its value are the ICOs which are running on bad management, unprofessional and impossible ideas and very hard to be completed. These type of ICOs can easily be recognizable in their whitepaper and project ideas. So be careful when investing in ICOs and make sure that the due diligence is done to avoid being scam.
Quick Returns
If you want to make a quick profit, then ICO can be a good choice. When company start their Initial Coin Offer (ICO) then you can buy tokens on very cheap price and sell them on high price once the token list on exchange because, after listing on exchange, the token price will spike and making it possible for a profitable sell off.
The token price can be increase further if the company or its product is in high demand. Which again will become clear to the investor during the project recce.
Stable Growth
The sign of a good executed ICO is that its trend of growth remains stable which will show during its development period. Before starting of ICO, the company gives a spectacular and stable road map which show that what they want to achieve. if they follow the road map and keep the product worthwhile then the progress will increase the token's value.
Investment In Growth Of The Company
Investing in ICOs is same as investing in the share market if project or product will do better then the value of token will grow. That's mean, you are not only investing in an ICO but also the ICO management and team who are behind the project.
There are no technical rules to know which product will do better and rise exceptionally. However, consistent development can be anticipated in based of the product, team management and their goal.
No Speculation
A recurring market conduct is the big change in the price of a coin. This is normally happened by regulators, scams, speculations and hacks. when any of the following things happen, it sends the market into a panic and investor conduct large sell-offs to cut their losses, which impact the market value of the coin for every other person that is HODling.
In the ICO, it will never happen because there is nothing for speculation and the price will only fluctuates when it lists on exchange and the token value will get steady growth or none at all. When investing in ICO, you don't have to worry about market speculation and regulators focus on a token which will adversely affect on token's value.
Day traders have to deal with price fluctuation, speculation and regulation but ICO investors have to worry about and deal with legitimacy, vision and value along with regulation. In ICO, the risk element is higher than then the day trading, but there are so many things which can be done to avoid them.
Before investing in ICO, you must make sure that you are buying a token of the company or project which is legitimate and are able to convert their vision into significant value.
Always do your own research before investing in any ICO, regardless how many people talking about the project.