Zane's Crypto Chart Spotlight: Edgeless (EDG)!
Welcome back Traders/Investors/Chart Enthusiasts/Everyone!
Edgeless is an Ethereum smart contract based casino that focuses on delivering transparency to the gambling world. Their name, Edgeless, comes from their goal of attempting to remove the "house edge".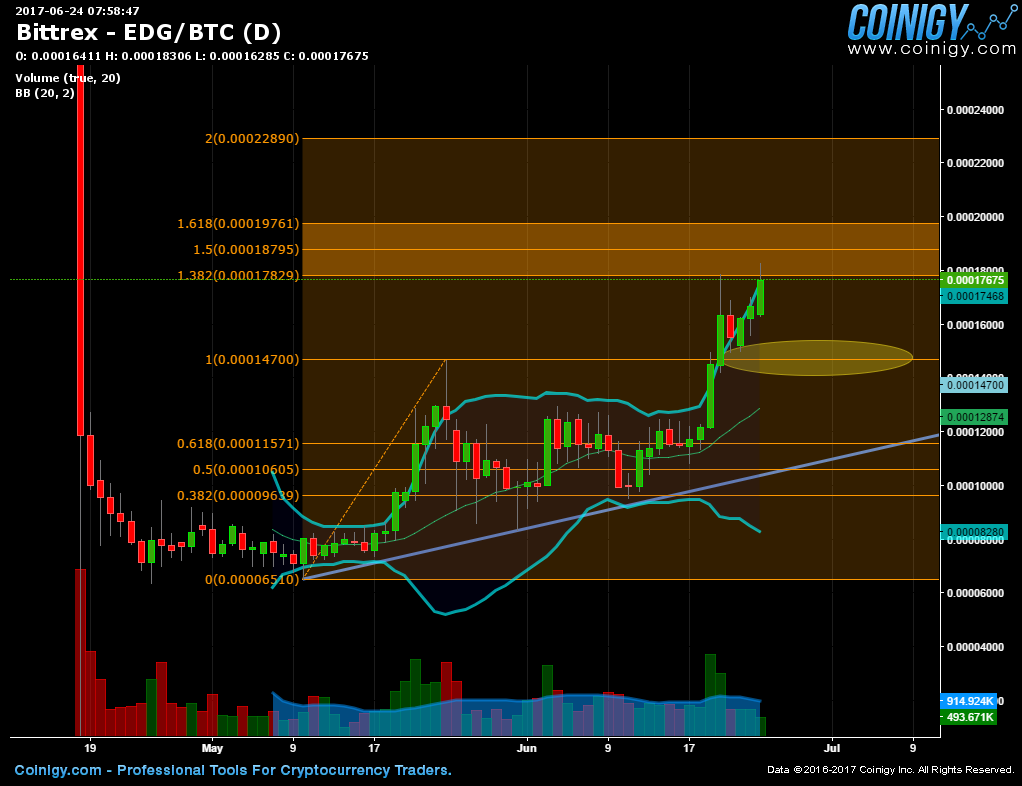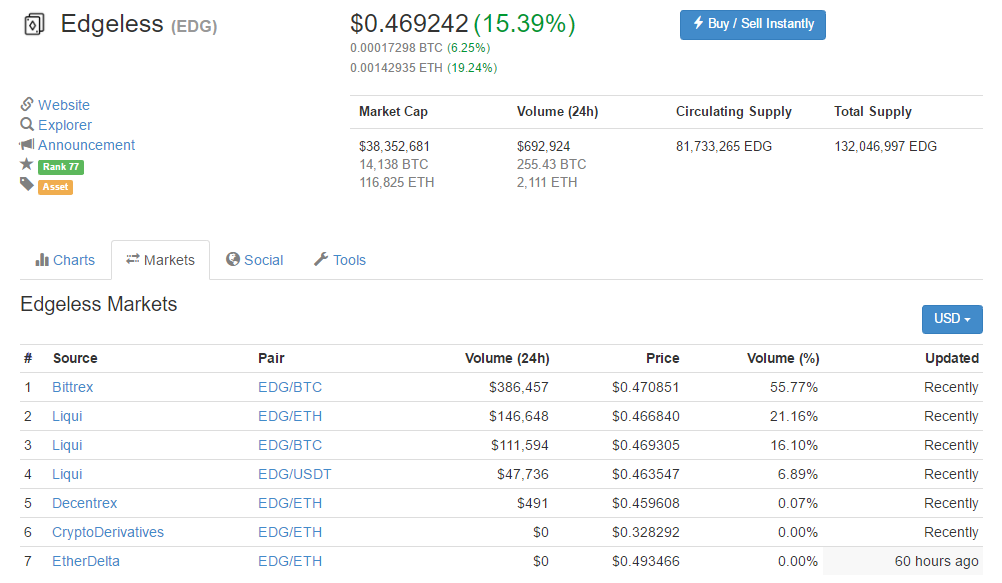 What I'm Seeing:
Nice beginning to a trend so far. It has already moved to the 138.2% Fibonacci projection level based off the previous wave. A very tight Bollinger Band squeeze kicked off the move from the flat base consolidation.

Volume supported breakout and the following consolidation made higher lows, which is a great combination of strength.
Entries:
An entry now at
0.00017675 BTC
wouldn't be a poor choice in the longer term view, but a better entry would be to wait and try to get a pullback entry of some kind near the old highs around
0.00014700 BTC
as shown on the chart in the orange ellipse. That is a
16%
discount when compared to entering now at
0.00017675 BTC
.
Short Term Targets:
Target area 1: the 200% Fib Projection = .00022890 BTC
Long term targets: Based on market cap size of 39M in USD, one could expect this market to grow to a $250M market cap. That would result at an estimated growth of 600%.
Downside Expectations:
A drop all the way back into the
0.00009500 BTC
level would still be OK for this trend to remain intact but that would be a 50% retrace from the current level. Be very careful if you enter now and weigh the upside against the downside to make any decisions.
Thank You!
I hope you enjoyed this breakdown. Let me know what you think about my review. Which coins do you think are about to move? Comment below!
I look forward to your comments! If you benefited from this please follow and up vote!
Thanks,
Zane
Obligatory Disclaimer:
I can't guarantee any of these coins will do anything I say. I'm bringing attention to what I believe are great looking charts and hoping for the best but expecting anything.