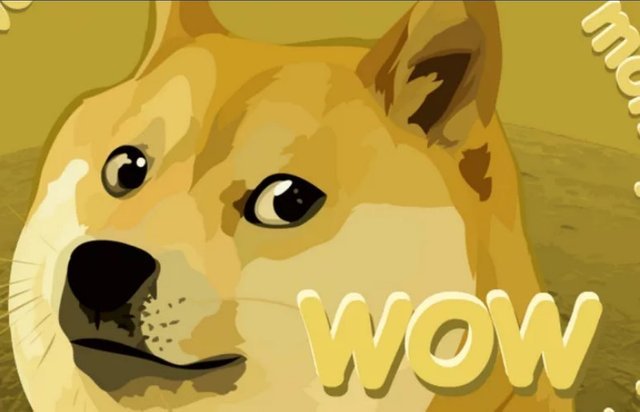 ATM provider CoinFlip announced in a recent Tweet that the cryptocurrency can now be bought with cash across its network.
The world's leading Bitcoin ATM operator announced earlier today that it is now possible to buy DOGE with cash at any of their 1,800 locations in the US, and even offered a discount code for 10% off all transaction fees. This is great news for DOGE holders, as it basically means there is going to be a surge in demand for the token.
It seems that the memecoin has been attracting major attention lately after being endorsed by Elon Musk, Snoop Dogg and other influential figures on social media. However, the recent announcement by CoinFlip is the real deal: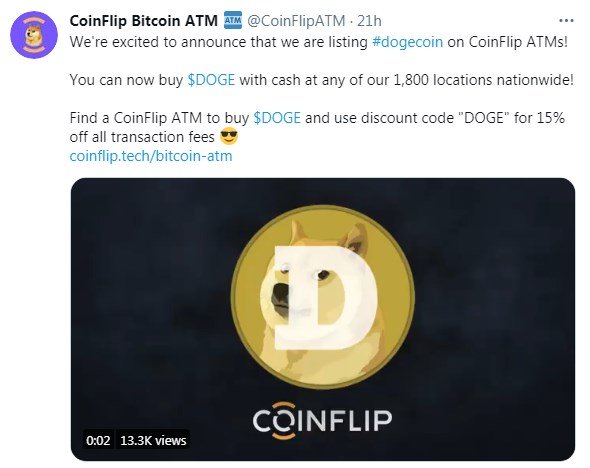 In case you didn't know about CoinFlip, the company has been around since 2015 and has the largest network of Bitcoin ATMs in thw United States of America. They have been offering reliable services, providing customers with the ability to buy cryptocurrencies using cash or card.
CoinFlip's mission is to give the world quick, easy, and secure access to the benefits of cryptocurrency. We believe that cryptocurrency provides an inclusive financial system, which puts individuals' needs first.
Source: coinflip.tech
CoinFlip seems to believe DOGE is more than just a memecoin with the recent events that have been attracting major attention to it, and thus decided to enable their customers to exchange their fiat money for Dogecoin using their services.
"CoinFlip has always been about the small business and retail customers, and with recent events, dogecoin has paradigm-shifted itself into more than just a meme coin, it has become a symbol of the small league investors," a spokesperson for CoinFlip told CoinDesk via email.
Source: coindesk.com
We all remember how DOGE's price increased by more than 25% literally in a few minutes in early February after Elon Musk shilled it on Twitter, so it's interesting to see what the cryptocurrency will do this time around given the recent announcement by CoinFlip.
The best part is that the company would like to offer custom CoinFlip DOGE ATMs for placement in Tesla Stores, with CoinFlip CEO Daniel Polotsky going public about it as seen in the screenshot below: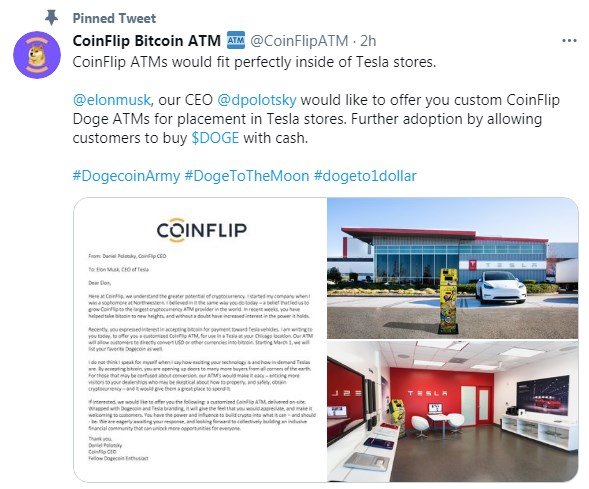 It looks like the Dogecoin army is growing as the days go by, and it will be interesting to see how the market reacts to the recent developments. CoinFlip's Twitter account has been very busy the past 24 hours, so keep an eye on it for further information regarding the issue.
One thing is certain: CoinFlip has been growing exponentially lately, and this serves as evidence that the cryptocurrency game has been attracting major attention over the last twelve months.
Coinflip has seen astronomical growth in demand over the last 12 months, with revenue more than tripling year-on-year as the firm increased its ATM count from 441 to roughly 1,800 since January 2020. Coinflip ATMs are installed in 45 of the United States' 50 states.
Source: cointelegraph.com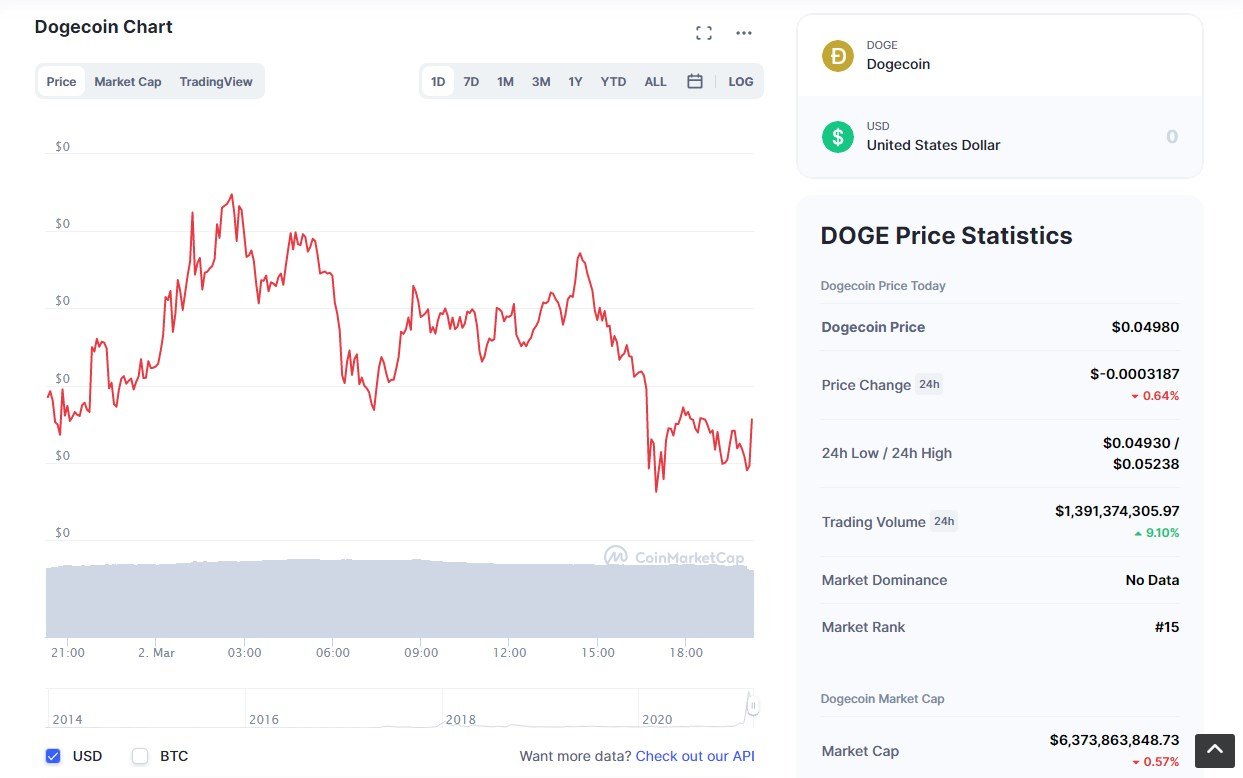 In the meanwhile, DOGE is currently trading at $0.049, a 0.5% decrease over the last 24 hours. With trading volumes of approximately $1.4 billion and a market cap of roughly $6.4 billion, DOGE is sitting at the 15th spot of the table. Will the latest news help it climb up the ranks even further? Only time will tell.
It's a crazy market and it's literally impossible to lose money during the bull run, as you only have to pick a coin and buy it in order to make money. With that in mind, and judging by the crazy runs we have witnessed in the past, I think it's safe to say that anything is possible.
Exciting times to be around, and I think we can all agree that the future looks bright. The entire industry is still in its infancy stage, and each and everyone of us is lucky to be among the early adopters. Keep grinding, producing, consuming and stacking; it will pay off.
---
Thank you for your attention
Alright guys, that's it for now. Thank you for taking the time to read those lines.
Just my two cents. This is by no means financial advice. Just sharing my personal views and experiences. Please do not take my word for your investment choices, and always do your own research.
Stay safe and have a good one,
@lordneroo
---
---
---
Best Faucets to Earn Crypto with Zero Risk (Affiliate Links):
Best Exchanges to Trade Crypto (Affiliate Links):
Best Platforms to Earn Crypto for your Content (Affiliate Links):
Connect with me Here:
Posted Using LeoFinance Beta