When the planned blockchain-based book publishing platform Authorship.com announced their ICO they offered a 'bounty program'.
Giving them your email address would get you free 75 ATS tokens (planned worth a bit over 10 Bucks, will be less now that the platform has shown to be just another rip-off).
Referring others would give you another 75 tokens per person referred.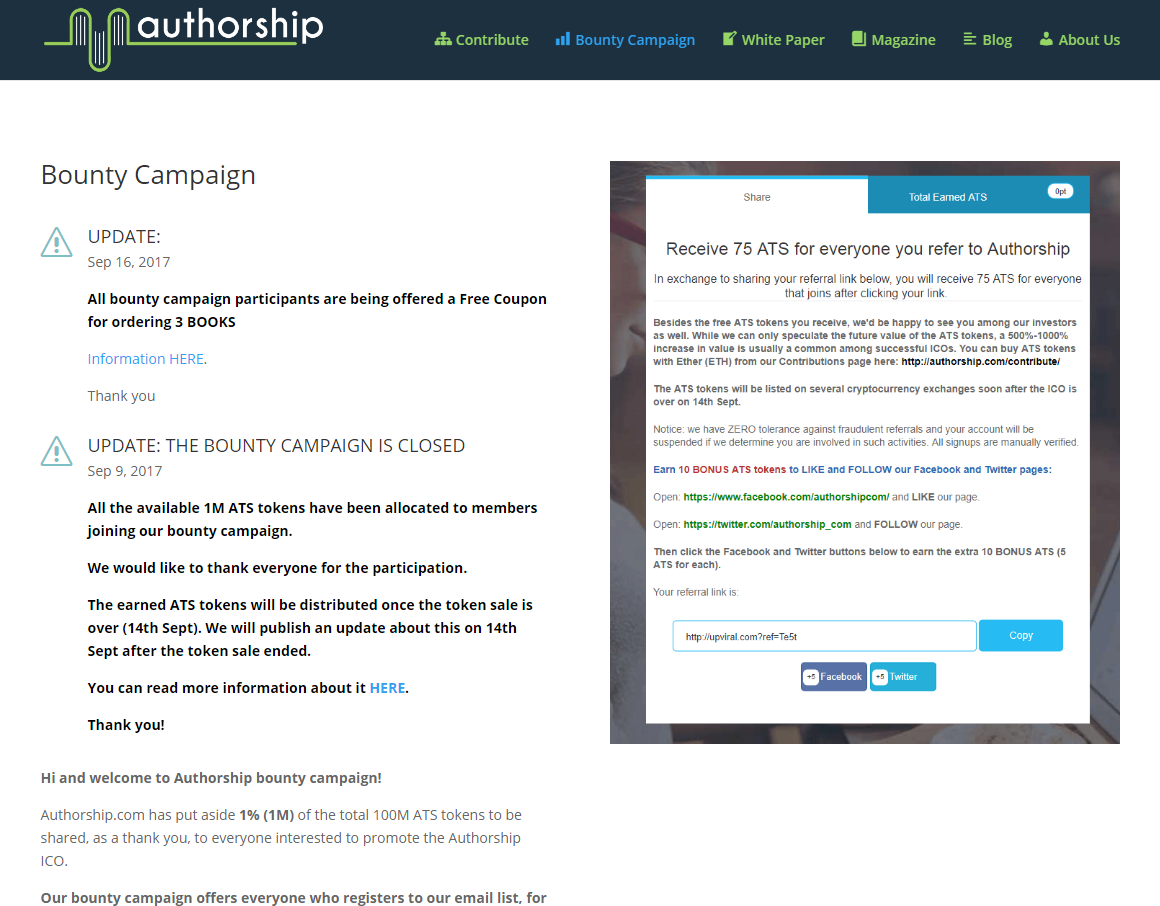 Authorship fueled the frenzy by posting 'leaderboards' showing off people with thousands of referrals, like any good MLM ponzi pyramid scam would do, and there were a LOT of people drawn to the free tokens and a lot of people (dead, alive, real, fiction, ...) were referred.
That is life.
If you use a referral program and push it aggressively, expect fraudulent sign-ups.
Get your act together and sort them out. Or swallow the toad and pay out everyone, including the cheaters.
I personally had just a handful of – legit – referrals, but the way Authorship handled this after the ICO went through is despicable.
Oh wait, what happened?
Authorship paid out the tokens to those who actually invested Ether. I can confirm that (I invested a symbolic amount).
But almost everyone who took part in the bounty program got screwed.
They posted a lengthy and lame excuse (http://authorship.com/2017/09/16/update-authorship-bounty-campaign/), blaming everybody but themselves, and, concluding this Hillary-level bullshit, announced that everybody who took part in the bounty program would NOT receive any tokens, but instead an incredible wonderful coupon code that might be used in case their platform ever gets done and you can actually buy books there in the distant future…
Not holding my breath.
(More likely they will change their business model and sell all the personal data and email / ether addresses they collected with the form where you could claim your fake-tokens.)
Posting that 3 books coupon code publicly is another middle finger to anyone who helped them promote their fake-bounty program:
now everybody on the freaking Interwebz gets the same reward as people who actually worked to make that ICO work…
Authorship.com: maybe you really had those difficulties that you describe in your rant, maybe not.
What you did now will result in one thing: nobody trusts you any more.
You can fuck right off.