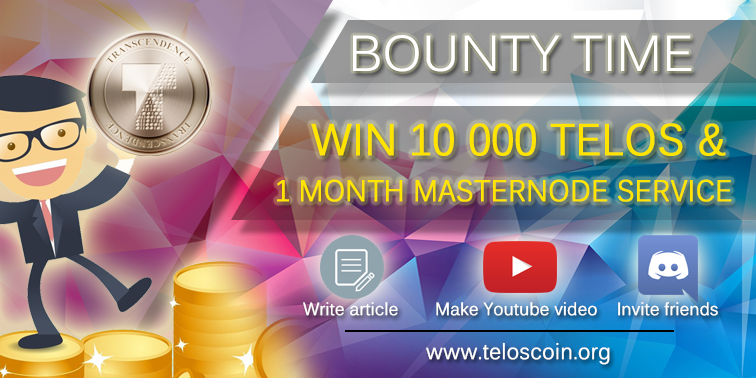 You already heard about Transcendence blockchain and TELOS criptocurrency, if not here you can read about it in detail:
https://busy.org/@mightymicke/transcendence-blockchain-telos-opportunity-for-safe-investment-and-passive-income
As promised there are many offers and bounties. Today I present you bounty who just announced and spread across social networks.
Unique opportunity to win 10 000 TELOS & one month masternode service
What you should do?
This is YouTube, Article and Invite Bounty. You can choose one or do all 3, it's by your choice.
Write amazing article about Transcendence blockchain & TELOS coin
and/or
Make wonderful Youtube video describing Transcendence blockchain & TELOS coin
and/or
Invite as much friends you can on our Discord server (https://discord.gg/kabCydH)
Bounty started at 01. September and lasts until 31. September 2018.
All information on Discord: https://discord.gg/kabCydH
Links:
Website: http://teloscoin.org/
Bitcointalk: https://bitcointalk.org/index.php?topic=4453455.0
GitHub: https://github.com/phoenixkonsole/transcendence
Discord: https://discord.gg/n9RdRaC
Twitter: https://twitter.com/indieGOretro
MNO: https://masternodes.online/currencies/TELOS
Buy TELOS: https://graviex.net/markets/telosbtc
https://wallet.escodex.com/market/ESCODEX.TELOS_ESCODEX.BTC
Tags:
#teloscoin #masternode #masternodes #cryptocurrency #bounty