Originally posted on my Touchit.Social Blog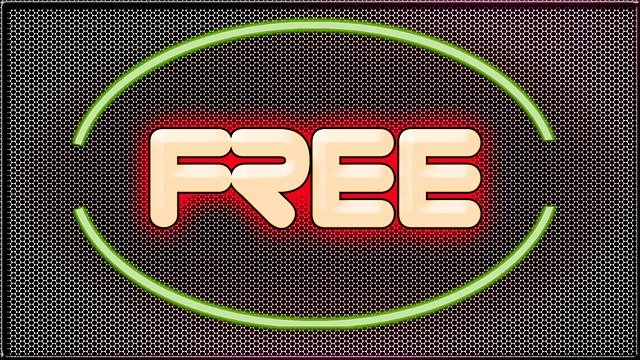 VIT recently enabled free account registration on the blockchain through the Touch.Tube portal. Since the VIT mainnet came online, new accounts had to include a 1,500 VIT deposit that was converted to VIT Power and deposited to your newly created account. Now you don't need the deposit and upon signing up your account will be credited with 0.100 VIT and you will receive delegated VESTS to help boost your voting power so you can earn more. As of the time of writing this post new accounts are receiving about 1,295 VESTS. For a little background on how it all works and the differences between VIT, VIT Power, and VESTS take a look at this older VIT FAQ.
In this post I will walk you through the simple process of creating an account on the VIT blockchain. This post is mostly written for new users who have little to no experience with cryptocurrency. It focuses on the importance of securing and backing up your keys as we go through the sign up procedure.
Creating a free account on the VIT blockchain is very similar to creating an account on most any other online platform. The only big difference is that you will generate a master password during the process and that master password is your primary private key to your VIT wallet. YOUR PASSWORD CAN NOT BE RECOVERED if you lose it or don't copy it down correctly. So unlike other account creation processes where you may use a simple password and store it in the browser, the VIT account creation process requires you to take your time, be accurate, and confirm the safe storage of your master password. If you take your time and store your password correctly and securely you will have very little chance of ever losing it and therefore losing access to your funds in your VIT wallet.
So with all that said.... let's get started!
Step 1: Visit Touch.Tube and click the signup button in the top right of the screen.
This will take you to signup.vit.tube.
Step 2: Fill out the form.
Before you fill it out, also open your email inbox for the email address you will use to register. Add info@vicetoken.com to your contact list. This should help ensure delivery to your inbox. I have heard from some new users that used Gmail addresses that the email took a very long time to arrive or got sent to their spam folder.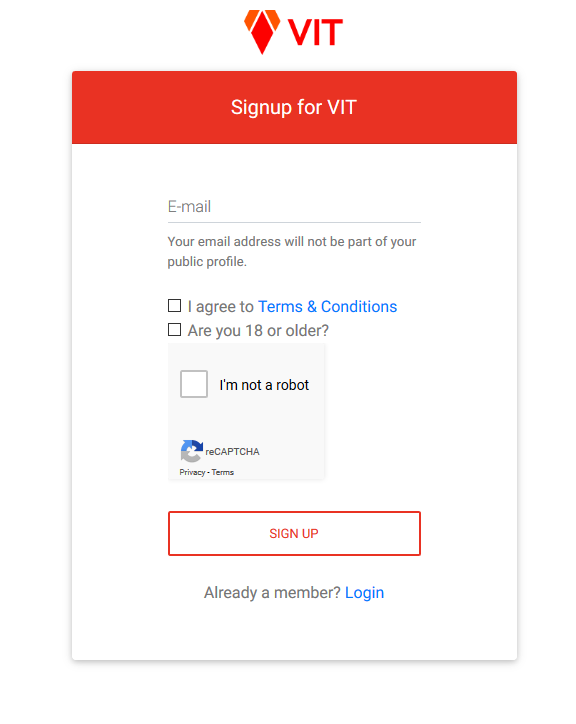 Now, fill in your email address, check the boxes, and press the sign up button.
Step 3: Check your email inbox.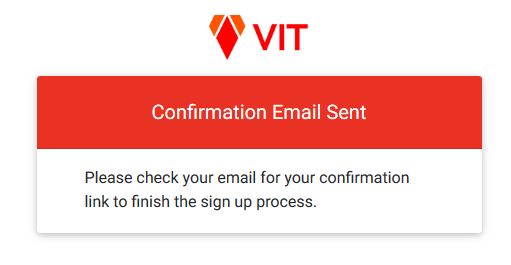 You will receive an email from info@vicetoken.com asking you to confirm your email address. If you do not get the email within ten minutes check your spam folder. Once you receive the email, click the link in the message to confirm your email address and activate your account.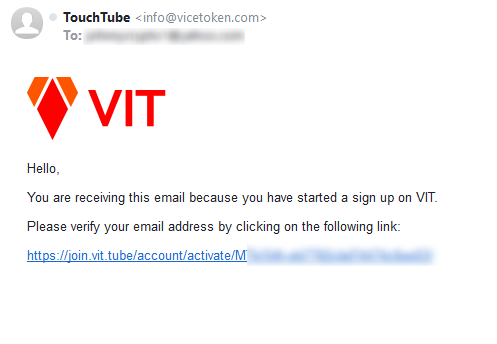 Step 4: Choose your username.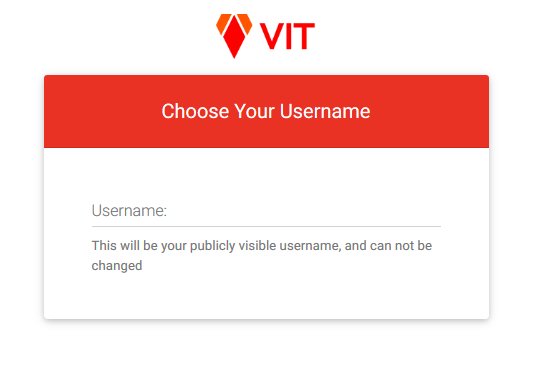 The activation link will take you back to vit.tube where you will see a one field form to select your username. At this point I recommend you open a new text file to save your account info to. Additionally, I would recommend saving the file to a portable flash drive that you don't use every day.
Now fill out the field with your desired username and save it to your text file.
Step 5: Generate your secure password.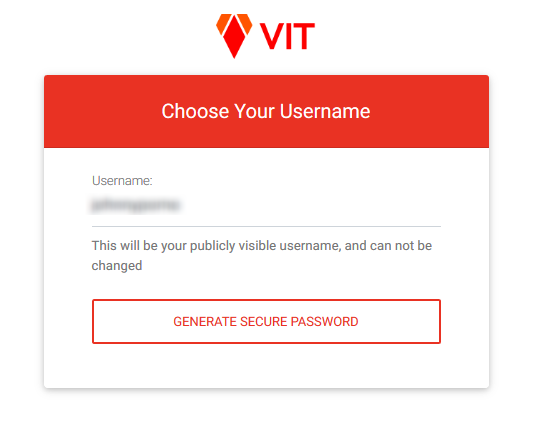 If your username is valid and available then a Generate Secure Password button will appear below the username field. Press the button to generate your secure master password for your account.
Step 6: Securely save your master password.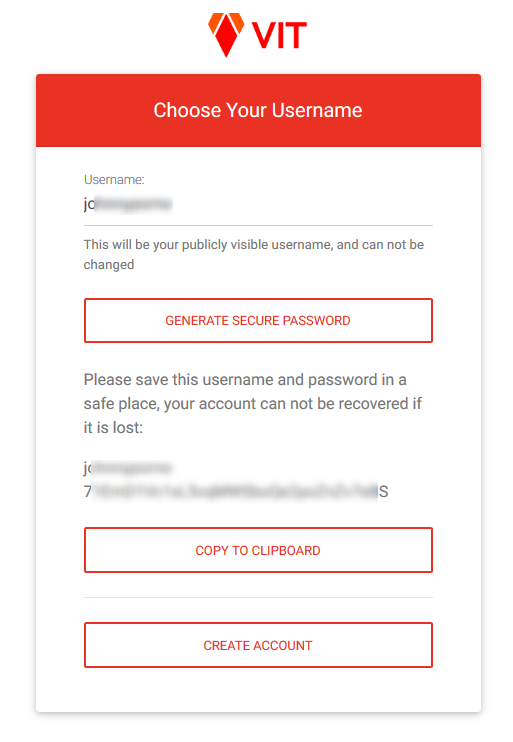 After clicking the generate secure password button your username and secure password will be shown. Copy the password along with your username to your text file. Save it to your flash drive. Now compare the password on the browser screen to the one in the text file. Ensure that it is a correct copy, character for character. It only takes a minute and ensures that you have it copied and pasted with no errors.
Step 7: Create your account.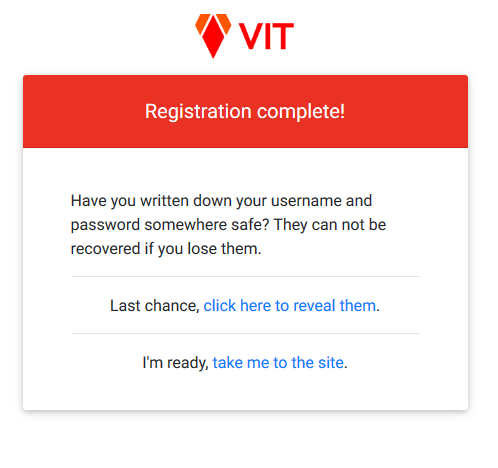 Now that you have saved the username and master password to the text file, click the create account button. The next page that loads will ask you if you are absolutely sure that you have saved your username and password. It gives you the option to view your username and password one more time or to continue on to Touch.Tube. If you want to be extra sure, click the link to view your username and password and confirm for a second time that your information in the text file is correct.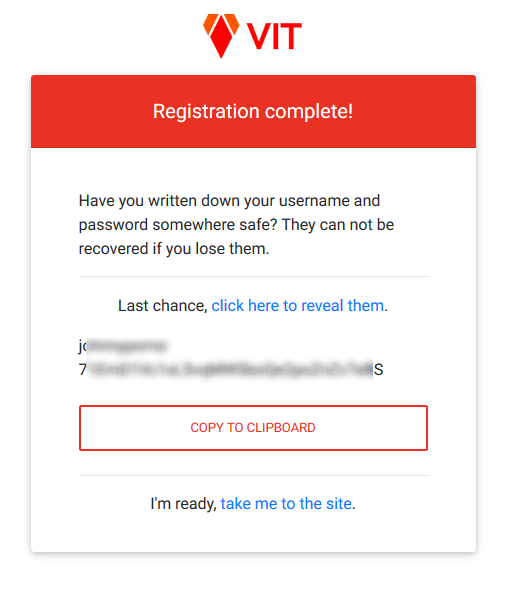 Otherwise, click the link to go to Touch.Tube.
Step 8: Login to your new account.
You will now be able to login at touch.tube/login. Simply input your username and master password into the two fields and press the login button.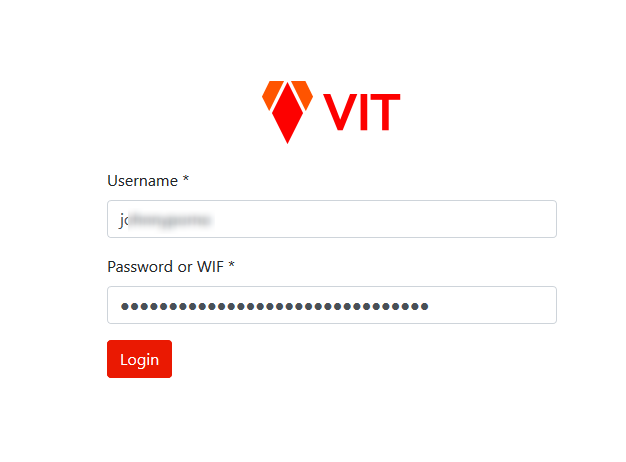 Congratulations, you are now logged in to your new account.
Step 9: Secure your private keys
Now that you are logged in, access your VIT wallet at touch.tube/wallet. Scroll to the bottom and click the Display your private and public keys button. You will need to input your master password in the box to display your keys.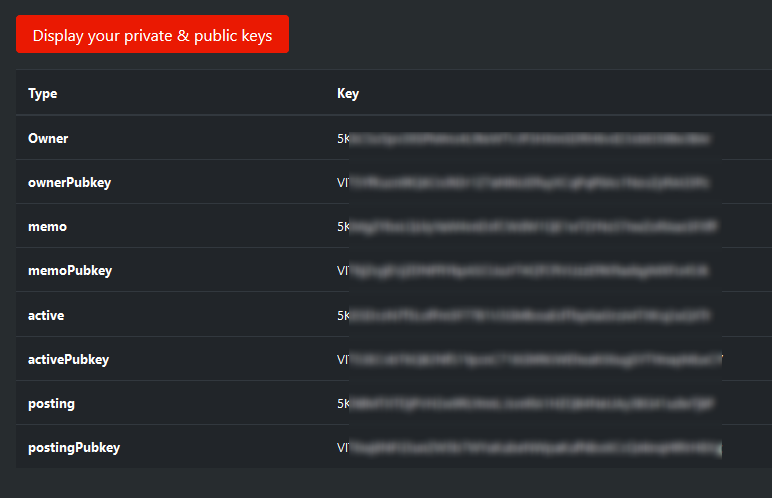 Once your keys are displayed copy and paste them to your text file and save it to your flash drive. Ensure that your keys are copied correctly.
Now print out a hard copy of your username, master password, and keys. Store this physical copy in a secure location that only you have access to. If anyone gets your flash drive or your physical copy they have access to your VIT wallet.
Don't let this happen.
Step 10: Recommended – Login with your posting private key
Now that you have successfully logged in and securely saved your username, master password, and keys go around the site and enjoy yourself for a while. Find accounts to follow. Vote for some videos you like. Leave some comments. When you are done with your first session, I recommend you logout.
On your next visit to Touch.Tube I would recommend logging in with your posting private key. Your posting private key gives your account authority to do pretty much all the common tasks you do on the site like posting, voting, commenting, and claiming VIT Rewards. If you try to perform an activity on Touch.Tube that requires a higher level of authority such as transferring VIT to another user, powering up, or voting for witnesses you will be prompted with a password entry box just like you were when you pressed the button to display your keys in your wallet.
Ideally you want to keep your master password offline as much as possible and only use your posting key for day to day activities on the network.
What's next?
Well now that you have gone through all the steps to secure your account, now is the time to enjoy Touch.Tube. I would also recommend that you check out the social blogging site Touchit.Social. You can login with your username and posting private key. The blog site is a great place to share your sexy selfies, erotic fiction, share your fantasies and fetishes, or anything else you can think of that would appeal to others in the community.
After a few days or so of using the sites if you are ready to power up some more VIT and supercharge your earnings, then head over to IDAX and buy some VIT with Bitcoin or Ethereum. Then simply withdraw the VIT from your IDAX account to your VIT account. Visit your Touch.Tube wallet page and power up the VIT to VIT Power. Your vote is now more powerful!
I would also recommend checking out the VIT Blockchain Explorer website and learn more about the following:
How the chain works
The role of witnesses to secure the chain
How author and curation rewards work
Voting power
Lastly, I would recommend joining the VIT Global Community Telegram chat and the VIT Discord server to meet the rest of the community members. These venues are also a great place ask questions about the blockchain and websites to learn more about how it all works.
Tube8 will be integrating with the VIT blockchain this week and once that happens you can login to Tube8 with your VIT account and earn VIT by voting on videos on Tube8. Keep an eye out for more tube site and adult site integrations over the coming months.
Well I think that about covers the basics to get you started on the VIT blockchain. I will plan on writing some more articles in the near future covering specific aspects of the ecosystem in greater detail. If you'd like me to cover anything in particular let me now in the comments. And if you'd like to add any additional information to this post, feel free to post it in the comments as well.
---
About mbs305
Before VIT I spent many, many years doing affiliate marketing for my favorite adult pay sites. I have been active in the VIT project since the ICO as a bounty marketer. During the lead up to the launch of the VIT mainnet and since I have been working to spread the word about the project. I am also a VIT Witness.
To learn more about me, you can read my witness proposal.
Image credits:
All images from the VIT signup process were made by me.