Yesterday, Vice Industry Token launched their social portal, Touchit.Social. Like, Touch.Tube, the social portal is integrated with the VIT blockchain. Users can login to both services with their user accounts and post content or comments.
While Touch.Tube is geared towards video content exclusively. Touchit.Social is geared to a much wider range of adult content. Users can post photography, imagery, animated gifs, literotica, interviews, question and answer, and more. As with any social site, other users can vote, comment, and share other users content.
Touchit.Social is perfectly positioned to serve as a new home for all the adult content bloggers on Tumblr who are soon to be exiled due to the platform's draconian new policy against adult content. As a decentralized, blockchain powered platform, Touchit.Social is censorship resistant and is specifically geared to adult content. Bloggers on Touchit.Social don't have to worry about some centralized corporate entity that may one day change their terms of service due to the changing business and social climate. Vice Industry Token was built to be a community driven endeavor, by and for the adult industry community. As a result, any illegal content is dealt with by the community. It is downvoted so that it is hidden and portal operators also remove it from their websites.
It is still very early days for the social portal and if you browse through the site you will see that it is still currently mostly populated with video posts from Touch.Tube, but that will change as users begin to post more of their own original, non-video content to the site.
If you are a Tumblr adult content blogger or any other content producer that needs help signing up and getting started on the VIT network of websites, feel free to comment below, join the VIT Telegram chat, or you can message me at my website. I'm happy to help you get started on the platform.
My hope is that many great and creative Tumblr bloggers join us at Touchit.Social. You are all welcome here.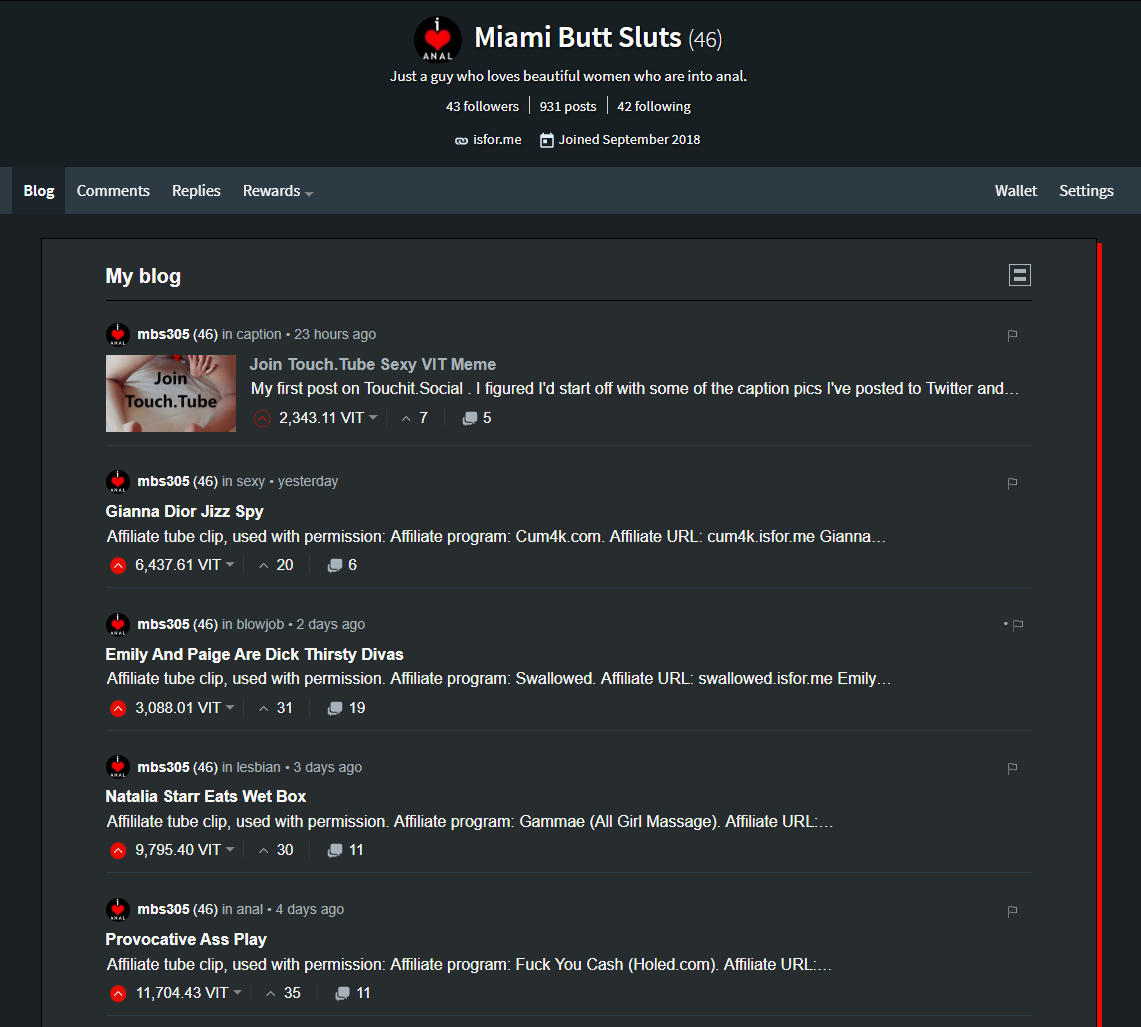 Snapshot of my blog on Touchit.Social
You can visit my page on Touchit.Social here. I also run a witness server that secures the blockchain. You can read my VIT witness proposal here.